6 Most Trusted Solutions to Resolve 'Yahoo Mail Contacts are not Showing' Issue
How can I resolve the 'Yahoo Mail contact list now showing' problem? Has been a question asked by many. But, before answering that, let's start with a fundamentally & necessarily important 'Introduction'…
It is needless to say that Yahoo Mail is one of the most amazing email services that exist today. Like many of the top-notch email service providers, it offers you the capability to save your contacts alongside managing your everyday communications.
Though Yahoo has proven to be remarkably early in providing many modern-day technologies, some issues that users face while accessing their email account features can also not be ignored. This time, the problem is with the 'Contacts List.'
Many users have reported that their Yahoo Mail Contacts List is not showing. And through my research on the topic, I came to know that it is mostly because of some browser-related problems, which are very easy to resolve with a bit of guidance.
So, jump right into the write-up below and get your Yahoo Mail contact list back again!
Finding the Yahoo Mail Contacts List
Before jumping to solutions to fix this issue, it is important that you know where you can find your Yahoo contacts. So, here's the section for that, but feel free to jump to the fixes in case you already know.
Earlier you could find the Yahoo email contact list in the upper part of the left section of Yahoo Mail's desktop dashboard. However, with the advancement of technology, and change in Yahoo Mail's user interface design, the Contacts List option is no longer present there. Rather, you can find it in the upper right part of your email account.
Don't worry if you don't know about this; just follow the clear instructions given below to resolve the 'Yahoo Mail Contact List not showing' issue:
Begin with opening the Yahoo Mail sign-in page on your browser and logging into your Yahoo email account.
Once you are inside your Yahoo Mail dashboard, hover your mouse cursor over the several icons present in the top right corner of the screen. There, you will see the Contacts icon (exactly next to the sort option), click on it.

Now, your Yahoo contacts pane will open on the right side of the window.
There, you will see three tabs at the top. Under the All tab, you will see all your individual contact information saved in your Yahoo email account, and under the Lists tab, any contacts list or group you have formed from your Yahoo contacts will be present.

Additionally, if you couldn't find the contact by scrolling through the list, you can search for their names in the Search Contacts box.
Solutions to Fix 'Yahoo Mail Contacts not Showing' Issue
Clear Browser Cookies and Cache
If your Yahoo Mail Contacts List is not showing even after looking for it under the new Contacts section, which you can find following the above steps, then, it might be the problem due to the browser's corrupted cache.
Damaged cookies and cache files of the browser can lead to many problems, including this one. Thereby, you should get rid of cache files from the browser. For doing so, you can follow the process given below:
First off, open the browser through which you are accessing your Yahoo email account.
Now, click on the menu icon which is usually present in the top bar of the browser.
From the menu that will appear, click on the Settings option.

After that, go to the tab for Privacy and Security.
There, look for the section for clearing browsing data.

Finally, select the options to clear all cookies and cache, and click on the Clear button.

Stated above are the general steps by which you can access and clear cookies and cached data from any browser. Almost all browsers follow more or less similar steps. However, in order to know the precise steps for doing so, you can visit your browser's help page on the topic.
Use a Compatible Browser
Another reason why you must be facing Yahoo Mail contact list problems can be browser incompatibility with Yahoo Mail. Using a browser that does not support all Yahoo Mail functions can lead to several difficulties, like this one.
So, if your Yahoo Mail is not working and your contacts are still inaccessible, then switch to a compatible browser, which is Google Chrome, Safari, Microsoft Edge, Opera, and Mozilla Firefox.
Further, you also need to make sure that your browser is up-to-date, and if it isn't then update it to its latest version without further delay.
Log out of your Account and Log in Again
The good-old method of logging out and logging back into your email account can resolve many issues you are facing with it. Thus, you can give this method a try as well, if your Yahoo Mail contact list is still not showing.
Here's how you can do this:
Open your Yahoo email account on the browser.
Click on your name displayed in the top right corner of the screen, and click on the Sign-Out option.

Now, close the browser and launch it again.
Get to the Yahoo email login page and click on the Sign-In button present in the top right corner.

After that, fill in your login credentials, and you will enter your account.
Lastly, go to the Contacts tab to see if you are now seeing your Yahoo email contacts list.
Restore Yahoo Mail Missing Contacts
Still stuck on 'Why are my contacts not showing up in Yahoo Mail?' Well, it might be the case that you have accidentally deleted them!
If you think that's the possibility, you don't have to worry, as you can easily restore your deleted or missing Yahoo contacts. However, some users may have difficulty finding the option to restore contacts on the new Yahoo Mail interface.
Nevertheless, there is one other solution to this problem! You can use your other email account to import contacts into your Yahoo email account or use a CSV file to do so.
You can access these options by going through the steps given below:
Click on the Contacts icon present in the upper right corner of your Yahoo email account.

This will open the right-side pane, where you have to switch to the Contacts tab.
Then, click on the more menu icon (three dots) present in the top right corner of the pane that appears.
From the menu that will open, select any one of the options to import contacts. If you choose to import from another email account, go through the steps displayed on the screen. On the other hand, for importing contacts using a CSV file, select the file's location and open it. After the file is uploaded to your account, you will be able to see the contacts present in that CSV file, in your account.

Uninstall Malicious Extension
Using extensions from any third-party or untrusted source can be dangerous for your device's health as well as your privacy. These plug-ins installed in the browser, especially ad-blocking add-ins, can interfere with the functioning of the websites you visit on your browser, including Yahoo Mail. The same reason can lead to the 'Yahoo Mail not showing contacts' problem.
Thus, in order to get out of this crisis, you will have to identify the culprit, by turning off each extension and accessing your Yahoo email account, subsequently to see if this solves the difficulty. Once you have found the problematic plug-in, uninstall it from your browser permanently.
Enable Enhanced Contacts in Yahoo Mail
Yahoo Mail has a feature, Enhanced Contacts, that automatically updates contact information saved in your account, on the basis of the contact info that is used in your correspondences. With this feature disabled, contact details will not be saved on their own.
Thereby, you can check if this feature is turned off in your Yahoo account, and if so, turn it on:
Open your Yahoo email account on the browser.
Click on the Settings icon present in the top right corner of the screen, and select the More Settings option.

Now, switch to the Contacts tab in the Settings window.
Finally, check if Enhanced Contacts is turned on. If you see the Disable option there, it means the feature is working. However, if you see Enable, then, click on it to turn on this feature.

Some Other Tips…
In case you are still looking for ways to resolve the 'Yahoo Mail Contacts not showing' problem, then here are some tips that can help you in this situation:
First off, ensure that you are logged into the correct Yahoo email account.
If you are using a third-party email client, like Outlook, Apple Mail, etc., then make sure that your Yahoo email account is allowed to access contacts.
You can import your old account's contacts, as well as other information, to a new one, if you have formed a new Yahoo email account.
Further, when using your Yahoo email account on your phone, ensure that the correct account is chosen. Also, try removing and re-adding the account and updating the app. If this doesn't work, then uninstall and download the app again.
Last Resort: Contact Yahoo Support
I hope that you are not reading this section. However, if your Yahoo Mail contact list still is not showing in your account, then the last thing to do is, contact Yahoo Support.
You can visit the Yahoo Help page, and hit the 'Speak With a Live Agent' option to have one on one conversation with the expert who can provide further assistance in the matter.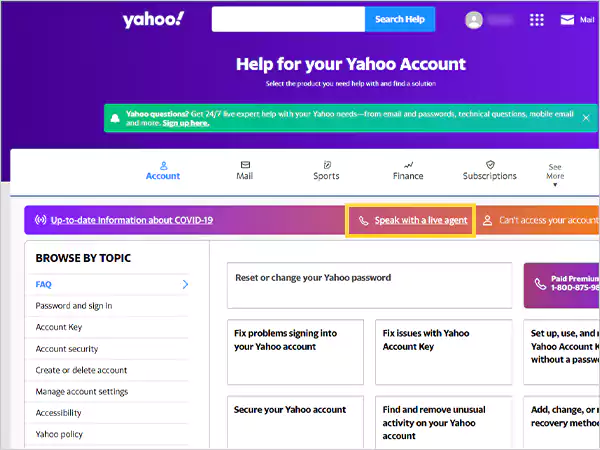 Read More:
Share