Tried and Tested Solution to "Your Message Cannot Be Sent Because It Resembles Spam" Yahoo Error Message
Yahoo has turned heads for providing a multifaceted email service platform. But it's not always a smooth ride because spammers didn't spare Yahoo and thus the biggest data breach of the era took place in 2013. Yahoo has to lose customers and a lot of money in the process of settlement. But this worked as a lesson for Yahoo and it intensified its security and privacy policies.
Yahoo designed a system to prevent spammers from sending spam. But this sometimes backfires the genuine users and send a warning message that states:
"Your message cannot be sent because it resembles spam and/or links. Please modify your message and try again".
If you haven't done anything spam-related, yet Yahoo is sending you the above-given message and stopping you from sending email, it can be an error from Yahoo's end.
Reason Why the Yahoo Says Your Messages Resembles Spam
Yahoo has a set of guidelines that should be followed by users while sending or receiving emails, neglecting this can mark your messages as spam.
Let's look at the reasons that can lead your messages to resemble spam and temporarily block your Yahoo email account.
Sending emails in bulk at one specific time.
Sending one email to numerous recipients at one time
Repeatedly sending the same email containing similar content.
Message/email is stuck in the Yahoo mail app.
Hacked or compromised Yahoo mail account.
Your Yahoo account has been found involved in suspicious activities.
Your Yahoo account has been flagged for sending suspicious or unwanted emails.
But if you believe that your Yahoo account has never been involved in suspicious activities and your account is falsely accused of being spam due to which your account has been blocked, there is a reason to be worried about.
From my personal experience, I can share various useful things that you might not anywhere else. As before I was using the yahoo web portal to exchange emails, but however, the mail was not sent, and after a while, I received a message with a popping sound that the email resembles spam. I received the message again and again, even after making modifications to the message.
I made several attempts, but it failed every time.
This error will happen no matter what you do, even if you send a plain text without any link or image, this error is inevitable if a Yahoo account is flagged as spam.
Wondering what to do to get out of this? Well, there are few fixes available to get rid of the error that is mistakenly stating that your message resembles spam.
Solutions to Fix 'Your message cannot be sent as it resembles spam and/or contains only links' Error by Yahoo?
My experience with this error was quite distressing. I was assiduous to find out the solution to this as it put my day-to-day work and data at stake. After working day and night on this, I came across something unusual yet important. See what it was:
I changed my Yahoo mail password to increase the security of my account and I do this regularly. I never thought that this has anything to do with this error, but after changing my Yahoo mail password, my account started working normally and my emails were being sent normally. From this, I concluded that, as long as Yahoo suspects your account is hacked or compromised, you won't be allowed to send emails and it will be marked as spam. Thus changing passwords might help your account to look healthy, secured, and not compromised.
Here is how you can change your Yahoo mail password
First, sign in to your Yahoo mail account and click on your name from the top-right corner of the screen.
Now, select "Account Info" and then go to "Account Security".
Scroll-down and click on "Change Password" from the right menu.
Set a new password, and repeat it to confirm.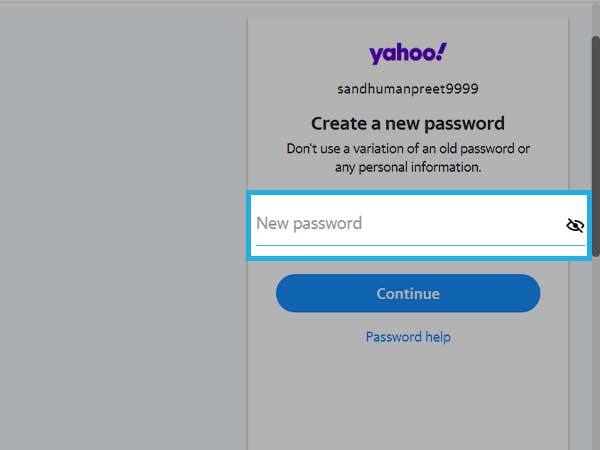 Select "Continue" and it will be changed.
After changing your password, wait for a day (24 hours) before you make any move. There are chances that your account might get out of the error and start sending emails normally. But, it is highly recommended to follow the prescribed gap of 24 hours before you begin exchanging emails. Any sort of hurry will make you look suspicious to Yahoo and prevent Yahoo from trusting you and hence blocking you again.
Important Note: Make sure that you update your newly created password on all the devices and third-party email clients on which you have configured Yahoo on.
Tips to Avoid Yahoo Emails/ Messages from Being Marked As Spam
If you don't want Yahoo to suspect you as spam and block your account from sending emails.
Make sure that you use Yahoo groups while sending emails to numerous users at once.
Follow an adequate amount of time (gap) between two emails, while sending a large number of emails.
Remove all your Yahoo accounts from untrusted sources.
Conclusion
From my experience, if you keep changing your Yahoo mail password at regular intervals of time and follow the tips I have given you, you can keep your Yahoo account away from the error message 'Your message cannot be sent as it resembles spam and/or contains only links.
Share