Easiest Way to Restore Missing or Deleted Yahoo Mail Contacts
Yahoo has been the second-largest email platform after Gmail. It offers a wide range of features and unmatched storage whenever you create a new Yahoo mail account. Due to the massive storage facility, storing your contacts on Yahoo mail becomes quite easy and convenient. But people may not feel very comfortable when any important contact disappears from their contact list. Fortunately, Yahoo offers a way to restore Yahoo mail contacts in an individual manner and even in the form of a list.
There is a lot of confusion that is there about restoring deleted contacts in Yahoo mail, therefore we are here to tell you the doable way to get your missing Yahoo contacts or contact list back.
But if you are not sure whether you want your contacts back or not, here are a few points why you should restore as well as save your contacts on Yahoo:
It is very easy to find and sort contacts using surname, last name, and first name.
Duplicate contacts are easy to delete.
You can even print the contact list.
You can easily import contacts from Google, Outlook, and Facebook.
It is easy to download contacts in the form of a CSV file.
Exporting contacts is very easy.
How To Restore Deleted/Missing Contacts in Yahoo
Restore Individual Contacts
"Important Note: You can restore only those contacts which were deleted within the past 30 days."
Open your Yahoo mail by entering the login credentials.
Click on "Contacts" from the top-right corner.
Select Deleted Contacts from the left column.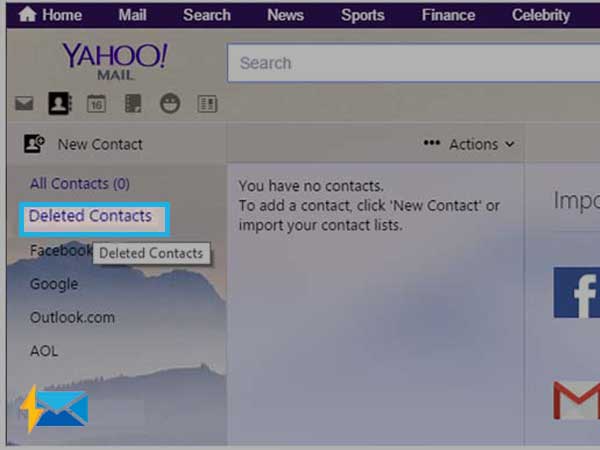 Now select one or multiple contacts from the list, that you need to restore.
Click on Restore and Restore from backup to retrieve them.
Restore the Complete Contacts List
Open your Yahoo mail account and click the Contacts icon
Now click Actions and then "Restore from Backup"
Select the Date from which you want to restore the contacts, using the drop-down menu.
Click Restore and it's done!
Share