Time-Tested Ways to Fix Yahoo Syncing Issues on iPhone, Android, and Windows 10
Yahoo has conquered the globe with its impeccable web based services. Out of services offered by Yahoo Inc. Y! Mail has the best reputation due to its platform-wide compatibility, extensive range of features, and world-class security. Due to being one of the best email services, Yahoo is being used on different platforms such as iPhone, Android, Windows, and more. But things take an awful turn when syncing Yahoo mail on their device becomes difficult or impossible. Though not all Yahoo mail syncing issues are hazardous, they can certainly impact your workflow to a large extent and keep you from sending and receiving important emails.
Therefore, we are here addressing the "Yahoo mail is not syncing" issue to help all Yahoo users irrespective of the device they are using. No matter whether you are using iPhone, Android, or Windows, you will gain from this troubleshooting guide.
Reasons Why Yahoo Mail Account is Not Syncing with iPhone
When Yahoo mail is not syncing and an error appears whenever you try to sync Yahoo mail on iPhone, Android, or Windows, you look out for the below-given causes before you begin any intense troubleshooting.
Reason 1: You are using an outdated version of the Yahoo mail app.
Reason 2: You might have turned off the Yahoo mail sync feature for your email account.
Reason 3: You have used incorrect server settings for account configuration.
Reason 4: Your device has accumulated cache memory.
Reason 5: The operating system of your device is outdated.
These are some of the most common issues that induce issues like "Yahoo won't sync". Once you are done finding the reason, you can move on to the troubleshooting section of the article.
Part A: Yahoo Mail is Not Syncing With Android
Android users are most likely to face syncing issues while using the Yahoo mail app on their devices. Syncing errors are likely to prevent you from sending and receiving emails, updating contacts, and performing regular tasks, therefore, it is crucial to suppress the issue as soon as it appears. Here we are providing the best ways to troubleshoot the "Yahoo mail is not syncing on Android" error:
Solution 1: Update Yahoo mail app
This may seem a long shot, but it is the most effective way to deal with Yahoo syncing errors. If you are not able to send or receive emails at all, make sure you get the latest release of the mail app. To get the most updated version, you need to visit the manufacturer's website or install the update from the PlayStore.
Solution 2: Clear App Cache
The next thing you need to be wary of is the heap of cache accumulated on your device. All the stored junk can cause trouble while syncing Yahoo emails and thus needs to be cleaned on a regular basis.
To clean the cache from your mobile device, go to
Settings >> Internal Storage>>Cached Data>>Remove>>Ok
Solution 3: Force Quit Yahoo Mail App
Another way to deal with Yahoo syncing issues on Android is to Force quit the application and re-launch the app. Doing so will shut down all the problematic instances of the app so that you can make a fresh start. Moreover, this will refresh the active memory of the mail app and restore the syncing abilities of the Yahoo mail app.
Solution 4: Uninstall and Reinstall Yahoo Mail app
Technical glitches with your mail app are likely to give shelter to the syncing issues. If your Yahoo mail app is creating hindrances even after trying the above-mentioned 3 methods, you are suggested to delete the app and re-install the application. You can remove the app by pressing and holding on to the app and selecting "delete". In addition, to re-install the app you can make use of the Play Store.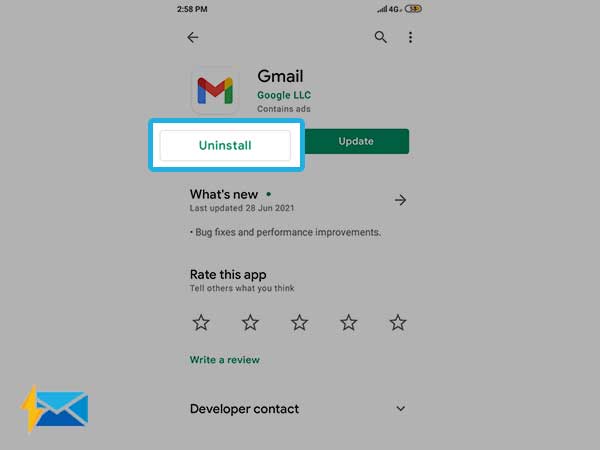 Part B: Yahoo Mail is Not Syncing With iPhone
Yahoo is known for its platform-wide compatibility and thus it can be used seamlessly on devices like iPhone. iOS is known to be the safest operating system, but it is not sans-error. There come times when users encounter an issue while syncing their Yahoo email account on iPhone, similar to the Android users. Hence, here we are providing solutions to Fix Yahoo mail syncing issues on iPhone.
Solution 1: Check Internet Connection
Not being able to sync Yahoo on your iPhone, can occur due to the poor internet connection. The low bandwidth of the Internet can prevent you to configure, sync and use Yahoo, therefore begin the troubleshooting by fixing the network connection issues by placing the router closer or switching between Wi-Fi and cellular networks.
Solution 2: Turn on LTE
LTE aka 4G long term evolution is standardly defined for wireless broadband communication. It improves the network strength while using cellular data. Thus, when you are using mobile data to sync Yahoo email on iPhone, you should enable LTE to attain the optimum internet speed.
Solution 3: Remove and Re-Add Yahoo Email
If fixing network issues isn't helping, you are suggested to remove your Yahoo mail account altogether, and re-add by following the steps mentioned underneath:
To Remove Yahoo Mail account on iPhone:
1. Open "Settings" on your iPhone.
2. Select the "Accounts and Password" option
3. Now, select your Yahoo mail account.
4. Choose the "Delete/remove Account" option.
To Re-Add the Yahoo mail account on iPhone:
1. Go to "Settings" and choose "Accounts and Passwords"
2. Select "Add Account" and choose "Yahoo" from the list of options
3. Now, type in your Yahoo email address and provide your password.
4. Click Sign-in.
Part C: Yahoo Mail is not Syncing with Windows 10
Windows 10 is the latest release in the line of Windows operating system. If your Yahoo email account is not syncing with Windows 10, there are several ways you can deal with it. First thing first, you need to make sure your device is connected to an active internet connection. Apart from it, you can use the troubleshooting tips given below:
1. Check Yahoo Mail Server
When you come across syncing issues while using a Yahoo email account on Windows 10, make sure you check the Yahoo mail server status before you start intensive troubleshooting. You can use websites like https://downdetector.com/status/yahoo-mail/ to get an idea of the server status.
2. Check Yahoo Email Sync Settings
Yahoo needs correct email settings to configure and sync it on your Windows 10 based device. Here we are providing you with the most updated Yahoo email server settings that you can use when Yahoo is not syncing on Outlook or any other mail app on Windows 10.
Incoming Mail (IMAP) Server
Server – imap.mail.yahoo.com
Outgoing Mail (SMTP) Server
Server – smtp.mail.yahoo.com
Requires authentication – Yes
Your login info
Email address – Your full email address (name@domain.com)
Password – Generate App Password
Requires authentication – Yes
3. Disable Security Programs
Try to disable security programs when you are having Yahoo sync issues on Windows 10. Disable antivirus, Windows Firewall, and Windows Defender as they are likely to interfere with the email programs such as Yahoo, Gmail, and Outlook. Check if the issue has been resolved with this trick.
4. Remove and Re-add your Yahoo mail account
Removing and re-adding your Yahoo email account should be your last resort. But if nothing works, this solution will fix your problem. You can use the aforementioned method to fix the Yahoo mail sync issues.
Share