8 Simple Steps to Follow if Your Yahoo Mail is Freezing/Crashing
Several internet and social media platforms have recently been flooded with complaints from Android and iOS users. While their questions were phrased differently, the underlying point was the same: why does my Yahoo mail keep stopping? If your Yahoo mail keeps crashing, we've done our research and come up with these seven practical strategies to fix the problem. The thing about most email messaging tools, including Yahoo mail, is that they play critical roles in our lives. As a result, when they fail, it is not just a slight inconvenience for a few individuals, but a big disaster. When these apps break down, which they usually do, it's better to look for answers as soon as possible so that your productivity doesn't suffer. If your Yahoo mail keeps stopping, there can be several reasons behind it. A few of them are covered in the article.
Reasons for Yahoo Mail Crashing
The "Email keeps halting" problem message might be caused by outdated software versions, which can cause a variety of bugs and faults.
Application bugs due to which certain Yahoo features can't be accessed.
The caches often interrupt the Yahoo Mail with pop-ups of errors.
One of the problems with Yahoo Mail affected by the recent troubles is due to an underlying system called "Android System WebView".
Changes in IMAP and POP configuration can be a possible reason for the Yahoo Mail freeze.
Harmful malware and viruses like Trojan Horses can be behind a sudden crash.
Solutions if the Yahoo Mail App Keeps Crashing
In case, you are facing trouble due to any of the above-mentioned reasons, don't worry, we have got you covered. Given below are a handful of fixes that can help you solve the crash.
Fix 1: Update the Chrome and WebView
One of the most common causes for your Yahoo mail constantly crashing is because of this. We won't go into too much detail here, but Android System Webview is a component of the Android Operating System that supports both Google-developed and third-party apps. Most Android apps built by Google, as well as other apps, are affected by a bug in the Android System WebView. To fix the issue, Google advises downloading the most recent versions of Android System WebView and Chrome from the Play Store. This is how you do it:
Click and open the Play Store app on your smartphone.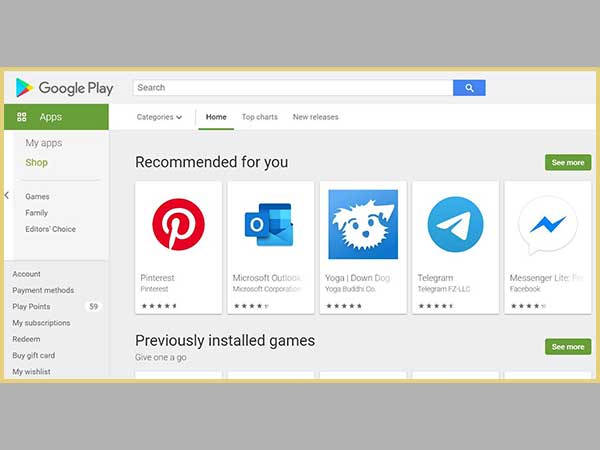 In the search box, type "Android System WebView" and hit Enter.
Select Update from the drop-down menu after clicking on the result.
If "update" isn't an option, just move on to the next step.
Type Google Chrome into the search box and press Enter.
"Update" should be selected.
Fix 2: ForceStop and Restart the App
Most smartphones caution against forcing apps to close, as this can lead them to behave badly. That would be sound advice in the best of circumstances, but these aren't the best of circumstances, are they? Furthermore, forcing an app to close refreshes the program's active memory, which is a positive thing at this time. If your Yahoo mail continues to stop working after you've tried all of the above alternatives, force the software to close and restart it by:
Use the Settings app on your phone.
Select Yahoo Mail from the list of apps.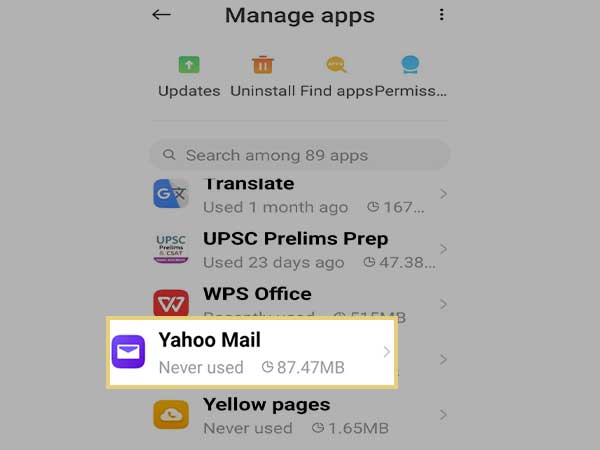 Choose Force stop, and then click Ok when the warning appears.
Restart and Relaunch the application at the end.
Fix 3: Clear Cache and App Data
If your Yahoo mail keeps crashing even after you've attempted the following workaround, you may need to erase the app data and cache before logging in again. This process may result in the loss of data on your part, and several of your personalized settings will be reset to default, but it will usually solve the problem, and you may return to using your Yahoo mail app without issue. Follow these basic steps to do so:
First of all, go to your phone's Settings and then select it.
Next, Select Apps and Notifications from the drop-down menu.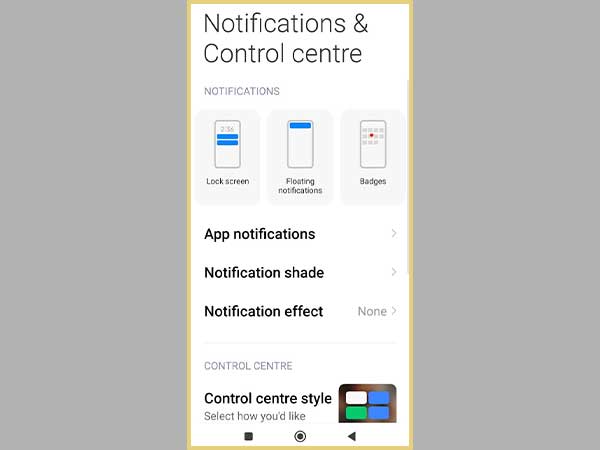 Enter the Yahoo mail app's location.
Select Storage from the app's menu.
Choose Clear Cache after clicking on it.
Select Clear Data after that activity is performed.
Restart the Yahoo mail application.
Fix 4: Uninstall and Reinstall the App
If your Yahoo mail keeps stopping, sometimes all it takes to fix the problem is to uninstall and reinstall the software. This can be done in a matter of seconds and usually does not result in data loss. Simply follow the instructions below to try out this option:
On your smartphone, go to the Settings app.
Select Yahoo Mail from the list of apps.
Select uninstall and wait for the process to finish.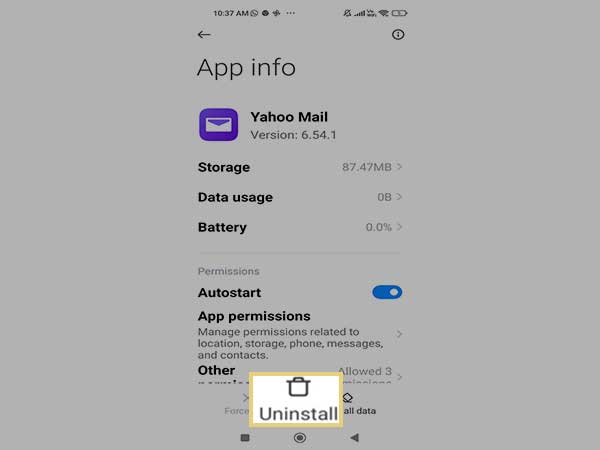 To access the Google Play Store, open the Play Store app.
In the search box, type Yahoo mail and hit enter.
Reinstall Yahoo mail.
Run the program when it has been installed.
Fix 5: Make Room on Your Device
A very basic and typical reason for your Yahoo mail to continually halt is that your phone does not have enough RAM to function properly. Apps require a specific amount of device memory to function, and if your smartphone is running low on space or RAM, the app will crash or cease due to a lack of memory. To remedy this, clear up disc space on your Android phone by deleting useless files. You can also free up RAM for your Yahoo mail app by uninstalling unnecessary programs. After that, restart your phone and open the Yahoo mail app once more.
Fix 6: Android System WebView should be uninstalled
Because a flaw in the Android System WebView is the main cause of your Yahoo mail, as well as other apps, stopping, a simple solution is to delete it completely from the Google Play Store. The best part is that it truly works, and it can help you fix those pesky crashes, especially if you are unable or unable to update Android System WebView. To do so, simply follow these steps:
Using the Google Play Store app on your smartphone, go to the Google Play Store.
In the search box, type Android System WebView and hit enter.
Wait for the process to finish after clicking uninstall.
Fix 7: Reach Out to Customer Support
If you've tried all of the above options and your Yahoo mail is still not working, the final step is to contact customer service. Another smart option to get the problem fixed is to contact Yahoo mail customer support and explain what the problem with your email is and what steps you've taken to fix it. They may be able to precisely determine the specific root of the problem after listening to you and propose long-term solutions. Yahoo mail customer assistance is available on a variety of platforms.
Fix 8: Disable the Firewall and Browser Enhancements
If your Yahoo mail keeps halting, look at your system's firewall. A firewall is used to keep malicious data from entering the network. However, your firewall may occasionally block Yahoo data. Disable the firewall if the Yahoo mail software won't open on your PC. Log in to your Yahoo mail once you've disabled it. If the mail software keeps crashing, you should look into other options. Enable the firewall by going to the settings page. You can even try disabling other browser enhancements that will cause the instant removal of viruses.
Glitches and Bugs are the part and parcel of the Tech world. Yahoo Mail has been in use for the longest of times. In case you face an issue in the future, you can try any of the given fixes. But in case nothing works, it's time to head to a professional for technical support.
Share