Top 5 Solutions to Fix Yahoo IMAP, POP, and SMTP Settings Errors
---
Yahoo! Mail is known for its platform-wide compatibility. To make the webmail work on different platforms, Yahoo offers POP and IMAP Settings to both its free and paid users. Both Yahoo IMAP and POP protocols enable you to connect Yahoo mail on third-party email services namely Outlook, Gmail, Thunderbird, and more that support aforementioned protocols.
As we know Yahoo is widely used on platforms like Yahoo mail on Outlook or Thunderbird, users often look for ways to deal with errors that arise out of blue during their period of use. There are plenty of forums and support web pages that claim to offer solutions to Yahoo errors. This usually occurs when there is a POP and IMAP configuration error with Yahoo! Mail.
Multiple causes can cause an error with POP and IMAP settings for Yahoo! Mail, but the issue can be corrected by following a couple of corrective approaches. To help our readers, we have designed a guide with all possible solutions to Yahoo POP and IMAP server errors.
Solution 1: Re-Configure Yahoo Email Settings
Step 1: First, go to the "Add Account" option on your Outlook, Thunderbird, or any third-party mail account. Now, enter your complete email address and domain name in the username and click "Next".
Step 2: Select the "Advanced" or "Add Account" option and provide the following information from the next step.
Step 2: Select "Manual setup or additional server types" from the next screen.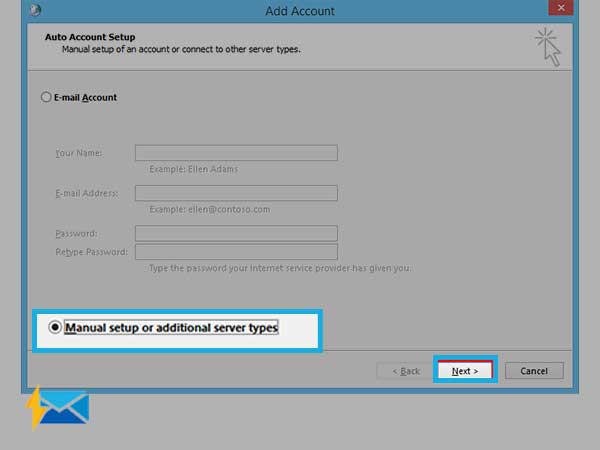 Step 3: Now select "POP or IMAP" on the next screen.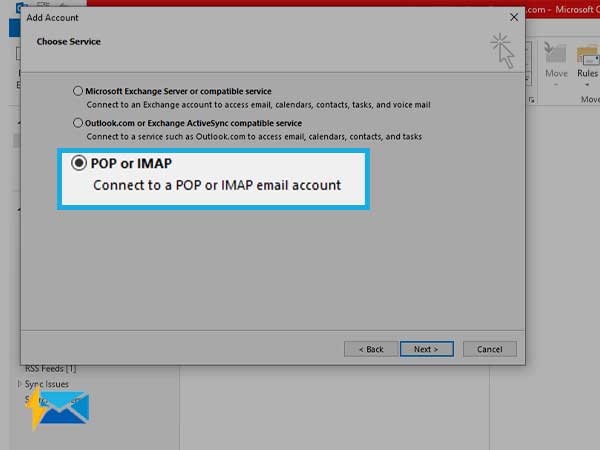 Step 4: Now, type in your Yahoo server settings as follows:
Yahoo POP (Post Office Protocol) Settings:
Incoming Mail Server (POP)
Server – pop.mail.yahoo.com
Port – 995
Requires SSL – Yes
Outgoing Mail Server (SMTP)
Server – smtp.mail.yahoo.com
Port – 465 or 587
Requires SSL – Yes
Requires TLS – Yes (if available)
Requires authentication – Yes
Your login info
Email address – Your complete email address (name@domain.com.)
Password – Your account's password.
Requires authentication – Yes
Yahoo IMAP Settings:
IMAP (Internet Message Access Protocol)
Incoming Mail Server (IMAP)
Server – imap.mail.yahoo.com
Port – 993
Requires SSL – Yes
Outgoing Mail Server (SMTP)
Server – smtp.mail.yahoo.com
Port – 465 or 587
Requires SSL – Yes
Requires authentication – Yes
Your login info
Email address – Your full email address (name@domain.com)
Password – Your account's password
Requires authentication – Yes
Solution 2: Restart your Device
After performing the reconfiguration, you should consider restarting your device. This method will flush out the junk and unused files from your system and optimize the performance of your device to fix the Yahoo mail settings errors. This will act as an effective remedy to cure the hindrances you are facing while using Yahoo with outlook or other third-party clients.
Solution 3: Run Yahoo in Safe Mode
If you are using Yahoo email on the Windows mail app, and Yahoo IMAP settings errors are hindering your flow, you can simply run Windows in safe mode to access the Mail app without any add-ons. Furthermore, you can run your Yahoo mail account on the Mail app in safe mode to check for improvements. If your Yahoo mail settings work fine in the safe mode, the issue doesn't lie with the default settings and basic device drivers of your device.
To run the safe Mode on Windows 10, follow these steps:
First, press and hold the Windows+R key.
Type "msconfig" using the Open box and click on OK.
Click on the "Boot" tab.
In the "Boot options" menu, click on the "Safe boot" checkbox.
Solution 4: Disable Antivirus or Firewall Software
The settings of your security software such as antivirus or firewall can affect the configuration of Yahoo email and therefore, the next troubleshooting tip is to disable your antivirus temporarily or adjust the settings of your security program to allow the instances of Yahoo email application or other third-party email clients that have Yahoo configured on them.
In addition, firewall, antivirus software, and network protocols tend to block the ports. If any of the 995, 465, or 587 ports are blocked, the Yahoo IMAP and POP server settings are bound to get hampered. In this case, you need to get in touch with your Internet Service Provider to unblock the blocked ports.
Solution 5: Check if Yahoo is down
If Yahoo IMAP or POP errors are preventing you from performing the basic tasks such as sending and receiving emails, make sure you check the Yahoo mail server status in your area. If Yahoo is down in your region, not only you but everyone who is using Yahoo will face errors with IMAP or POP configuration.
So, to check the status of the Yahoo mail server, open your browser and open one of these websites: https://downdetector.com/status/yahoo-mail/ and https://downforeveryoneorjustme.com/yahoo. These sites will inform if other users have also reported issues with Yahoo or is it only you who are facing trouble with Yahoo IMAP or POP server.
Conclusion
Hopefully, these three methods will help you diagnose and cure Yahoo IMAP, POP, and SMTP settings errors. If you are not able to cure the problem with any of the mentioned solutions, you can simply contact the Yahoo help center to get customized help for your problem.
Share