How to Send Fax from Gmail? You are just 6 Steps Away from Sending Your First Fax Using Gmail!
Yes, it's 2023, and people are still using fax! Fax machines are still in use today, whether it's because the older generation is still clinging to outdated customs or because government agencies refuse to adopt modern technology. But these days, sending a fax doesn't require a fax machine. Nowadays, you can send a fax from Gmail from anywhere around the world.
The major benefit of sending faxes through email is that you avoid having to buy a fax machine or travel to a location to use one. Accessibility is the one significant benefit of using an email-to-fax service.
You may use any device to transmit your faxes as long as you use the Gmail account you used to sign up for an email-to-fax service. That effectively bridges the gap between modern and relatively antiquated faxing techniques.
Now, in order to know how all this works and how to send a fax through Gmail, just jump right into the write-up below!
Overview of the Article:Can you Send a Fax using Gmail?6 Steps to Send Fax from GmailMethod-1: Using Fax NumberMethod-2: Using a Browser Add-On
Can You Send a Fax using Gmail?
It's true that Gmail doesn't come with an email-to-fax feature, but that doesn't mean we can't utilize a third-party service to fill the gap. A fax number can be quickly connected to your Gmail email address by using an online fax service. This effectively turns into a Google fax number that you can use to send and receive faxes by just using the email address of your Gmail account. It also functions as a landline that is always operational.
These providers include GotFreeFax, eFax, FaxZero, MyFax, and many more.
To utilize these services, you are just required to register on their platform with the email address using which you want to send a fax. Thereafter, your fax number will be generated, which you can easily use to send fax from your Gmail account.
Additionally, you should ensure that the Gmail account you are using to send the fax is the same one that you used to register for the online fax service provider. Your transmission attempt will probably be declined if this email address is different from the one associated with your Gmail account.
6 Steps to Send Fax from Gmail
Now, you must be curious to know how to send a fax from Gmail. Well, the answer to the question is stated below.
Here are two methods that will let you know how to send a fax from Gmail, and that too for free.
Method-1: Using Fax Number
As also mentioned above, in order to send a fax from your Gmail account, you will first have to register for an online fax service. Once you have done that, you will receive a fax number, which you can use to send fax from your Gmail account. Listed below are the steps for doing the same:
The very first thing that you will have to do to send a fax from Gmail is to log into your Gmail account. So, open the browser and get into your Gmail account.
After that, click on the Compose button to open an email composing window.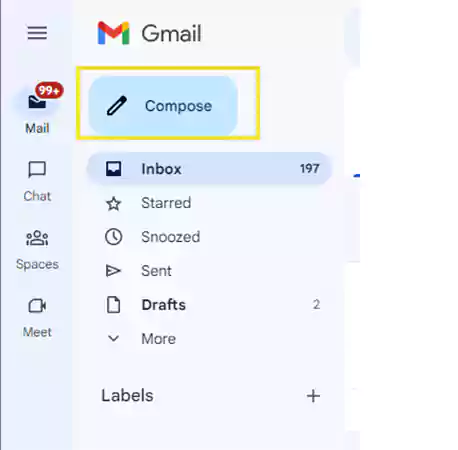 The next step is to add the fax number of the recipient. You will have to enter the fax number in the 'To' field of the message window, along with the area code and fax provider domain. For instance, if you possess an eFax account, you would address your fax by inputting 18888888888@efaxsend.com.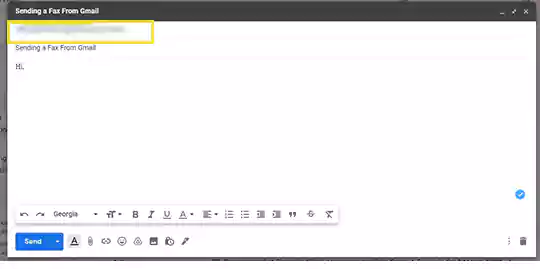 Note: The particular unique fax service you're utilizing is the domain value. It is efaxsend.com in this instance. To fax your document, however, you must first confirm its precise syntax.
After you have added the fax number, now is time to add the documents you want to fax from Gmail. In order to do so, you can simply click on the icon to attach files present at the bottom of the message composing window. Then, select the desired files you want to fax from your device. If you are unable to attach files in Gmail, then make sure they are in a supported format.
Note: The information must be contained in an attached file in one of the accepted file types, including DOC, JPG, PDF, and TXT. The majority of fax providers support numerous attachments, and when sending the fax, they merge the contents of the files.
Thereafter, you can type in the body of the message. You don't necessarily require doing that, but typing in the cover letter is appreciated.
Finally, go through the message once more, and see if all the files you want to send through fax via Gmail are intact, and after you are assured, click on the Send button, and your Fax will be sent.
Method-2: Using a Browser Add-On
This method to send a Fax from Gmail is more or less similar to the one stated above, however, this makes the job a little easier. In this, you just have to get an add-on, one most popular of them all Fax Plus, to send a fax via Gmail. You can easily download it to your browser from Google Workspace. And, here's how this works:
First off, you will have to download the add-on from Google Workspace Marketplace, and register on the Fax Plus website to get your fax number. Make sure to register using the same Gmail account via which you want to send the fax.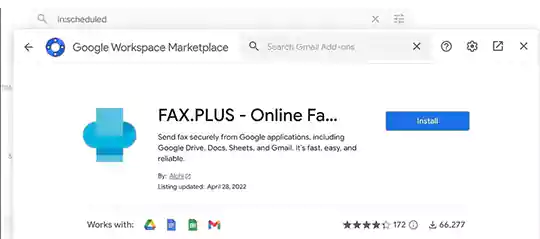 After the installation is done, the Fax Plus icon will appear in the right corner of your Gmail screen. Click on that icon.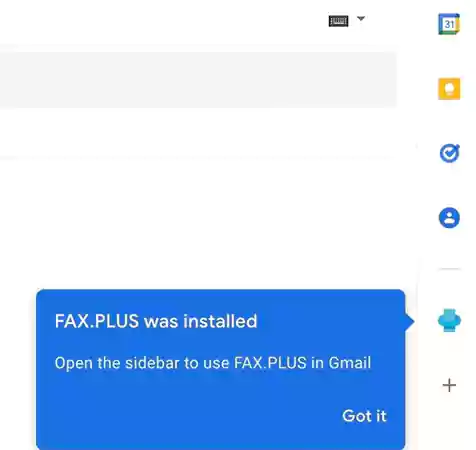 After that, a sidebar will appear on your screen where you have to type the recipient's fax number, to whom you want to send the fax from Gmail, and then, click on the New Fax button.
Clicking New Fax will launch a new Gmail email window with the fax number configured as an email address. In the CC and BCC columns, you can also provide ordinary email addresses if you wish to share the document with others as well by email.
Compose the body of the email if you wish to, and add the files to be sent as fax from your Gmail account, by clicking on the icon to add attachments.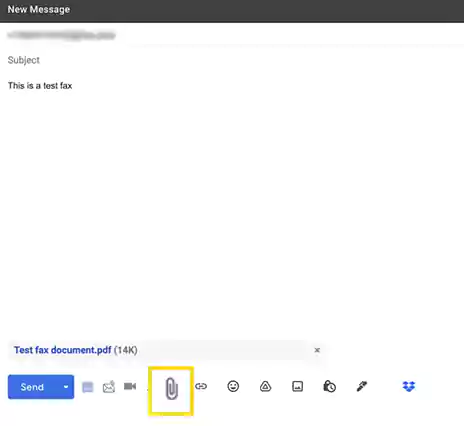 Lastly, hit the Send button, and your fax will be sent via Gmail.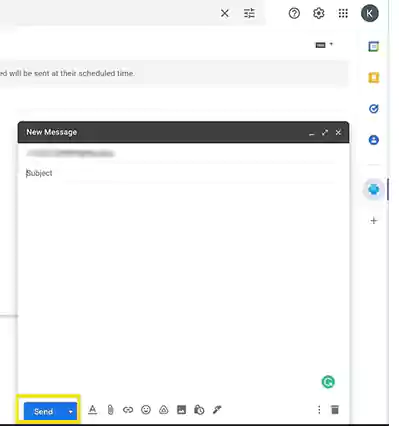 Within 5 minutes you should receive the confirmation that your fax has been sent.
You can fax only a maximum of 10 pages if you have registered for the Fax Plus free package. After that, to continue using its service, you will have to pay. It definitely depends on how much faxing you want to do each month, but the cost is fairly modest.
Further, if your Gmail is not receiving emails sent via fax, then it is because you are using the Fax Plus free plan. To receive faxes on your Gmail, you will be required to have a paid plan.
There are many other fax services that are compatible with Gmail, but all of them couldn't be listed here, which you are free to explore. Fax Plus, however, will do the job for you if you only need to send a single fax to someone via Gmail.
FAQ
Ans: Yes, you can easily send a fax using the Gmail app. The steps for doing so are the same as stated in Method 1 in the above article. However, in order to send a fax using the Gmail app, you will also be required to register for an online fax service to get a fax number. Another method for doing so is that you download the email-to-fax service provider's app on your phone, register for their service using your email account, and use it to send the fax.
Ans:Any email address you have can be used to send a fax online. However, considering the level of security and other functions it provides, it is advised to fax from Gmail. However, if you want to send a fax using any other email service provider, then be sure that your email address is only used for faxing. It doesn't matter what email address you use.
Ans:Yes, your virtual fax number is always available for online fax transmissions. Every fax sent to your fax number is automatically received on Gmail or any other email account, and a copy is also maintained in your primary fax provider account. However, depending on the online fax service provider's subscription package you are using, the limit for sending or receiving faxes might be restricted.
Read More:
Share