A Thorough Guide for "How to Mark All Emails As Read on Gmail"
If you are a Gmail user, it is highly possible that your inbox is stuffed with unread emails. And there are many of us who prefer to have a clutter-free space as we work, right?
On the other hand, who wants to skip their new emails due to the older unread ones creating disarray? So if you don't want to be one of them and get sorted out with this, read on.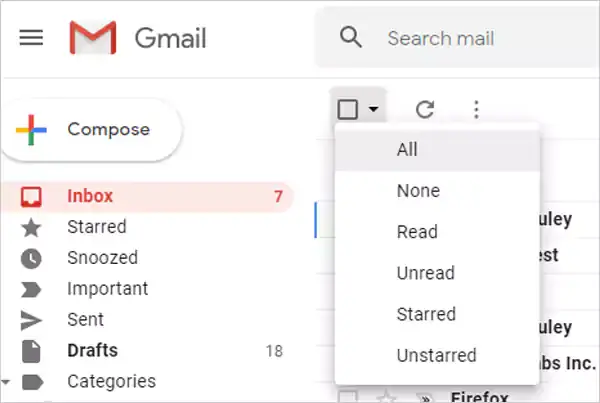 In this article, we are going to discuss how to mark all emails as read on Gmail. So first, let's find out whether, currently, it is even possible to do it or not.
Can All Emails Get Marked As Read on Gmail?
We all know that there are quite a few consequences of leaving a lot of emails unread on Gmail, like missing out on any important email or your client asking you something in the long thread of unread emails.
However, what if you can get free from this mess and confusion? Is it possible to mark all the emails as read on Gmail? Well, fortunately, the answer to that is yes! You can easily mark all emails as read, be it on your phone or PC, and get a clean space to work in. So read on to know how you can mark all emails as read on Gmail and say goodbye to the full inbox of unread emails!
Benefits of Marking All Emails As Read on Gmail
Now that you know it is possible to mark all your emails as read on Gmail, let's talk about the plus points of doing it. It is easier to mark the emails as read rather than delete emails from your Gmail account. So why should one do it? Let's see.
A simpler and fresh layout
Less confusion and more productivity
One won't miss out on important emails
The new unread emails will be easier to spot
You can reply to important pending emails from clients
So these were some positive points why one could mark all emails as read on Gmail. Now let's see how one can do it and what are the steps for it.
How to Mark All Emails As Read on Gmail?
There are times when our Gmail inbox gets full of emails of promotions or just work in general when we are away for a bit. And now everything is cluttered altogether.
Sometimes it also happens that your Gmail Spam filter is not working. And that can give you a hard time in filtering out the spam emails from the important unread ones. So marking all your emails as read can certainly help you in scheming out the important ones with the spam ones.
To do it, we have gathered methods for different devices below, and you can follow them accordingly.
iPhone
So basically, there are two ways to mark all emails as read on iPhone – through Gmail directly and via the default Mail app on iPhone. And we will now be sharing the steps for both methods below.
To mark all emails as read on iPhone, follow the below steps:
Using the web version, open Gmail and sign in.

Now Request Desktop Site.

Once you have done it, from the top, select one Inbox.

Tap on the checkbox from the top-left and select Mark as Read.

For marking all emails as read on Gmail using the Mail app, follow the given steps:
Open the Mail app and tap on Gmail.

📝 Note: The Gmail option will only appear if you have set up a Gmail account on the iPhone Mail app. In case you haven't, the option won't be visible to you.
Now click on Edit.

Tap on Select All.

Click on Mark from the left bottom of the screen.

Then select Mark as Read.

Now, all your emails will be marked as read using the iPhone Mail app. Let's see how the process can be done on Android.
Android
Now, heading over to Android, which is used by the majority of people for operating on Gmail. To know how to mark all emails as read on Android, let us tell you that you can't select all emails at once on Android. And hence, you have to select each unread email to mark it as read on the Gmail app. So if you have no issues with it, follow the steps given below.
Open the Gmail app and tap on the three – lines menu icon from the top left.

Now scroll down and select Settings from the bottom.

Tap on your Google account and click on Inbox Type.

Then select Unread first.

After that, head back to your Inbox and you will be able to see that now all your unread emails have appeared.

Now you can select the emails that you want to mark as unread and then tap on the Unread icon from the top right.

However, you can use your PC for doing the process quickly and easily, so follow the steps in the next section.
Windows
If you are a Gmail user and use it on Windows, we will be discussing the steps for "how to mark all emails as read on Gmail" below.
Go to Gmail and log in to your account.

Select all emails by clicking on the checkbox given on the top-left.

Then, from the list of options, select Mark as read.

And now, all your selected emails will get marked as read on your Windows successfully. Now let's talk about how you can mark an email as unread on Gmail.
How to Mark An Email as Unread?
If you think that there are important emails that you might have to go through again, and you have read them, we can tell you how to mark them as unread. This way, you can easily remember to read them again whenever you open Gmail. So let's get started with the steps:
Head over to Gmail and open your inbox.
Now select the email that you want to mark as unread.

Once you are done selecting, tap on the closed envelope icon, and your email(s) will be marked as unread successfully.

📝 Note: The steps given above are for all the devices, the layout differs from device to device slightly as you follow the steps.
Using the above tips, you can save yourself time by marking the important emails as unread and keeping reminders to go through them later.
FAQs
Ans: Yes, you can easily mark emails as read from a selected folder on Gmail too. All you have to do is follow the below steps:
Ans: To mark an email as unread, follow the steps below:
Ans: Here are the steps to select all your emails altogether on an iPhone:
Share