An All-Out Guide on How to Create a Gmail Account
"If it isn't on Google, it doesn't exist". This statement alone should be proof enough that Google services have more to them than what meets the eye. One of the major services being, the email service.
Gmail is one of the most popular email services to ever exist. The service has been in the headlines ever since it was launched in 2004. With an impressive user interface that has evolved over the years and tons of other features, it is no wonder that Gmail is home to more than 1.5 billion users who access their accounts for both professional and personal use.
In case you haven't made an account yet or if you are thinking of switching to this email service, you have come to the perfect place as we have answered the popular "how can I create a new Gmail account" question in the most detailed way possible.
But before we begin, let us take a look at some of the major benefits offered by Gmail which makes users choose it over any other email service.
Major Perks of having a Gmail Account
Users get the option of changing the theme along with their inbox which simply makes it more compatible when compared to any other email client.
Users get to access their accounts from anywhere in the world, provided that they have access to the internet.
Filters allow users to keep their inboxes cleaner and also, users can personalize more in comparison to other email clients.
Every user gets 10 GB+ email storage space, ensuring that users don't run out of space anytime soon.
No additional costs, which means that users get to access all of the exclusive features and filters for free.
Users get the option of Google search functionality just inside their inbox.
There are tons of plugins and extensions available for free of cost. This in turn can drastically change the way you use Gmail by helping you to customize the flow of work.
The service rarely crashes if at all and is also pretty reliable.
Now that we know how beneficial signing up on this email service is, let us take a look at how one can sign up for a Gmail account with relative ease.
Steps on how to create a Gmail account
In order to begin with the proceedings, you will need to visit the official site of Gmail with the use of this link, www.Gmail.com.
On the site, locate and click the option of "create account" to proceed further.
In the next window, a sign-up form will appear. You will now need to fill in the required details such as first name, last name, an appropriate username, and a new password.
Now, you will need to enter your phone number correctly to verify your mail account. It is because Google uses a two-step verification process to ensure better security. In case you want to know more about this process, simply visit this link.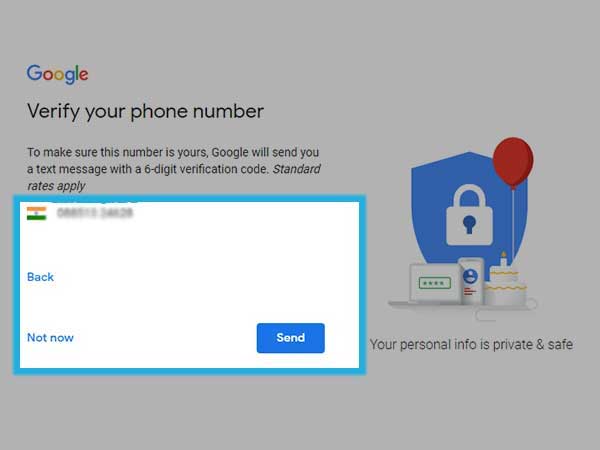 A text message will now be sent to you on your mobile number by Google with a code in it. One can also make good use of the automated call system in case the code hasn't been delivered in a couple of minutes.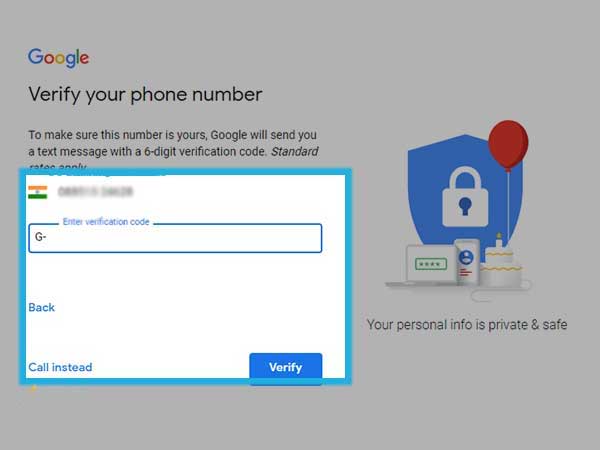 As soon as you have verified your account, a form will pop up on your screen, asking for some personal information. It includes your date of birth, your gender, and a recovery email address. In case you do not feel comfortable enough to share this information, there are plenty of other options available that one can use for this step instead.
Simply accept the terms of service and the privacy policy of Google. Make sure that you review both of these in detail before clicking on "I agree".
These simple steps can help you to create a new Gmail account with relative ease.
Let us now take a look at the steps that can help in opening a new Google mail account.
Prerequisite steps before you begin managing emails via your Gmail account
Move back to the main Google screen and hit the Gmail link, to begin with.
After you have signed in, you will have to go through the introductory steps of Gmail. Once the final step is done, a tab will pop up on your screen with the announcement that Gmail is ready for use.
Simply access your Gmail account and find different ways to level up your account to make the most out of it.
Now that we know everything about how to set up a new Gmail account, let us take a look at some sneaky ways that one can use to get the username of their choice, just in case it is already taken.
Simple Username tips for beginners
Make good use of the algorithm
It is common knowledge that Gmail doesn't distinguish when it comes to username variations. For instance, brad pitt, brad.Pitt and brad..p/itt, all three are the same as far as Gmail is concerned.
All one needs to do is to take the username of their choice and add a little bit of spice/creativity.
Take a look at this example.
Try experimenting
In case the user has a common name, say, Sam Smith, then one needs to be even more creative to come up with a Gmail username that also makes sense to the recipients.
Make good use of a middle name, if you have one.
Can you think of any nicknames or do people call you by one? Try to keep it professional, we insist!
By registering for your own domain
In case you are using Gmail for professional purposes, then this is the best option for you, especially if you are looking to or setting up a website for work. One can access this link to sign up for the G Suite.
This way one can send emails that look a bit more professional and polished. It is relatively cheap as well, meaning that it won't take a toll on your pocket.
Let us now move forward to how one can level up their Gmail account to explore the service in a better way.
Want to stay ahead of the curve? Take your Gmail account to a new level.
One can now understand why swapping a Hotmail or Outlook account to Gmail is considered a wise move, since the latter has tons of benefits. One of the major benefits out of the long list includes the option of free ads-on and extensions that can help users to supercharge their account.
Boost your productivity with the right inbox, an email extension that simply enhances the emailing experience of a user. Some of the major features of this extension are mentioned below apart from the added functionalities that it brings to the table.
Via tracking the emails
Helps the users to find out who reads and clicks on their emails, when they click, and how many times they click. Offers real-time insights on who is reading your emails and who is ignoring you.
By setting up Follow-up emails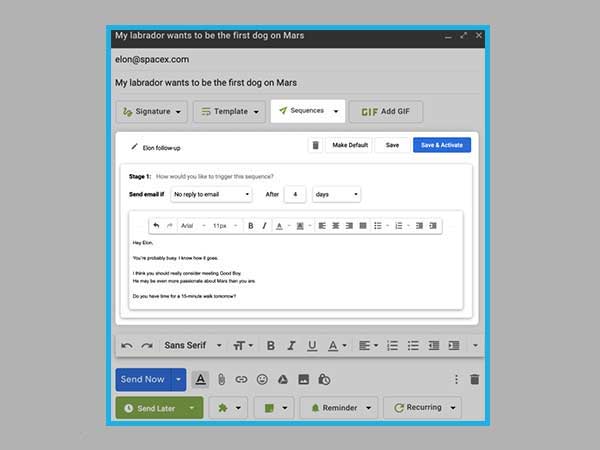 Allows the users to set up follow-ups that are sent automatically in case the prospect doesn't reply. Don't worry about follow-ups, the right inbox will take care of it.
With the use of email Templates
Users get the option of turning their impressive emails into attractive templates that can be inserted and optimized with just a simple click. This, in turn, helps to save time along with the option of adding consistency to their email communication.
Let us now take a look at some of the commonly asked questions on the internet when it comes to Gmail.
FAQs
Ans: There are two simple ways that one can use to create a new account on Gmail without a phone number. One can either make good use of the Gmail mobile app to sign up or add another email address for verification before signing in. state your age as 15 and add another email address to avoid the use of a mobile number.
Ans: Users can have as many Gmail accounts as they want to. Thanks to Gmail, users can also access these accounts simultaneously on multiple devices.
Ans: All in all, one can create a total of up to 4 accounts from a single phone number. This is the reason why every IP address cannot have more than 4 Gmail accounts.
Conclusion
Google Mail, commonly known as Gmail has been one of the best, if not the best email services of our time. It has tons of great filters and features, making it hard for users to choose any other service over it.
How to create a new Gmail account, you say? Well, simply follow the steps that have been mentioned in the earlier sections of this blog. One can follow them carefully to create an account on Gmail without breaking a sweat.
We hope this blog has everything that you were looking for. For any more queries, you can also contact the customer support of Google.
Share