Gmail is not Working on iPhone? Know the Causes and Solutions
Struggling to use Gmail on your iPhone? You are entering the correct login information, everything is perfect but Gmail is not working on iPhone. Then, you need to check whether you have changed the location all of a sudden or your Gmail settings are jumbled up. Well, there are numerous reasons why Gmail doesn't work on your iPhone or iPad and multiple solutions to fix the problem when Gmail won't in the Mail app of iPhone.
Major Cause Why Gmail Is Not Working with iPhone
Security is the factor that runs the entire enterprise of Gmail thus the brand works hard to keep security concerns at bay. Companies like Gmail often have the fear of getting sued for security breaches as customers have power in their grasp to demolish the image of the brand. Having said that, sometimes security checks become excessively strict and accounts are blocked without any prior information. In such endeavors, customers are blocked or locked out of their own Gmail account. This problem is most common among iPhone users who have set up Gmail on their iOS devices.
The matter here is not the tight security but the consequences that have no explanation. Recently, the complaints related to unjustified blocks have seen a sharp rise and iPhone users are more vulnerable to this.
The biggest reason why Gmail mostly stops working on the iPhone is the location change. For instance, when a user moves from one place to another, Google, the owner of Gmail, detects the sudden location change and thus stops the use of Gmail on the completely new location as it considers it as an insecure login attempt. So, if you are on vacation, business trip, or moved to a new place, Gmail is going to believe that there is something fishy.
But after a deep analysis and days of trying and testing, we have compiled a list of possibilities that can help you fix the problem "Gmail is not working on iPhone".
Solutions to Gmail Issues on iPhone or iPad
First thing first, do not proceed with the solutions if you believe that you are entering incorrect login credentials mainly the password. In this case, first, reset or recover your Gmail password and check if you can now access Gmail on your iPhone.
Solution 1: Go to Gmail Website to Check Alerts
Gmail's website holds all the secrets! So, we advise you to explore every nook and cranny of the Google website when Gmail is not working with your iPhone or iPad. The logic behind this is very simple, the mail app on your iPhone device doesn't have much information to provide you as the app is only designed to use your email account for sending and receiving emails along with few other general features so no technical detail is covered under the mail app. Therefore, when you can't sign in to Gmail on your iPhone use your computer to access the Gmail website or your phone's browser (if you are okay with a shorter screen) and check what it has to say. If you can find out the glitch, you have hit the right spot.
From Safari, IE, or Chrome, open gmail.com, type in your email address and password, and hit Sign-in.
Now, search for the alert menu and check that can concern you in your Inbox. If you receive alerts stating "Someone has your password" or "We blocked a sign-in attempt", take them seriously! And move to the next solution.
Solution 2: Review "Your Devices" Section on Google Security page
In such the aforementioned case, it is suggested to go to the "Review Your Devices Now" section, and click on "That Was Me" (if it was you, obviously).
Then, scroll down and check the "Your Devices" option to see if really a hacking attempt has taken place.
Solution 3: Reset the CAPTCHA
The hidden gem known as "CAPTCHA reset" works great to fix the issues related to Gmail when it is used on iPhone. This feature can help you unlock numerous security features of Google and enable other devices to connect with Gmail. Most of the Gmail users don't even know about the existence of this feature and nearly half of the Gmail users can't benefit from it.
It is a major step to improve the security of your Gmail account, by adding an extra step while signing in. Go Gmail CAPTCHA reset page, and allow access by clicking on "Continue"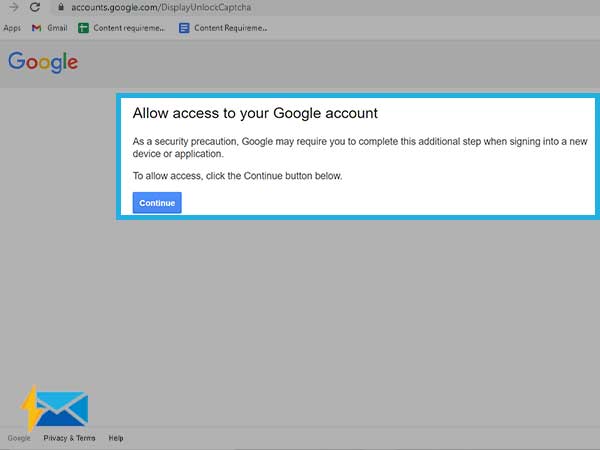 After setting this, whenever someone has to access your Gmail account, he/she can't proceed without filling in the CAPTCHA, this way it will become hard for bots to hack your Gmail account and it will also tackle plenty of other issues.
Next time whenever you need to sign in to Gmail from your iPhone, no sign-in issue will appear and your sign-in attempt would work as the CAPTCHA reset helps Gmail to remember your device.
Solution 4: Do not forget to Enable IMAP
The next reason why Gmail is not working on iPhone or iPad can be the faulty IMAP settings (the technology responsible for syncing the received emails). If IMAP is not enabled on your Gmail settings, you might not receive emails while using Gmail on your iPhone and Gmail won't sync on your iPhone.
Settings>> Forwarding POP/IMAP>> Enable IMAP from IMAP Access
Solution 5: Remove and Re-add Gmail Account on iPhone
Sometimes not being able to use Gmail on iPhone or iPad can happen due to being blocked or disabled by Gmail. Opposite to that, make sure that you haven't blocked in device activity and notifications.
After resetting the CAPTCHA, enabling the IMAP settings, you know need to try the more advanced approach and that is to remove your Gmail account from your iPhone and add it again.
People often avoid this method due to fear of losing your data, but FYI, after you remove your Gmail account from your iPhone, nothing gets deleted from the Gmail server. And, after you add the Gmail account on iPhone again, your data such as email, contacts, and notes will be restored.
Word of Caution
Here is something every Gmail, as well as iPhone user, should be wary of; make sure you don't rely upon POP as it is less effective and older mail delivery system type and the POP server doesn't save any data after it is downloaded on the device, due to which restoring data becomes tricky.
Just to be secure, first sign in to Gmail.com from your browser and then delete your account from your iPhone or iPad. All emails that are visible on the web are available on the server.
Steps to Remove Your Gmail Account from iPhone
First, open the Settings on your iPhone or iPad.
Now, open Mail, Contacts, Calendars, or Mail and select your Gmail account.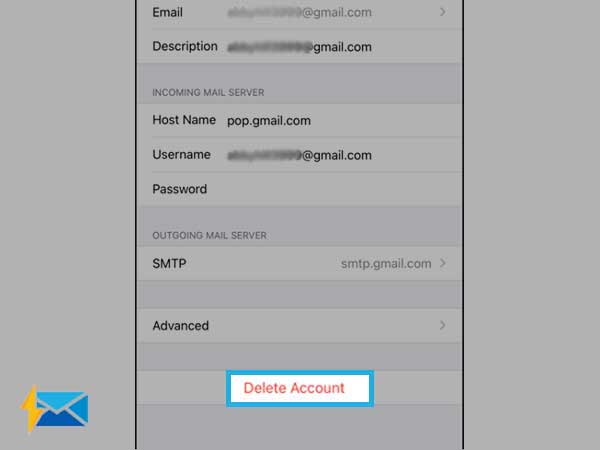 Then, click Delete from my iPhone.
To Re-add Gmail on iPhone or iPad:
Go to Settings>>Mail, Contacts, Calendar, and then Add account.
Select Google from the list of email services.
Then, add your account login Information such as userID and password.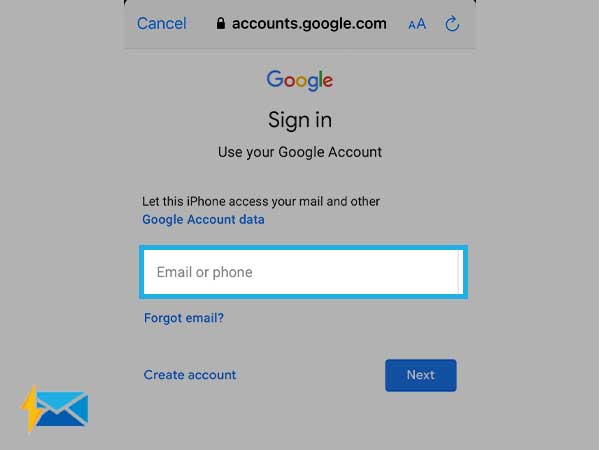 Share