11 Trusted Fixes When Your Gmail Emails are Disappearing!
Isn't it horrific that you are in dire need of an email, but couldn't find it in your email account? Yeah. I know, I was there a few days back, when some of my emails just disappeared from my Gmail account.
Gmail has become an essential part of our day-to-day communication, whether for personal or professional use. Therefore, it is important to make sure that it is working fine and receiving all the emails. However, it is also significant to keep a track of your older emails, as you never know what you will need in the future.
That's why I decided to write this article in the first place! To share my experience with you and what you can do when your emails are missing from your Gmail account.
However, there can be any number of reasons for the same, but if you want to know "How to retrieve an email that disappears from your Gmail account?", read through these 11 most helpful solutions that have aided many in getting back their disappeared emails.
Overview of the Article:
---
Gmail's 'Expiring Email' Feature is the Reason for Disappearing Emails!
---
Fixes:
---
Gmail's 'Expiring Email' Feature is the Reason for Disappearing Emails!
Very few people know that Gmail has an expiring email feature that, when enabled for an email, can make that email disappear from the receiver's end.
This feature is accessible when the 'Confidential Mode' is turned on. Emails can be password-protected, sent again, and messages can't be forwarded, printed, copied, or downloaded by other people, with this mode. The option to specify expiration dates for emails allows for messages to disappear from inboxes after a certain period of time.
One can set the expiration date for an email by clicking on the Confidential Mode icon present near the Send button in the email composing window. Then, the screen will appear, where the expiration date can be set by the sender.
When the expiration date of the email is reached, that email disappears from the inbox or whatever folder it is stored in on the receiver's end. Thus, it can be the reason why some of your emails are missing from your Gmail account.
However, expiring emails always remain in the Sent folder on the sender's side, unless they delete it. So, if possible and if the sender still has that email, you can ask them to resend it to you.
Nevertheless, if you think that this isn't the reason for the missing emails from your Gmail account, you can try out several methods listed further in the article.
Check the Spam and Trash
If your Gmail emails are disappearing from your Inbox, then you can check other folders like Spam, Trash, etc. Many times it happens that Gmail flags a non-spam email as spam, or you accidentally mark them as such or delete them because of which they end up in other folders like these.
Further, if you have recently changed your account settings, then it can also be the reason why your emails are missing from your Inbox.
In order to find your missing emails, open your Gmail account and use its left sidebar to switch between different folders. If you have found the disappeared email in the Trash, you can move it to your Inbox and other desired folders by right-clicking on it.
If the missing email is in the Spam folder, you can right-click on it, and select the Not Spam option, and it will be moved to your Gmail inbox.
Additionally, you need to know that after 30 days, emails in the Spam and Trash folder are removed from the mail server. Your missing mail and messages will be erased if they remain there for a longer period of time than allowed.
See if the Emails are Archived
You can have accidentally archived emails, which is another reason why they might not have appeared in your Gmail inbox. In order to get to the archived emails, just open your Gmail Inbox and select "All Mails" from the sidebar. You may conveniently browse through all of the emails that have been delivered to your inbox here.
Additionally, be sure to check all the other folders and labels if you want to retrieve missing emails from Gmail. For instance, from the sidebar, you may access several folders (like Drafts, Sent, or Scheduled) where your emails may be stored.
Check your Gmail Account Filters
Yes, email filters can be another reason you are asking yourself the question, "Why have my emails disappeared from my inbox of Gmail?"
It is very easy to mess up while setting up a filter, which can affect all incoming emails and also the existing ones, because of which they end up in different folders where they are not supposed to be. So, follow the steps below and review your Gmail account's filter settings:
Open your browser and log in to your Gmail account.
Click on the settings icon present in the top right corner of your Gmail dashboard, and click on the See All Settings option.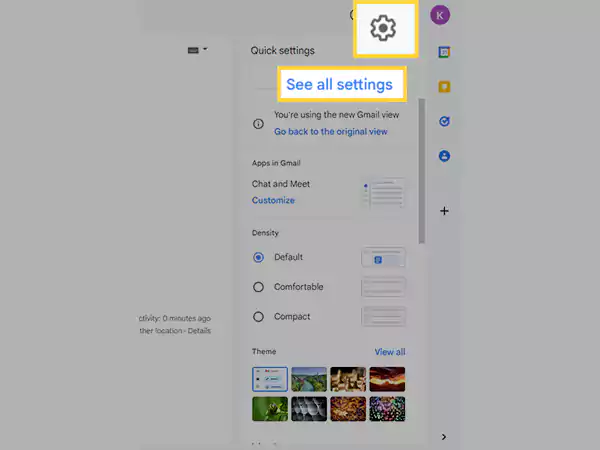 Now, switch to the Filters and Blocked Address tab in the Settings window that will open.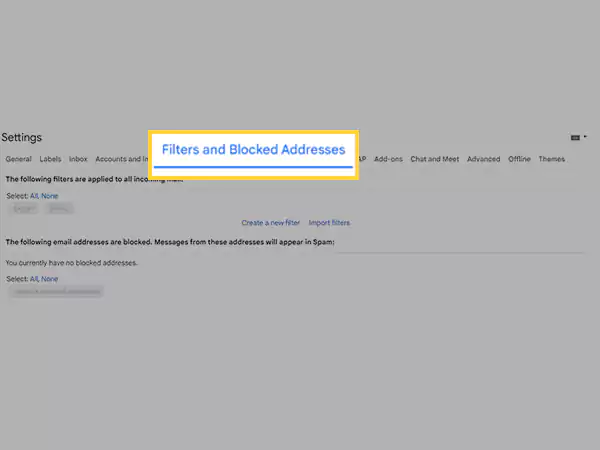 This will take you to the Filters page, where you can look for any faulty filters. Click on the Delete option to delete it, or edit it by clicking on the Edit option.
Once you have edited or deleted the filter, check if you can find your Gmail missing emails.
Look for Missing Emails in the Promotion and Social Tabs
Gmail has multiple tabs for organizing and categorizing emails based on various types. Determine the nature of the emails that are disappearing from your Gmail and check the appropriate tabs to verify if they are still there.
Check every email category tab in your Gmail inbox after opening it, which are accessible from the top of the Gmail message inbox.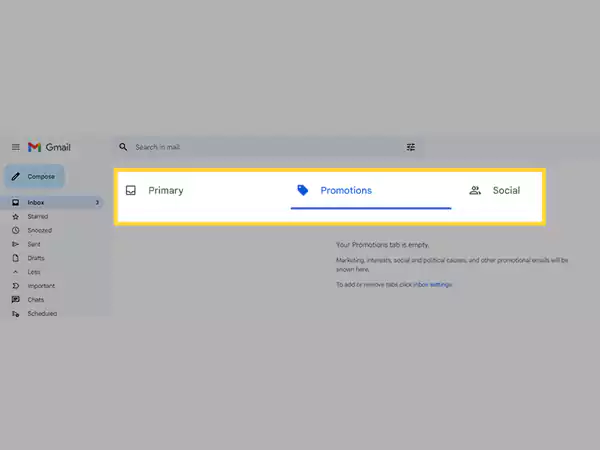 In the event that you can't find these categories there, look for them in the left sidebar. To locate any received or sent emails that are missing, you can search through all the category tabs.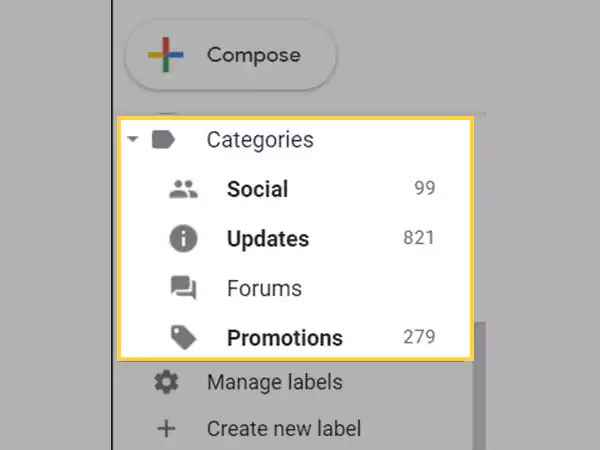 Disable Forwarding from your Account to another Email Address
When you are in charge of several email accounts, Gmail automatic forwarding is useful. All incoming messages are forwarded to the specified email address.
However, it has certain negative consequences as well. You will stop receiving new messages in your inbox after you enable forwarding in Gmail since they will be delivered directly to the forwarding account. Therefore, you may think that your emails are disappearing from your Gmail account.
Therefore, you should make sure that the forwarding is turned off in your Gmail account. Use the instructions stated below to get to the settings and turn it off if it was accidentally turned on:
Launch the browser and sign in to your Gmail account.
Click on the settings icon in the upper right corner of your Gmail dashboard, and select the See All Settings option.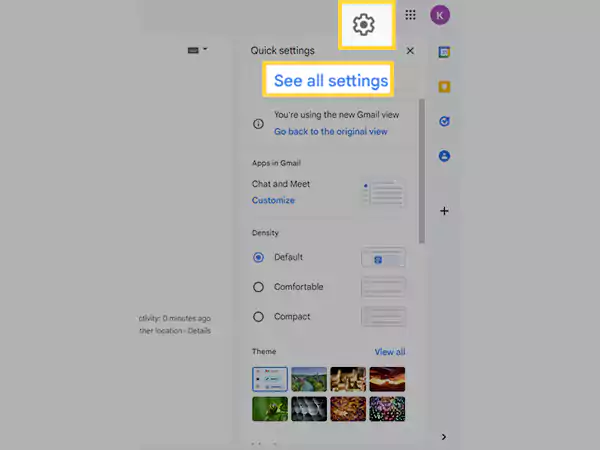 Now, in the Settings window, go to the Forwarding & POP/IMAP tab.
Check if Forwarding is enabled, if so, turn it off.
Once done, click on the Save Changes button at the bottom of the window.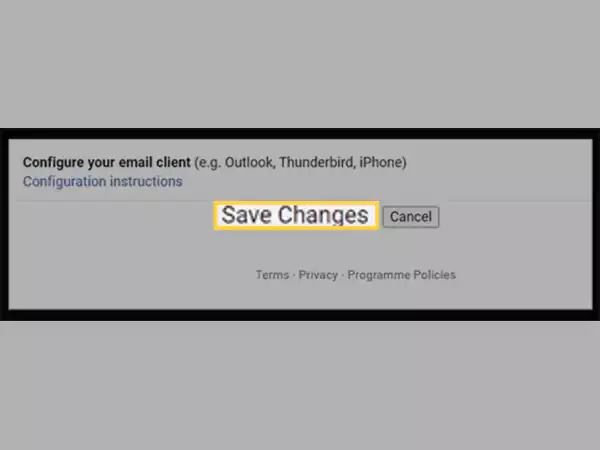 If forwarding was enabled, then to retrieve the emails that have disappeared from your Gmail account, you can go to the email account to which they have been forwarded.
Ensure that POP is Disabled for your Gmail Account
While accessing your Gmail account through a third-party email client like Outlook, Apple Mail, etc., it is a common occurrence that users complain about Gmail emails disappearing from their inboxes. One very common reason behind this issue is, POP being disabled in the Gmail account.
If POP is enabled in your Gmail account, emails aren't synced in real-time, and you can view your emails only on a single device if you are using your account on multiple of them. Further, they are downloaded on the device in which you are using your account through a third-party app, and you decide how frequently emails are to be downloaded. So, because of all this, when you open your Gmail account on other devices, you see that your Gmail is missing months of emails.
In order to know if your Gmail account is using POP, you can follow the steps specified in the above solution to get to the POP settings. There, make sure that POP is disabled, and if it's not turn it off right away, and click on the Save Changes button.
However, if you want to keep using POP, then you can select Keep Gmail's Copy in the Inbox option for the When Messages Are Accessed with POP settings under the POP Download section. This will ensure that emails appear in your Gmail Inbox after they are downloaded using the email client.
Moreover, if you want to know "How to retrieve an email that disappears from your Gmail account while using POP?", check your email client settings, and get the location where the emails are downloaded. Hopefully there, you will find all the emails that disappeared from your Gmail account.
Additionally, to keep using your Gmail account with third-party email clients without any such issues, make sure that IMAP is enabled. It syncs email in real time and makes it easy for you to use your Gmail account on different devices without any difficulty.
To know more about Gmail IMAP and POP Settings, visit the following links: IMAP / POP
Use Gmail's Email Recovery Tool to Retrieve Missing Emails
If you are unable to locate the lost emails in Gmail, your emails might have been permanently erased. It can be because your account was compromised and some emails were permanently deleted. Usually, this occurs when you use a predictable password or leave the account signed in on a shared computer.
As a result, if Gmail flags any questionable activity, you should carefully analyze the most recent activity of your Gmail account. You must upgrade the security feature and modify the Gmail password to accomplish that.
After safeguarding your Gmail account, if you want to know "How to recover my Gmail inbox messages?", you must visit the Gmail Message Recovery Tool page and proceed by clicking the Continue button. This Gmail tool will help you in getting back your deleted emails in your inbox.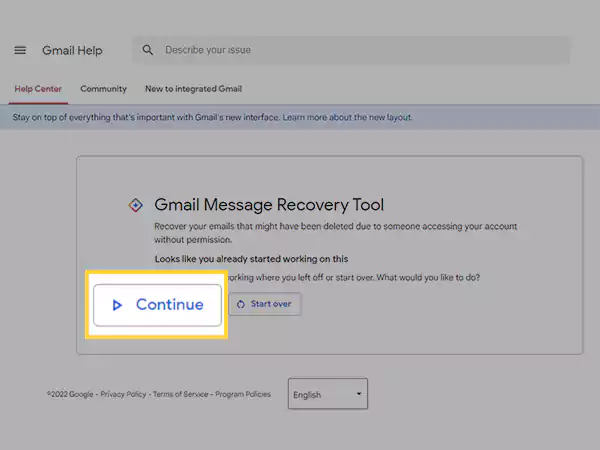 However, you will be able to retrieve your missing emails within 30 days of deletion. However, if it's above 30 days, then this tool won't be able to help you.
Check Your Google Storage Limit
In June 2021, Google revised its storage limit policies. The new regulations state that Google has the power to erase all of your data if you have been over your cloud storage limit for two or more years. However, if your account has gone over the allotted storage, Google will send you email notices and cautions, warning you about the same.
You may either delete the unwanted files or purchase more storage space to get around this problem. However, you can still experience the Gmail missing emails problem if your storage has been used up. Make sure you have enough cloud storage capacity to avoid having your emails erased.
Clear Browsing Data and Optimize the Browser
If the solutions stated before in the article weren't helpful in getting back your disappeared Gmail email in your Inbox, then don't worry, here's one other solution.
Emails disappearing from Gmail on browsers but remaining accessible in other mail clients like Outlook, Apple Mail, etc. indicates that the mailbox could not be correctly loaded by the browser, which explains why emails are no longer visible in Gmail on browsers. To address it, you may either utilize the new browser or clear the cookies and cached data of your browser. You can do so by going to browser settings.
Further, you should also check the following things in your browser to make sure it's proper functioning, and if anything is off, correct it right away:
Check if JavaScript is enabled.
Ensure that you are not using any malicious browser add-on/extension.
Your browser is running on its latest version.
Though these solutions are not directly helpful in retrieving missing emails in your Gmail account, there is no harm in trying them out.
Use Gmail Search Box to Find Missing Emails
This solution doesn't give you the answer to the question "Why have my emails disappeared from my Inbox of Gmail?", rather, it helps you in finding the disappeared emails.
In your Gmail dashboard, you will see a search bar where you can type the subject of the email, the sender's name, the date of receiving the email, or any other information you remember about the disappeared email. Doing so, Gmail will display the emails with matching results.
Thus, this method can help you find the email that you presumed to be missing.
Also Read: Struggling Gmail Spam Filter? Here Are the Solutions
Use Third-party Emails Retrieving Tool
If any of the above methods didn't work, and you are still searching for "How to recover my Gmail Inbox messages?", then the last thing you can do is, use a recovery tool.
Nowadays, there are several third-party tools available that help you in retrieving your missing or disappeared emails and messages from your Gmail account. You just need to download the most reliable tool and get started with it.
However, in order to get back your missing emails using these tools, you may have to provide access to your Gmail account's sensitive information. Therefore, you need to be careful and use the most trusted tool, as your information can be misused.
Hope this helps, you are able to find your missing emails!
Share