How To Find Out What Devices Are Logged Into Your Google Account
Highlights
---
On average, each Google Account has three different devices used to access it during the same month.
Almost everything requires a Google account. You can't use your Android phone without one and thus multiple devices can use one Google account simultaneously.
You can check what devices are logged into your account within the Google account settings.
If you're using a Google account, it's important to know what devices are logged into your Gmail account and which ones you don't recognize.
Google records, if you're logged into a device that has your sign-in information saved automatically, Google will show you that device as "active." It's possible that your parents, spouse, or kids have your sign-in info on their smartphone so they can access your email and other services. That's totally fine — but it's also important to know when you have a device that's active on your account but isn't yours. It could be someone else trying to access your account in an unauthorised way.
Check Devices That Have Recently Accessed Your Account
If you want to check which devices have recently logged in to your Google account, you can easily do so by checking the Recent Activity page. To access this Follow the Following steps:
Step1: Go to your Google Account.
Step2: Click on your Avatar in the top right corner.
Step3: Click on "Manage your Google Account"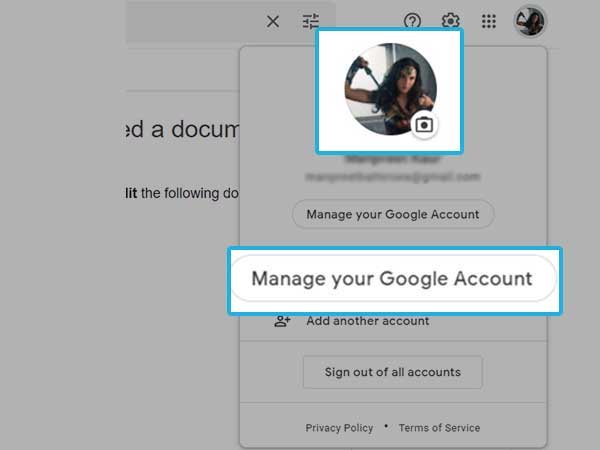 Step4: A new window will Pop up then click on "Security"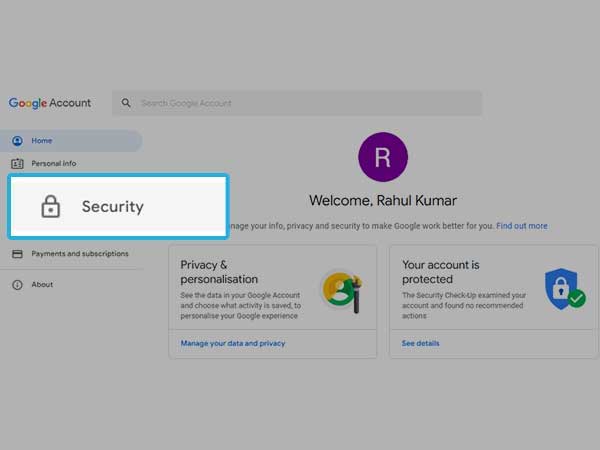 Step5: Scroll down and click on "Review Security Activity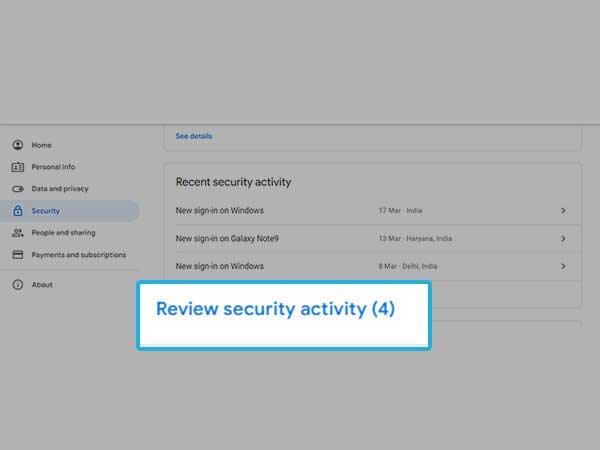 Step6: You will see the list of the devices on which your Google account is Active
Step7: If you don't recognize any of the devices on the List. Click on that Device and then Click on "No, Secure Account"
Step8: A new window will pop up then click on "Change Password" to secure your Account.
Check IP Address Signed Into Your Gmail Account
Google has a number of measures in place to help keep your Google account safe, but even with all the security features enabled, there are still a couple of things you can do to help protect your Gmail login.
One of the most important things you can do is keep track of the IP addresses that get used to signing in to your Google account. That way, if someone else signs in from an IP address that doesn't belong to you, you'll know about it.
To check the IP addresses currently signed into your Google account Follow the following steps:
Step1: Go to your Gmail account, Scroll to the bottom right corner and click on "Details".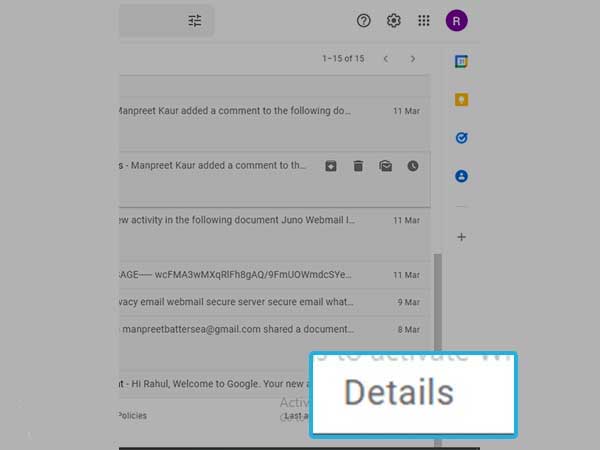 Step2: You will check the list of all devices that have accessed your account. If you see any suspicious Ip address or location Click on "Show Details" to see more information about that device. You may want to review the details of apps that have Gmail access. It may be necessary to revoke access for an app or apps you no longer use, or someone else may have gained access to your account.
If Someone is using your Gmail Account, you can change your Google account password. This will close any open sessions and prevent anyone who does have your current password from signing back in.
Review Devices Where You've Recently Signed Out of Your Google Account
Review devices where you've recently signed out of your Google Account. Looks like you get a notification that you signed out of a google account device. If you didn't sign out, someone else might have access to your account.
Google recommends reviewing devices that have used your account. You can delete them from the list if no longer needed. Reviewing devices where you've recently signed out of your Google Account helps to protect your data.
Step1: Go to your Gmail Account.
Step2: On the top right corner click on your Avatar and then click on "Manage Your Google Account."
Step3: A new window will pop up then click on "Security"
Step4: Now Scroll down to "Your Devices". Under Your Devices Click on "Manage Devices"
Step5: Scroll down to "Where you've signed out"
Step6: You will see all the devices that you have signed out in the last 28 Days.
If you find any suspicious sign out from your Google Account then Change your Google account Password immediately.
What You Can Do if You Find Someone Has Accessed Your Google Account
If you find that someone has accessed your Google Account without your permission, there are a number of things you can do to secure your email account and take action against unauthorized access.
Perform a Security Checkup
The best way to detect any suspicious activity is to regularly check your account activity. Do this through Google's Security Checkup.
You might not know that the websites you visit, the apps you use, and even what you search for can reveal sensitive information about your identity.
Doing this Security Checkup gives you a chance to make sure your account is protected and that your Google Account settings help keep your information private and secure. You'll also see recommendations for keeping your browsing safer on Chrome, Android, and other devices.
Make Sure You Add or Update Your Account Recovery Options.
In order to make sure you can always access your account, add or update your recovery options. It only takes a few moments, but it will let Google contact you if you get locked out of your account.
Always Update Your Software
Google recently updated that some of the Google Account information has been exposed to third parties as a result of bugs in certain websites. Google regularly fixed the bugs and wants to make sure you know how to update your software, whether it's on your computer or mobile device.
In order to keep your account secure, it's important to always update your software when prompted by the manufacturer, including web browsers like Chrome.
Always Use Unique, Strong Passwords With Your Google Accounts
When you use the same password for multiple accounts, you make it easy for someone to access everything. If a bad guy gets your password for one account, they'll try to use it on other accounts — and if you've used it everywhere, they'll get in. That's why it's important to always use unique, strong passwords with your Google accounts. And when you're not using a device or browser, make sure that you sign out. It's also a good idea to turn on two-step verification as an added security measure.
Remove Applications and Browser Extensions You Don't Need
If you have a lot of desktop applications, consider removing some that you don't use very often. And if your browsing experience is cluttered with browser extensions, consider removing those as well. It's also a good idea to remove old software and update the software you keep.
Protect Your Computer From Suspicious Messages and Content.
Hackers will contact you using emails, text messages, phone calls, and web pages. They'll try to get you to provide sensitive information like account numbers and passwords by posing as institutions, family members, or colleagues.
Here Are Some Tips on How to Avoid Getting Phished:
Don't open an email attachment or click a link if you don't recognize the sender. If there's a phone number in the message, don't call it. Hackers can make the numbers look legitimate by attaching them to messages that seem to come from places you know and trust.
If you're not sure if a message is from someone you know and trust, don't click any links or attachments. Instead, independently contact the business or family member who supposedly sent the message. A small extra step can keep your computer safe.
FAQ
Share