How Do I Delete Emails from My Gmail Account?
We are receiving a lot of emails every day. If we are using Gmail for a long time, we face this problem and Google provides users with free Gmail with limited storage. If your Gmail inbox is full, and you're looking for a means to clear it out, we've got some good news! Deleting emails from your Gmail account is a straightforward process. You can either delete them one at a time, or you can use the delete all feature to get rid of them all at once. If you want to keep certain emails, you can archive them instead of deleting them. And if you accidentally delete an email, you can always recover it from the trash folder. So there's no need to worry about making a mistake — you can always undo it.
Delete Your Emails from Your Computer
Switch on your computer and open your favorite browser and then log in to your Gmail account. Before the delete procedure starts let me tell you something about the Primary, Promotion, and social folders.
Primary:
Gmail categorizes your inbox as primary, which is kind of just a default inbox. It's usually what you see when you first open up the application.
Social:
This folder is covered by your Facebook, Twitter, Meetup, Instagram any type of social media account. It's usually filtered in this area.
Promotions:
This folder is only for advertisements.
Now let's talk about how to delete emails from your Gmail account! Fortunately, it's pretty easy to do. Just follow the steps below and you'll have those unwanted emails deleted in a short time. Here I am showing delete my social category emails as an example. All the procedures are the same for others.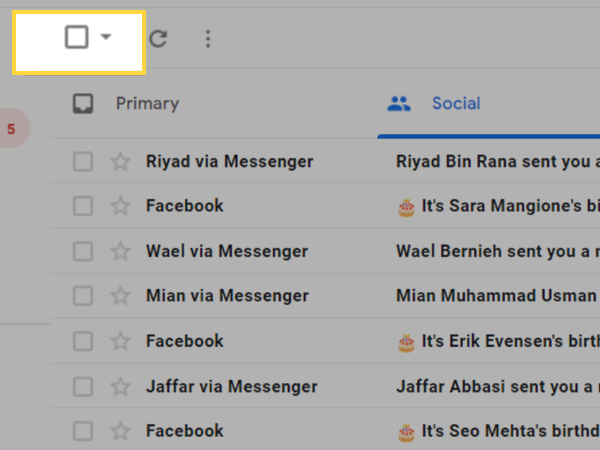 First thing is that you want to click the "Select All" button. This button is found on the left-hand side right next to the "Refresh" button and essentially when you press this option, it's going to select the first 50 emails that are displayed in your desktop interface.
But if you notice here on the right-hand side shows the number of your existing email. If you are interested to empty your Inbox, Social or Promotions folder then what you want to do is you're going to select right under the select all button.
Please select "Select all (this is the number of your existing email on that specific folder) conversations in promotions".
By clicking that, what Gmail is going to do is select all of the emails in your inbox. Then click the Delete button. A pop-up will come to confirm the bulk action for reconfirming that you want to delete all these emails and just press "Ok".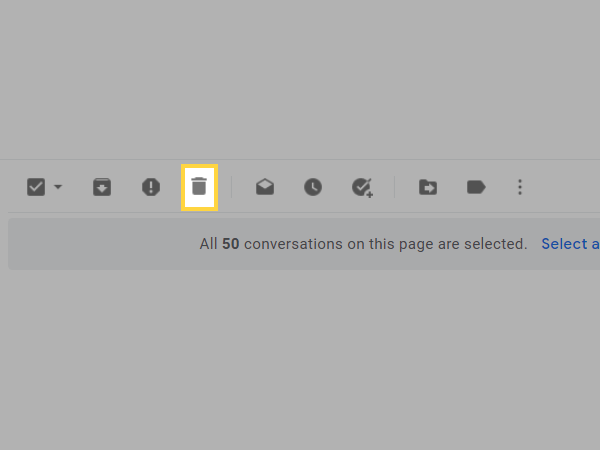 It's going to take a little bit of time to delete the emails. After that Gmail will give you another option to go back if you have done something that you don't want. If everything is alright, then skip this notification.
And that's it! Just repeat these steps for any other emails that you want to delete from your Gmail account.
When you want to delete an email from your Gmail account, all you have to do is click on the trash can icon. This will immediately delete the email and send it to your trash folder. You can also choose to delete multiple emails at once by selecting the checkbox next to each email you want to delete and then clicking on the trash can icon.
Empty Your Trash Folder
If you want to delete your emails from your Gmail account, you need to first empty your trash folder. To do this, go to your Gmail inbox and click on the "More" icon. Scroll down and click on the "Bin" folder.
This will open up your trash folder and you will see all of the emails that you have deleted.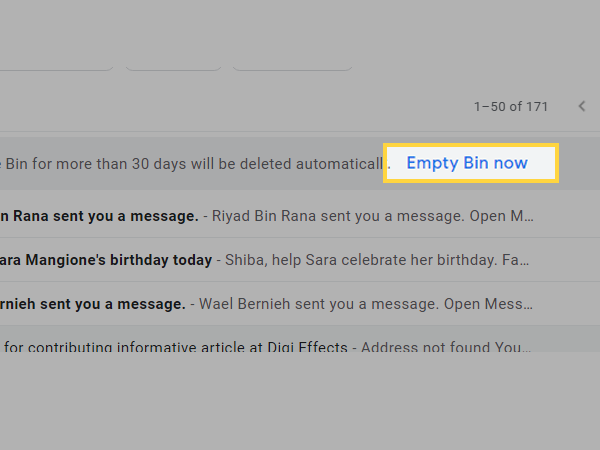 To delete these emails permanently, click on the "Empty Trash" button. Press "Ok" to finish the procedure.
Delete Your Emails from Your Android
Sometimes it's become very important to delete emails, but you aren't in front of your computer. This is the most important thing now, I am going to tell you that deleting your emails is only available when you are using your web on your computer. Don't worry! We don't have our computer right now, but we can use our android for the web version. Let's know the details, and how it works!
How Should I Delete My Emails Using My Android?
If you want to delete all your email from Gmail on Android, you will need to use a browser on your phone. If you tap on the browser
you will see that you do not have an option to select all emails. So let's talk about how to delete all emails on Android.
First Tap on your browser on your Android and then tap on the three dots menu. Scroll down and see the "Desktop site" option. It doesn't matter what site is opened, the important thing is to set it to the Desktop version.
Now on the address bar, write mail.google.com
Select the features and options you want as we discussed before on using the desktop.
Congratulations! You have now deleted all emails from your Gmail account. Happy emailing.
---
Share