Proven Ways To Fix AT&T Not Working Issue
AT&T is popular worldwide for its secure and feature-rich email services. But a few points of time users feel face certain AT&T email problems and one such issue is "AT&T email is not working". This article is aimed to provide the befitting solution to this problem and help restore the normal working capabilities of your AT&T email account.
What is There: In a Nutshell
Part 1: Check your email account settings.
Part 2: Verify AT&T configuration settings.
Part 3: Fix connectivity or browser issues.
Part 4: Fix your Email Programs or Apps Issues
Part 5: Fix AT&T Sign-in issues
Part 1: Check AT&T Mail Account and Settings
The settings of your AT&T email account performs a very important role in the proper functioning of your account. Every small detail matters when AT&T email is not working in 2020. So, here we are suggesting the simplest solution to follow to fix AT&T email problems.
Solution 1: Make sure that the email you are sending, meets the maximum size limit prescribed by AT&T, or the email won't be sent. This will make you think that your AT&T account is not working but it's something else.
Solution 2: If you are receiving Failed Delivery or Problem Found – Message Not Sent message on your screen, make sure you check the recipient's email address because a minor spelling mistake can cause a great blunder.
Solution 3: Try to sign-out and sign-in. This sounds a little old-fashioned but as a matter of the fact, this is one of the effective measures to restore the functioning of your AT&T email account when it stops working.
Solution 4: If you are not receiving AT&T emails, you are suggested to check the spam folder and see if the email is stored there. Sometimes the filter redirects the primary emails to the spam folder. Therefore, if you are not receiving emails, they could be stored in a different folder.
Solution 5: If you are not able to send or receive emails, it is advised to check:
The blocked address- Make sure the recipient or sender's email address has not been blocked by you.
Filters- Check if you have designed a filter for the incoming emails and try to find the email in the assigned folders.
Solution 6: If you are not able to use your AT&T email account, the one reason for this issue can be a hacked or compromised AT&T account. The signs of a hacked AT&T email account are:
Missing important emails
Receiving emails from your own address
A changed display name
A lot of spam in your Sent or Outbox folders.
If your account has been hacked, you are advised to change your password right away. If you are not able to change the password, you can try to reset it.
In order to reset your AT&T email password, follow the steps given here below.
Step 1: Go to AT&T log-in page.
Step 2: Click on the "Forgot Password" link
Step 3: Now, type your "User ID", the "Last name" and fill the Captcha.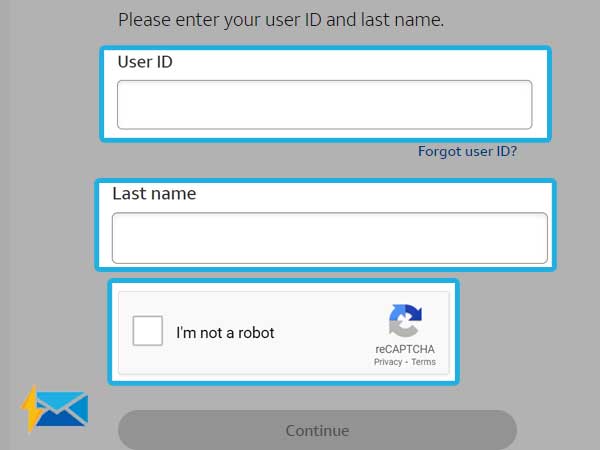 Step 4: Click Continue.
Step 5: Now, select "Security Question" and answer them. Alternatively, you can select "Temporary Password" and receive a code on your registered mobile number or email address.
Step 6: Follow the on-screen instructions to complete the AT&T password recovery.
Part 2: Verify AT&T Email Configuration Settings
If your AT&T email account is not working with the iPhone, Android, MS Outlook, or Windows, you are requested to adjust and update the AT&T email settings on your respective device or email client. Check the correct settings for AT&T in the table given below.
| | | | | | |
| --- | --- | --- | --- | --- | --- |
| Email protocol | Inbound server | Inbound port | SSL | Outbound server | Outbound port |
| POP3 | inbound.att.net | 995 | Yes | outbound.att.net | 465 |
| IMAP | imap.mail.att.net | 993 | Yes | smtp.mail.att.net | 465 or 587 |
Part 3: Fix Connectivity or Browser issues
First, open your AT&T Mail in other web browsers, not the default one. For instance, if your default web browser is Google Chrome go with the Mozilla Firefox.
Make sure that the browser application is enabled for cookies. Next, clean cookies and cache from it by navigating the settings section.
Enable JavaScript, and ensure that it is updated. You can check it by steering through settings.
In case you have installed any browser, extensions or add-ons check if they are not triggering the problem.
Enable the Adobe Flash Player
Examine your firewall, anti-virus, and anti-spyware settings. These installed programs may create issues with email and web browsers. Try to disable them temporarily.
Part 4: Fix your Email Programs or Apps Issues
Note: ATT has updated its email security, make sure you have upgraded the security using an email program or application. Here is the drill for the security update
An active internet connection is a must for updates to ensure that you have a stable internet connection otherwise you won't be able to get into your email.
Make sure that your Outbox folder is empty. If not, clean it and send a new email.
If you are getting the error codes while using the email service, try to fix them as soon as possible.
Make sure AT&T is not down in your area.
Check your email settings and make sure it's correct.
Part 5: Fix AT&T Sign-in issues
Password is Not Applicable in Your Smartphone
This could happen if you have changed the password of your email account or did any other activity with your account. Hence, you need to update it in all the devices you have been using the ATT email for smooth and error-free access.
User-id and Password is Not Matching
Ensure that you have entered the correct set of user id and passwords. Check your caps lock button and try it again, if you attempt too many times, the account may get locked temporarily. However, wait for an hour and reset your password if the issue stands still.
Your Account isn't Active
If you have received any warning email from the AT&T security, it could be a red flag for your account. It means you are doing something inappropriate. For example, sending bulk emails and crossing daily limits of emails. If you are not doing this, possibly your account may get hacked and ATT will deactivate it instantly. If you are facing this scenario, try to contact the ATT support team to reactivate the account.
Next Read:
Share