7 Effective Solutions to Fix AT&T not Working with Outlook
By many, 'AT&T' is considered as the top-rated and largest telecommunication company that offers widely used services from Landline and television to the Internet and Emails to everyone across the globe. But, unfortunately like any other service, its services also, especially webmail services suffer from technical glitches. Many a time, it has been seen that email service users who use "att.net email" reported issues of 'ATT email not working' or 'ATT email won't send' when they open it with Outlook on Windows 10.
Therefore, considering this point, today we'll help all those ATT email users who face "AT&T not working with Outlook" issue by catering a blog to provide all the possible solutions to this particular problem. So, get yourself engaged here reading all the effective solutions given below to fix ATT not working with Outlook on Windows 10.
Solution 1: Configure AT&T Mail Outlook Settings Properly
Sometimes, the one and the most prominent reason behind the 'email not working' can be related to its 'Settings.' Wrong or incorrect configuration of AT&T Mail settings for Outlook could be the possible cause of an "ATT email account not working with MS Outlook" issue. So, before anything else it is necessary that you properly check all the settings of AT&T Mail for Outlook and configure your account again with this below-mentioned step-by-step guide:
First and foremost open Microsoft Outlook and select the 'File' tab in order to click on the 'Account Settings' in the category information.
Then, you have to click in the tab of 'Email' on the 'New' option.
After that, simply switch on the 'Server Settings' and then click on 'Next.'
After clicking 'Next,' you have to select the 'Internet Email Addresses.'
Then, again click on 'Next' in order to enter the given data in the 'User Data' field:

User Name: Your Full Name.
Email Address: Your AT&T Email Address

Then, by selecting either the 'IMAP' or 'POP' account in the box 'Type of Account,' you need to fill the server information given below:

For ATT IMAP Settings in Outlook:

Incoming E-mail Server: imap.mail.att.net; Incoming Port: 993
Outgoing E-mail Server: smtp.mail.att.net; Outgoing Port: 465

For ATT POP Settings in Outlook:

Incoming E-mail Server: inbound.att.net; Incoming Port: 995
Outgoing E-mail Server: outbound.att.net; Outgoing Port: 465

After that, fill the following settings under the 'Login Information' tab:

Email Address: Your ATT email ID/User ID
Password: Your ATT email account password
Login with security: SSL

That's it! Lastly, click on 'Test Account Settings' and if everything seems perfect then click on 'Next' and then 'on 'Finish' to finally save and finish the configuration of AT&T email account settings for Outlook.
Now, log in to your AT&T email account on Outlook by entering all login details.
If still, the ATT.NET email is not working with Outlook then here are the other effective solutions to fix it:
Solution 2: Check your third-party antivirus software
It is necessary to check your third-party antivirus software or Windows firewall settings because sometimes it can be the case that they conflict or interfere with other software or email accounts. So, go to your Windows firewall settings and disable your third-party antivirus software program. And, if disabling won't help, then uninstall the program or simply switch to another antivirus.
Solution 3: Use IMAP instead of POP account
IMAP account type is considered more effective, secure, and advanced in features as compared to the POP account. Therefore, it is suggested to use an IMAP account that easily allows you to sync your emails across all devices and to configure an IMAP account to take help from the above-mentioned steps of "ATT email account settings for Outlook."
Solution 4: Remove your email profile and again add it
In order to fix this issue, you can also try this solution of removing your ATT email account from Outlook and then again adding it back. To do so you have to:
Open Outlook, go to the 'Files' section, and then to 'Account Settings.'
Under 'Account Settings' select 'Manage Profiles' and then further click on 'Show Profiles.'
After that, select your account from 'Show Profiles' in order to click on the 'Remove' button to remove the account from MS Outlook.
Now, to add your account back on Outlook and to sign-in, follow the same settings of AT&T Mail for Outlook that are mentioned above in the first solution.
Solution 5: Start Outlook in Safe Mode
If you come to realize that some add-ons might be interfering with your Outlook software, you can open your Outlook on 'Safe-Mode' to avoid any further interference by following these 2 simple steps:
Press together 'Windows key + R' shortcut to open the 'Run dialog box.'In that pop-up box, type 'Outlook/safe mode' and then simply click on 'OK.'
After that, a new window will appear and you have to click on 'Continue' in order to finally open the Outlook in safe window mode.
Solution 6: Switch to Google DNS
Sometimes, the issue can be occurred due to DNS settings, so it is recommended that you should switch to Google's DNS and to do so:
Click on your 'Network and sharing center icon' from the 'Taskbar' in order to open 'Network.'
Under your 'Network' select 'Change adapter' option.
Now, from all the available options you have to click on the network that you're using and right-click on it to select its 'Properties.'
Then, under 'Properties' select the 'Internet Protocol Version 4/ (TCP/IPv4)' from the drop-down list and then again press the 'Properties' option.
After that, select 'Use following DNS server addresses.' Then, carefully enter '8.8.8.8' in front of the 'preferred' and '8.8.4.4' in front of 'Alternate' DNS Server. Click on 'OK' button to save changes.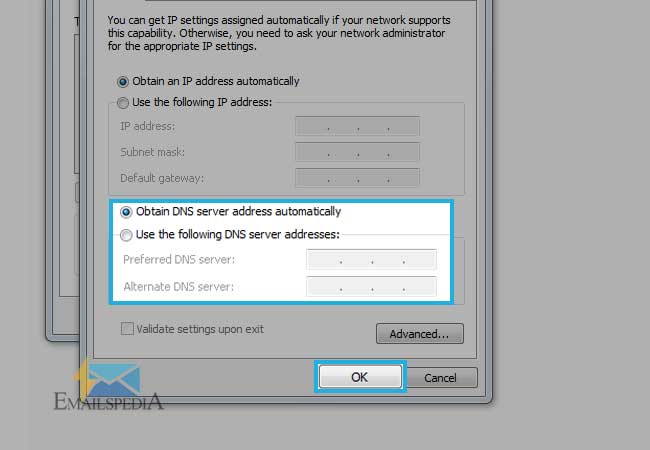 Now, check whether your problem has been resolved or not.
Solution 7: Use webmail or a different email client
This is the last left option in which you can try to open your AT&T email account. You can access your account by logging into the www.SBCGlobal.net webpage and as well as any other email client service as per your preference.
Share