Your iPhone Won't Charge? 14 Fixes if iPhone is not Charging
Smartphones have become a vital part of our day-to-day life. Isn't it very hard to imagine even a day without your phone? If you are here, then you must be having issues while charging your iPhone, which is one of the most horrifying things, as you won't be able to use it till the problem is solved. I can only assume the panicking state you must be in if your iPhone is not charging.
Even a seemingly simple act, like charging a phone, has a number of elements that must function properly. Now, you must be wondering what these are and how you can ensure their proper working.
Nevertheless, you don't have to worry about these components or the charging issues of your iPhone, as you have reached the right place. The following article lists a number of simple, yet effective solutions that can solve your 'iPhone won't charge' problem within minutes while guiding you on what you can do right in the future to avoid this difficulty from arising again.
So, without further ado, let's see what we have got in her!
A few Things to Check Beforehand…
Before jumping into other complicated solutions, there are a few things that you should check beforehand that can solve the 'iPhone not charging' issue. Listed below are these:
Ensure that your phone is not overheated or too cold: The ideal ambient temperature for an iPhone is between 32 and 95 degrees Fahrenheit; if it is too hot or cold, allow it to cool down or warm up accordingly before you put it to charge.
Give some time to charge the phone: Try using the Lightning cable's reverse side to charge while using a power adapter that is hooked into a functional wall outlet. Apple claims that you might need to keep it plugged in for 30 minutes, but you'll often notice whether it's charging after 5 to 10 minutes.
Try a different power outlet: If your iPhone still won't charge, try a different outlet or a second cable or power adapter, if you have any. However, if this also doesn't work, then move on to further solutions.
Solution-1: Force Restart your iPhone
Hard resetting or force restarting your iPhone is necessary if it is not charging, after attempting the basic things stated above. For those who are unfamiliar, performing a hard reset, doing so will delete all temporary files and random cache, which frequently resolves common problems with iPhones. Stated below is the process, how can you perform that on the basis of your iPhone model:
For iPhones with Face ID, iPhone 8, and iPhone 8 Plus: The volume up button on your iPhone should be pressed first. Press the volume down button after that. Hold the side button down after that until the Apple logo shows up on the screen.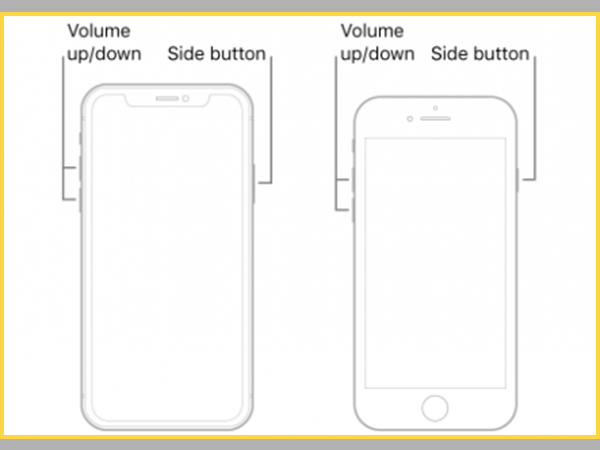 For iPhone 7 and iPhone 7 Plus: Hold down the Sleep/Wake and Volume Down buttons simultaneously until the Apple logo appears on your iPhone screen.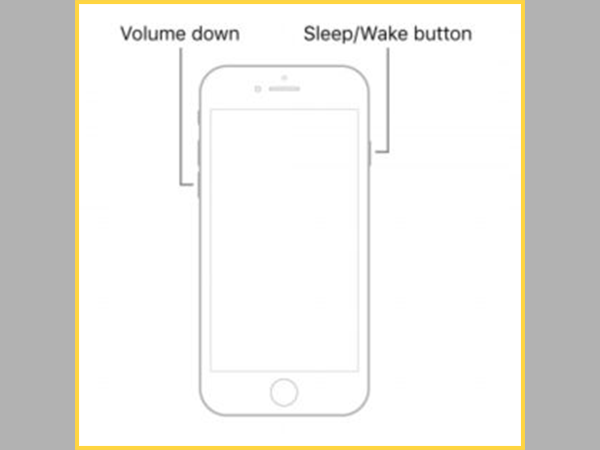 For iPhone 6s, iPhone 6s Plus, and Earlier Versions: Till you see the Apple logo, simultaneously press and hold the Sleep/Wake button and the Home button.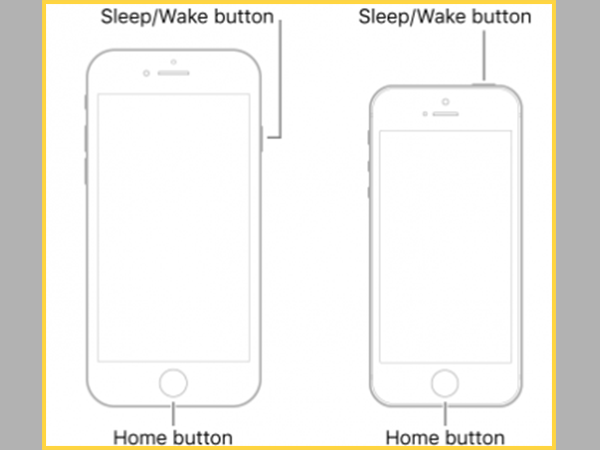 Solution-2: Reboot your iPhone
Restarting the system and checking to see whether it resolves the issue is always helpful when debugging a problem. Restart your phone to see if there is still enough power left before attempting to charge it once again. Don't bother with this step if the battery on your phone is dead or extremely low (under 5%).
When using an iPhone without a home button, press and hold both the side and volume up/down buttons until the power off slider appears on the screen. To turn off your iOS device, drag the power off slider. Now, to power on your iPhone, press the side button on your smartphone after a brief delay. Then, put the phone to charge and see if your iPhone still won't charge.
To get to the display of the power off slider on an iPhone with a home button, press and hold the side/top button. Drag the slider to switch off your gadget after that. To reboot your smartphone, hold down the side/top button after a little while. Afterward, put it on the charge, and see if that solves the issue.
Solution-3: Don't Charge your Phone Wirelessly
If your iPhone still won't charge, even after attempting the above solutions, then let's simplify our troubleshooting process by immediately ruling out wireless charging, if you have an iPhone X or later that supports wireless charging, or if you have a wireless charging case for an older model iPhone. This is because the wireless charging system on the phone can pose certain types of issues.
If you're using a wireless charging case, take it off and use a lightning cable to connect the phone to a power source. Once more, make sure it's charging if there is a power symbol present on the battery icon in the top right corner of your phone screen.
If your phone starts charging by using the cable and not wireless charging, you may need to replace your wireless charging cover or take your phone to an Apple Store for repair, but in the meanwhile, you may continue to charge it conventionally using cables.
Solution-4: Ensure your Phone Case is Compatible with Wireless Charging
Make sure the case is wireless charging suitable if you use a wireless charger to charge your iPhone 8 or later. Yes, that's right, not all iPhone cases are Qi-wireless charging compatible, particularly tough cases or cases with metal backplates.
Therefore, take off any such phone cases or ring holder covers before placing the iPhone on the wireless charger, just in case, and see if your iPhone starts charging or not.
Thereby, it is advised to use thin cases that allow wireless charging if you use Qi-enabled wireless chargers. You won't have to go through the inconvenience of taking the case off before placing the iPhone on the charger.
Solution-5: Clean the Charging Port
The Lightning port or the charging port should be your next port of call if your phone isn't charging normally, even after all the methods to solve the issue provided before. More often than you may imagine, charging issues arise due to dirt in the charging port.
After all, we frequently shove the phone, generally with the port end first, into lint- and dust-filled pockets, purses, and other spaces. Check to see whether your iPhone's lightning connector is obstructed by debris or tiny lint particles. Unbelievable as it may seem, over time material accumulates in the port and blocks the ability of the iPhone to charge when plugged in. Therefore, you need to regularly clean the port to guarantee that it can stay clean.
A toothpick or any other non-metallic, pointed object that will fit in the port can be used to gently remove whatever you find after taking a close look. If you have a can of compressed air, you may also use it to quickly blow the port.
After doing the cleaning of the port, put the phone to charge one more time. Continue to the next troubleshooting step if your iPhone still won't charge.
Solution-6: Liquid in Lightning Port
While dirt and debris lodged in the charging port might stop the phone from charging, liquid damage can also be a major issue. Thus, you need to make sure that your phone is entirely dry before connecting the charger if you dropped it in water and set it aside to dry. A small amount of water might short the connections and cause more issues, and maybe because of this, your iPhone is not charging.
Therefore, it is advised to place your phone aside and let it completely dry out. You wouldn't want to damage your phone by putting it to charge while it is still wet, no matter how vital the information on it is or how ready you are to use it again.
Solution -7: Check if your Charging Port is Working fine
If your charging port is all cleaned up and your phone is not wet, but still your iPhone is not charging, it may be because of the damaged charging port. Sometimes, the port connections can get damaged, because of which the phone isn't able to charge properly.
In order to ensure that it is the damage to the charging port which is preventing your phone from charging, take it to the repair store, and get it checked. If the port is at fault, then better get it replaced then and there. And, after the port has been replaced, your iPhone should start charging this time.
Solution-8: Check your Phone's Charging Cable
If you've owned an iPhone long enough, you have definitely seen a frayed or broken cable. This condition occurs when the rubberized outer coating breaks due to continuous bending, thereby exposing the wires. If your cable is in this condition, then my friend, it is high time to replace it, as it can be the only reason why your iPhone is not charging. Throw away your cable and buy a new one if it looks like that and isn't charging your smartphone correctly.
However, lightning cables are frequently misused, and issues aren't always visible to the human eye. Sometimes, wires that are still encased in the sheath might break. And cheap third-party lightning cables have been known to stop functioning on their own, frequently as a result of a broken power regulator chip inside the cable, resulting in you not being able to charge your iPhone.
The simplest approach to test your lightning cable is to simply try another one; preferably, a fully-authorized cable from Apple that is brand-new.
Further, although there are many chargers on the market, not all of them are safe and approved to power iPhones. You will commonly see a warning pop-up indicating "accessory may not be approved" if you are using a charger that is not Mfi (Made for iPhone/iPad/iPod) certified. You can't use an unapproved charger to charge an iOS device because of security precautions.
After making sure the lightning cord and power adapter are both intact if your charger is MFi approved, but still your iPhone won't charge, try a different cable or power adapter. If another charger or cable works to charge your device, your charger is broken. There are various high-quality cords and chargers that are less expensively accessible online, however, the original Apple charger might be too expensive. Simply check to see whether they are MFi approved and have the necessary 2.1 amps of power.
Solution-9: Inspect the Charging Source
You should also examine your power supply as part of the extensive list of probable issues. If you are using your computer to charge the phone, ensure that the computer is fully awake before charging your iPhone through a USB port. Your system should not be in sleep mode. In case the USB port you were using has failed, try another USB port as well. Also, connect your phone directly to a USB port on the computer, rather than attempting to charge it through a USB hub or keyboard port.
If your iPhone still won't charge, use an AC adapter similar to the one that comes with your iPhone to connect it straight into a power socket. If you've been using an AC adapter all along, try a new one or switch to another socket, as the issue can also be due to a damaged power socket. You may either use the charger that came with your iPad or borrow one from a friend who has an iPhone.
Solution-10: If your iPhone won't Charge Above 80%
You may not need to be concerned if your iPhone won't charge any farther than 80%. Apple has begun utilizing the Optimized Battery Charging function to increase the battery life of its devices. Every Apple device running iOS 13 and later supports it.
While determining when you use your phone the most and whether it is becoming too warm when charging, the function combines machine learning and temperature sensors. When it reaches 80%, the phone will no longer be charged. If every time you put your phone to charge, and it isn't charging any further from this point, wait a few hours and try charging it again to see if there is a problem with the charging or if the Optimized Battery Charging function was the cause of the device's inability to charge any further.
If the function irritates you, you can turn it off by following the steps stated below:
Open the Settings app on your phone.
Inside Settings, look for the Battery section and tap on it.
Next, tap on the Battery Heath option.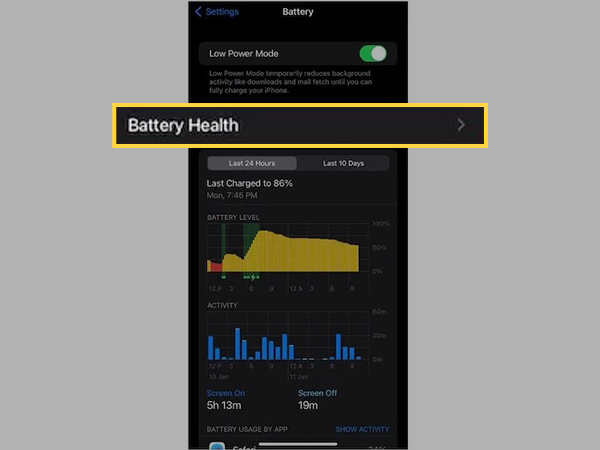 On the following page, turn off the Optimized Battery Charging option.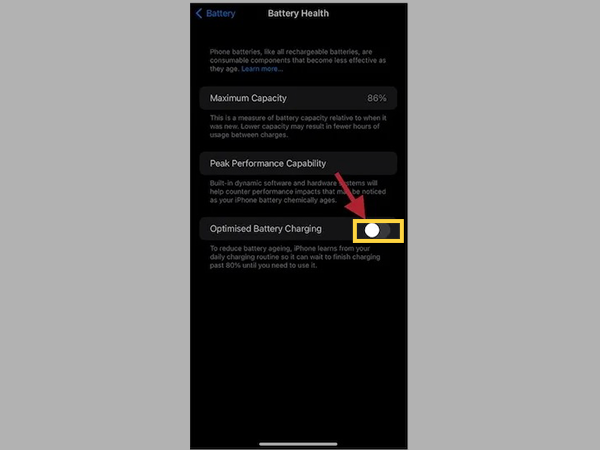 Solution-11: Update your Phone Software
Most of the time, a simple software update may cure a number of problems with your iPhone and even improve performance. Your iPhone could not charge if you haven't updated the iOS in a long run, due to the old software. Therefore, follow the steps below to know if there is an update present, and install it right away:
Go directly to Settings on your iPhone.
There, tap on the General section.
From the following page, select the Software Update option.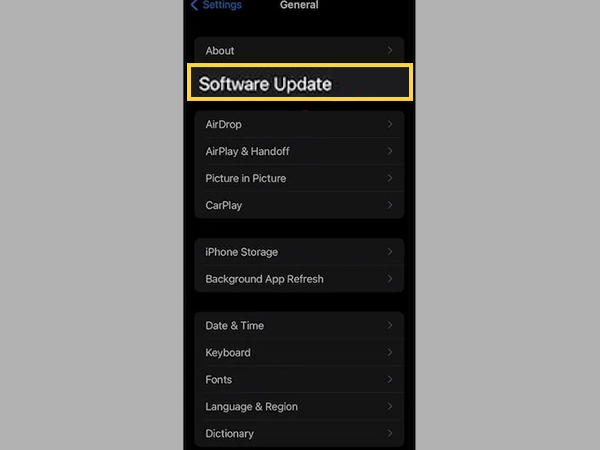 Then, if there's an update, the installation button will be present. Without further ado, download and install the most recent version of iOS by tapping on that button.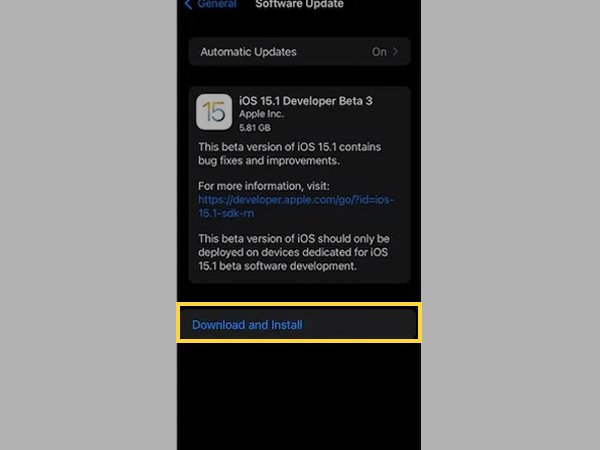 Note: Updating your iPhone can help you solve various other iPhone issues like iPhone brightness keeps going down, call going straight to voicemail on your iPhone, and much more.
Solution-12: Reset your Phone Settings
Misconfigured settings of your iPhone can also lead to its charging issue. However, this problem can be solved by resetting all the settings of your iPhone, thereby taking into the state of factory reset. This method is important, especially when dealing with complicated problems. Therefore, if your iPhone still won't charge after all the solutions provided above, give this method a shot.
Note: If you reset all the settings on your iPhone, every custom setting is deleted or set to default, including location settings, the keyboard dictionary, network settings, privacy settings, and Apple Pay cards. However, no information or data or media is removed.
Here's how you can reset all the settings on your iPhone:
For iOS 15 or later:
Open the Settings app on your iPhone.
Inside the Settings app, tap on the General settings section.
From the next page, select the Transfer or Reset iPhone.
Tap on the Reset option on the following page.
Lastly, select the Reset All Settings option.
For iOS 14 or Earlier:
Open the Settings on your iPhone.
Tap on the General section inside Settings.
From the following page, select the Reset option.
Finally, tap on the Reset All Settings option.
Solution-13: Restore your iPhone
The 'Restore' option should only be used as a last resort. It should only be used if all other fundamental techniques to solve the 'iPhone not charging' issue have failed. You should always make a complete backup of your iPhone before attempting this drastic option because the restore procedure will erase all the current data, and replace it with the one stored in the previously stored backup.
Furthermore, it's noteworthy that with the release of macOS Catalina, Apple suspended iTunes for Mac and replaced it with Finder. So, in order to restore your device, you must utilize Finder if you're running macOS Catalina or later. You may still recover your device using iTunes on a Windows computer or a Mac running macOS Mojave or an older version.
In order to restore your iPhone with the previous backup, you just need to launch Finder or iTunes and choose your device. Next, choose Restore iPhone.
Solution-14: Take your Phone to the Service Center
As mentioned above, you can frequently fix this problem by cleaning the port, using a reliable charger, and giving the device a brief reset. Therefore, be sure to keep these easy tips and solutions close at hand to handle this problem that can occur frequently. Only after trying the fundamental solution, if still, your iPhone doesn't charge, should radical solutions like factory reset and restoring the device as new be tried.
But, what should you do if your iPhone won't charge even after all these solutions? Now is the time to get professional assistance!
If none of these troubleshooting techniques stated above was able to solve the 'iPhone won't charge' issue, it might be the case that the iPhone has a defect. In such a case, you should get support from Apple. To get their service, you should call Apple Support or visit an Apple retail location.
Share