5 Key Workarounds to Fix iPhone Home Button Not Working Issue
Until 2017, before the launch of the iPhone X, all iPhones had a home button that performed various functions. iPhones were known for this single-button look only. But after the launch of the iPhone X, its looks changed significantly.
But even after all these years, we can still see people using iPhone 6 and 7, maybe it's the home button only that isn't letting them change the phone. This is why the iPhone home button not working on iPhone can really be havoc since it operates most of the tasks on the phone.
But now that you are here, you can stop wondering why is my home button not working because I have the perfect solution for it. Let's find out.
Quick Fact: In 2017, on iPhone's tenth anniversary, Apple launched iPhone X and recreated its look. It removed its famous home button from the phone and gave it a full-screen look. Since then, the iPhone has been maintaining that look and has recently launched iPhone 14.
Here's a list of solutions you can use while working on how to fix the home button on your iPhone.
Activate Assistive Touch
Did you know that you can create a home button on your iPhone? Not just the home button, but you can also add several more features to it. Apple's assistive touch feature is specially designed for those users who face difficulty in handling physical buttons on the device. Let's learn how to add an assistive touch to your iPhone.
Visit Settings on your iPhone> Accessibility> Touch? Assistive Touch. For an older iOS version, you need to visit Settings> General> Accessibility> Assistive Touch.
Then, turn on the Assistive Touch, and you will see a semi-transparent circle on your screen there, you will have 5 or 6 options like the screenshot, camera, devices, home button, and more.
You can even customize those features according to your requirements.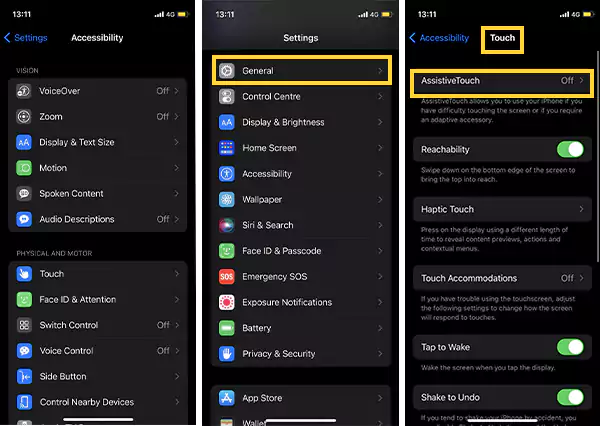 Clean the Home Button with Isopropyl 
If you have been using your phone for quite a while now, there may be chances that the home button has acquired some dirt and grime. This dirt might clog the mechanism and could lead to iPhone 6 home button not working. However, if you have iPhone 7, SE, or a later version, this tip won't work as they don't have a mechanical button.
Here's how to clean your home button properly:
Start by wiping your device's home button with a microfiber cloth.
If that doesn't help, dampen the cloth lightly with 98 or 99 percent of isopropyl alcohol. It evaporates quickly in the air, so you won't have to worry about any damage to your device.
Rub the alcohol on the button and press it simultaneously, as you rub the cloth over it, the alcohol should do its work and remove the dirt from it.
Recalibrate the Home Button 
"Recalibrate" might not be the official term for this and many people may not be aware of this method, but this has proven to be effective in many cases. You can try this method if you face the iPhone 7 home button not working, the worst that could happen is your home button still won't work.
Here's what you need to do:
Launch any app that came pre-installed like a calendar, notes, clock, or anything.
Now press the top or the side button to power off your mobile.
Now when the Slide to Power Off option appears, don't power it off, instead, press and hold the Home button for about 10 seconds until the prompt disappears and the app quits itself.
And you are done. This should work for the physical home buttons on iPhone 6 or 7. But if it still doesn't, try repeating the process several times, and if you still find no luck, continue reading to find more methods to fix the iPhone home button not working.
Use Your Phone's Charger to Press Against the Home Button 
Did you know that your home button connects to other components inside your phone with a fragile wire or cable that is present near the charging port only? People have even fixed this issue of the iPhone 7 plus home button not working just by applying a little pressure on their home button area, and this is because, presumably, applying pressure on the home button area has reconnected it to the cable near the charging port.
Here's how you can achieve the same:
Insert the charging cable into the charging part of your phone.
Then, press on the back of the connector, near the bottom of your phone, as if you are pushing it towards the home button.
Press the home button a couple of times and keep the pressure on.
And this will hopefully have your home button working again. However, if it still isn't working and you are still looking for more ways of what to do if your home button stops working, I have one more solution for you.
Restore Firmware on Your Phone
This one might not be as quick as the previous methods, but this will surely resolve the how-to-fix the home button on iPhone 8, 7, or 6 issues. There are often times when the home button isn't working, it is because of the software or firmware's fault on the phone. You can easily fix this issue manually and for free just by restoring the device with the DFU mode.
Note: This method erases all the data from your iOS device, so be sure to transfer all the data to iCloud and back it up so you won't lose any data.
Not just that, when you restore your device with DFU mode, it rewrites every bit of software and app, so you need to set it aside for a while, as it may take a while to restore and set up again.
Here's how to enter the DFU mode on iPhone 7:
Connect your iPhone to a Mac or a Windows PC.
Launch the Finder app or iTunes.
Now, press and hold the power button and the volume button together for 8–10 seconds.
Now, release the power button and keep pressing the volume button.
When you see iTunes has detected the iPhone in recovery mode message on the connected system, release the volume button to down.
Then tap Restore iPhone to install a new OS on it.
So this was about entering the DFU mode, but what about taking an exit from it? Here's how.
How to Exit DFU Mode?
If you are done with the restoration process, or you have somehow entered the DFU mode by mistake, here's how you can exit DFU mode on your device:
iPhone 6 or earlier
Press and hold the Home and power button together until the Apple logo appears on your screen.
iPhone 7
Press and hold the power button with the volume down button until the Apple logo appears on your screen.
iPhone 8 or later
Press the volume up buttons and then quickly press the volume down button, then hold the side button until the Apple logo appears on your screen.
So this was all, hopefully, one of these methods will work out for you and you will have your Home Button repaired. But if it still somehow doesn't then you will have to have your Home Button replaced and contact the nearest Apple service center to find out the real cause for it.
FAQs
Here are some frequently asked questions about the iPhone home button not working:
Ans: Yes, there are chances that your iPhone 7 home button isn't working because it is broken. In this case, you can use the Assistive touch to carry out its function.
Ans: There are chances the home button is broken, there's some glitch your device faces, or maybe there's an internal issue.
Ans: Physical damage, contact with too much liquid, or some internal issue can cause the iPhone home button not working issue.
Ans: In case your iPhone home button breaks, you can have it changed or simply use the Assistive touch feature on your device.
Share