How To Recover Missing iPhone Contacts After iOS 15 Update
A lot of people are having issues with their contacts after updating to iOS 15. Whether it's the iOS 15 update or a clean install of iOS 15, most people aren't getting all their contacts back. In some cases, they're missing a few contacts here and there. In other cases, it's thousands. Luckily for you, in this guide, We have a few ways to help get all your lost contacts back.
What Happened to My iPhone Contacts?
The most likely explanation for why your Contacts have disappeared is that the setting for show All Contacts has been set to off. This means that if you have a contact who isn't associated with a phone number or an email address, it won't appear in the list. This can happen when you import, sync your contacts from another device or service, or you recently update your iPhone as it might not contain all of the information for each contact. If you have blocked contact or email address on your iPhone, you might not be able to find them. Or, If you never set up any other account on your iPhone and all of your contacts have disappeared, this is probably the case.
Where did My Contacts go?
You might be wondering why some of your contacts have disappeared but others are still there- or why someone who was in your Favorites list is no longer there when you search their name. It's because, by default, when Show All Contacts is turned off, only those people who have a phone number or email address will be shown.
So if you've ever added someone to your contacts who doesn't have either of these, they're not going to show up. And if you've made edits to the contact that has resulted in one of these pieces of information being removed, they won't show up either (even if they were in Favorites). For example, say you have a friend named Sam whom you used to call mostly but now text more often. You may have decided to delete his phone number from the contact so it wouldn't take up space on your screen when he texted you. Now, when you look for him via the search bar at the top of your conversations page, he won't appear.
Restore Disappeared Contacts from iPhone
Restoring disappeared contacts from the iPhone is not a challenging task, if you have ever backed up your iPhone with iTunes or iCloud. If you have backed up your iPhone to iTunes, you can restore your lost contacts from iTunes backup file. If you have backed up your iPhone to iCloud, you can also restore your lost contacts from the iCloud backup file. On the other hand, if you have never backed up your iPhone to iTunes or iCloud, don't worry! There is still another way for you to get back disappeared contacts from the iPhone directly without any backup. Just keep reading this article and check out how to restore disappeared contacts from the iPhone in the following part.
Restore Contacts from iCloud
If you have enabled iCloud backup, you can restore contacts from iCloud to your iPhone. To restore iPhone from iCloud, please do as follows:
On your iPhone, open "Settings", tap "General" and select "Reset".
Tap "Erase all Content" and settings.
At the Apps & Data screen, tap "Restore from iCloud Backup", then sign in with your Apple ID and password.
Next select a backup to restore data from. You can see the date and size of each backup file. Choose one based on your needs and tap Restore to confirm the action. The restoring process will happen in the background, allowing you to use other apps while you wait. Don't disconnect your device until it finishes or else it may cause data loss or corruption.The restoring process finishes within an hour and your iPhone automatically turns off or restarts on its own.
Restore Contacts from iTunes
It is very easy for you to get contacts back on iPhone without iCloud. You just need to follow some simple steps to recover your contacts from your iPhone by using iTunes.
In order to get contacts back on iPhone without iCloud, you need to take the following steps:
The first thing that you should do is connect your iPhone to your computer. You need to use a data cable so as to do this properly.
After doing this, open iTunes on your computer and then select the option of "Restore Backup". You will find this option in the "Summary" tab on iTunes.
Now select the backup date when all your contacts were available on your phone. After selecting this option, click on "Restore" button and wait for sometime until the process of restoring
Restore Contacts by Toggling iCloud Off and On Again
You can also back up your contacts on your iPhone using iCloud, as long as you have iCloud set up on your phone. If you have an iPhone 5 or older, make sure you are running iOS 9 or later. Here's how to do that:
1. Go to Settings > [your name] > iCloud.
2. Turn Contacts off and then on again. (When you turn Contacts off, your contacts will be saved in the Contacts app.)
3. In the pop-up window that appears, tap Keep on My iPhone (or Keep on My iPad if you're using an iPad).
Restore Contacts Through PhoneRescue
If you've accidentally deleted or lost contacts on your iPhone, don't fret. You can restore those missing contacts through PhoneRescue.
Step 1: Download and install PhoneRescue on your computer.
Step 2: Connect your iPhone to your computer and click "Recover from iOS Device".
Step 3: Click the check box next to Contacts, then click "Ok". The software will start scanning your device for recoverable files.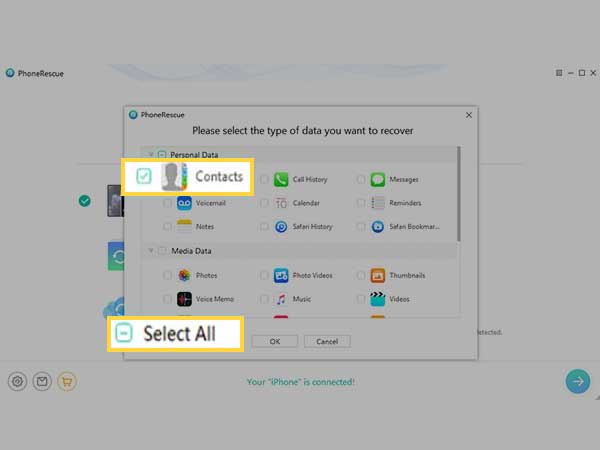 Step 4: When the scan is complete, select the contacts you want to restore by checking the boxes next to their names, then click "Recover". You can choose whether to export them as VCF files or as a CSV file. If you want to export them as VCF files, check the box next to "Only display the deleted items" so it's easier to find them after they're restored.
What Causes My iPhone Contacts to Disappear?
It's so annoying if you meet the same situation that your iPhone contacts keep disappearing again and again. Sometimes, after trying the general tips to fix iPhone contacts disappeared issue, you may find contacts are gone after restoration. That's because of new iOS instability or software glitches. To prevent iPhone contacts from missing again, you'd better confirm that you had a contacts backup or an iPhone backup. So you can restore them at any time.
After losing your contacts, you have to make a choice between restoring from iCloud, iTunes or PhoneRescue. The ideal choice should be PhoneRescue which offers better reference to the contacts that you want to restore. Though it is only designed for retrieving damaged files under certain conditions, it can still retrieve most of the missing contacts on your iPhone.
Share