How To Integrate Multiple Gmail Accounts Into One Giant Inbox
Highlights
---
Gmail is one of the most used email programs. It was released in 2004. As of 2013, Gmail has more than 425 million active users worldwide.
In a report by Radicati Group, the number of email accounts per user is estimated to rise from 1.75 in 2018 to 1.86 by 2022.
A Gmail Mailbox can be linked to multiple other Gmail Mailboxes which simply contain a different email address. By doing this, you can have a single inbox that contains emails from all accounts.
Google's Gmail mailbox service is one of the most popular email services in the world. One of the main reasons for its popularity is that it is so easy to use, particularly since you can log into multiple accounts at once, thereby making it easier to organize your emails.
Benefits of Combine Gmail Inboxes
The most frequently asked question we see is whether "I should combine my Gmail mailboxes or not". It's a good question. Let's take a look at some of the advantages of combining your Gmail accounts into one.
The first reason to combine your Gmail mailboxes is that it can save you a lot of time and effort. Many people will have multiple email addresses, but only one email address will be displayed in their inbox. Your messages can be very difficult to find if you have multiple email addresses. You will also waste time trying to remember which message came from which account.
Another reason to combine your Gmail mailboxes is that it makes it easier to manage your contacts. When you have multiple accounts, you will probably want to keep track of each account separately. This means that you need to go through each account individually in order to find out Who sent the email or What is the email address?. With a combined mailbox, this information is all in one place and easy to find.
Finally, combining your Gmail mailboxes allows for better organization of your contacts. You will no longer need to search through every contact separately in order to find out who sent the email or who was supposed to receive it from whom.
How to Add a Second Email Address to Your Gmail Account
If you're like most people, you probably have at least two Gmail accounts. You might have a primary account that you use for personal reasons and another one that you use to sign up for newsletters or promotional offers. You could even have several accounts that are used for different things.
But having multiple accounts can be confusing, and it's easy to lose track of important emails if they're spread across multiple inboxes. And there's a simple solution to the problem: Just combine all your Gmail accounts into one inbox.
Here's how to combine multiple Gmail accounts into a single inbox:
Step1: Open your Primary Gmail account inbox.
Step2: Click the gear ⚙️icon.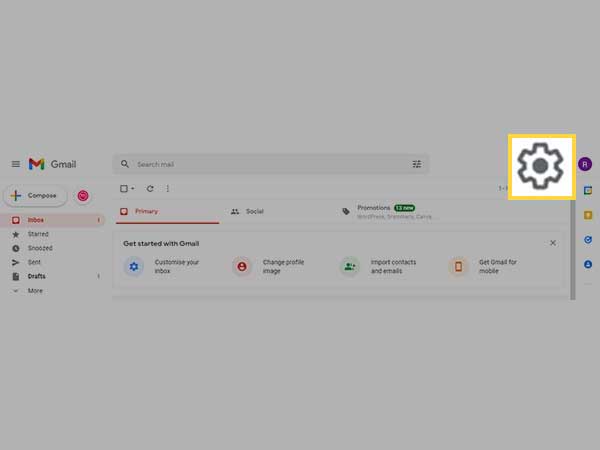 Step3: Tap on "See All Settings".
Step4: Select the "Accounts and Import" tab.
Step5: Scroll down to "Send email as."
Step6: Click on "Add an email account" to add the second account that you want to combine into one inbox.
Step7: A new window will Pop up. Now type the email address you want to connect to and click "Next".
Step8: Now Select"Import emails from my other account (POP3)" and click "Next".
Step9: Enter the following Gmail server settings
Username: Youremail@gmail.com
Password: Enter Your Password
POP Server: pop.gmail.com
Port: 995
Select "Always use a secure connection (SSL) when retrieving mail".
Step10: Click "Add account".
You will receive a verification email from Google verifying the email by entering the confirmation code or by Clicking the Verification Link in the email.
After Verification, you will check all your emails in one place.
And that's it! Just repeat this process for all addresses you want to consolidate.
Importing Email Accounts From Non-Gmail Accounts
If you already have a Gmail account, you can import your email from other accounts into Gmail. You can import mail from accounts that use POP3 or IMAP, like Yahoo Mail and AOL.
Note: If you want to import email from a G Suite account, see Import email and contacts using G Suite Sync for Microsoft Outlook (GSSMO).
Importing email is an easier way to get all your old email into Gmail rather than forwarding it. It's also a great way to save space in non-Gmail accounts that have size limits.
Before you start importing mail, make sure that your other accounts are set up with POP or IMAP access so that Gmail can access them.
If you choose to migrate your Non-Gmail account into your main Primary Gmail Mailbox, you are limited to pulling in emails from just five other email accounts so if you want to manage more than five secondary accounts in your Primary Gmail Mailbox, you'll have to resort to the email forwarding option anyway.
If you do choose to use the import option:
Click on the Gear⚙️icon >"See All Settings"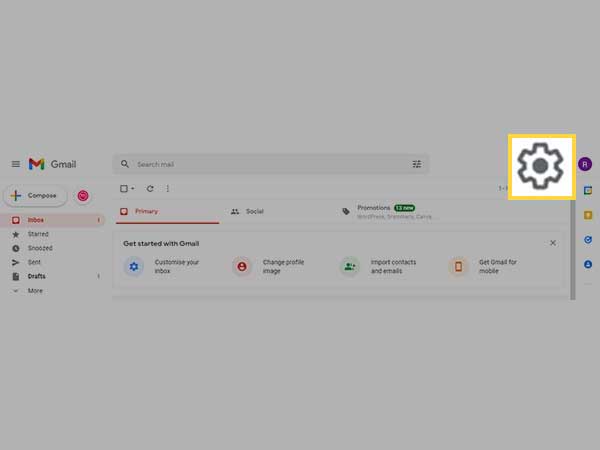 Click on "Accounts and Import".
Check for "Check mail from other accounts:"
Click on "Add an email account"
A new Window will Pop-up. Now enter the email address you want to connect to and click "Next"
Select "Link accounts with Gmailify" and click "Next"
Click "Yes"
Now your email is connected with your primary Gmail mailbox and you can access your mails from there.
FAQ
Also read:
Share