An Inclusive Guide to Change Yahoo Mail Password
Keeping your email accounts secure has become a tough row to hoe seeing the increasing number of hacking incidents. You never know when you are the next target of hackers. So to avoid getting yourself into such an intricate situation in the first place, better to be smart and put a lock on your email account.
Yahoo is one of the powerful email services but still it is not secure enough if we talk about privacy. Setting a password while creating the Yahoo mail account is not sufficient to keep it protected. You must keep updating or changing it in order to keep the account unresponsive to illegal login attempts.
Changing the Yahoo mail password can be quite tricky if you haven't changed it for months. Moreover, if you are new to Yahoo and looking for the steps to change the password, this guide is going to help you.
Read on to know about how to change yahoo password in different ways
Option-1 Changing Yahoo Password on Desktop
This is the simplest method to change Yahoo mail password in a blink of an eye. You just need to open a web browser on your device and go ahead with the steps listed below:
Go to the Yahoo homepage by entering the URL in the address bar- www.yahoo.com and click on 'Sign in' that is highlighted in the picture below.
Enter the username, email address, and phone number for your Yahoo account and press 'Next'.
Enter the password to finish signing in to your Yahoo account and press 'Next'.
Once you get signed in, take your mouse to the profile name placed at the top-right side of the screen and then click on 'Manage Accounts'.
On the next screen, click on 'Account Info'
A new tab will open where you have to click on the 'Account Security' option from the left column.
Next, click on the 'Change Password' option available on the right side of the screen.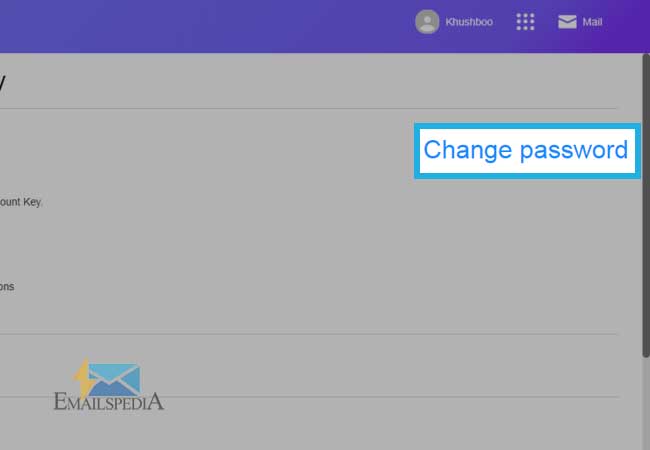 You will be prompted to switch to Yahoo account key as the login method and if you want to do that, click 'Continue' or else click 'I would rather change my password'.
Now, you can set a new password for your Yahoo account and enter it twice for confirmation, don't forget to click 'Continue'.
That was the last step of Yahoo's password changing process on a browser.
Watch This Related Video:-
Option- 2 Changing Password on Yahoo Mail App
If you prefer to access your Yahoo mail account through the app, you can change the password using the app itself. It depends on what you find convenient, the bigger screen or the smaller one.
Let's see what steps are required to change the password through the Yahoo Mail App.
For Android Users
To change Yahoo email password on your Android device, follow the steps provided underneath:
On your Android phones, tap on the Yahoo Mail app and make sure you are logged in to your Yahoo account.
Tap the Menu icon placed at the upper left corner.
Next, tap 'Manage Accounts' and then select 'Account info'.
Choose the option 'Security settings' and enter your device's password to proceed.
Tap 'Change password' and then select the option 'I would rather change my password'.
Now, you can enter a new password, confirm it again, and tap 'Continue'.
For iPhone Users
To Change Yahoo Password on iPhone, here are the useful steps:
Tap the Yahoo Mail app on your iPhone device.
Tap the menu icon given in the form of three horizontal bars.
Next, tap on 'Manage Accounts' followed by 'Account Info'.
Select the option 'Security Settings' provided under the Account Security tab.
Enter the security code of your iPhone device if prompted for such as Touch ID or Face ID.
If prompted to select Yahoo account key as the login method, click on 'Change Password' and then click on 'I would rather change my password'.
Enter the new password, tap 'Continue' and your password has been successfully changed.
How to Reset Yahoo Mail Password
Resetting Yahoo mail password is another way of changing password, when you no longer remember your current password or your account has been hacked. Therefore, let's look at the steps which you can follow to reset your Yahoo mail password.
First open the web browser and go to the Yahoo sign-in page.
Click "Sign-in" and enter your username or email address and tap on "Next".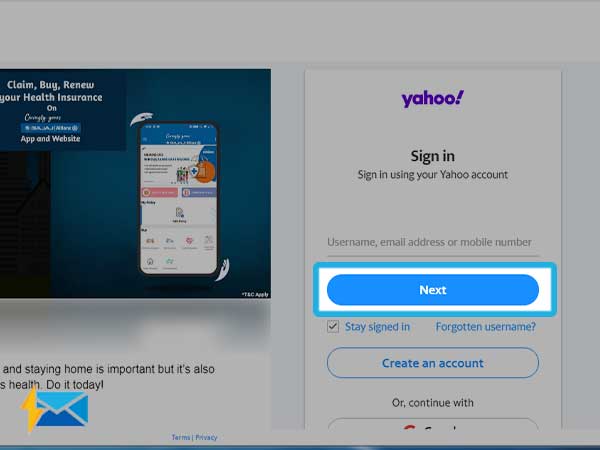 Select "Forgotten Password?"
Now, you need to select a method of recovery to receive the password reset link or the verification code. You can select an email address to get the reset or link or mobile number to receive the verification code.
After receiving the verification code or reset link, use it to create a new password and click "Continue".
Re-enter the same password to confirm it and now your Yahoo mail account password has been changed.
Important Note: While creating a new Yahoo password take care of a few things such as keeping the password strong, use a combination of upper and lowercase letter, symbols and characters. the password must be at least 8 characters long and don't repeat the older password.
Tips to Safeguard and Secure your Yahoo Account
Changing passwords will not be enough if you don't follow the important guidelines. For hackers, it is a no-brainer to get into your account by cracking your password unless you keep it difficult to guess. So make sure to consider all the guidelines mentioned below and keep your Yahoo account safe.
Never use date of births, names, or mobile numbers as passwords as they are no more difficult to crack.
Always use a mix of numbers, characters, and symbols to create a strong and unique password.
Never access your Yahoo account on any untrusted network or public Wi-Fi as it can be hacked by anybody, even if you use, make sure to change the password as soon as you are connected to a secure network.
Never reveal your personal information such as password, recovery email address or recovery phone number to even your trusted contacts, this has to be done to ensure that no illegal access is allowed to your Yahoo account.
Always keep updating your password every month or two months even if there is no suspicious activity so that even if someone else has access to your account will ultimately lose it.
Passwords are no more considered secure and that's why Yahoo Account Key has been introduced using which you can ensure better security of your accounts. Instead of entering password, you will be asked to enter the key that you receive on your phone.
Keep the recovery information updated so as to easily reset the password in case you forget it.
Share