How to Send Emails to a Group in Gmail Using Different Ways 
---
Highlights
---
You can send an email to maximum 2000 Recipients per day
Google Contacts is the best way to send an email to multiple recipients.
When you are sending emails to a group, you don't want to write their email address separately. Also, there may be more than one email id with the same name which makes it more confusing. It's time-consuming as well as difficult to send emails to a group in Gmail. So don't fret, Gmail has an option to send an email to a group of people or contacts at once if you have created a mailing list or contact group.
How to Send a Group Email in Gmail
Sending a group email is something we all go through at some point in our lives. Whether it's a confirmation, hotel booking, or newsletter, we may need to send emails to multiple people at the same time. Here We'll go through two different ways to send a group email using Gmail.
Method 1: Sending an Email to a Google Contact Group
To send an email to a Google contact group, you must first create a Gmail contact group in Google Contacts. To create a Group in Gmail go to Google contacts> Click on Create Contact> Enter the emails > Give a name(Label) to the group> and Click Create.Once you've done this, you'll be able to send emails to the group.
Step1: Open Gmail
Step2: Click the "Compose" icon in the top right corner of the page.
Step 3: Enter the group's name in the To field. Gmail suggests recipients as you type. Choose the group from the list.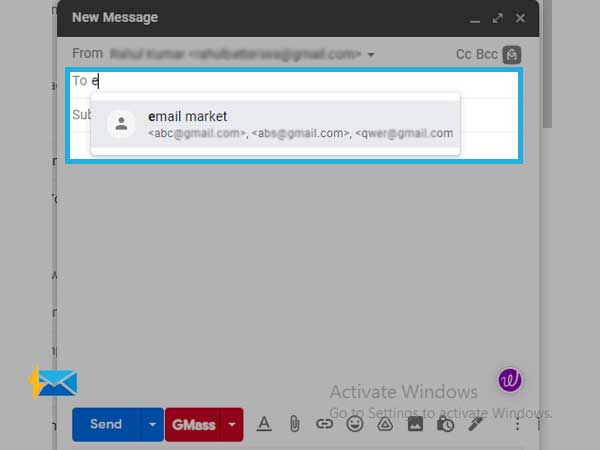 Step4: Enter your subject line and body of the email. You can include text and links if you like and click "Send".
Method 2: Sending an Email by Adding Multiple Recipients Manually
If you want to send a message to multiple recipients, then you can simply type in each recipient into the To field.
This method is ideal if you have a handful of recipients and don't need to save the list for future use. If you're sending an email to more than 20 recipients, then it's probably best to use Method 1- Sending an Email by Google Contacts Group.
To send an email by adding recipients manually:
1. Open Gmail and Click on "Compose"
2. Type in all of your recipients in the "To" field separated by semicolons (;).
3. Compose the rest of your message as usual and click "Send".
You can also use Gmail to send an email to a group in such a way that every recipient feels as though it was personally written to them.
Sending an Email to a Group in Gmail Without Showing Recipients
Sending an email to a group on Gmail is simple. You just want to make sure you've got all the addresses entered in, and you're good to go.
But what if you don't want everyone on the list to see who else you're sending the message to? You may want to keep the contact information private for a variety of reasons — though it's worth noting that some companies will be suspicious of emails from unknown senders, so it can sometimes be better to let your recipients know they're being contacted as part of a larger mailing.
Fortunately, there's a way to send messages in Gmail without letting recipients see who you've sent them to. It involves using Google Groups. Here's how it works:
Click "Bcc" and select "Add Bcc." You can also select the Keyboard shortcut "Ctrl+Shift+B" on Windows and "Command+Shift+B" on Mac.
A field for entering addresses will appear below. Type or select the name or address of each recipient in the Bcc field.
Add the subject and body of the email
How to Choose Which Contacts to Email From the Group
Sometimes when you send an email to a group, you get a limited list that doesn't include some of the people who are actually available to receive the message. To have the best chance of success with an email blast, it's important to set expectations before you begin.
You have several options for deciding which people to include in an email blast. You can choose to target all your contacts, which is rarely a good idea because it includes just about everyone on your email list.
You can target only your active contacts or only those who haven't unsubscribed from your email list.
If you do not want everyone in the group to receive the email, first enter the group name in the "To" of the email and select the group, so that all the names are visible. Next, you can delete a person by clicking on the small X next to their name or email address.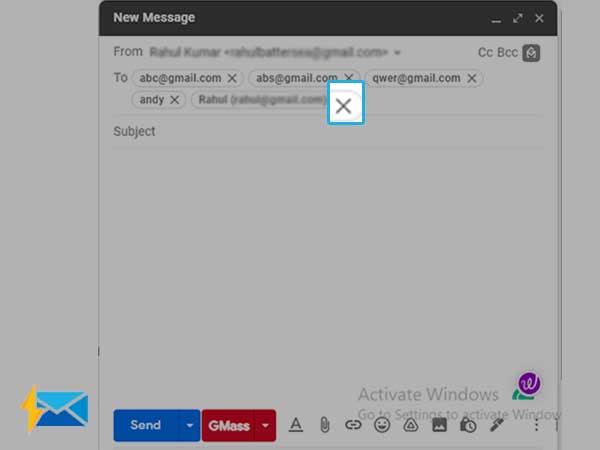 Excluding someone from a group, email doesn't delete the contact from your Google Contacts but will prevent them from receiving this specific email.
There is another effective way to choose which contact to send emails to Google contact group
Open Gmail and click "Compose"
A new window will pop up. In the top right corner of that window click on the down arrow and select the group you want to send emails on
Select the emails you want to send the emails from the group and click "insert"
Enter the subject and body of the email and click "Send"
FAQ
Share