All Possible Ways to Use Yahoo Spam Filters to Control Incoming Spam
Have you ever been in a situation where your Yahoo email account was jam-packed with spam emails? Every person at some point in time or another feels the need of having a stable method that can help them deal with incoming spam. Spam emails usually contain links to third parties that can steal your crucial data by accessing the data stored on your device; from malware, virus, to spyware, anything can be there in a spam email. Therefore, managing incoming spam should be an utmost priority for every webmail user.
Those who are loyal users of Yahoo mail must read this blog which contains various ways to manage spam email in Yahoo inbox. The most straightforward way to deal with Yahoo spam is to secure your account using the Spam Guard utility. Other than that, you can try adding Yahoo email filters and block senders who are constantly sending you spam.
Why has Spam has conquered the web world?
Spam emails usually contain promotional content sent to you by the web platforms that you have subscribed to; it can be an online shopping platform, job portals, clubs, online gaming, software downloads, etc. The websites that you subscribe to, often share your data with their partners, and thus your inbox receives spam emails from unknown portals. 
The next reason that might lead you to spam Yahoo emails, is when you fill out random online forms. So, make sure that you keep a spare email address to use for online shopping, gaming, or while filling the online form.
How can you Stop Spam Emails on Yahoo?
To deal with spam emails in Yahoo, you first need to be wary of emails coming from unknown emails. Apart from this, here are a few simple methods you can follow to control spam emails on Yahoo.
Method 1: Block Email addresses sending spam
If you are constantly receiving spam emails from a particular email ID, here are a few steps you can follow: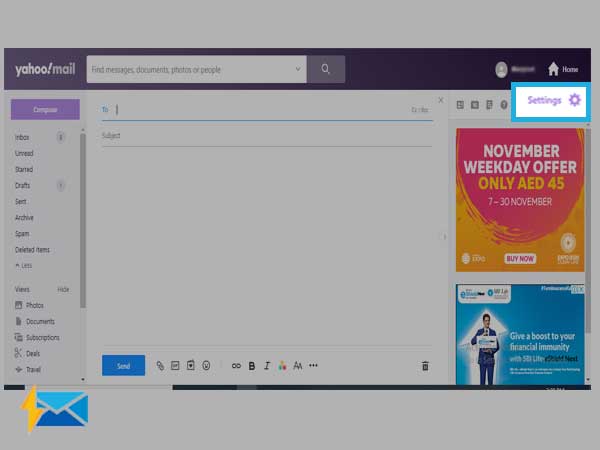 Tap on "More Options" and a new window will pop up.
From all the options available in the left column, select "Security and Privacy".
Next, from the option "Blocked addresses" having (+ add) button, click on "Add" and type the email address in the blocked list.
Method 2: Enable Yahoo Spam Filters
Now, to move emails from Yahoo, you can enable the spam filters by following the underneath steps;
Sign-in into your Yahoo account and click on the Mail icon
Inbox will appear now click on the Settings option
Next, click on the Filters and + sign will appear in the right column. Click on it.
Now enter the blank section like Filter name, Set Rules, and pick the folders where you need to move
Finally, click on Save.
How to Disable Spam Filter in Yahoo
If you wanted to remove this filter from Yahoo, you can turn off the filters using the Yahoo mail spam filters settings, steps are given under follow them carefully;
Open the Yahoo mail and click on the Mail icon
Move to Settings and click on More options
Next click on Filters and a new page will open, now click on +ADD and type "No-Spam" and "@" the respective box placed next to the Sender data
Ensure that "Where the mail will be delivered" will be activated
Way to Report an Email as Spam in Yahoo
Although blocking an email address is a permanent solution, spamming might continue from the users, hence you can report such emails to prevent emailing you. Follow the steps to report an email as spam in Yahoo versions.
On Yahoo Classic Mail
First, choose the checkbox along with messages from your inbox to report as spam
Click on toolbar placed above inbox, now click on Spam, and choose to move the messages into the spam folder
On Basic Yahoo Mail
However, steps are almost the same but due to difference in version, a few steps were added, thus, following the underneath steps;
Click on the checkbox with a message from the inbox that you want to spam
Open Toolbar and click on Spam and choose it to move the messages to the spam folder
You can also mark the message as spam individually;
Click on Toolbar, and choose the Action option
Click on Mark as spam and click on Apply
On Yahoo Mail Application
You don't need to have a laptop or PC to mark emails as spam, following the beneath steps will do the task.
Open the email that you need to mark as spam
Now click on click on three dots beside the Sender name
Select the Spam option from the drop-down menu
Can Yahoo Spam Filter Feature Fail? How to Fix Then
Possibility of this scenario is rare, if you are still getting the emails after marking the mails as spam, there must be something you need to check,
Check if other filters are unable, that might conflict with the spam filter
Avoid negative criteria such as "does not contain" and select the positive one such as "begins with"
Check the filters settings and edit or remove the filters
Filter restrictions with POP account might be the reason, in POP mails only downloaded from the inbox folder
Workarounds to Avoid Spam Emails
Spam emails are not good for your account as it takes too much space and also it contains viruses that might harm you, so follow the underneath tips to avoid getting spam email;
Do not reply to the unknown sender
Avoid sharing your emails with everyone
If you are getting emails to unsubscribe from the services that you didn't subscribe to, avoid replying, it might be a spammer.
Hopefully, this article empowered you with some fine ways to deal with spam in Yahoo email. However, there is a lot more than you can discover on emailscrunch.com, a website for tech-enthusiasts.
Share