A Guide on What To Do If Your AOL Mail Won't Open PDF Attachments
One of the most infuriating AOL mail issues is when PDF attachments cannot be opened. You do not know whether the mistake originated from your computer, the sender's computer, or AOL itself.
Some Quick Tips to Check If You are Facing This Issue:
File size: Over AOL you can only send 25MB as an attachment. If the PDF technology you are trying to open is over 25MB then you will receive the message that AOL mail won't open PDF attachments.
Check your internet: If your internet connection is interrupted or weak then whatever attachment you are opening will not open properly.
Is your browser up to date: Make sure your browser is up to date. Outdated browsers will not be able to open AOL attachments leading you to see the text "Can't open PDF in AOL mail."
If the above does not solve your issue then you can move on to the next part. The following are more extensive ways by which you might be able to resolve the issue.
Step by Step Guide on How To Resolve Issue of Being Unable To Open PDFs in AOL Mail
What's interesting is you can't open PDF in AOL mail due to issues not pertaining to the email service, but because of the PC itself.
Troubleshooting The PC With DriverFix
DriverFix is software that will maintain the functionality of your drivers, protecting you against typical computer issues and hardware failure. Check your drivers in three simple steps:
Download and Install verified DriverFix software.
Click on 'Scan' to locate all faulty drivers.
Update Drivers to obtain the most recent versions and prevent system malfunctions.
You are usually unaware of the fact that your PDF reader might be the problem why AOL Mail attachments not opening.
Since Adobe Acrobat Viewer is the most popular PDF reader, we will troubleshoot AOL mail attachment issues using Adobe Acrobat Reader.
What Are Ways to Ensure the Opening of AOL Mail Attachments?
Install A PDF Reader
PDF readers manage PDF files. So, installing a PDF reader configures your browser to open PDF attachments using the PDF reader or the browser itself.
Install a compatible PDF reader on your PC to resolve AOL PDF attachment difficulties.
As stated previously, Adobe Acrobat Reader is the most popular PDF reader and editor in the world, and for good reason.
It is continuously updated with the latest features and bug fixes, so any faults that may arise will likely be resolved in the next version.
Moreover, the product is highly user-friendly, so go on and try it.
Check The Compatibility Of The PDF
If the PDF is created on an Apple computer, viewing it on a Windows system may result in AOL connection issues. Similarly, you cannot open attachments in AOL Mail on iPhone if it's created on Android.
If you intend to email PDF files, you must advise the sender that you are using a particular OS to create the file.
In terms of support, in addition to file and system compatibility, your web browser and hardware configuration may cause AOL mail connection troubles. Problems will develop if they do not fulfil the minimal requirements for handling AOL mail.
Disable Antivirus
Occasionally, antivirus software flags AOL email attachments as suspicious and blocks these files. This results in difficulties with AOL mail attachments and AOL email not delivering reminders. If your PDF reader works properly but your AOL mail won't open PDF attachments, disable your antivirus software and try again.
Repair The PDF Installation
Go to this location on Windows Explorer:
Look for the following files in the ActiveX folder: AcroPDF.dll, pdfshell.dll, and AcroIEHelper.dll. The lack of any of these files can create attachment issues with AOL mail.
To recover the files, repair Acrobat Reader by reinstalling the program. Alternatively, you can fix your installation by selecting Repair installation from the Help menu's drop-down.
Choose Another Email Service Provider
If you find that the PDF issue is not caused by your PC, but rather by AOL, the logical next step is to replace AOL.
There are several other alternative email applications with comparable capabilities, including virus and spam protection, big attachment sizes, limitless inbox sizes, and integrated spell checkers among many other things.
In addition, there are email clients with productivity tools such as calendars, task management, comprehensive categorization and tags, and an up-to-date search engine.
Most email clients offer a comparable user experience, so if you can't open the PDF in AOL mail, don't hesitate to seek a substitute email provider.
Configure AOL attachments to open in Adobe Acrobat Viewer or an alternate PDF reader.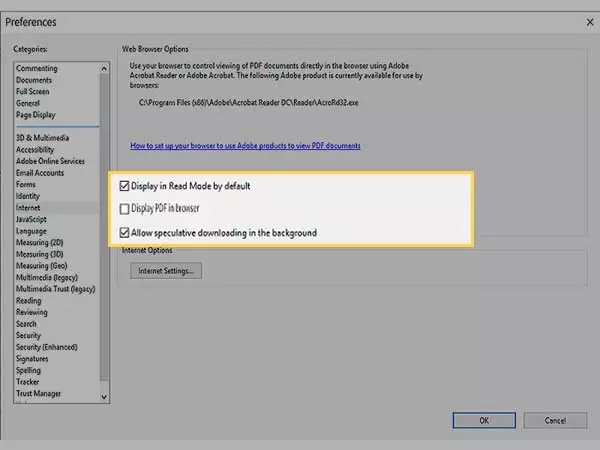 Launch Adobe Acrobat Reader after closing your web browser.
From the Edit menu, select Preferences.
Look for the Internet on the list to the left.
Next, deselect Display PDF in Browser, followed by the OK button.
Finally, you should restart your browser.
Quick Restore AOL
To do a Quick Restore, search the Start menu for AOL system information and launch the associated software.
Next, click the AOL Software tab located on the screen's left side.
Click Quick Restore, then click OK on the subsequent screen.
Wait until the Quick Restore process has concluded, and then close the window.
Restart your AOL programme.
Please note that the Quick Restore feature is exclusive to the AOL desktop software.
The inability to open AOL PDF files is a stressful issue, but these remedies are proven to be a great fix for this problem without causing you to lose any emails or attachments.
You just need a PDF reader compatible with AOL PDF attachments and configured to handle them, and if that fails, you can simply conduct a Quick Restore.
These are a few tips to do if you can't Open PDF in AOl mail. If you are still unable to do it, you might require a third-party tool.
You can even look for Emailscrunch, a resource for resolving all email-related concerns and gaining efficient access to manage your email.
Share