Try These 7 Solutions to Restore Missing or Lost AOL Emails
Missing, lost, or disappeared AOL emails, is quite a common issue that users face most often. This issue has been one of the most widely reported AOL problems so far. And, for a non-tech-savvy user, retrieving the lost or missing AOL emails can be a hard nut to crack. But, no one wants to deal with data loss, especially when it comes to crucial AOL emails.
If you haven't deleted your AOL emails but they are still missing from your AOL inbox, you need to read this corrective guide that includes reasons and the best 7 methods to recover missing or disappeared AOL emails.
So, let's begin:
Reasons Why AOL emails are missing
AOL email server is down and creating issues.
AOL email account is hacked or compromised.
The email is saved in an incorrect or wrong folder.
Incorrect AOL server settings on third-party email clients.
Deactivated AOL email account due to prolonged inactivity.
AOL email filters on incoming emails.
Apart from the listed ones, there could be other reasons that can cause missing AOL emails. However, with the below-listed solutions, you can get rid of the issue of "missing or disappeared AOL emails".
List of Methods to Restore Missing or Disappeared AOL Emails
Method 1: Thoroughly Check Other Folders
If your email is nowhere to be found in the Inbox folder, you can try finding it in folders other than the Inbox such as Spam, Junk, Trash, or Archive folder. If you are able to find emails there, you have probably set the email filters wrong. Finding a regular email in a spam folder means that emails have been marked or filtered mistakenly. Therefore, keeping an eye on every single folder is important to find your important emails.
Method 2: Check AOL Email Client Settings
The next reason why users can't find AOL emails is the incorrect AOL email settings on third-party email clients such as Outlook, Gmail, Thunderbird, and Android Mail app. The faulty settings of your AOL email account can disturb the flow of the incoming emails if they adjust the delete incoming emails from the AOL server while using the iPhone, Android, and desktop mail app.
In addition to that, if AOL emails are not to be found anywhere or landing in an unexpected folder, it can be due to the normal result of using IMAP to access your email client. The IMAP protocol syncs all your emails irrespective of the platform you are using it on because emails will be sorted according to the client's specifications.
Method 3: Deactivate AOL Email Account
If your AOL email account has been inactive for a longer period of time, it is most likely to get deactivated. Also, if you were involved in spam or suspicious activity, your account will be disabled temporarily. In such cases, you won't receive any email from your contact or your account access will be terminated altogether.
Method 4: Clear Browser
Before you sign in to your AOL email account, make sure you use a clean browser that is free from all history, cache, and cookies. The browser won't render the optimum performance when it is not clean and it can act as a reason why your AOL emails are missing.
Method 5: Re-configure AOL Email Application
If the AOL email app is not installed or configured in a proper fashion, you are likely to miss the incoming emails on your AOL email account. Therefore, delete your AOL email application and configure it again after clearing all the related files and restarting your device.
Method 6: Check AOL server status
There are fair odds that your AOL server is down and due to this you are not able to find emails in your AOL Inbox and other folders. The disappearance of old emails mainly occurs due to server glitches.
Henceforth, check if the AOL server is down in your area and for this, you can use sites like https://downdetector.com/status/aol/ and https://downforeveryoneorjustme.com/. The server usually gets affected due to wrong updates or heavy mail traffic, but it is fixed automatically and requires no manual troubleshooting.
Method 7: AOL Account Is Hacked
If your incoming emails are disappearing quite frequently, it can be due to the fact that someone else has access to your AOL email account and they are tampering with your email data. In the case of a hacked AOL account, you are suggested to reset or recover your AOL email password.
Follow these steps to reset AOL password:
Open the AOL login page on your browser to access it. 
Click on the Login/Join button to access the AOL Login page.
Type in your username, email address, or mobile number.
Click on "Forgotten Password" on the next screen.
Select the method for identity verification.
Now, follow the on-screen instructions to complete the password recovery.
Method 8: Recover Deleted Emails From Trash
Sometimes emails are still inside the Trash folder after the accidental deletion, and there is no harm in checking your trash folder for once, if you are unable to find your important AOL messages. But, the deleted emails only stay for 7 days in the Trash Folder, and after the specified time period, the emails will be permanently deleted. If you find the desired email, you can restore deleted AOL emails to the Inbox using the steps given below:
Open any web browser of your choice and go to the AOL website
Hover the mouse to the top left corner and tap on the "Envelope" icon
A new interface of AOL Email will pop-up on the screen.
Log in your AOL account using your AOL credentials (i.e. username and password)
After this, tap on the "Trash" option from the left-hand side menu
In the "Trash" folder, you need to find your desired emails from all the recently deleted emails.
Select the email that you want to recover
Tap on the "Action" button and select "Move to Inbox" as shown here.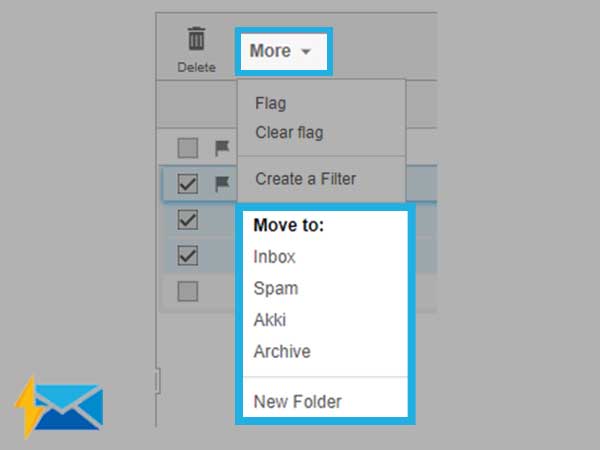 9. Open your "Inbox" to check if the email is stored there.
Conclusion
With these five methods, you can easily recover your missing AOL emails so that you don't have to lose your crucial data.
Share