RocketMail Login Process Along With History, Sign-up, and Password Recovery methods
Free web-based services have been serving humankind since the early 90s, even way before the inception of Gmail, but they were not as easily available as these days. Back then, when free email service was a matter of surprise and hard to find, Rocketmail emerged to be the best go-to webmail service. It was one of the pioneer providers who came up with the idea of free email service for the general public. Soon after that, Rocketmail became a prevalent name among the worldwide audience. It showed the world how easy and convenient it is to share information and communicate to your contacts using webmail.
www.Rocketmail.com was primarily introduced in the year 1996 first and since then it gave tough competition to the top-most email service Hotmail and even managed to gain an equal position as Hotmail, in the market.
History of Rocketmail
Rocketmail was launched by the Four11 Corporation in 1996 to serve the world with a free email service, it was quite an unusual thing back then. But after a year in 1997, Yahoo bought Rocketmail for a whooping 92 million dollars. After being acquired by Yahoo, Rocketmail users were directed to the Yahoo webpage for accessing their respective email accounts.
About Yahoo's Acquisition over RocketMail
Yahoo officially announced its acquisition over Rocketmail on October 8th, 1997. Rocketmail's legacy i.e. free webmail was continued by Yahoo.
Yahoo chief executive Tim Koogle said, "With the acquisition of Four11's core technologies and resources, we are able to expand our communications offerings and provide a broader range of value-added services for Internet users".
After acquiring Rocketmail, Yahoo decided not to change the domain names for the convenience of already registered users. Not only this, registering with the Rocketmail domain was still possible but it was discontinued later. The unique Rocketmail address can still be used to access email data through the Yahoo interface.
Return of the Rocketmail Webmail Service
As we said Yahoo discontinued the registration through the Rocketmail domain until 2008. In 2008, 9 years after the acquisition, Yahoo did something unexpected. Two new email address options were opened for the public to register and they were ymail.com and rocketmail.com. After this, users were allowed to create an email account with the domain name of Rocketmail.com. Unfortunately, this change didn't last long and Yahoo phased out the ability of users to register through the two new domains.
Evolution of Rocketmail
After the transition and discontinuation of the Rocketmail domain, the older Rocketmail users were left with two options to access their data:
Select a new Yahoo! ID
Sign-in through the ID in the format "username.rm"
No matter which option you pick, you can access your older Rocketmail email address and the emails will be forwarded to the newly selected ID.
Features of Rocketmail Email Account
Rocketmail became more desirable after being acquired by Yahoo, other than this the platform-wide compatibility makes this email service a clear win for those who need a decent email platform with advanced security and fascinating features. Some of the most alluring features of Rocketmail Email are listed below:
Rocketmail is a free webmail service, that comes with the security and trust of Yahoo.com
You can attach up to 25 MB file size in every email.
It offers you unlimited storage.
The intuitive interface makes it ideal for novices.
You can send and receive Rocketmail emails on different email programs namely outlook express, apple, or Mozilla with a simple configuration.
As now we are all familiar with Rocketmail and its background, let's apprehend how Rocketmail functions in current times. From Rocketmail sign-up, sign-in to password recovery here is everything that you need.
How to Sign-up to Rocketmail Email Account?
For accessing the Rocketmail email, you need to have an active email account. Therefore, to sign-up with Rocketmail email, follow the steps mentioned underneath:
On your device, open your browser such as Google Chrome, Mozilla Firefox, etc.
On the prompted screen, click on "Create a new account".
Now provide the required details such as:
First name
Surname
Email Address
Password
Mobile phone number
Date of Birth (Birth Month, Day, and Year)
Gender (optional)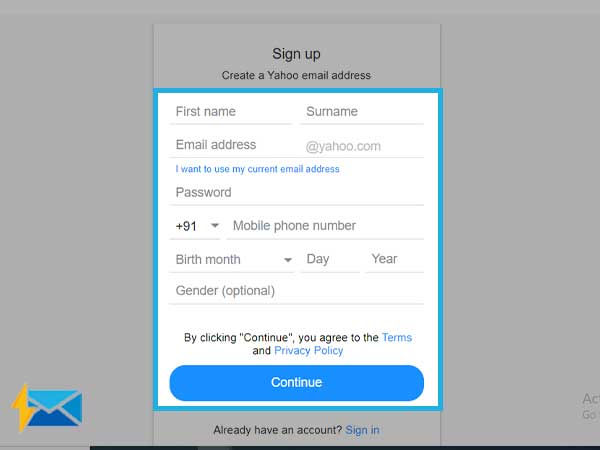 Now, enter the verification code that you receive on your mobile number.
Then, accept the terms and conditions page by clicking on the button that says "Accept"
After this, your Rocketmail account will be created.
You can sign in using the username you created along with the assigned password.
How to Login to Rocketmail.com?
There has always been a fuss about Rocketmail.com login since Yahoo acquired RocketMail in the year 1997. FYI, Rocketmail sign-in is managed through Yahoo's interface. Here are the steps that you need to follow:
Go to Rocketmail sign-in page that will redirect you to Yahoo's email login page, since Rocketmail is now managed by Yahoo.
Now, enter your Rocketmail email address that can be your Yahoo email address.
Alternatively, you can enter your Phone number associated with your RocketMail Email account. And, click "Next".
On the next screen, enter your password in the respective field and click "Next".
After entering your password, click "Next".
You are now signed in to your Rocketmail email account.
Logging in to the RocketMail.com email account is quite straightforward, but it becomes a bottleneck for those who are not able to sign in due any certain halts such as incorrect passwords, hacked or compromised accounts, or locked or disable RocketMail account. In such cases, recovering your password is recommended. To create a new password, you need to have an active recovery method associated with your Rocketmail account.
How to Reset or Recover RocketMail Email Password?
After this, you need to follow the steps to recover your password and fix RocketMail login issues.
Type in your Rocketmail email address or you can enter your mobile number associated with your account and click "Next".
On the next screen, click on "Forgot Password".
Select the verification method to prove your authorization on your email account.
If you select "Email a code", or mobile number to receive a code, enter the code you get via email or SMS on the password recovery screen and click "Verify".
Create a new password for your Rocketmail email account.
Then, click on Continue and your Rocketmail account password will be changed. Now, use the newly created password to sign in.
Important Note: After creating a new password, make sure that you update the password on the third-party platforms where you have configured the Rocketmail email account.
What are the Rocketmail IMAP and SMTP Server Settings?
The Rocketmail IMAP and SMTP server settings allow you to use your email account on various third-party platforms, other than the webmail interface. With the help of server settings, you can manage, check, send, and receive your emails on different email programs and devices such as Mailspring, Outlook Express, Apple Mail, or Mozilla Thunderbird, and Android. By configuring a different email with a Rocketmail account, you can avail yourself of more features and better functionality.
For setting up Rocketmail.com email account on different platforms, the IMAP and SMTP settings are required and thus we have listed them below in the tabular form:
Rocketmail.com (Yahoo! Mail) IMAP Server
Rocketmail.com IMAP Server
IMAP port
IMAP security
IMAP username
IMAP password
imap.mail.yahoo.com
993
SSL / TLS
Your full Rocketmail email address
Your Rocketmail email password
Rocketmail.com (Yahoo! Mail) SMTP Server
Rocketmail.com SMTP Server
IMAP port
IMAP security
IMAP username
IMAP password
smtp.mail.yahoo.com
465
SSL / TLS
Your full Rocketmail email address
Your Rocketmail email password
How to Fix Rocketmail Email Login Issues?
You may face issues while signing in to your Rocketmail email account, but luckily those issues are temporary and can be fixed with a few simple corrective measures. Here we are providing the most pragmatic recovery tips that will help you beat the Rocketmail email issues:
While using the web interface, make sure you use the updated version of your browser.
Also, fix the browser issues by clearing cache, cookies, and history at regular intervals of time.
Make sure your device is connected to a proper internet connection while using a Rocketmail email account.
Change your email password on a regular basis to avoid cyber threats.
While using the Rocketmail account on a third-party email client, make sure you use the latest server settings given above.
Share