Comcast Status Code 225 Error: How to Resolve It?
No technology is perfect; there are some glitches that cannot be prevented and this leads us to Comcast status code 225 error.
The scenario where you won't see all or some of your cable stations, but rather the Comcast Status Code 225 error appears on the screen – is actually common among Comcast Xfinity cable clients.
So, if you, too, are currently facing this Xfinity error code 225 challenge, then worry not; instead, sit, relax, and read this write-up. We'll outline some of the main factors that trigger this error and also discuss the possible solutions that you can implement to rectify it.
To cut a long story short, all you need to do is read this article carefully and use the given instructions to resolve Comcast status code 225 error—
What is Comcast in Brief?
Comcast is not a new name in the world of major communication companies, it is one of the most used out there in its category.
It is an Internet-based service provider that provides high-speed Internet as well as TV broadcasting services in the US.
Not only is it known worldwide for its super-fast internet connection and partnership with Universal Studios, but also because it is the third largest telephone service provider in the US.
To mention more, Comcast is, based on revenue, the second-largest television broadcasting company in the world and the largest in the US.
So, as it grants access to good quality internet, TV, and telephone services at affordable prices, users are always excited and prefer to use Comcast!
But all the facts mentioned above are not enough to take away the fact that Comcast is not free from faults.
Comcast users have always faced some problems. So, today in this blog, we're going to talk about one such common problem called 'Comcast Status Code 225', which has been faced by a lot of Comcast users recently.
Recommended Post to Read Next: Comcast Net Email Login Guide
What is Status Code 225 Error on Comcast?
Comcast Status Code 225 error is very common among people who use Comcast TV cable in their homes. Therefore, it is all the more important to explain Comcast status code 225 for those who are not yet aware of what exactly it is!
Comcast Status Code 225 error means that there is some sort of interference with the signal, and a number of things can result in interference on the signal.
What are the Reasons Leading to Comcast Status Code 225 Error?
As just mentioned, this error can be caused by a number of factors, so it is important to get a glimpse of some of the causes before trying out any possible solutions.
Having said that, below are some of the possible reasons that can cause Comcast Status Code 225 Error—
This error may result from signal interference. If you experience this, you need to double-check your Internet device.
Comcast Status Code 225 may also indicate a problem with the cable connection.
A sudden problem with the Comcast box can also cause this error.
Last but not least, the Comcast TV remote problem can also generate this error.
Now that you are aware of all the possible reasons behind this error, it's time to move on to the solutions section to get rid of it.
What Are the Solutions to Fix Comcast 225 Status Code Error?
Since there are many reasons for Comcast 225 Status Code, there are also many solutions that you can apply to resolve this error.
So, start with Solution 1 and work your way down until your get successful in resolving the Comcast 225 code error—
Solution 1: Contact the Customer Support Wing.
When you encounter Comcast 225 error code, the first thing to do is contact Comcast Customer Support. This will help you to get an idea of whether the problem is from your side or their side.
As you do so, Comcast may send a new signal towards you to determine if the signal reaches you. They can also check many other things on their end, which will help you to solve this issue very quickly.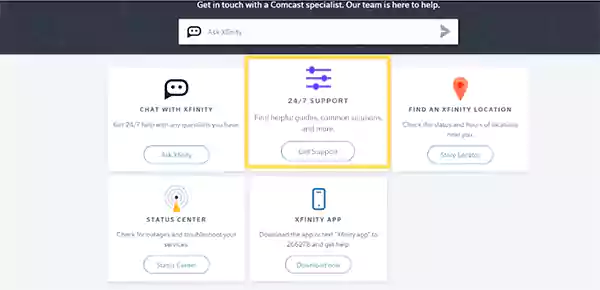 Solution 2: Check to Have a Proper Internet Connection
Next, it is also possible that you may get Comcast status code 225 if there is a problem with your internet connection.
That being the case, there can be many reasons why your internet connection gets interrupted, so what you can do is talk to your internet service provider to resolve the issue.
However, if you are still getting the 'Comcast Status Code 225 Error' message on the screen even after you have made sure that there is no issue with your internet connection, proceed to try the next solution.
Solution 3: Check the Cables and Outside Lines
As the error can also be caused by signal interruptions, faulty cables and outside lines (especially if you live in extreme environments) or because it's been a long time since you changed your wiring; you should thoroughly check the cable connections at both ends.
Alternatively, you might consider contacting Comcast to have a technician come to your home, or you can just get your own technician to check the cables and lines. Now, if there is a problem with the line, know that it needs to be replaced.
Once you have checked and changed the cable connections, see if you are still getting the same message or if your problem is resolved.
Solution 4: Try Another Power Outlet
On rare occasions, your outlet may be the problem. So, what you also need to do is check the power outlet by simply plugging in another device, and if that device is not working properly, then it indicates there is a problem with your power outlet.
Now, to fix this error, you can try connecting your Comcast box to a different outlet. Once you've done that, see if the error still occurs.
If you are still getting the same issue after switching to another power outlet, then there might be some other issue, and the next lined-up solution is what you need to try to get rid of this error.
Solution 5: Follow a Complete Hard Reboot of Your Comcast Box
Next, you need to note that sometimes rebooting the entire Comcast box can solve the problem. So, to do so—
Step 1: Unplug the Comcast box's power cable from the power socket.
Step 2: When you've unplugged the power cable, press the power button on your Comcast box and wait at least 15-20 seconds.
Step 3: After that, release the Power button and plug the power cable back into the socket to reconnect your Comcast box power cable.
Now you will have to turn on your Comcast box and check if the error still occurs.
Bonus Tip: If the problem is in your computer or laptop/notebook, then you should try using Restore Repair, which can scan the repositories and replace corrupted and missing files. This works in most cases where the problem arises due to system corruption. So, if you want to download Restoro, you can consider this link.
Solution 6: Try Replacing the Remote Control of Your Comcast TV.
Even a useless/ dysfunctional remote control has a way of triggering this error. So, if you've tried the other suggested solutions and the error still persists, you may want to switch to a different remote control.
For another remote control, you simply need to contact Comcast customer support.
Solution 7: Contact a Comcast Technician
The last resort is again to have a Comcast technician come to your home and do a thorough check of everything. They will also check your internal wiring, Comcast box, connections, and external wiring. In fact, sometimes the problem can be with Comcast's main box that provides a signal to an entire block/area, so ask a Comcast technician to check this as well.
Bonus Tip: As mentioned earlier as well, if none of the solutions solved the problem for you, in that case, it is recommended that you should try using the Restore Repair tool that can scan the repository to replace corrupt and missing files. This works in most cases where the problem arises due to system corruption, as the restore will optimize your system for maximum performance.
Wrapping UP!
Comcast is one of the most well-known cable providers in the US and has a huge user base that adores its cable experience. But errors like Comcast Status Code 225 can give Comcast users a headache. Well, not anymore!
Hopefully, all the possible troubleshooting solutions mentioned in this post will help you to resolve the Comcast Xfinity Status Code 225 error. However, for this to happen, you have to make sure that you follow the instructions religiously to avoid any kind of discrepancies.
Still, if none of the solutions worked for you; Comcast Customer Support is just a phone call away. Alternatively, you can also send an email detailing all the errors you have encountered; the Comcast Customer Support team is always ready to look into your issue and find a solution to it.
Bonus Tip: There are certainly other alternatives available out there if you don't like Comcast's service. All those who have a better internet connection and have a Smart TV, you can access a number of subscription-based services that offer a host of entertainment content. However, we cannot force you to use any particular service, so you can make your own decisions based on your circumstances.
FAQs
Ans: Depending on what you are currently experiencing, status code 225 can mean different things. In some cases, this may be the result of poor network signal, severe introspection, or a problem with the cables used in the connection.
Ans: Comcast Status Code 225 error can occur as a result of interference on a signal due to many reasons. For example, this can be due to some problems in the Comcast backend that the cable signal may not be able to contact you; this can be a direct result of your home's wiring and can even be a direct result of lines outside the house and so forth.
Ans: Once you suspect that this is the problem behind your issue, you first need to perform a hard reboot directly on your Comcast box. If the problem is not something complex, it will be fixed after the restart is complete. However, if the problem is not resolved in this way, then other solutions provided in this post need to be applied.
Ans: Sometimes, this error occurs because your cables are not in good condition. So, you need to know for this particular reason that changing your cable will fix this problem forever. In fact, even if your cables are properly connected, but you have been using the same cable for a long time, it is better to replace the cable.
Ans: There are many questions about Comcast's status code 225, but that doesn't make Comcast an untrustworthy company. If you check properly among the major telecommunications companies, Comcast still remains a household name.
Ans: To make a formal complaint, you must first log in to xfinity.com. Then, navigate to the contact us or support page. There, click on the chat bubble icon (it can be located at the top right of your screen.)
In fact, even if you're using the Xfinity app, you'll need to tap the chat bubble icon, which is always in the same place as it is on PC. Finally, when you click on the bubble icon, you will see a chat with an agent. Now, the rest is all up to you; make a formal complaint your way.
Share