Recover Hacked Xfinity Comcast Email Account: Signs, Process, & Tips
Comcast email is a popular name in the emailing world. The brand is known for its extraordinary security features, but as a matter of fact, Comcast is too prone to hacking like any other web service. Therefore, you cannot be reckless towards Comcast email security. Hacking is the biggest problem that every web platform is currently facing and Comcast is no exception but Xfinity users have some edge when it comes to security. Comcast offers a very simple and smooth recovery process to retain your hacked or compromised Xfinity email account.
Here we are attempting to introduce some effective recovery steps and security tips that work IRL.
How to identify Hacked Comcast email account?
Hackers often attack accounts that are less secure and give them an easy chance to cause a Comcast email breach. They keep close track of your activities and wait for the one moment that can give them a chance to overtake your account. Well, hackers keep things close-ended so that account holder cannot come to know about the hack. But there are few clues by tracing which, you can get to know about the hack:
If there are emails in the Outbox or sent folder that you haven't sent, there are chances that your account has been hacked.
Go through all the last activities of your Comcast email account. If an uncommon IP address is available in the last activities, you need to be extra cautious.
If there are unrecognizable emails available in your inbox, your account might have been hacked by the cyberpunks.
If the recovery information of your account has been changed, your account is probably hacked.
If you come across any such issue, you need to act rapidly and retrieve your hacked Xfinity Comcast email account. Till you make the necessary changes your account information and privacy are at constant risk.
How to Fix Hacked Xfinity Comcast Email Account?
The level of difficulty that you face while recovering a hacked Comcast email account, depends upon the changes that hackers have made and the extent of risk. If you are recovering your account at an early stage, recovery will be quite easy. Here below, we are providing the steps that are required for Comcast hacked account.
Step 1: Change the Email Password
If your account password has not been changed, you are lucky. You still got a chance to recover your account just by changing the Comcast email account password. Make sure the new password that you create should be strong enough to protect your account from hackers.
Step 2: Change password for other related services
If the same password is being used by you for other web services, you need to rush and change all the passwords without waiting for a moment. Because all the related services are at risk of hacking.
Step 3: Follow the Account Recovery Process
There is a password recovery process that Comcast offers to its users to deal with the Comcast email problems like hacked accounts, lost account credentials, or forgotten passwords. The process is very simple, just follow these steps:
1: Go to the Xfinity login page from your browser.
2: Click on "Password" from the "Forgot Xfinity ID or Password?"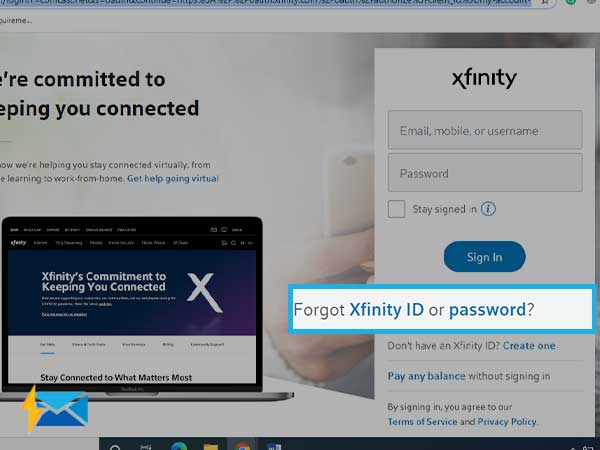 3: Now, type in your Xfinity email address, the User ID, or mobile number to find your Comcast email account, and then click "Continue"
4: Enter CAPTCHA on the next screen.
5: Answer the security question, verify your phone number, or confirm your email address to prove the authority on the account.
6: If you select an email address or phone number to prove your identity, you will receive a verification code on your email or mobile. Enter the same code on the password resetting page.
7: Follow the on-screen instructions to reset the password or create a new password for your Comcast mail account.
Step 4: Reset the Security Questions and Answers
Once the password is reset, you need to change the security questions and update the recovery information for nulling the future risk.
If you have security questions, make sure you change them because hackers know the answer to all of them and thus can easily hack your account again.
Step 5: Change and Secure the Recovery Email Address
Make sure you change the recovery email address and also the password for your recovery email account and secure it along with your Xfinity email account.
All these 5 steps are very crucial to recover and secure your compromised Comcast email account. However, few other things can help you protect your email account, let's know.
How To Secure your Comcast Mail Account for Future?
1. Make sure you alert all your contacts after the hack has happened.
2. The website you visit must contain "HTTPS" in the URL
3. Do not open suspicious emails from the inbox. Delete such emails without opening them.
4. Make sure you scan your device for any malware, virus, or other security threats.
5. Use a different password for every web service.
Recommended:- https://emailspedia.com/comcast-net-email-login/
Share