How to Send an Email to a Phone Number?
Emailing these days has become as common as driving. But, not all of us have gotten accustomed to using it perfectly yet, just like the different aspects of emailing. And one of them is sending emails to a phone number.
It is pretty obvious that many of us don't go open every other email that we receive since most of them include ads and promotions. So, emailing a phone number can come in pretty handy in such situations, especially when you're trying to reach out to someone quickly.
Sending the email as a text also increases the chances of your email getting opened by the recipients, and you will most likely get a swift response as well. So, can you send an email to a phone number? Well, if you are looking for the answer to this, you've come just to the right place.
Can You Email A Phone Number?
You can send emails to a phone number if the device accepts text messages. However, before you think about doing it using the steps given in the next section, there are some points that you should consider. 
Check and confirm that the digits that you have entered for the number are correct.
Make sure that the person you're trying to contact is known to you and that the other person knows you as well.
If you want the email to be sent smoothly and want to be fully sure about it, keep the content on it short. Because if you keep the content long, it is possible that the message might not get through. And even if it does, the content will be broken down into multiple messages, which is not something you would want.
To keep things as simple to understand as possible, you should avoid using emojis, formatting, etc., in your email as it varies from different email servers and providers. And hence, it might get broken, making it hard to read the message.
If you think there are chances for the person you are trying to contact to be using a plan including limited messages, you can use email-to-text.
Lastly, if there is a group email, and you are trying to include the phone number there, don't forget to remove it once you are done, as doing this will prevent the unnecessary accumulation of emails in the inbox.
Now let's head over to the steps using which you can send an email to a phone number.
What is an SMS Gateway and its Uses?
Before getting started with the steps for 'how to send email to a phone number,' let's chat about SMS Gateway for a bit. Now, you might be wondering what it has to do with the process of sending an email to a phone number. So let us explain, as it is the medium to make the whole process smoother.
Most of the major wireless carriers provide a Short Message Service (SMS) gateway, which is a technology bridge that helps to convert email into an SMS form of communication.
Earlier, SMS gateways were physical devices that had SIM cards with implanted radios.
While modern gateways use a Short Message Peer-to-Peer (SMPP) protocol for exchanging messages, back in the time, each gateway was to a mobile network.
Now let's head over to the steps for 'how to send an email to a phone number'.
How to Send an Email to a Phone Number?
Emailing a phone number is not a big deal as all you need to do is have the right steps for it. In this guide, we will walk you through the different steps for 'how to send an email to a phone number.'
Look for the SMS or MMS Gateway of your recipient's carrier
While sending an email to a text, the first and foremost step is to find the SMS or MMS gateway of the receiver. Now you may ask why. Well, this is because, in the To field, the recipient's phone number, along with the carrier's SMS or MMS gateway domain, will come. For instance, 9876551234@mms.att.net
So here, we have gathered some SMS and MMS gateways of big carriers in the United States. Help yourself with the table and find out yours.
| | | |
| --- | --- | --- |
| Carrier | SMS Gateway | MMS Gateway |
| AT&T | @txt.att.net | @mms.att.net |
| Alltel | sms.alltelwireless.com | mms.alltelwireless.com |
| Boost Mobile | @sms.myboostmobile.com | @myboostmobile.com |
| Cricket Wireless | txt.att.net | mms.att.net |
| Sprint | @messaging.sprintpcs.com | number@pm.sprint.com |
| T-Mobile | @tmomail.net | @tmomail.net |
| Verizon Wireless | @vtext.com | @vzwpix.com |
| UScellular | @email.uscc.net | @mms.uscc.net |
Out of the above-given gateways of major carriers, you can find the one that your recipient is using and send them the mail.
Once you have got your recipient's email address in place, you can go ahead and compose the message like you usually do in text messages. But keep in mind that keeping the content lengthy and adding attachments to the content will affect whether it will be sent as an SMS or MMS.
Now, to identify the difference between the two, let us explain a bit about them.
SMS and MMS
If an email message is going through an SMS gateway, its limit is 160 characters. And if the limit is exceeded, this is the reason it gets divided into multiple messages.
Hence, if you are sending a message that has more than a limited number of characters, and contains pictures, video, or any other media content, it is preferable to share them via MMS (Multimedia Messaging Service).
Send your text, and it's done!
Now that you are completed with writing your recipient's number and SMS/MMS gateway and filled in the content as well, hit Send and the message will appear something like this to the receiver: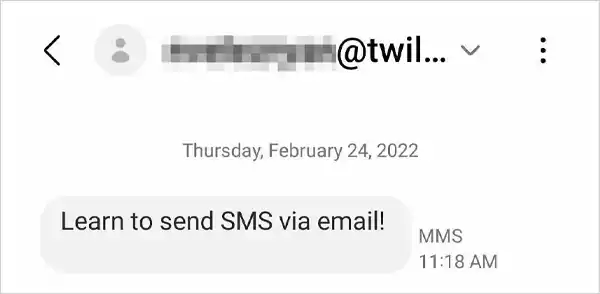 If you get a reply from the recipient's end, you will get it in your email's inbox as a new message. But, make sure to check your spam folder as well because SMS gateways sometimes end up in the spam folder.
How to Send a Text to Email?
If you are someone who has a device with no email features, worry not. We have gathered some pretty simple ways, using which you can send a text to email. Follow the steps given below to do so:
In the recipient blank, enter the email address
Open your phone's text message app, and in the recipient field, enter the email address.
Now all you have to do is enter whatever content you want to share in a simple manner like you usually do while texting, and it will get converted to an email by your carrier.
Lastly, after you press Send, the text message will get sent to the recipient's email inbox. As discussed earlier, the sender field will contain your phone number with your carrier's SMS or MMS gateway domain. It will appear as something like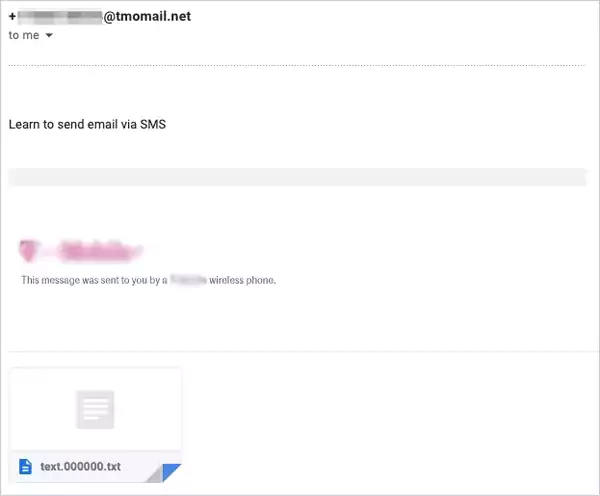 Using the steps given above and keeping in mind all the points discussed earlier in the article, your text will successfully get sent to email.
Conclusion
There are still some of us who prefer to do things in the old and traditional ways, like using emails as prior means of communication in the times when text messaging has literally become so common. And so, for those of you who want to send an email to a phone number, the methods to do so are discussed in the article.
Apart from that, if you want your text to be sent to email because you don't have the mail app or any other reason, the steps for it are also explained in the article as well. Hopefully, the article will help you to understand the process of 'how to send an email to a phone number.'
ALSO READ:
Share