Gmail Bulk Email- Fast Ways To Send Email In Gmail
---
Highlights
---
The number of emails you can send in Gmail is limited to 500 per 24 hours.
The best way to send bulk email is through BCC.
Did you know Gmail CC stands for Carbon Copy and BCC stands for Blind Carbon Copy?

Gmail is a useful tool for communication. It is widely used by many people all over the world. It can be considered the easiest and fastest way of communicating, since one has to only write the message in an email and send it to his or her preferred list of email addresses. In any case, you need to know how to send emails in bulk in Gmail.

In this article, we are going to look at how to send bulk emails in Gmail. We will also look at why you should use Gmail Email for sending bulk emails as well as how to measure your marketing campaigns to get the best out of them.
Send Bulk Email in Gmail: Google Spreadsheet
You can send bulk emails in Gmail using their Mail Merge add-on.
1. Go to Google Sheets, login, or create a new spreadsheet
2. Copy the following text into the first row of the spreadsheet:
First Name, Last Name, Email Address, Subject, Body, email Sent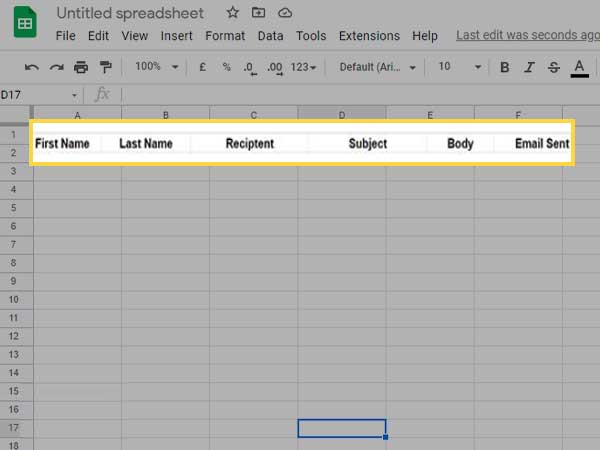 3. Underneath those headers (in row 2), enter the first name, last name, email address, subject line, and body for your first email message
4. Enter subsequent rows with the same information for each recipient you want to send an email to
5. Click on Extensions > Add-Ons > Get Add-Ons
6. A new window will pop up now search for "Gmail mail Merge"
7. Click on "Mail Merge for Gmail"
8. Click on "install"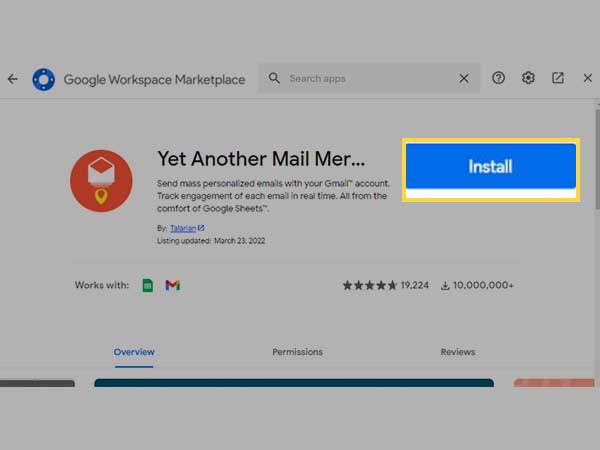 9. Follow the installation process and give permissions to your Gmail Account.
10. Go to your Gmail account and create a Draft email
11. Copy the Subject line and on Google Spreadsheet, click on Mail Merge> Send Email
12. Paste the subject of the Draft email and click OK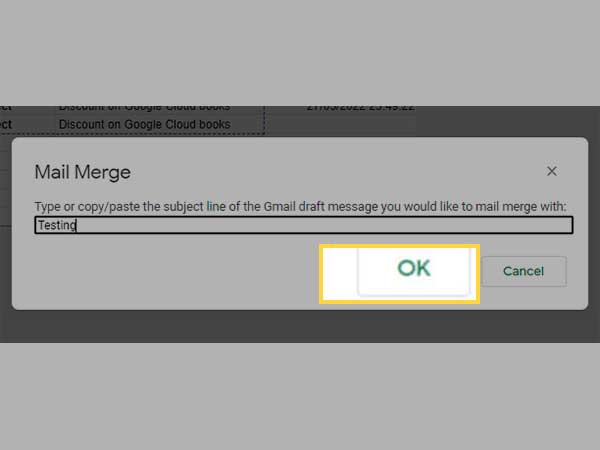 13. You will get a Pop up of "Finished Script" in the middle top of the screen for successful completion.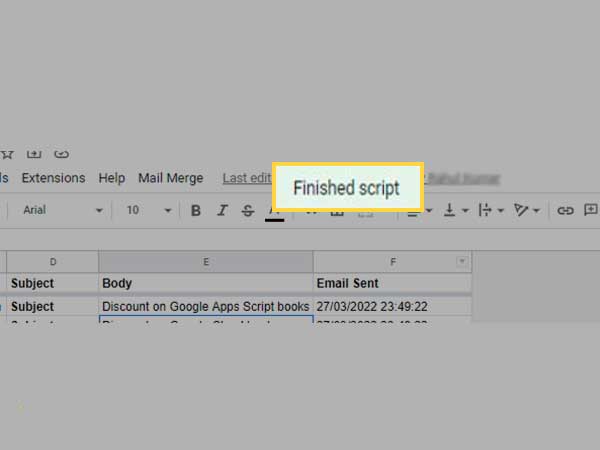 Send Bulk Email Gmail: Gmass Chrome Extension
Gmass is one of the best tools to send bulk email Gmail.
It is a free chrome extension that lets you easily schedule emails, send out mass emails and mail merge campaigns, and more with Gmail!
When we say mass emails, We don't mean it in the shady, spammy way. We're talking about when you want to send out the same email to a lot of people all at once like you would a regular email newsletter.
If you have not used Gmass yet, you're missing out on some really cool features! If you are using Gmass already, then well done. You're among the smartest people in email marketing.
You can use this tool in lots of ways:
Send drip sequences—send one message on day 1, another on day 3, and so on;
Send personalised bulk messages (mail merge);
Add tracking to your emails;
Send Bulk Emails from Gmail using Gmass: Step by step Guide
Step 1: Go to "gmass.co" and add it to your chrome browser.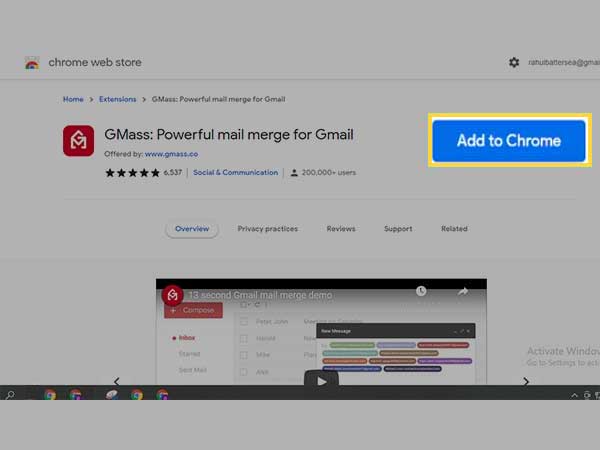 Step 2: Now fill up all the fields like "To", "Subject" & write your email content in the body section and click on "GMass" to send the email
Note: These free bulk email sending services may have limits on how many bulk emails they can send. If you want to send emails more than the specified limit you have to purchase a premium service.
Sending Group Email in Gmail
You can send group emails to your Gmail account using the Google Contacts Groups feature.
This is a critical feature for many who use Gmail as their primary email client, whether it be for business or personal use. Group Email in Gmail is like the ability to create contact groups in Apple's Address Book application on Mac, iPhone, and iPad.
Below you will find a step-by-step guide on how to send bulk emails to your Gmail group list:
Step 1: Create a contact group
Step 2: Open Gmail.
Step 3: At the top right, click "Compose".
Step 4: Click the "To" field.
Step 5: Start typing a name or email address and select recipients from the suggestions that appear. If you're creating a contact group, start typing the group name into this field until it appears, and then click it.
To remove someone from the To, CC, or BCC fields, hover over their name and click x. When you're ready to send your message, click "Send".
How to Send Bulk Email Without Spamming
Most of us are familiar with the concept of spam email. We all know to be on the lookout for it in our inboxes, and we're all well aware of how annoying it is to be bombarded by emails from people we've never heard of. But do you know what actually constitutes spam mail?
In a nutshell, spam email is an unsolicited commercial email. This means that if you send an email to someone who hasn't asked for it, or who doesn't expect it, then you're sending them spam. This definition extends to personalised mass emails too: if a person hasn't given you permission to send them bulk messages, then they're still considered spam.
The trouble with sending out bulk emails is that there's no way to ensure that every recipient wants your content. There are some things you can do to minimise how much of your content is blocked as spam but no matter what you do, some of the people you're sending your emails to won't actually want them. To avoid this happening, the best way to avoid sending spam is simple: don't send bulk emails unless you have the consent of all of your recipients.
How Many Emails Can I Send at Once in Gmail
There is no limit to how many emails you can send at once in Gmail. But there are limits to how many emails you can send within a certain period of time.
Gmail limits the number of emails you can send per day. If you've never sent an email from your account before, Gmail will let you send about 500 messages per day. If you're an active Gmail user and have sent hundreds or even thousands of email messages, Gmail will let you send a maximum of 2,000 messages per day.
Even if you've reached the limit, Google will still allow you to receive mail. You just won't be able to send mail until the next 24-hour period begins.
Send the Same Email to Multiple Recipients Separately in Gmail
The best way to send an email to multiple recipients separately is by using the "bcc" (blind carbon copy) feature. You can enter up to 500 recipients in the "bcc" field. Each recipient will only see their own email address in the "to" field and won't be able to see who else received the same email.
Most of us know to use the CC (carbon copy) field when sending an email to multiple recipients. It's a great way to keep everyone informed, but it can also be a little intrusive because it shows all recipients on your email — and no one likes to see other people's emails. If you want to hide who you send an email to, send blind carbon copies using the Bcc field.
Use the Bcc Field to Send an Email to Multiple Recipients in Gmail
To use BCC in Gmail, you need to first click Compose when you're creating a new email. Then, if the BCC field isn't visible, click the "More Options" arrow at the bottom right of the email window.
If you select Show BCC, a BCC field appears below the CC field. In this field, you can type in the emails of everyone else you want to send your email to. When they receive your email, they will see only their own address and not those of other recipients.
FAQ
Ans: To send bulk emails in Gmail, follow these steps:
Create an Excel file with the list of email addresses you are going to send your message. Make sure that the first column is titled 'email' and all the email addresses are in this column.
Carefully type your email message and save it as a text file on your computer.
Go to Google Contacts and click Import in the left menu. Browse for your Excel file and click Import. Create a name for the contact group
Now go back to Gmail and click Compose Mail. In the To field, begin typing the name of the contact group you created in Step 4 above and select it from the dropdown menu that appears.
Ans: Check out how to use Google Sheets and Gmail together.
Create a spreadsheet with contacts information and custom variables for each recipient
Create the email template with custom variables in the message body in Gmail.
Install the "Yet Another Mail Merge" add-on to access the mail merge tool in Google Sheets
Send personalized emails to all recipients with mail merge.
Share