From Bugs to Features: The Role of Mobile App Testing in Continuous Improvement
Mobile applications have become necessary to current demographics. Most businesses in Latin America and other parts of the world developing applications must consider many factors to ensure that the application meets their user needs and is easy to use. A type of enterprise where mobile applications can certainly improve the results is retail business.
Failure to test for bugs and other features can lead to a bad reputation and other legal consequences that businesses are not ready to face. It's decisive to note that testing includes experimenting with the application for usability, consistency, and functionality. After experimenting, the testers and other QA teams can note if the app meets the requirement or needs adjustment.
If your company is primarily in the mobile development of apps, you must make sure you have a team of engineers either in-house or outsourced. They should test to confirm if the app provides a great experience across various network environments, operating systems, and devices. This article explores their role, from bugs to features, for continuous improvement.
What Does Mobile App Testing Mean?
Understanding the process and the importance of mobile testing is an excellent step for most startup companies. It is a process that cannot be overlooked since it evaluates multiple components of an app to guarantee a fantastic experience, performance, and optimal functionality. It includes trying the following components.
The User Interface (UI): This helps test the app's navigability, intuitiveness, and responsiveness
Connectivity: This assists in examining the app performance across various operation systems and devices
Functionality: Testing functionality checks that all the app's features work as expected and sometimes exceed expectations.
Responsiveness: Involves checking the app's smooth functioning under different conditions.
Data Handling: It looks at how the app retrieves, stores, and manages data.
Security: A significant aspect to test to make sure that the data is protected
User Experience: One of the major reasons for experimenting is ease of use, interaction, and overall satisfaction.
Why Should Your Business Focus on Mobile App Testing Today?
Mobile applications have become necessary touchpoints between business and their customers. As your company strives to create an incredible, intuitive, more engaging, and secure mobile experience, you must focus on a comprehensive product.
However, most companies often find this process stressful and expensive, especially if they lack an experienced in-house team. Luckily, you can consider engaging a Latin America software company to help you in your application development process, which includes mobile examination and optimization.
Outsourcing is a brilliant way to delegate and get tasks done by an experienced team. Ensuring your program meets all your requirements and expectations helps increase your customer base.
Most Businesses are increasing their focus for some reason below. They Include
Expanding Their Customer's Experience: In current demographics, most customers are looking for applications that allow them to access services easily. That's why you need to secure a smooth experience to retain the broad base and, in the process, attract more users.
Boost Customer Reputation: When you develop an app without testing, you will likely have poor functioning that can harm your company's reputation, leading to lost trade. On the other hand, regular applications try to help detect and mitigate all the risks by identifying and resolving issues before the application reaches the end user.
Security Concerns: One key to experimenting is ensuring that the program your company develops is secure and that your customer's data are well protected. With the software examination, you can quickly identify and fix potential security vulnerabilities to protect the data.
Cost-effective: Fixing issues and identifying problems during development can help avoid many problems, and the amount used could be less expensive. Realizing a mess such as in the app's security when it's too late, and people are using it could be costly, and your company could be subjected to hefty fines as you try to compensate the people.
The Evolution of Mobile Testing
Automated Testing
After developing the application, the testers can automate the test scenarios considering the end people's perspective. This will include the application for usability, performance and functionality. This software is available to help execute a test case that allows the identification of all the system's defects.
Performance Testing
Another incredible technique to consider is non-functional app testing. It assists in testing a software app's response speed, time, stability, reliability, scalability, and resource usage under a specific workload. Some types of performance examinations include stress, scalability, and spike-proofing.
Functional Testing
This enables testing the application's complete functionality, including installations, updates, signups, error messages, and logins. Functional testing results to reduce error risk and guarantee customer satisfaction.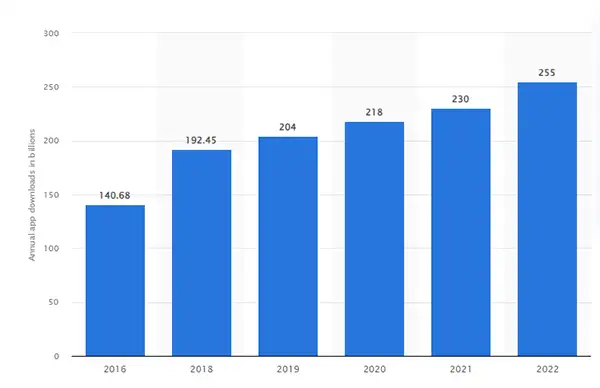 The above graph-chart displays the rapid growth in the number of mobile applications downloaded worldwide from 2016 to 2022.
Time to Test Your Mobile Application!
Testing can often be challenging, especially with the many operating systems in the market today. It's vital to have a goal on how you intend your application to function and your target customers to confirm you develop an application that meets the requirements. When testing, you can outsource experts to help you test various application functionalities to confirm all errors are fixed before reaching the end user.
---
Share