Moosend Review: Is This The Email Marketing Tool You Need?
Do you know?
According to the (Data and Marketing Association) DMA, 2021, the return on investment for email marketing is $44 for every $1 invested.
Email marketing continues to lead the pack for sustaining leads no matter how the marketing environment evolves. It has been a major driver for businesses and entrepreneurs for a long time now and its relevance is not gonna fade out any time soon.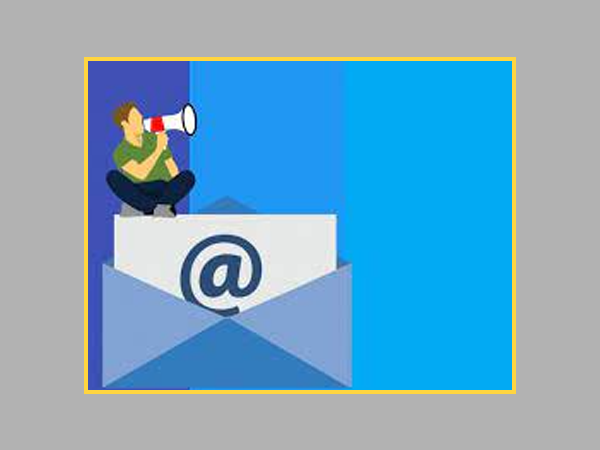 What qualities do you seek in digital marketing solutions?
Good value?
Powerful attributes?
Minimalistic and easy to use?
Well, do you want all three?
Moosend sets out by checking every box. This platform was established in 2011 and is a well-liked email marketing tool and services recommended by bloggers, publishers, eCommerce merchants, and small companies.
Apart from emails, there aren't many other products on the market right now that give you the same open door to your clients. One message at a time, email enables businesses to solidify their relationships with customers. It is really difficult to ignore a solution like that.
Of course, choosing the right supplier and platform might be one of the most challenging aspects of using email marketing. Numerous email marketing services are available now to cater to your different needs.
You can find simple marketing automation systems that are stocked with templates and workflow choices, as well as solutions designed exclusively for developers.
In order to help those who want to expand their consumer lead nurturing strategy quickly, today we're going to look at one of the simple and user-friendly email marketing services 'MOOSEND'.
Is it, however, the best email marketing tool for you? Here is a thorough evaluation of Moosend to assist you.
Summary: Moosend Review
If you're looking for a brief and concise response, here is a quick summary.
1. Everything on this tool is simple to operate and quick to pick up which helps in quickly getting started with it.
2. A generous 30-day free trial is currently being offered, and after the trial, its price is still very reasonable. Starting at only $9 per month, there is also a sizable pay-as-you-go option.
3. For comprehensive campaign tracking, connect your website. You can analyze your email marketing campaign revenue to see how much you are making from your email marketing campaigns.
4. The tools for segmentation and marketing automation are excellent to use. Automation can be set up quickly using workflow templates. It's a fantastic option if you need automated workflows at a reasonable price.
5. Through a live chat help desk and a comprehensive knowledge base, you can easily receive excellent support.
What is Moosend?
Moosend is primarily a platform for email marketing automation. It is a potent email marketing automation tool that helps you expand your business from day one while maintaining an award-winning all-in-one user interface.
It has world-class features, cutting-edge automation flows, and many more lead generation tools. It automates various repetitive tasks in your marketing campaigns so that you can concentrate on your primary things like developing new products or improving relationships with customers.
The extremely user-friendly interface of Moosend makes it ideal for beginners who have never used a tool like this.
Additionally, it's important to note that, similar to other email marketing providers, it makes it simple to start your first email campaigns by providing access to a free plan. If you want to test out the features before committing, this is perfect.
You can quickly create entire email marketing campaigns thanks to its straightforward and simplistic email marketing solution.
Finding a template and editing it to meet your needs takes only a few minutes. On the positive side, numerous integrations with your current tools are also available.
Let me attempt to paint a clear picture of everything connected to its product and services.
Moosend Tools and Features
You should be aware for the time being that the goal of this email marketing solution is to make you stand out online and make a presence for your brand among the target audience.
Regardless of your skill and knowledge level, you can use incredible features. Additionally, there are numerous segmentation options, data analytics, and a drag-and-drop email editor.
In contrast to some other available email marketing solutions, Moosend even enables you to create entire sales funnels with triggers to specify what ought to happen when specific campaign actions occur.
Here are just a few of the attributes you can anticipate:
| | |
| --- | --- |
| Sophisticated segment personalization | Data Analytics and reports |
| Tailored sign-up forms and landing pages | Superfast loading pages |
| User-friendly Email marketing interface | European Union GDPR compliance |
| Drag and Drop editor | Anti-bot protection |
| Product recommendations | Various integration options |
| Smart email list segmentation | A/B testing |
| Selection of responsive templates | Export reports |
| Sales funnels and workflows | SMP service |
Now, we'll delve into the platform's key features in more detail in this blog. To find out whether or not its tools can assist you, read on until the very end.
Emails That Click!
Everyone read this carefully, consumers said they want to receive weekly promotional emails from their favorite brands, according to 49% of respondents.
What are you waiting for?
Start your email marketing journey now and boost your growth with Moosend, because it provides you with the most effective and efficient tools for email marketing.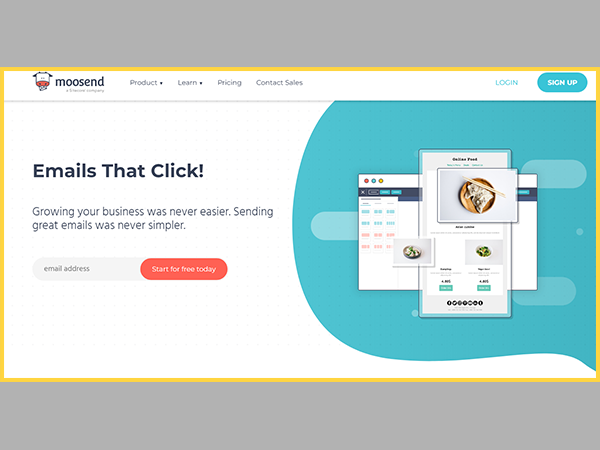 It has never been simpler to expand your company. Sending effective emails has never been easier. Making an email campaign is easy with this tool. You can select a template for a newsletter and make the necessary changes.
Drag and Drop Editing
You are free to include as many components as you like. After your campaign has been set up and a template has been selected, all that is needed to change the design is to use the drag-and-drop editor.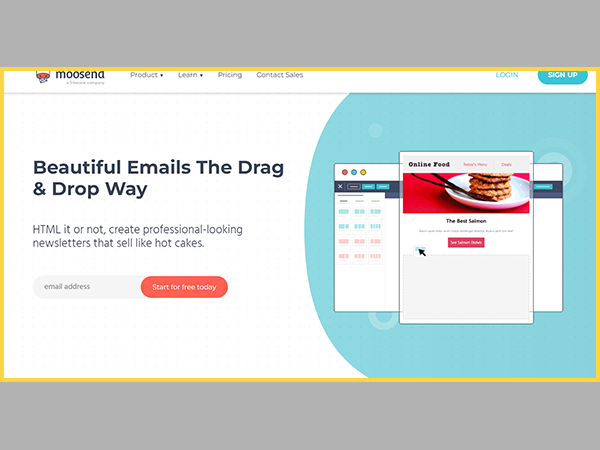 Simply use the convenient, rich email editor to grab and drag your inspiration across your creations. Use the pre-built email templates as it is or modify them to meet your marketing requirements by adding images, videos, and various interactive elements without any HTML expertise.
Isn't that simple?
Top Notch User Interface
A robust interface that is simple to use and navigate is one of the most crucial aspects to take into account for any email marketing service and Moosend passes with flying colors on these parameters.
At the top of the page, there is a list of taps that you can use to access resources like templates for your first email address. The home page is simple and well organized.
Additionally, you can filter your available designs on the template page to suit your needs, such as when you're announcing a sale or circulating news about an article.
Starting with a regular broadcast campaign, a split test campaign, and various RSS or updated feeds from URL emails, there are four different types of campaigns that you can start.
Check out all of your customer lists and the active campaigns you are running by using the dashboard.
You can access various useful analytics and set up A/B testing techniques by clicking into a campaign.
To help you track the effectiveness of your campaigns, you can even view color-coded subscribe and unsubscribe numbers.
The layout of your mailing lists is also very appealing, and you have options for things like duplicating lists and importing subscribers from outside services.
You can find email sequences and tags created for every one of your lists under the automation tab. According to your needs, there are various sequences and trigger types available. Additionally, there are a ton of eCommerce options available here.
User-friendly Templates
An eye-catching template is necessary for an effective email marketing campaign. You can always design emails yourself if you know how to code in HTML, of course. The majority of customers, however, prefer to choose a ready-made option because it is quicker and easier.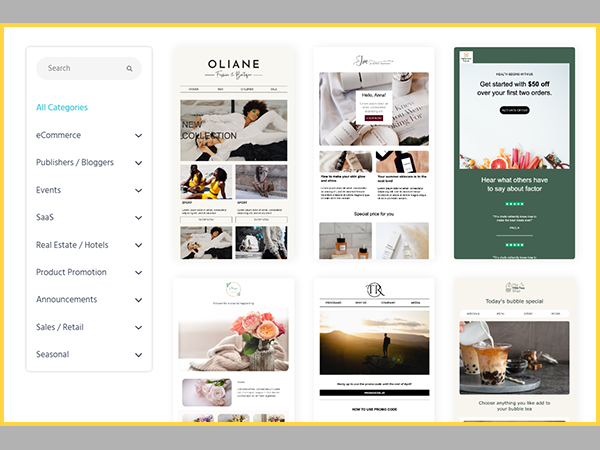 If you're looking for simplicity and professionalism, Moosend templates are an excellent option for your campaigns.
Numerous templates are available for selection, all neatly arranged in a gallery. Depending on the type of campaign you want to send or the industry you work in, you can sort through these templates.
Furthermore, making any changes you want to your templates is also simple.
It offers a drag-and-drop system that allows you to easily drag the elements you want for your campaigns into the email page, just like many of the top email marketing tools currently available on the market. This also reduces the complexity of designing and editing email campaigns.
You can add subscriber custom fields and product recommendations to your templates, which further personalize them before they are sent to your audience.
You can set your newsletter templates to send as part of an automated campaign once you're done designing them.
The fact that Moosend offers more than just email marketing campaign templates is noteworthy. By providing you with access to a wide variety of outstanding templates for landing pages and forms, the business can also assist you with lead generation.
Aside from other things, you can create eBook pages, product announcement pages, webinar registration pages, etc. The templates have a very contemporary design and are very responsive.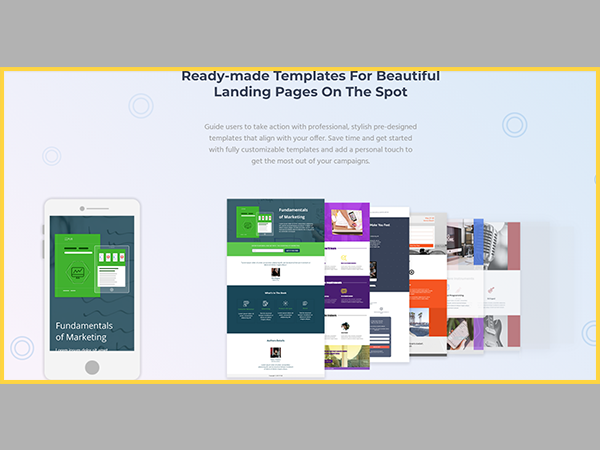 The templates for sign-up forms include pop-ups for your website, floating bars that stick to your page, and full-page forms that are certain to attract customers' attention.
Utilize pre-made subscription forms that look great on any device to get started in the right direction. These templates are everything you need to launch your next campaign in a matter of minutes and are completely customizable to match your brand.
42.3% of consumers delete emails that are not optimized for mobile phones 📱 and this platform also provides you with some smartphone friendly templates to make your campaigns more effective.
Marketing Campaigns on Autopilot
51% of businesses use marketing automation to eliminate repetitive tasks to focus on core activities.
The ability of any email marketing tool to automate your campaign is possibly its most crucial component. A solution that can handle the work for you is necessary because, as a business owner, you lack the time to send emails manually.
Moosend steps in to help with that.
Setting up automation workflows is quick and easy with this platform. Sit back and relax while creating one-of-a-kind marketing automation workflows that increase conversion rates.
Everything you could possibly need to optimize your marketing process is included in it.
| | |
| --- | --- |
| Multiple Triggers | Save time by including multiple triggering conditions and enabling your automation to begin in different ways. |
| Recurring Emails | Using loops, you can automatically send the same email every day, every week, or every month. |
| Instant Editor Access | By directly clicking on any workflow step, you can access the editor and create or fetch any email campaign you desire. |
| Precise Time Intervals | To precisely time any campaign, add incredibly precise time intervals at any workflow intersection. |
| "And"/"Or" Expressions | When defining your criteria, use "and" and "or" expressions to increase the automation's capabilities. |
| Workflow Sharing | Share duplicates of your automation workflows so that others can easily recreate them. |
| Stats Reset | Reset any automation's statistics to zero to start over without any outdated information. |
| Workflow Notes | Put your own notes for convenience on any step of your automation workflow. |
| Zoom In & Out | Helicopter views come in handy when a workflow becomes unmanageably complicated. |
Nothing on your part is required. Choose one of the ready-made, high-converting automation workflow templates that are built for success, and set it up. Create, enlarge, and trim them as you see fit, then save your customized templates for later use.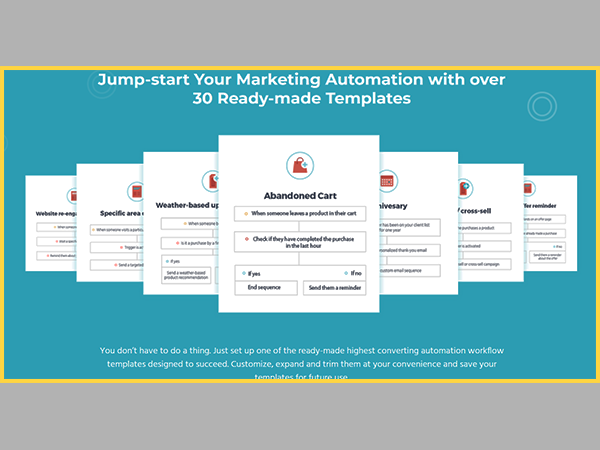 Using a flow builder, you can choose which triggers and sequences to include after setting up your campaign by selecting the templates you want to use. For instance, you can instruct the service to send a reminder to a user's email after waiting a predetermined amount of time after they submit a form.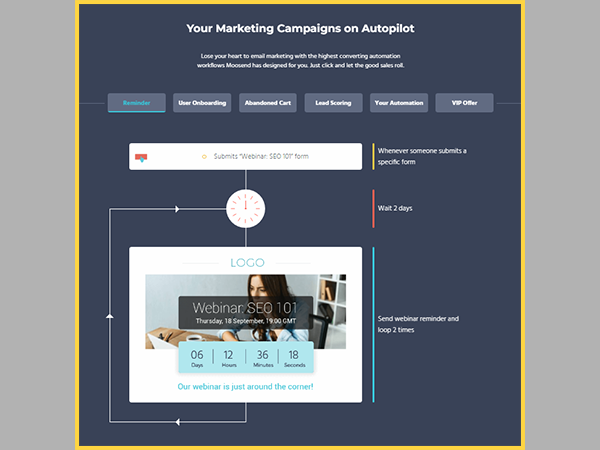 You can introduce new users to your services by using user onboarding workflows, which also allow you to introduce new users to your services by sending welcome emails.
As an alternative, you might want to develop a plan for abandoned carts so that, if a customer hasn't finished their purchase, you can promptly remind them to visit your website again.
You can choose from a number of automation steps that have been pre-designed to assist you when you choose the abandoned cart template.
Moosend makes sure that the process is incredibly simple even if you have never used automation in email before. Depending on your sequences, you can set your preferred abandoned cart email templates and create a daily email limit.
Another automated process on Moosend is lead scoring. Depending on the type of lead you have, you can set up various campaigns.
A user's lead score, for example, will obviously be much higher if they make an order than if they simply click a link on your website. It's critical to be able to modify your campaign in response to the lead score.
Additionally, you can create a custom automation strategy.
Illustration: One possible flow is to wait a day after a customer adds something to their cart before checking for purchases. You can raise someone's lead score if they've made a purchase; alternatively, if they haven't, you might send them a discount to increase your chances.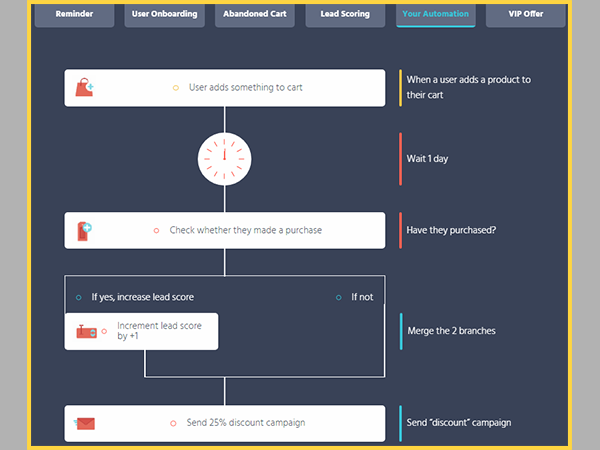 As an alternative, Moosend also allows you to provide a "VIP" offer to clients who spend a certain sum with your business, increasing your opportunity to develop a relationship with your devoted clients.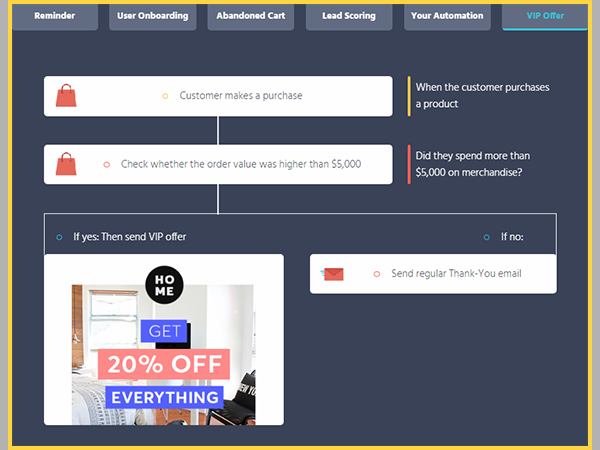 Landing Pages and Subscription Forms
One fantastic feature of Moosend is that it comes with features to make lead generation easier. Drag-and-drop capabilities in the built-in landing page builder make it simple to make the kind of experience you know your clients will appreciate.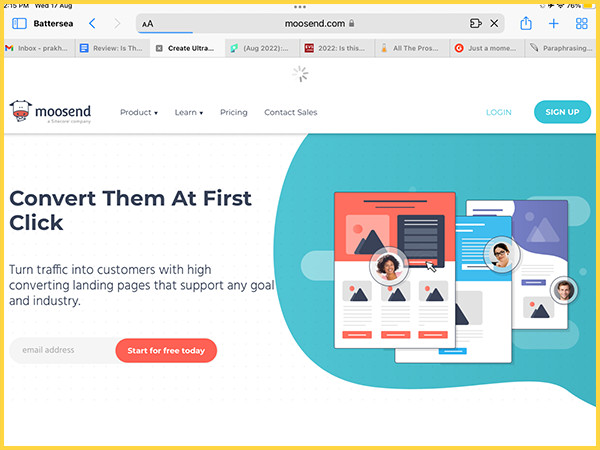 Numerous customization options are available, including the ability to move, resize, crop, and combine features as well as a variety of pre-made templates for beautiful landing pages that you can use right away.
Additionally, you receive search engine optimization settings like Google ranking advice and lightning-fast page loads. Slow loading harms your business and turns away customers.
You can improve your Ad Words Quality and Google ranking by using Moosend's CDN, which distributes your content to numerous locations simultaneously and offers your users improved coverage.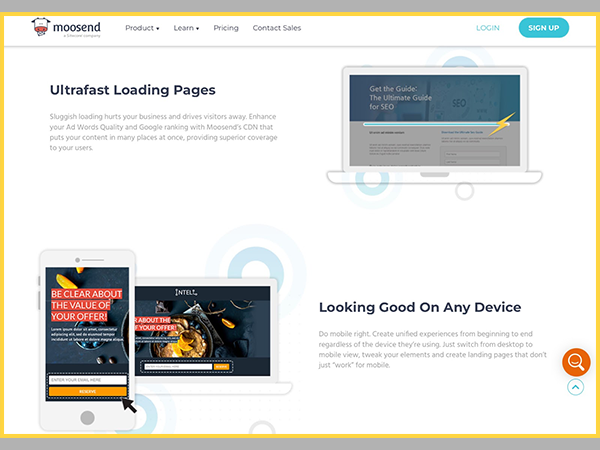 Furthermore, the landing pages from Moosend are ideal for customers who are on the go because they all display beautifully on all platforms.
In addition to "success boosters" modules like Facebook Pixel tracking, Google Analytics pixel tracking, custom JavaScript, anti-bot protection, custom fonts, and GDPR compliance, there are countdown timers for instilling a sense of urgency.
Your offer won't remain available indefinitely. To create a sense of urgency and scarcity and to increase leads and sales, you can add a countdown timer to your landing pages. Drag and drop the countdown widget to the desired location, then let the rest in the group suffer from FOMO.
It supports labels, SSL encryption, WordPress plugins, and built-in forms. With features like modal pop-up designs, inline forms, floating bars, boxes, and full-page pop-ups, the subscription forms are especially stunning.
To begin, you can pick from a wide variety of pre-existing layouts, and there are many rule possibilities as well.
Users can choose between mobile and desktop users, display a certain URL, and select forms depending on a nation or city location.
You can also develop a fully automated system for nurturing sales and add specific cookies for use with dynamic forms.
There is so much more you can do with Moosend that I can not cover with one or two blog posts. You can try its free trial to explore the service completely.
Moosend: Additional Features
In addition to the aforementioned advantages, Moosend also offers a variety of other capabilities, such as an all-encompassing eCommerce AI solution.
Tracking and managing all of your contacts from one location is simple with the AI service. With email automation and cart abandonment triggers, you can bring back clients who abandon your shopping cart.
Additionally, Moosend offers personalized recommendations that promote cross and up-selling. The AI tool suggests products based on the preferences of your clients.
You can also anticipate when they might require more of a specific item. You can also look at your customers' progress through the purchasing cycle. Other features of this tool consist of:
Tracking:
Tracking helps in studying how visitors interact with your website to get the entire picture.
You can optimize how your store promotes sales by comprehending every action a customer takes.
A number of connectors are available to help with this process, including links to eCommerce and CRM platforms that don't require an understanding of HTML.
There are also trigger-based automation features available.
Reporting and Analytics: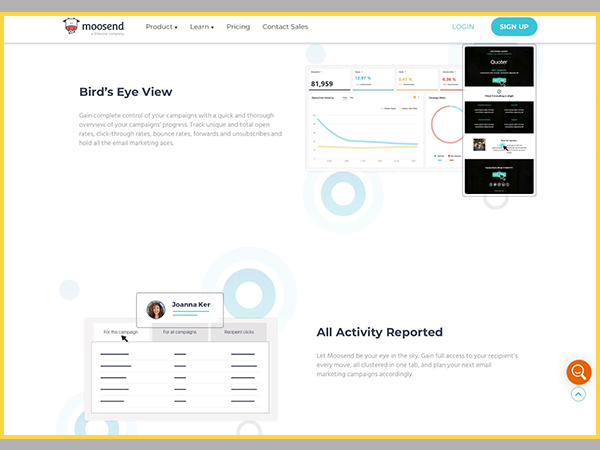 In order to create the greatest possible consumer experiences, reporting and analytics are essential.
You may easily understand your customers' behavior with the help of Moosend's handy data translation service.
You can take total control of the backend setting, where you can monitor things like click-through rates, bounce rates, and unsubscribes.
With map pinning, you can even keep track of where in the world your consumers are from. Also, why not find out what devices they're using and quickly share your reports with key stakeholders?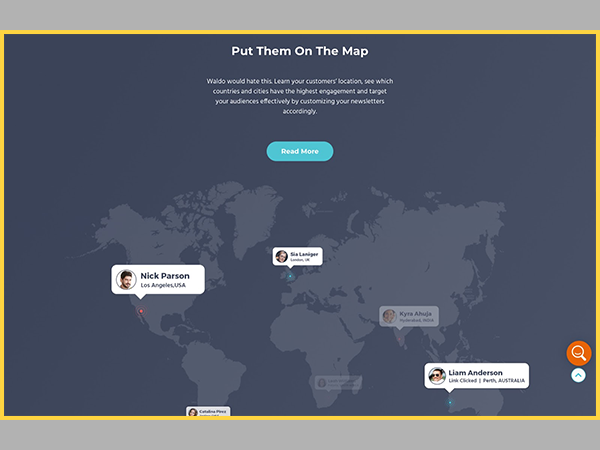 Integrations
38 direct third-party integrations are available from Moosend. Platforms for CRM, list verification, and lead creation are all included in Moosend's native integrations.
Additionally, it links up with eCommerce platforms like Woocommerce and Magento. You can add product listings to your emails or create upsell automation when you set up these connectors.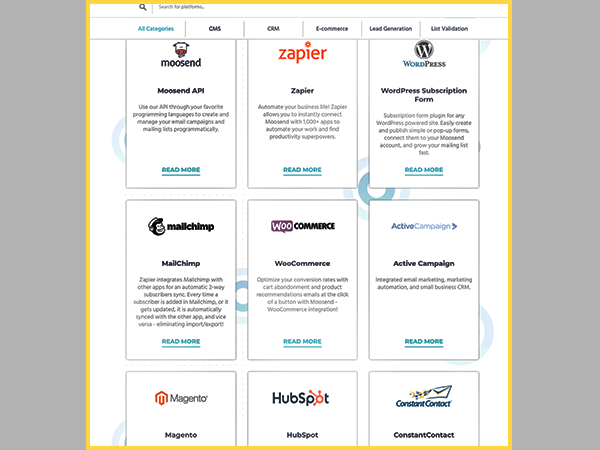 Use Shopify or another e-commerce system not on the list to run your business? Keep in mind that when you set up your website, you connect it to your Moosend account. You may monitor traffic and sales on any website, even those that accept payments through an online store.
You may also connect to Zapier using Moosend. A platform for integration called Zapier connects to tens of thousands of web applications.
Along with the connectivity capabilities we previously stated, Moosend also includes a respectable API access solution, allowing you to customize the software as you see fit.
Customer Support
The good news is that, in terms of assistance, Moosend offers outstanding value for the money. You get access to live chat regardless of the quantity of emails you have purchased. When you upgrade your subscription, you also get a dedicated account manager to assist you with any issues you run into.
A self-service knowledge base and a live chat help desk are Moosend's two customer assistance choices.
Every page has a live chat widget. Therefore, you may click and request assistance right away if you ever encounter a problem. We used the live chat function a few times and we were astonished by how quickly the answer came.
A representative gave clear answers to all the queries. In addition, they advised us to read the knowledge base articles to learn more.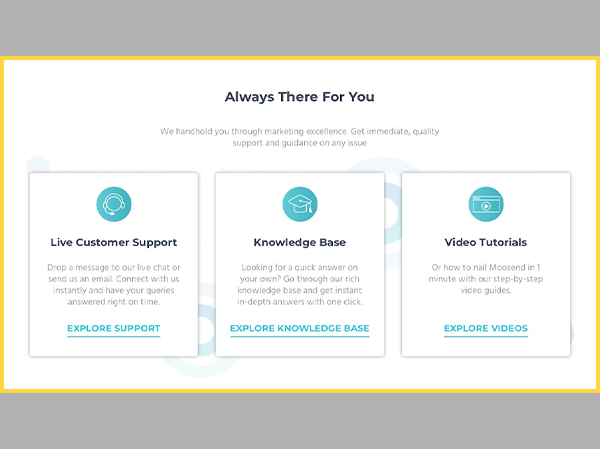 The depth of Moosend's knowledge is immense. There is something resembling a content page called New Platform – FAQs. 13 separate categories are included here for the articles.
The categories are related to important aspects of the service, including Automation, Growth Tools, and Campaigns. More than 100 items are listed in around half of the categories. That is a lot of details.
To assist you and to make you familiar with the platform, there are additional video tutorials available.
Moosend Pricing: How Much Does it Cost?
Considering the caliber of its marketing resources, Moosend is inexpensive. If you pay for a year in advance, the price starts out at an astonishingly low $7 a month for 500 contacts. We are aware of no email marketing solution in this category with lower pricing than this one.
We appreciate how straightforward Moosend's pricing is. The Pro tier is the solely paid package. You can use all the features for a single fee. The price increases as you have more contacts.
| | | | |
| --- | --- | --- | --- |
| 500Subscribers | 1000Subscribers | 2000Subscribers | 3000Subscribers |
| $9 per month | $16 per month | $24 per month | $32 per month |
An Enterprise plan with a unique price is the only alternative choice. Larger organizations who desire an account manager and other perks should use this. No free plan is available. However, before you must, you have 30 days to try out the site without any restrictions.
Because Moosend is so confident in its pricing strategy, it lets you compare the expenses you can anticipate to those of other current options in the market.
You may compare the cost per subscriber for Moosend to the leading email marketing platforms, such as Mailchimp, ActiveCampaign, GetResponse, and Constant Contact, using the graph on the pricing page.
You can check more about its pricing in detail through the website.
Pros and Cons
| | |
| --- | --- |
| PROS | CONS |
| The same minimalist drag-and-drop editor is used for forms, landing pages, and emails. | Although the free trial is excellent, a free plan is always preferable. |
| Marketing automation, segmentation, and analytics are all advanced by web tracking. | The drag-and-drop editors are simple to use, but we did notice a few minor bugs. |
| The simple automation templates and workflow editor. | There is not much variety in landing pages and sign-up forms templates. |
| Fantastic value for the money | |
| Live chat customer service that is quick and helpful. | |
Testimonials
Credibility of this young platform is evident from the fact that numerous organizations, including global leaders like Gucci, Dominos, and Dixons, already trust and use their service.
See why brands love Moosend:
Alex Melvani (Membership Officer at World Wide Fund for Nature) says, "Moosend is a user-friendly professional platform with a great support team. And the most incredible thing is that it's cost efficient. Thank you Moosend for making my life easier".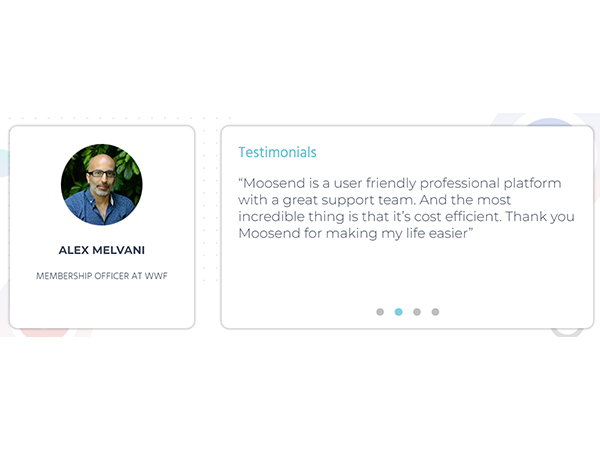 Dipak Raghuwansi (Email Marketing Associate at Vogue) says, "After going through Mailchimp, and other platforms, we decided to stay with Moosend because there is no other tool matching the feature set and price point offered. From seamless onsite event tracking to journey building to amazing customer support. Furthermore, we can easily migrate any bulk size of data into and out of the system thanks to the very high threshold API rate limits. Lastly, adding as many custom fields further eases our process of managing Ad Hoc campaigns".
Final Verdict
When choosing the best email marketing solution for your company, you can not ignore Moosend because of how reasonably priced it is and the sophisticated capabilities it offers.
It's difficult to find anything about Moosend that isn't amazing, from superb deliverability to a broad variety of customization choices. Although no email marketing tool can be absolutely faultless, Moosend offers a lot of benefits at a reasonable cost.
The plans are sizable, so you shouldn't have any trouble accessing the features you require.
Although it might not be the most well-known email marketing programme available, it's nevertheless one that you should attempt.
Moosend is also the best option for small online businesses looking for an economical yet effective email marketing solution. It is affordable, simple to use, and has some wonderful advanced features, especially in regards to online automation and tracking.
Share