How Can MailerLite Assist You in Building Your Brand?
Would you like to expand your audience more rapidly and drive revenue?
Do you desire to make an immediate impact on your target audience?
Do you wish for your brand to have a global presence?
Naturally, if you are reading this blog, you must have answered "yes" to each of the aforementioned questions.
Or maybe, it could be:
"Hell yeah! Of course, I want to build my brand globally and increase my revenue by effectively expanding and connecting with my intended market. Who wouldn't? Right?"
Alright, my budding entrepreneurs and risk takers, No more questions.
Further, in this blog, I will cover all the nitty-gritty of Digital Marketing Tools and tell you how you can achieve your business aspirations with the support of MailerLite and its minimalist yet utilitarian features.
Allow me (and MailerLite) to help you, BOSS!
Summary: MailerLite Review
A great email marketing tool for beginners because of its user-friendly interface.
It is a straightforward, useful, and free email newsletter tool that works great. A wide variety of options combined with their quick and easy editor makes it a great asset.
They have a great "Free Forever" plan, and even on paid plans, they are less expensive than rivals like Sendinblue and Mailchimp.
I found this email tool easy to use and easy to set up. MailerLite is undeniably worth its value with all the features you'd expect.
What is MailerLite?
For companies and brands of all sizes, MailerLite serves as both an email marketing tool and website builder. Simplicity and minimalism are the core concepts of this digital marketing tool platform.
They offer their clients simple and user-friendly tools like a drag-and-drop email editor, a website builder, and a crisp user interface.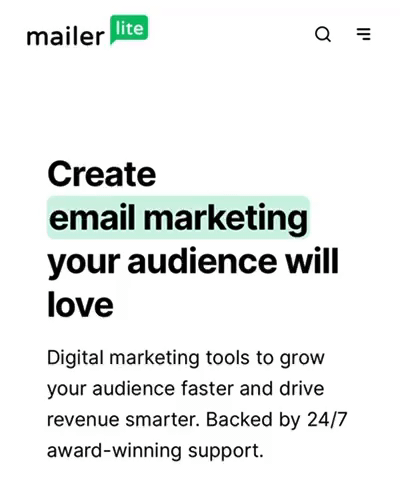 The company was established in 2005 and has grown impressively. Over 800,000 businesses use MailerLite each month, so it is a widely used email marketing service.
But is MailerLite the best email marketing service for you?
It's possible that you have already read some of the positive online reviews of MailerLite, but they might not be completely accurate. Let me try to draw a clear picture of all things associated with its products and services.
Also Read: GetResponse Review 2022- A Powerful Marketing Tool for Your Business
Product and Features
What makes it an ideal tool for beginners is its email templates. Since it is easy to find a variety of newsletter templates to choose from, coding knowledge is not mandatory.
In addition, the email editor is drag-and-drop, so if changes are necessary, they can be made quickly and without any hassle.
However, it is capable of so much more, and I have just begun to scratch the surface. So, let's dig a bit more into all its features.
Grow Your Business with Emails
It accomplishes quite a bit for a simple email marketing service. MailerLite has a few neat features up its sleeve.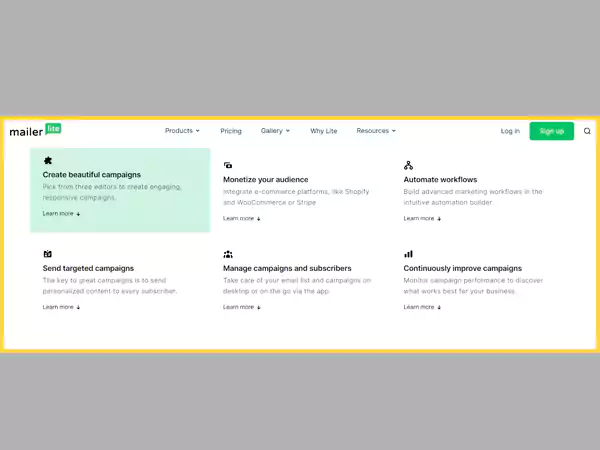 Set up Beautiful Email Campaigns
With this tool, creating an email campaign is simple. As I previously mentioned, you can choose a newsletter template and modify it as necessary.
You are free to include as many components as you like. The drag-and-drop editor is all that's required to change the design once your campaign has been set up and a template has been chosen.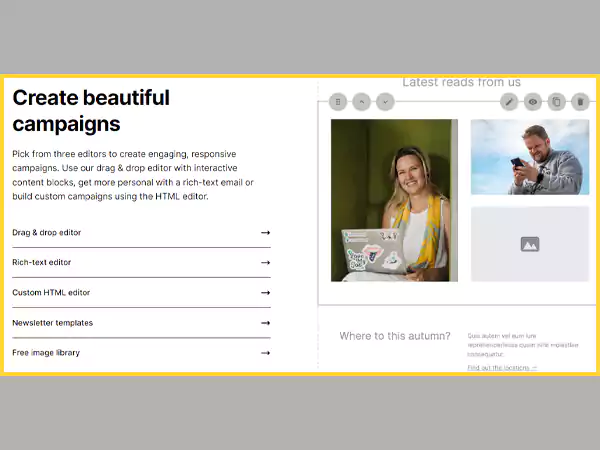 In addition to changing the background, you can also insert social media links and add images and videos.
Even if this is your first time using an email marketing platform, you can easily create stunning designs that your recipients will adore. I tried it myself and they came out real good (trust me I am not a good designer).
There's no need to work with a graphic designer because you can complete everything yourself.
Additionally, you can always use your browser to view the format of your email newsletter if necessary.
Integrate Your E-commerce
The ability to insert items from your online store makes it even more awesome. So that you can advertise new products to your customers or inform them of any current special promotions.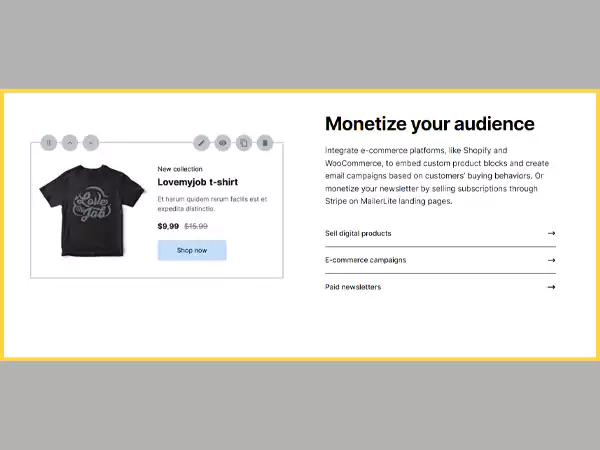 You can even monitor each email campaign's effectiveness in terms of sales and tweak your messaging to increase sales. As per the recent purchases, one can also send the clients highly targeted messages and promotional offers.
Personalize Your Campaign
By using dynamic content, you can also customize newsletter sections. To put it another way, you can design a single newsletter, but the content will vary based on the recipient.
You can, of course, add the recipient's name and other details to your newsletter to make it more personalized.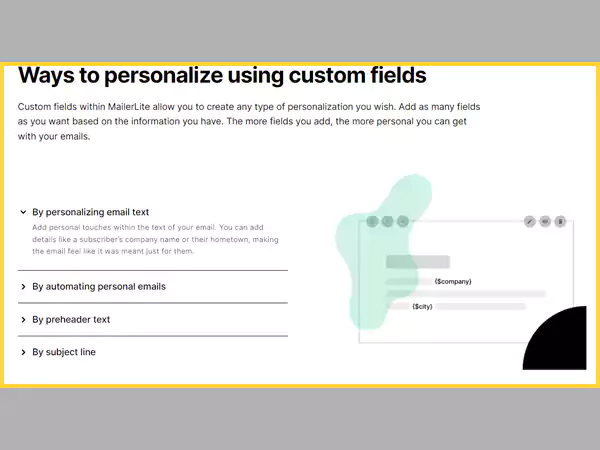 You can create your own newsletter templates and save them for later because sometimes small business owners prefer to maintain consistency in their branding.
Furthermore, it is possible to edit emails using both HTML and rich text editing for those who are familiar with the language.
Marketing Automation 
Although MailerLite performs a wide range of tasks, one of its advantages is its email automation feature. Simply having a platform to send emails on your behalf isn't marketing automation. You can also use them to auto-resend emails and revamp your deliverability rates.
Even further emphasis focusing is possible. Leads can begin an email sequence, for instance, by clicking a link, submitting a form, or altering a field.
Your subscribers can receive emails for a variety of reasons. A great place to start is with welcome emails. To encourage them to buy more, you can also email them discounts.
The email editor is easy to use. It shouldn't take long for anyone to understand it. Utilizing the email workflow is quite easy. Conditions can be set up so that marketing automation can start right away.
Design Your RSS Campaign
Even better, you can utilize RSS to notify readers through email each time you publish a new article on your website.
You can even choose the time that you want your emails to be sent using the automation feature. There is therefore no justification for you to mistakenly email someone at midnight if they are somewhere elsewhere in the world.
NO EXCUSES!
Resend Unopened Campaigns
With the auto-resend option, you can give your subscribers another chance to read your newsletters or any other email. Auto resend provides you an extra chance to connect when your email contains crucial information.
The auto-resend was briefly mentioned earlier. There are three ways MailerLite gives you to resend emails. You have the option of sending emails again with:
A different subject line,
A personalized message, or
Revised content.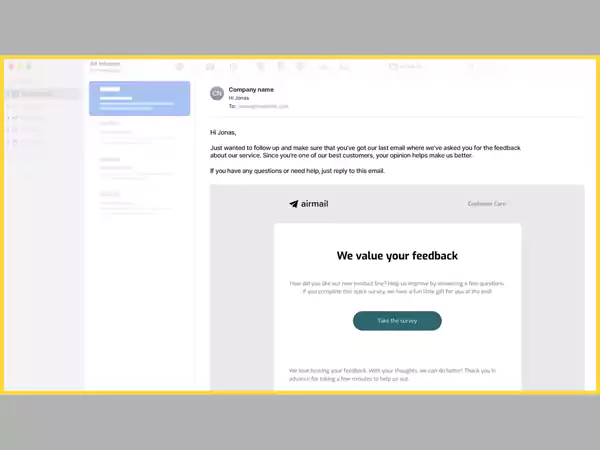 The workflow trigger that tells the tool when to resend emails is something you set. Similar to a typical campaign, but this time it is delivered again to people who didn't respond to the first send. Well you know, Increased opens and clicks are always helpful.
Construct Custom Landing Page
Use personalized landing pages to draw in and convert visitors. With the free drag and drop builder, choose a template and customize it. Create, advertise, and improve landing pages all in one location.
No coding is necessary!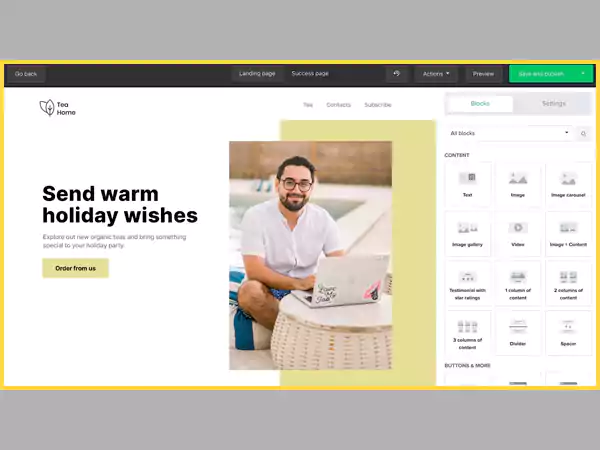 To collect an email address, phone numbers, and other lead information you might require, you can develop expert-looking landing pages.
You may either create a landing page from scratch or select one of the available templates. You only need to add pieces to your page because of the landing page editor.
Email signups are greatly aided by having a landing page specifically designed for lead collection.
Additionally, you can design landing pages for particular products. Even the possibility to create unsubscribe pages is available, which is advantageous if you don't want spam complaints (trust me you don't want that)
You may make templates from your page designs to make them all uniform.
For those who are unsure, the answer is that you can use SSL encryption and custom domains.
Create and Launch a Free Website
Do you currently run a small business but lack a website?
If your answer is yes, then there are a lot of surprises for you in this email marketing tool. This amazing tool allows you to construct a full-fledged website in addition to creating landing pages.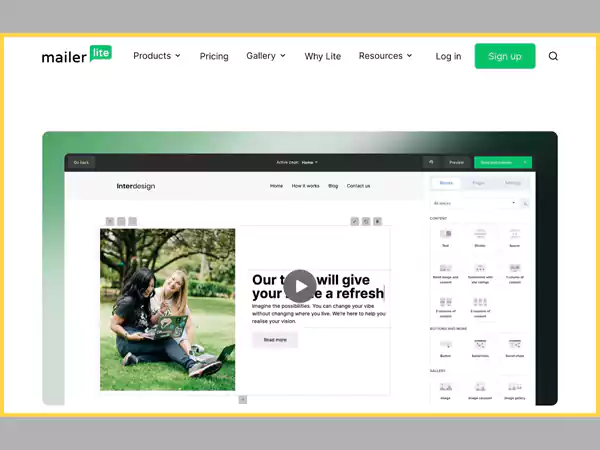 You now have a location where you may begin promoting your goods or even submit blog articles. Your website can be optimized for social sharing and SEO. You can also make use of your own domain name.
Analytics tools are already included in this website builder to make it easier for you to monitor your development. One more added bonus is that there are templates available if you don't feel comfortable building your site; this allows you to launch a site in less than an hour.
A/B Testing and Integrations
Unsure of the most effective email design? That is not a concern anymore.
To find out which version of your email your subscribers prefer, you can run A/B split tests. Additionally, you can choose to test a particular section of your email. You can test the email's subject line, email signature, or body copy.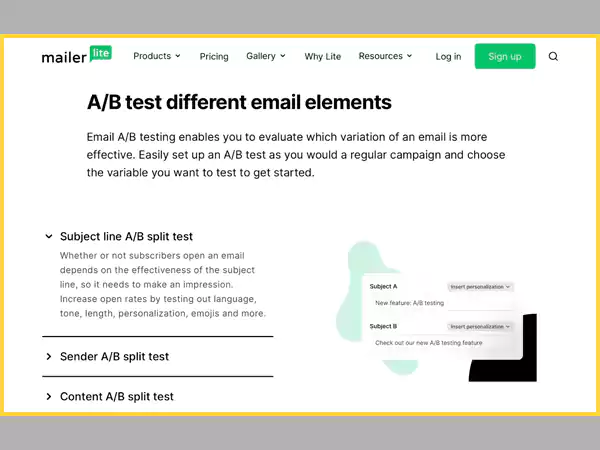 By testing which emails are most effective with various audiences, you can eliminate guesswork from email marketing and increase subscriber engagement. Free A/B split testing campaigns may be set up in a matter of minutes.
MailerLite collaborates with several businesses so that you may use their products on the site. Some can help you expand your mailing list, while others provide you access to e-commerce features. Additionally, there are connectors created especially for social networking.
You can achieve a more efficient workflow by connecting your account to many powerful and most popular web services. There are many categories of third party services available for integration in the platform.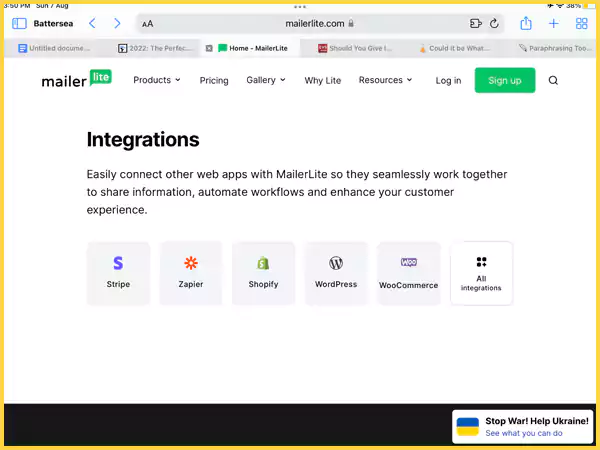 You can check out the complete list of MailerList Integration.
Segmentation of Subscribers
Users can divide their subscribers into more manageable groups based on a variety of attributes using segmentation. This function is present in the majority of email marketing solutions and aids in the sending of more focused emails.
Your email marketing plan will become far more effective as a result. Your subscribers can be divided into groups based on their interests, email interaction, sign up forms, behavior, geography, and time zone.
You can combine categories to further reduce your subscriber base if you want to make things more engaging. You can combine and separate groups using the subscribers management tool according to your requirements.
Create new segments by combining subscriber fields. Additionally, you can develop custom fields to improve segmentation.
User Friendly Features
Mailerlite performs better than other competitors in the market by providing a simple user interface and catering to the needs of customers with a user friendly approach.
Users can crop or resize photographs using an integrated photo editing tool. Along with adding filters or effects, you can also add text to your photographs.
The contrast and brightness can both be changed. Sure, it's not up to par with Adobe Photoshop. But it is more than capable of quick and easy adjustments.
Additionally, organizing your campaigns is simple. Your campaigns are organized thanks to the MailerLite File Manager.
Just create the necessary folders, then place your campaigns there. You may even link your Google Drive account to it.
Your newsletters are all already mobile-friendly out of the box. Therefore, you won't need to fiddle with the code to ensure that they all load correctly on tablets and smartphones.
Expand Your Consumer Base
Why be content with your present subscriber list when you can expand it?
Increase conversions and expand your audience with incredibly effective email marketing forms.
Make unique forms that reflect your brand. Use pop-ups and embedded forms to gather subscribers, and use promotions to draw attention to essential content.
It can assist you in obtaining more email addresses. The same drag-and-drop interface you use to generate newsletter subscription forms may also be used to construct pop-up subscribe forms.
Additionally, you are not limited to one style, which is wonderful news. Featured pop-ups, floating bars, side boxes, half-screens, and full-screens are all options.
You can also regulate when these pop-ups are activated with MailerLite. You can set it according to the amount of time passed, the scroll distance, or the user's impending departure.
MailerLite Pricing: How Much Does it Cost?
We have discovered about the minimalist and effective tools of this service in much detail. But for you to make a decision, price is always an important factor.
You must be wondering, Is it worthwhile to invest in this platform merely to expand your email database? So, let us find out whether it passes the price check or not?
It is free to use for up to 1,000 subscribers and 12,000 emails a month if you only want to test out the programme. The free plan includes the majority of the functionality.There is only one other option except the free plan, and that is the Premium Plan.
The wonderful thing about this bulk email service is that your payment will vary according to the number of subscribers on your email list.
For instance, you would only have to pay $10 a month if you had 1,000 subscribers and wanted to use all of MailerLite's features.
What would happen if you wanted to reach 10,000 subscribers? It just costs $50 every month. To get all the details about different plans and the features included with all of them, you must check out their detailed comparison on the website.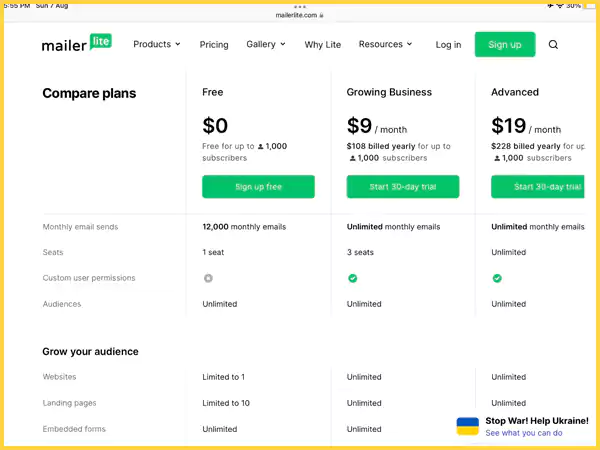 It is perfect for beginners because of this. It is not only simple to use, but also reasonably priced, especially for small enterprises.
All of the features are unlocked even at $10 per month. There are no extra features tucked away on a higher layer. Additionally to email and live chat customer service, you get limitless emails. By the way, client service is offered around-the-clock.
There are available add-ons. You can publish as many websites and landing pages as your company may require with SitesPro for $10 per month. For $50 per month, a dedicated IP allows you to protect your transmitting reputation (recommended for users that send 50,000 emails a week).
The last option is MailerPro. You will receive priority assistance if you require it. A specialized MailerLite manager will work with you to import subscribers, make email templates, and track stats. This item is $100.
For what you get, its prices and packages are really affordable. It's worthwhile to sign up for the free plan and check out their marketing automation, forms, and email marketing solutions.
Let me show you how it compares to the opposition.
Price Comparison with Competitors
Number of Contacts
Upto 1000 contacts
2500 contacts
5000 contacts
10k contacts
50k contacts
MailerLite
$0
$17
$32
$54
$239
MailChimp
Standard
$14.99
$49.99
$74.99
$99
$299
Sendinblue
$0
$25
$25
$32
$229
Moosend
$16
$32
$48
$88
$315
Note: For, Sendinblue, 4 emails per contact each month make up the pricing.
Pros and Cons
There are several advantages using MailerLite. In all honesty, the pricing is most impressive. It is more affordable than practically anyone else with a comparable set of functionality, and it competes favorably with the competitors.
Are you still on the fence about joining it?
To help you determine if this product is right for you or not, I have listed the pros and cons below
| | |
| --- | --- |
| PROS | CONS |
| Economical: It is one of the cheapest email marketing tools. A great deal for your money considering all the amazing features. | Landing Page Editor: To make it simpler to use, the landing page editor needs some minor improvements. |
| 24*7 support: Support via email and live chat is available around-the-clock, which is wonderful. Regardless of whether you pay $10 or $1,000 each month, you receive the same support. | Less Templates: Templates are good in this tool, but you might eventually feel the need for more template choices. |
| Beginner friendly: Everyone could access it and begin using it immediately. The drag-and-drop user interface is simple to grasp and operate. | Improvement in Automation: ActiveCampaign and others use automation that can be tweaked a little to improve its performance. |
| Effective Free Plan: Free plan provides you with more than enough to get started. | Quicker Resolution: Resolution through customer support for complex issues could be a little quicker. |
| Clean and Lite: Their clean and simple user interface is top notch. | |
Final Verdict
In terms of the world of email marketing, MailerLite is a newcomer, and its youth is reflected in the tool's features, design, and customer service.
Instead of being "young, crazy, fun!" it appeared to be "contemporary, clean, and uncomplicated." Maybe it's because the average age of the employees in their offices is 25. Whatever it is, it appears to be working for them.
Even though they are straightforward, they still manage to provide a variety of alternatives for things like email campaigns, landing pages, and form options. And when you're on their "Free Forever" plan, this feels like a fantastic bargain when combined with their quick and easy editor.
This makes it a fantastic choice for everybody. It is among the best options, in my opinion, for bloggers, small enterprises, and senders who value a simple email experience.
Every user who is finding issues in other platforms such as Mailchimp and moosend, can easily switch to MailerLite for better results and experience.
Frequently Asked Questions
ANS: A substantial free package includes 12,000 emails for upto 1,000 subscribers. On the free plan, you can also create landing pages and send autoresponders.
ANS: Although MailerLite is less resource-intensive than MailChimp, it is more affordable, especially when you take the subscriber cap into account.
ANS: Yes, you may create segments based on subscriber data (such as gender, age, etc.) or behavioral data (eg. number of emails opened). You can also retrieve purchase data through integrations.
Share