10 Best Bulk Email Marketing and Email Delivery Services 2022
---
Highlights
---
Over 96% of marketers say that implementing marketing technology strategically leads to an increase in performance.
Among all the forms of marketing, email marketing yields the best Return on Investment
Email Allows Immediate Contact with American consumers
There is a need for communication in every business. For example, you might have a lot of people who are interested in your site, but not everyone will visit it on a regular basis. Therefore, you need to find ways to communicate information about your website and the products and services offered by your company to these visitors. One of the best ways to accomplish this task is through email marketing.
Email Marketing is still one of the most powerful online marketing channels to reach target markets and also influence SEO ranking on Google. If you are just getting started in Email Marketing, selecting the right Bulk Email Service Provider (ESP) can be challenging. The market is filled with a lot of confusing choices, making it difficult to pick the right one. So, we created this guide on 10 Best Email Marketing and Email Delivery Services to help you get started with Email Marketing.
What Is Bulk Email Service?
Bulk Email Service is a process that enables you to send emails to multiple recipients in one go. One of the most remarkable advantages of this service is its cost-effectiveness as it allows you to send thousands of emails at a much lower price than other methods. Bulk Email Service can be an effective tool for any business as it allows you to reach your customers and promote your products or services right at their fingertips.
The best bulk email service providers make use of sophisticated technology that enables you to track the performance of your emails and determine its success rate. This will help you optimise future campaigns and achieve better results for your business.
While it may seem that bulk email service is easy, there are a few factors that you should consider. If you want to succeed in this form of marketing, you need to understand the following:
1. What Type of Mass Email Service is Best for Your Needs?
Mass email Service is a great way to distribute special offers and product announcements to your customers or clients. There are several ways to go about it. You can send emails yourself using a bulk mailing function in your email program. This method will work fine if you have a relatively small mailing list (say, less than 2,000 names). But if you have more than that, you'll probably want to use a mass email service provider.
The number of people on your mailing list isn't the only factor that determines whether you should use an outside vendor. If you run a business that requires immediate responses from your customers — such as an online store —then using a mass email service provider will ensure that your messages get delivered on time and in good order.
If you're planning to create highly personalised messages for each customer, then it's worthwhile to spend the extra money for a mass email service provider with the necessary tools and infrastructure to handle the job properly.
2. How Much Does Email Marketing Cost?
If you want to succeed in this form of marketing, you need to understand how much Bulk email Service costs. The truth is that the cost of sending out bulk emails varies greatly depending on the quantity that you send out and the quality of the recipients.
There are two main types of bulk emails: those sent using an email service provider and those sent using your own software or hardware. If you use an email service provider such as Constant Contact or MailChimp, it will have its own costs associated with its services. They are expensive, but they also offer many benefits that you may not need.
In terms of hardware and software costs, there are many different solutions available for sending out large volumes of emails. Most people use Microsoft Outlook or Thunderbird for their basic email accounts. Using these programs will allow you to create templates and manage your contacts easily.
3. Which Company Should You Choose?
You will get different prices from the various companies. It is best to choose a company once you have an understanding of its features and services along with its cost. Bulk email marketing is essential in today's market. To find the right provider you must know your needs.
You may send out thousands of emails each day. If you do not have time to do this yourself, then get a service to help you with this task. The best bulk email service providers will offer the following features:
Changeable subscription forms
Automatic mail delivery through their server
Automatic mail tracking
Email template design assistance
4. What Kind of Emails Do They Offer?
Email programs are designed to send out different types of emails. These can be newsletters, acknowledgments, announcements, and order confirmations. Email programs can also easily send out welcome messages, follow-up messages, and even special offers. So, before buying a Bulk email service keep in mind what type of email programs you need for your business and What are your Goals?
Benefits of Bulk Email Sending Services
Speed up the process: The process of sending bulk emails will be a bit time-consuming if you send it through your own email service. You can save time by using the services of a professional bulk emailing service provider. The only thing you need to do is upload the email list, write a creative copy, and hit send. The rest will be taken care of by the service providers on your behalf. With this, you can speed up the whole process and thereby saving time to focus on other important tasks.
Get a high delivery rate: You may not know that there are several spam filters in place to prevent spam emails from reaching your inbox. It is very tough for regular emails to pass through these filters. and reach their destination. But when it comes to professional bulk emailing services, they are experts at bypassing these spam filters and delivering the emails to your subscriber's inbox. This way, you can get high delivery rates and higher open rates too.
Improve your brand image: With bulk email marketing services, you can design customised templates that represent your brand's identity and message. As such, email marketing can help improve your brand image among your customers and prospective customers as well.
User behaviour tracking: Today, almost every email service provider offers user behaviour tracking. It allows you to know how many people opened your email, clicked the links in your emails, and even unsubscribed from your email list.
The knowledge about user behaviour is extremely valuable. You can use this information to create better content for the next time. Also, you can use it to know what people think of your products and services.
Email segmentation and personalization: These features allow you to create more effective email campaigns by targeting specific audiences. You can also send emails that are tailored to individual customers by including their names and other data.
A/B testing: This feature allows you to test different versions of an email so that you can determine which one performs best with your subscribers.
Email automation: You can automate the sending of emails to your subscribers based on time triggers, events, or actions they take on your website or in your app. For example, you can send a discount code automatically when a customer abandons a shopping cart on your website. Other examples include triggered emails based on behaviour, such as a welcome message when someone subscribes to your list, a follow-up message after they've made a purchase, and an anniversary message based on an action that took place a year ago like signing up for your mailing list or making a purchase for the first time.
Integration with other marketing channels: A recent survey by Ascend2 shows that marketers put a high priority on improving the integration and alignment between their email marketing efforts and other marketing channels. Bulk email sending services can help you achieve this goal by providing features such as pre-built workflows, which allow you to trigger emails based on certain customer actions or interactions with other channels, such as websites and landing pages. This feature also enables you to automatically insert data collected from other channels into the body of your emails, allowing you to personalise them in meaningful ways.
Automated reports and analytics: Sending bulk emails manually can be a time-consuming process that leaves little time for analysing the results. Bulk email marketing platforms automate the whole process, so you can send personalised messages at scale, get detailed reports on campaign performance and use A/B testing to optimise your messaging.
Choosing a Mass Email Sender Service for Your Bulk Email Campaigns
Choosing the right bulk email Marketing service provider is not an easy task. There are a lot of factors to consider, and if you don't have the right information, it can become a daunting task.
Pricing aside, what are the important features that one should look for when picking an email service?
Good Reputation
Ease of Use
Associated Cost
Ability to customise
Insights & Analytics
Scalability
Data Governance
Dashboard & Visualisation
Email Deliverability Rate
Why It Is Important to Choose Best Email Marketing Service
A good email marketing service will allow you to reach out to hundreds and thousands of people in one go. Moreover, such services are highly affordable and do not require much investment on your part. You just have to pay a small amount of money to email marketing services in order to access all their advanced features. With the help of these services, you will be able to provide regular updates and news about your company's products and services to your customers and clients through emails. In this way, they will be able to stay informed about what's going on in your organisation.
The main object of an email marketing service is to increase your sales and reach more people by making your message a memorable one.
List of the Best Bulk Email Marketing Services
| | | | | |
| --- | --- | --- | --- | --- |
| Provider | Logo | ContactsFree plan | Free emails | 50,000 emails |
| Sendinblue | | Unlimited | 300email/day | £35/month |
| Mailgun | | Unlimited | 5000/month | $35/month |
| SendPulse | | 500 | 15000/month | $6 |
| | | | | |
| --- | --- | --- | --- | --- |
| Provider | Logo | ContactsFree plan | Free emails | 50,000 emails |
| Mailchimp | | 2000 | 10,000 monthly | $299/month |
| Getresponse | | 500 | Unlimited for 1st month | Prices Depend on contacts |
| Hubspot | | No Limit | 500 | $100 |
| Provider | Logo | ContactsFree plan | Free emails | 50,000 emails |
| --- | --- | --- | --- | --- |
| Amazon SES | | 2000 | 10,000 monthly | $299/month |
| Convertkit | | 500 | Unlimited for 1st-month | Prices Depend on contacts |
| Aweber | | No Limit | 500 | $100 |
| Elastic email | | ❌ | ❌ | $0.10 / 1000 emails |
Now that we've discussed what to look for when choosing a bulk email service provider, let's check out 10 of the best platforms for bulk email blasts.
Email Marketing Services for Beginners:
Pricing:
Free: $0/month for 300 emails per day
Lite: $27/month for 20,000 emails per month
Premium: $72/month for 20,000 emails per month + additional features
Sendinblue is a bulk email marketing service that provides both an SMTP relay service and a self-service email marketing tool. It's simple to use, but it can also be scaled up to support more complex campaigns.
You can optimise your send time and deliverability with the Sendinblue email marketing service Additionally you receive access to tools that can help you generate leads through the existing customer relationship management tool(CRM) It also comes equipped with detailed reporting tools to monitor deliverability and performance.
Sendinblue offers an API as well as WordPress and Magento plugins and official integrations with platforms like Salesforce and Zoho CRM.
Features of Sendinblue email marketing:
24/7 Support
Create and send branded email marketing campaigns in minutes.
Automate your email marketing with workflows
Easy to Use
Landing Pages and Sign Up Forms
Create branded signup forms
Pro's ✔️
Very affordable to use
It Offers a free plan that allows you to use many of its tools
Automate your email marketing campaigns
The user interface is very simple
Con's ❌
Creating transactional emails could be simplified
Pricing:
Trial: $0/month for sending 5,000 EMAILS
Foundation: $35/month for sending 50,000 emails
Growth: $80/month for sending 100,000 emails
Scale: $90/month for sending 100,000 emails
Mailgun is a powerful email service for sending, receiving and tracking emails, allowing you to easily scale from low-volume personal projects to high-volume and mission-critical applications.
Mailgun provides an easy-to-use restful API for sending transactional emails with SMTP integration or via a traditional HTTP POST. You can also use our powerful email validation API to verify email addresses directly at the point of signup.
Features of Mailgun Email Marketing:
Powerful APIs
Cloud-based solution for sending transactional or bulk email.
Email validation to ensure your messages reach the inbox.
Powerful routing rules and storage based on tags
Webhooks allow you to get data into your app
Detailed analytics allow you to track opens, Clicks, and Unsubscribes
Pro's ✔️
Setup is easy
Easy to manage
Reviewing rejected emails is easy
It is easy to manage suppression lists.
Con's ❌
It is difficult to use the search function.
Pricing:
Free: $0/month for 500 contacts and sending 15000 emails.
Standard: $6.40/month for 500 contacts and sending unlimited emails
Pro: $7.68/month for 500 contacts and sending unlimited emails + additional features
Enterprise:$10.75/month for unlimited contacts and sending unlimited emails + additional features
SendPulse is an email marketing service that allows you to create and send out email campaigns, as well as SMS messages and web push notifications.
SendPulse also has a powerful automation tool that lets you set up personalised email sequences based on the actions of your contacts.
The platform offers more than 100 ready-made newsletter templates, which you can customise easily with the drag-and-drop tool. In addition, SendPulse integrates with WordPress via plugin and has a RESTful API.
SendPulse offers a free plan that allows you to send 12,000 emails to 2,500 subscribers per month.
Features of Sendpulse email marketing:
Drag & Drop Editor
Email Templates
Autoresponder
Multi-user Access
Email Tracking
Reports
Features of SMS marketing:
SMS Campaigns Template Editor
SMS Templates
Tracking Reports
Pro's ✔️
Very intuitive user interface
It includes an SMS feature as well which is a great Addon
Setting up Account is very easy
Con's ❌
Initially, approving emails takes quite some time.
Email Marketing Services for Professionals
Pricing:
Free: $0/month for 10,000 emails
Essentials: $11/month for Monthly email sends: 10x plan's contact limit.
Standard: $17/month for Monthly email sends: 12x plan's contact limit.
Premium: $299/month for Monthly email sends: 15x plan's contact limit.
Mailchimp is an email marketing tool with a drag-and-drop email builder, a couple of hundred mobile-responsive templates, and other features including automation, list management, A/B testing, and reports.
Mailchimp launched a brand new look to help you roll out beautiful designs in minutes and added more than 100 new templates that adapt to any device, so no matter where they're opened your emails will look great.
Mailchimp makes it easier to collaborate with your team on campaigns, manage user access and permissions, and organise your contacts into lists.
You can now send time zone-based automation; connect with Facebook Lead Ads, and add Google Analytics tracking to your store with eCommerce360.
Features of Mailchimp email marketing:
Create and send newsletters
Automated emails
Targeted campaigns.
Manage your contacts
Track results of email marketing Campaigns
Let you set up landing pages
Send beautiful campaigns
Responsive email templates that look great on any device
Template editor for customising your designs
Merge tags for adding dynamic content
Save time with automation
Pro's ✔️
Setting Permissions for user is easy
Integrations with other applications is easy
Inbuilt templates make marketing look high end.
Con's ❌
Automation features could be more advanced.
Pricing:
Free: Up to 500 contacts $0.00/mo includes sending unlimited newsletters.
Basic: 1,000 contacts for $19/mo + Free and Additional features
Plus: 1,000 contacts for $59/mo + Basic and Additional features
Professional: 1,000 contacts for $119/mo + Plus and Additional features
GetResponse is a marketing automation solution that helps you generate content, increase sales, and drive traffic to your website. Integrations with more than 500 apps and services make it easy to import and manage subscribers, trigger automated emails, and track how your audience engages with your campaigns.
Features of Getresponse email marketing:
Drag-and-drop Editor
List Building Tools
Engagement tracking
Web forms
List segmentation
Email automation
Autofunnel
A/B testing
Marketing automation
Email Analytics and Reports
Pro's ✔️
The automation tool is visually appealing and easy to use.
Delivery Rate is Good
Affordable
Con's ❌
There are bugs in the mobile application.
Pricing:
Starter: $45/mo billed at $540/yr for 1,000 Marketing Contacts
Professional: $800/mo billed at $9,600/yr for 2,000 Marketing Contacts
Enterprise: $3,200/mo billed at $38,400/yr for 10,000 Marketing Contacts
HubSpot's Email Marketing tool is an easy-to-use, drag and drop email builder that allows you to create beautiful, mobile-responsive emails in minutes. You can use existing email templates to save time and create a variety of campaigns, from automated emails to drip campaigns. The Email Marketing tool also provides real-time data on email opens, clicks, bounces, unsubscribes, and more to give you actionable insights on how to improve your marketing campaigns.
HubSpot's Email Marketing tool makes it easy to personalise every email you send. When you use the Email Marketing tool's "smart content" feature, you can customise different elements of your emails based on a contact's lifecycle stage, location, or even their past or current behaviour on your website.
Features of Hubspot email marketing:
Quick, easy, and free
No coding needed.
Drag-and-drop email builder
Email templates.
Simple list management.
Subscribers & Contacts tracking
Templates
Email A/B Testing
Dynamic Content
Reports & Analytics
Pro's ✔️
Integrates with most of the Platforms
Customer support 24/7
Lead conversion is made easier
Contact record Management is easy
Con's ❌
Email Marketing Services for Experts
Pricing:
$0 for the first 62,000 emails you send each month, and $0.10 for every 1,000 emails you send after that.
Amazon SES is a scalable and cost-effective email-sending service for businesses and developers. It can be used to send transactional emails and marketing messages. Amazon SES provides an alternative to traditional third-party SMTP services, such as SendGrid, Mailgun, and Mailchimp.
By setting up Amazon SES on your email marketing account, you can choose to send your emails through Amazon's servers rather than through your own web host or server. This will help reduce the risk of your emails being marked as spam or blocked by ISPs or mail servers because of sending limits or poor reputation.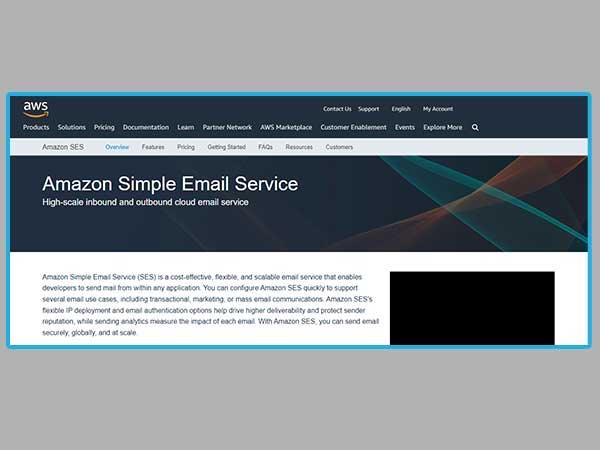 Features of Amazon SES email marketing:
Email template
A/B testing
Email metrics
Scalable Infrastructure
Feedback Loops
Message Tag Support
Reputation monitoring
Templates
Pro's ✔️
Delivery Reports
Integration to different Platforms
Pay as you use
Delivery rate is high
Con's ❌
Unable to send emails to unregistered users
Pricing:
Creator: $9 /month $108 billed annually for up to 300 subscribers
Creator Pro: $25 /month $290 billed annually for up to 300 subscribers
A comprehensive email marketing platform for creators. Created by Nathan Barry, ConvertKit is for bloggers and online creators who want to easily make money from their content.
ConvertKit is an email marketing platform for creators of all types: bloggers, YouTubers, podcasters, authors, course creators, musicians, and more. The platform has built-in functionality to help creators easily automate engaging email sequences and build sales funnels.
ConvertKit provides a powerful suite of tools that can be used to grow your audience, sell products, manage affiliates, and more
Features of Convertkit email marketing:
Simple editor with drag and drop
Email automation
Easy and beautiful Forms And Landing Pages
Automate Marketing
Custom templates
Subscriber management
Email deliverability
Integration with multiple platforms
Great customer support
Pro's ✔️
Email delivery rate is high
Provide free mailing address
Easy to use CRM
Offer free trial
Con's ❌
Not enough pre-made templates.
Pricing:
$19.99 per Month Billed Monthly 0-500 Subscribers
$16.33 per Month Billed Quarterly 0-500 Subscribers
$16.15 per Month Billed Annually 0-500 Subscribers
AWeber is an email marketing service that allows you to create professional, automated emails. You can then send them out to your entire subscriber list at once, or schedule them over a period of time.
At the same time, AWeber provides you with detailed reports about who opened and read your emails, and how they interacted with them. This lets you monitor the performance of your campaigns and identify areas for improvement.
Features of AWeber email marketing:
Drag and drop editor
Hundreds of professionally designed templates
Mobile-responsive templates
Tagging to help segment subscribers by interests or actions
Autoresponders
Split Testing
Email Templates
List Segmentation
Subscriber Management
Track Subscriber Activity
Send Time Optimization
Personalised Email Messages
Custom Subscription Forms & Confirmation Pages
The AWeber App Directory
Integrate AWeber with Other Services
Pro's ✔️
Automation
Delivery rate is good
Easy to use
Create a funnel
Con's ❌
Pricing:
Unlimited: $15 / month Up to 5,000 contacts
Unlimited Pro: $50 / month Up to 10,000 contacts + additional features
Elastic Email is another affordable email marketing tool that can help you grow your business. It's a cloud-based solution, so you don't have to worry about downloading or installing anything. You can send emails from as many as 10,000 different addresses and still receive accurate reports.
Elastic email marketing is a powerful, easy-to-use platform that helps you grow your business through email. Set up your email service in minutes and create the perfect campaign with our drag & drop editor.
Features of Elastic email marketing:
Unlimited emails
API access
Email templates
Autoresponders
A/B testing
Analytics and reporting
Subscriber Management
Import Contact
Diverse set of tools
Deliverability rate
Easy to set up and use
Intuitive dashboard
Analytics and reporting
Pro's ✔️
Easy to use
Setting up DNS anti-spam is easy
Customer Support is excellent
Tracking and Statistics
Con's ❌
Trouble With Outlook and Hotmail Delivery
Final Thoughts: The Best Email Marketing Service
Choosing the right email marketing service can have a significant impact on the success of your marketing campaign. We've provided you with the top ten email marketing services, each with its own advantages and benefits to consider.
If you're just getting started out, SendPulse is an easy way to begin building an email list with little investment.
If you're looking for something a bit more powerful, but still easy to use, AWeber could be the solution for you.
For those looking for flexibility and advanced features, GetResponse is a great choice.
MailChimp is another great option that's popular among many businesses based on its sophisticated features and integrations.
Looking for even more power? Convertkit has extensive functionality for sales-driven businesses.
Amazon SES has a variety of tools that enable you to create customised emails that are in line with your branding efforts.
Sendinblue provides an easy-to-use interface that allows you to create professional emails in minutes while allowing you to maintain control over your messaging.
Mailgun offers one of the most flexible pricing plans among today's email marketing services and it's packed with features designed for eCommerce businesses.
Elastic email lets you easily maintain contacts through automated follow-ups.
FAQ:
Share