10 Best Bulk Email Marketing and Email Delivery Services 2023
In every business, communication is essential. For instance, even if many visitors are interested in your website, not all of them will return frequently and thus, will not know what new services you are offering and what new products are introduced. Then, the question arises, "How are you going to reach out to them?"
The answer is simple, you must devise strategies for informing these people about your website and the goods and services your business has to offer. Email marketing is one of the greatest strategies to achieve this goal, and bulk email sending services are the means to reach it.
Email marketing is still one of the most effective ways to contact target audiences online. However, choosing the best bulk email marketing platform might be difficult if you are new to email marketing. It's challenging to make the appropriate choice because there are so many baffling options available in the market.
Thus, in order to assist you in getting started with email marketing, this article has been curated that lists the 12 best bulk email marketing and delivery services.
So, let's see what we have got here!
Sneak Peek into the Article:
---
SendinBlue is one of the most well known mass email and SMS sending services. Beginners in email marketing will find the straightforward drag-and-drop editor on this bulk email sender to be quite helpful.
You can optimize your email marketing and have excellent deliverability with the tool. You can utilize the comprehensive reporting tools it includes to keep an eye on the performance and deliverability of your email campaign.
Further, it enables you to manage all of your contacts using your current CRM (customer relationship management) application and gives you access to a number of lead generation services.
Using their AI algorithms to choose the best times to send out your bulk emails can help you enhance the conversion rate of your emails. You can set up workflows with SendinBlue's marketing automation features that will let you send emails automatically, send transactional emails, and establish user segments.
SendinBlue offers both free and paid plans. Their premium subscriptions include cutting-edge tools which include landing page builder, live chat, sales CRM, and Facebook ad integration.
Features:
SendinBlue provides an email campaign designer that can be easily used on mobile phones as well.
Email and SMS customization according to your needs is also possible.
It has an incredible library of templates to choose from that will support your different email campaigns.
SMS marketing is also possible through this platform.
This tool's A/B testing feature can help you overcome the flaws early at hand.
The platform also provides a robust landing page and sign-up forms builders, and also provides a Facebook ads integration option.
You will be able to optimize the time of sending emails by using its machine learning-powered send time optimization technique.
Plans & Pricing:
| | | |
| --- | --- | --- |
| Plans | Cost | Email Sends |
| Free | $0 | 300/day |
| Starter | $25/month | 20,000/month |
| Business | $65/month | 20,000/month |
| Enterprise | $1000/month | 20,000/month |
Pros and Cons:
| Pros | Cons |
| --- | --- |
| A number of options to customize and optimize SMS and Emails to complement your marketing campaign. | Separate cost and services to include more advanced features in template creation. |
| A wide range of integration and work automation that saves a lot of time. | It is a bit difficult to set up and manage the account at first. |
| The platform provides cutting-edge tracking and lead-scoring features. | Importing data can be complicated. |
| CRM functionality is also included in this mass email sending service tool. | Somewhat limited CRM functions. |
| Impressive library of templates to best suit your business needs | |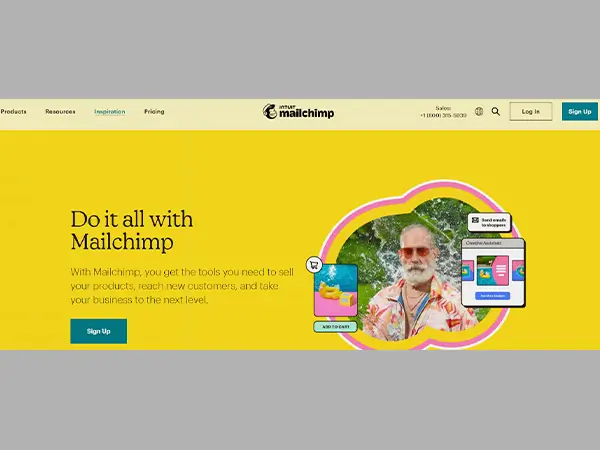 MailChimp, a popular mass email business that was founded in 2001, today has 800 workers and generates $700 in yearly sales.
With so many expertly made email templates available in MailChimp, creating and implementing effective email marketing campaigns that turn readers into subscribers and buyers is a task that you can accomplish without breaking a sweat.
You can promote your business across email, social, postcards, and other channels to accomplish your goals faster with MailChimp than with many other mass email services.
Furthermore, all necessary email marketing tools are included in this platform, including time-zone-based sending, A/B testing, autoresponders, contact segmentation, service and app connections, and MailChimp is always improving its mass email service. In other words, it is an all-in-one marketing platform that integrates marketing channels, audience data, and insights.
One other factor contributing to MailChimp's current level of popularity is the great free bulk email marketing service it provides, which enables you to send mass emails to up to 2,500 contacts without spending a single cent.
You may simply subscribe to one of MailChimp's paid subscription plans, which start at just $9 per month, if you ever need to send emails to more recipients than that.
Features:
The platform lets you build your own website with a custom domain.
Provides you with each of your customer dashboards.
The tools equip you with landing pages, sign-up forms, ads and posts for social media platforms, and a finder to pinpoint a lookalike audience.
This bulk email marketing platform provides integration with a lot of tools that are popularly used for marketing and other business tasks.
This bulk email sending service platform also furnishes segmentation tools.
It offers you impeccable award-winning support round the clock.
Plans & Pricing:
| | | |
| --- | --- | --- |
| Plans | Cost | Email Sends |
| Free | $0 | 2,500/month |
| Essentials | $9/month | 5,000/month |
| Standard | $14/month | 6,000/month |
| Premium | $285/month | 150,000/month |
Pros and Cons:
| Pros | Cons |
| --- | --- |
| The platform not only provides bulk email marketing services but also serves as a hub for complete marketing. | Not very impressive email template designs. |
| Its free plan comes with very appreciative features and offers a lot of other tools under the advanced price range. | Tracking different email campaigns is difficult and has limited options. |
| A revenue-sharing feature is also present in e-commerce and website plans. | Pricing is a little on the steeping side. |
| Reliable tools for reporting and management. | |
| It also comes with an online store building option. | |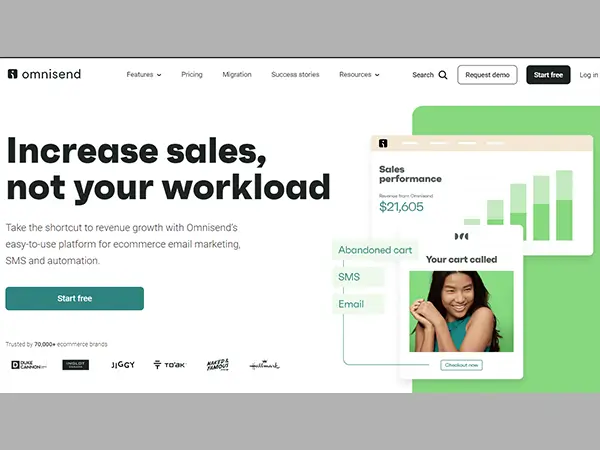 Owners of eCommerce businesses will love the bulk email marketing services offered by Omnisend. The flexibility of this tool to incorporate email, SMS, and additional channels into a single automation workflow sets it apart from many other mass mailing platforms.
This mass email sending service assists you in gathering data about your visitors using sign-up forms that are customizable and feature a range of incentives and offers.
Once you've gathered your initial set of email addresses, you can start sending automated emails and SMS messages to your subscribers to let them know about your offerings. Moreover, Omnisend makes it simple to segment your audience because not all subscribers respond in the same way, allowing you to send the appropriate messages to the appropriate clients.
The bulk email service is free for new customers to use, but to access all features, one must buy one of the two premium plans offered. There are many features to access at every stage of the customer experience.
Features:
Extensive number of templates to choose from.
Drag and drop editor to customize emails according to your campaign needs.
This mass email marketing service platform has an AI-supported segmentation tool and customer analytics that will help you to get information insights.
Pre-built workflows to automate your work.
Integration with other useful marketing tools.
Detailed campaign and automation data, as well as overall sales and performance indicators.
Plans & Pricing:
| | | |
| --- | --- | --- |
| Plans | Cost | Email Sends |
| Free | $0 | 500/month |
| Standard | $16/month | 6,000/month |
| Pro | $59/month | Unlimited emails |
Pros and Cons:
| Pros | Cons |
| --- | --- |
| This mass email marketing tool lets you effortlessly add products to your promotional emails with the help of product pickers. | Email builder is not very flawless to use, and can be thwarted. |
| Impeccable customer support services. | You will not be able to integrate your different shops. |
| Has an impressive range of templates. | With enhanced features plans, the pricing is on the high end. |
| Automation of workflow. | |
| Easy newsletter performance tracker system. | |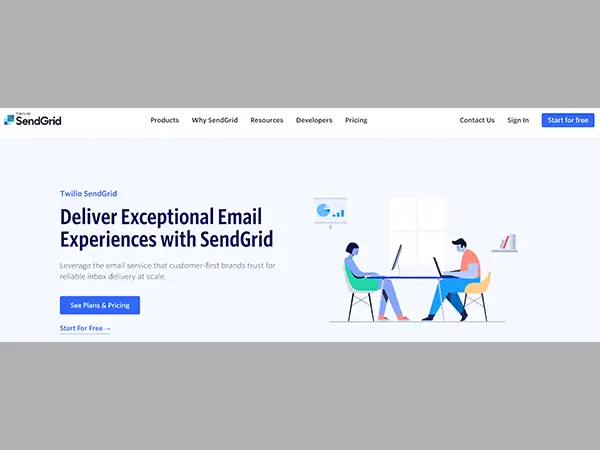 SendGrid is another excellent and simple mass email sender service provider. If you require more complex and advanced customization and integrations, this is the best option.
Even while SendGrid is a powerful bulk email sender, its drag-and-drop functionality makes it incredibly user-friendly. You can quickly and easily create beautiful emails using the email design editor. As an alternative, you can customize any of SendGrid's template designs.
You can use SendGrid to create efficient workflows and automate just about anything using straightforward triggers. It also offers analytics tools that let you monitor the effectiveness of your email campaigns.
You can have access to contact management, scheduling, and testing features in one place with this mass email-sending platform. Moreover, with the CSV file upload feature, you can also import a whole load all at once.
There is a free plan available from SendGrid, however, it only allows you to send 100 emails per day. Nevertheless, you can always switch to better plans. Their starting monthly price for 100,000 emails under their paid premium plans is $34.95.
Features:
This email blast service platform provides an incomparable number of impressive templates.
Workflow automation feature.
Useful tools to get email campaign insights and statistics.
The platform offers email API with features of SMTP Service, Web API, email validation, and transactional emails.
To stop domain spoofing and phishing emails, it offers the production of bespoke SPF and DKIM records.
The program offers a drag-and-drop feature that enables non-technical users to send mass mailings.
Plans & Pricing:
| | | |
| --- | --- | --- |
| Plans | Cost | Email Sends |
| Free | $0 | 100/day |
| Essentials (customizable) | $34.95/month (estimated) | 100,000/month |
| Pro (customizable) | $449/month (estimated) | 700,000/month |
| Premier | Custom pricing | |
Pros and Cons:
| Pros | Cons |
| --- | --- |
| The platform has a tool, Webhook, that notifies unsubscribes, spam, and reports. | Not very impressive customer support. |
| CSV files can be used to import a large number of contacts at once. | There is no billing or invoicing transparency. |
| Real-time analytics data let you effectively track your email campaign performance. | |
A well-known name in the mass email marketing domain is HubSpot. Their bulk email marketing solution is free, to begin with. Their simple drag-and-drop email builder and collection of lovely themes let you make a unique email that matches the colors and essence of your company.
Regardless of where the recipients are located, HubSpot enables you to send emails in bulk to an unlimited number of recipients. Additionally, it has a tonne of automation tools that can enhance your email marketing experience and smoothens it.
You can create personalized sign-up and pop-up forms, and landing pages, manage your online advertising campaigns and even track their effectiveness.
The HubSpot CRM and other free customer services, marketing, operations, and sales tools are included in the free plan of HubSpot Email Marketing. With this plan, you can keep an unlimited number of contacts and send up to 2,000 emails every month.
You can purchase their paid plans starting at $45 per month, $800 per month for the Professional plan, and $3,600 per month for the Enterprise plan if you require more advanced capabilities.
Features:
With this bulk email sending service tool you will be able to easily and effortlessly launch an email campaign.
Most of the email templates available on the platform have a professional style and can be seen on any device.
It also provides an email editor, which is simple to use with its drag-and-drop functionality.
You can schedule the email campaign according to the best-suited time and personalize them according to the campaign demands.
This tool provides comprehensive engagement metrics related to your marketing campaigns.
Plans & Pricing:
| | | |
| --- | --- | --- |
| Plans | Cost | Marketing Contacts |
| Starter (customizable) | $45/month | 1,000 |
| Professional (customizable) | $800/month | 2,000 |
| Enterprise (customizable) | $3,600/month | 10,000 |
Pros and Cons:
| Pros | Cons |
| --- | --- |
| This platform offers anything and everything related to marketing, sales, and customer service in one place. | Prices are expensive for the features provided in the plans. |
| Includes connectivity with CRM. | Somewhat difficult to use. |
| Alternatives for managing social media in abundance. | Template builder is not flexible, and it's hard to customize templates. |
| Stellar marketing automation. | |
| Provides connections to more HubSpot products. | |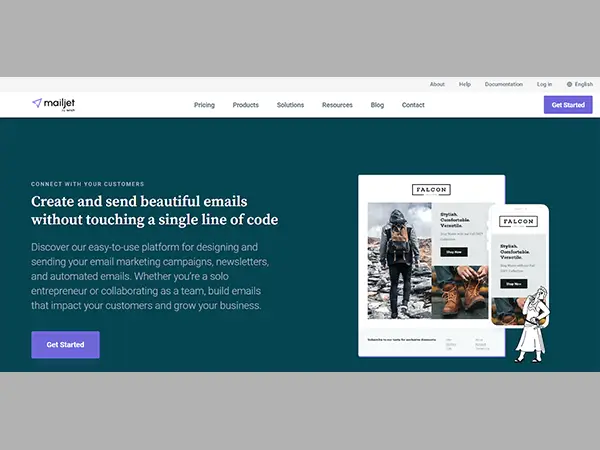 Mailjet is the next company on this list of the top bulk email sending providers. It is an easy-to-use bulk email sending tool that is created while keeping marketing and development teams in mind, as real-time team communication is supported by this platform. In order to allow your team members to work independently, you may also provide them access to subaccounts.
You will be able to quickly and easily create email templates using its responsive drag-and-drop email builder tool. With Mailjet, you can tailor the emails that each subscriber receives.
Additionally, you can obtain useful information about each email campaign's performance, such as deliverability rates and statistics on email opens and bounces.
Real-time team collaboration is supported by Mailjet, a mass email marketing solution. The drag-and-drop editor lets you design beautiful mail layouts, add text and image blocks, and even share buttons for social networking. Along with an SMTP server, rich documentation, and subscription forms, Mailjet also has the ability to assist you in expanding your email list.
Features:
Very easy-to-use drag-and-drop email template editor.
Provides effective and very useful A/B testing functions.
Descriptive email campaign reports and insightful statistics.
Automation tools for marketing campaigns.
By integrating Mailjet, you may use an SMTP server or RESTful API to plan, send, and monitor emails.
Contact management to separate and arrange subscribers.
Inbox preview feature to check how your email will appear precisely on the receiver's end.
You can collaborate as a team using its real-time working features.
Plans & Pricing:
| | | |
| --- | --- | --- |
| Plans | Cost | Email Sends |
| Free | $0 | 6,000/month |
| Essential – for 15k emails/mo(customizable) | $15/month | 15,000/month |
| Premium – for 15k emails/mo(customizable) | $25/month | 15,000/month |
| Custom | Upon request (Infinite scalability) | |
Pros and Cons:
| Pros | Cons |
| --- | --- |
| This platform offers a high reputation for delivery because of its elevated delivery rate. | Customer support is not impressive. |
| Impressive email template collection. | Functionalities for running re-engagement campaigns are not there. |
| Useful reporting and dashboard. | The platform doesn't work flawlessly, and lags at times. |
| Real-time collaboration with other team members. | |
Amazon SES (Simple Email Service)
You can use Amazon SES, a cloud-based bulk emailing service, to send customers transactional and marketing emails. This affordable service is the ideal choice for new and small companies.
Support for email authentication is one of the additional services that Amazon SES provides. This gives you an additional degree of security and ensures that your emails will be delivered at a high rate.
You can effectively track the emails you send thanks to its advanced tracking system. Additionally, you may monitor the open, click, bounce, and unsubscribe rates of your emails, along with tracking the deliverability rate.
Moreover, you have access to a cutting-edge dashboard with real-time data, sophisticated email personalization tools, and email testing.
Though Amazon SES is a simple-to-use mass email marketing service, it takes a little while to start up. With numerous functions like tracking and sending bulk mail, you can also track numerous email marketing KPIs, obtain anti-spam feedback, and monitor the performance of your account with the help of the extensive reports provided by Amazon SES.
Features:
With the SMTP interface, Amazon SES console, and Amazon SES API, the platform offers numerous options to send bulk emails.
Useful dashboard to monitor potential problems with email delivery.
Supports DKIM, SPF, and DMARC as well as all other industry-standard authentication methods.
In order to eliminate bounced emails from your sending list, it uses the Global suppression list.
Create alerts in CloudWatch to alert you when you bounce or complaint rates cross certain levels.
Records data on all aspects of the email response process, including the number of sends, delivery, bounces, clicks, opens, complaints, and rejections
The Deliverability Dashboard enables you to recognize and address problems that may affect the delivery of your emails.
Plans & Pricing
Plans
Cost
Sending emails from application hosted on Amazon EC2
$0.12 for each GB of attachment, and

$0 for the first 62,000 emails every month
After that, $0.10 for every 1,000 emails

Sending email from any other email client/software package
$0.12 for each GB of attachment and $0.10 for every 1,000 emails
Receiving email
$0.09 for every 1,000 incoming email chunks, and


$0 for first 1,000 emails received
Pros and Cons:
| Pros | Cons |
| --- | --- |
| You can send 62,000 emails per month without spending a penny. | Customer support is not up to the mark. |
| The user interface is very simplified, which makes it very easy to navigate and use. | Setting up your account at the initial stage is very complicated. |
| Outstanding deliverability, and dashboard to tackle issues. | |
| Effective email tracking system. | |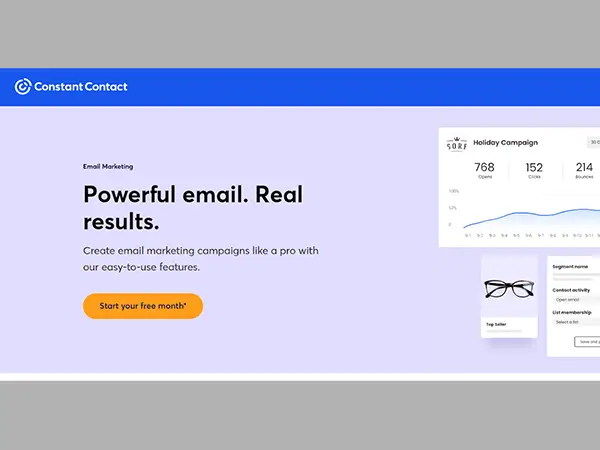 Fast-expanding mass email service provider, Constant Contact, is a practical and easy choice for beginners who are just tapping into the field of bulk email marketing.
It's simple to think of Constant Contact as a bulk email service that is overshadowed by other already popular bulk email sending services, but this outstanding product stands out in its own right and appeals, especially to small businesses that want to spread the word about their brand without going over their budget.
You are able to send an infinite amount of emails with Constant Contact. More potent tools like email automation, polls and surveys, drip campaigns, online donations, and coupons are available with its Email Plus accounts. The benefit of this plan is that you may A/B test your email subject lines to determine which has the highest open rate.
It has built-in easy tracking and reporting features, sharing options for social media, a free picture library, list segmentation, and interface integration with Shopify and Facebook advertisements.
With phone calls, email, live chat, online training, community support, and a vast library of helpful materials, Constant Contact offers great customer service.
The platform provides its customers a full 90 days of free trial service, in contrast to the 14 or 30 days offered by the majority of bulk mailing services. This demonstrates that Constant Contact has confidence in the service it offers and has nothing to fear. This approach has obviously been quite successful for Constant Contact, as seen by the fact that its users adore it.
Features:
Constant Contact offers effective solutions for list development.
Email monitoring, A/B testing, deliverability, and a marketing calendar are some of the major capabilities offered by Constant Contact.
It offers tools for creating and modifying emails that are super easy to use.
It includes tools for segmenting, managing and constructing lists.
Results from email marketing may be monitored in real-time.
Plans & Pricing
| | | |
| --- | --- | --- |
| Plans | Cost | Marketing Contacts |
| Core – for 500 Contacts(customizable) | $9.99/month (increase with the number of contacts) | 500 |
| Plus – for 500 Contacts(customizable) | $45/month (increase with the number of contacts) | 500 |
Pros and Cons:
| Pros | Cons |
| --- | --- |
| Very easy to use and elegant user interface, that lets you navigate throughout the platform without any issue. | Multichannel workflow automation is not there. |
| Superior rate of email delivery. | Templates don't provide much scope of customization. |
| Numerous third-party tools are integrated into the platform that makes your mass email marketing experience flawless. | Pricing for the plans will steep for adding more contacts to the emailing list. |
AWeber is a top mass email service that has more than one million entrepreneurs and small businesses as clients and is available for anybody to test out for free for 30 days.
Even if you use AWeber's free bulk email service, you can use tags to launch automated email campaigns based on clicks and opens, schedule send times, test subject lines, customize email content, and much more.
You can also choose from over 700 mobile-responsive email templates, automatically create emails from your most recent blog posts, and send them to hundreds of recipients at once, thereby simplifying your work.
All you have to do to get started with AWeber is go to its website and sign up for a free 30-day trial. Then, even while you're on the road, you can utilize AWeber in your browser or download its collection of mobile applications to see how your emails are performing and manage them from anywhere.
If you have any inquiries, you can get in touch with AWeber's 5-star customer support team at any time to have them resolved by phone, email, or live chat.
Features:
This bulk email sending service provides hundreds of HTML email templates that are mobile-friendly.
Email segmentation and tag-based subscription management.
On this platform more than 6000 free stock photos are available for you to share on your social media handles and along with emails.
Effective A/B Testing to know beforehand how your email is going to perform.
Simple email scheduler to send emails at any time.
Plans & Pricing
| | | |
| --- | --- | --- |
| Plans | Cost | Email Sends |
| Free – for 500 subscribers | $0 | 3,000/month |
| Pro – for 500 Contacts(customizable) | $16.15/month (increase with the number of subscribers) | Unlimited |
Pros and Cons:
| Pros | Cons |
| --- | --- |
| The platform provides a free trial, which will help you understand the platform. | The user interface of the platform is not intuitive. |
| Customer support is up to the mark. | Doesn't have many cutting-edge technologies and capabilities. |
| Provides a sales tracking system that lets you better understand your bulk email marketing strategies. | |
A multichannel marketing solution, SendPulse provides several communication channels, including Viber, Facebook Messenger, SMS, online push alerts, and emails. Thus, it is more of an all-in-one communication platform than it is a mass email marketing provider.
You may create your subscription forms with this platform's drag-and-drop editor in a variety of designs, then embed them into your website to collect information from your subscribers.
Without any prior coding experience, you can develop impressive, responsive email designs using SendPulse with its ready-made design library of over 130 layouts.
Additionally, SendPulse enables the integration of systems like Pipedrive, Prestashop, Zapier, Drupal, and WordPress.
Push alerts and automated chatbot campaigns are included in SendPulse's free bulk email sender. The platform includes event-triggered emails in addition to free email templates.
This bulk email marketing tool provides a no-cost plan. You may send up to 15,000 emails with this package. You must purchase a premium plan starting at $6.40 per month if you want more advanced features.
Features:
The platform automatically resends unopened emails with a new, attractive subject line.
Organize recipients into groups based on demographics and interests.
It can be easily connoted with your other CMS or CRM tools.
The emails sent via this platform will appear excellent regardless of the device and screen resolution because of the design adaptability to different devices.
Configure user access levels.
This mass email-sending platform also has a mobile app that lets you manage your marketing campaigns from anywhere.
More than 130 free templates are included with the drag-and-drop editor.
You can create email trigger chains with Automation 360.
A/B Testing to overcome the difficulties at hand before launching the campaign.
Design any kind of subscription form using the tool.
Plans & Pricing
| | | |
| --- | --- | --- |
| Plans (Yearly Billing) | Cost | Email Sends |
| Free – for 500 subscribers | $0 | Up to 15,000 |
| Standard – for 500 subscribers(customizable) | $6.40/month | Unlimited |
| Pro – for 500 subscribers(customizable) | $7.68/month | Unlimited |
| Enterprise – for 500 subscribers(customizable) | $10.75/month | Unlimited |
Pros and Cons:
| Pros | Cons |
| --- | --- |
| Analytics tool of the platform provides useful insights. | Filters are not that good and not very useful. |
| The user interface is very easy to navigate and lets you explore all its features effortlessly. | Customer support is also not that great and lags in service. |
| It has a mobile app that enables you to manage your marketing campaign from anywhere. | |
| Email designs are adaptable to different designs. | |
Another service for delivering bulk emails that provide a full API for sending, receiving, and monitoring emails is Mailgun. It provides real-time email validation, SMTP connectivity for simple bulk transactional email sending, engagement metric tracking, sophisticated email analytics, and other features.
You will be able to easily identify email delivery issues with Mailgun's tracking and analytics services.
Additionally, it has tools for email routing and processing and offers an anti-spam tool to guarantee that your emails reach recipients' inboxes and not spam filters.
Moreover, Mailgun enables you to purge your email list of invalid email addresses.
Regarding cost, Mailgun offers a free plan that permits you to send 5000 emails every month. Three additional premium plans are available with more cutting-edge technologies, with the first one costing $35 a month.
Features:
With features like enhanced deliverability, email processing & routing, and comprehensive email analytics, Mailgun offers potent Email API services.
It offers a strong sending infrastructure that integrates with SMTP and has a RESTful API.
It offers capabilities for email validation such as grammatical checks, typo protection, email validation based on billions of emails sent, bypassing high-risk addresses, etc.
The platform comes with thorough documentation.
Tests emails using inbox placement before sending them out.
Round-the-clock customer support.
Plans & Pricing
| | | |
| --- | --- | --- |
| Plans (Yearly Billing) | Cost | Email Sends |
| Trial | $0 | 5,000/month |
| Foundation | $35/month | 50,000/month |
| Growth | $80/month | 100,000/month |
| Scale | $90/month | 100,000/month |
Pros and Cons:
| Pros | Cons |
| --- | --- |
| Can create alias email addresses without creating new email accounts. | The messaging customizing interface is not the simplest to use. |
| Work from home setup and use is simple. | System servers went offline for certain users. |
| Testing of emails in the preview inbox before sending. | Costlier as compared to other providers for sending bulk emails. |
| A neat and highly usable dashboard. | |
Elastic Email is another well-liked system for sending bulk emails. With its flexible à la carte pricing, you can pick and choose the services you need for a potent email marketing platform.
Because of Elastic Email's visual analytics tools, you can monitor the engagement and delivery outcomes of your campaign with ease. Additionally, this technology is quite scalable and lets you send up to 100 million emails each month.
Multiple campaigns may be scheduled at once with a variety of settings and options, which includes scheduling send time and more. It utilizes a sophisticated algorithm that assists in automatically identifying fake emails and avoiding duplicate addresses.
It offers a wonderful editor that you can use to customize your email layout. You can create landing pages and opt-in forms using the editor as well. Additionally, you can create unique forms and landing pages using Elastic Email's design editor to bring in leads for your company.
There is a free plan for Elastic Email. Only 100 emails may be sent daily under this plan. It also offers two premium price tiers: Unlimited and Unlimited Pro.
Features:
Elastic Email offers thorough statistics of the running email campaigns.
Enables you to find what works and what doesn't through A/X testing.
The drag-and-drop editor makes simple modifications to the template possible.
Through HTTP API, connections are made simple.
Autoresponders, list management, email verification, landing pages, unlimited web forms, sending and scheduling options, and many more are some other features of this bulk email service platform.
Plans & Pricing
| | | |
| --- | --- | --- |
| Plans (Email Marketing) | Cost | Email Sends |
| Free | $0 | 100/day |
| Unlimited – for 5,000 contacts | $5/month | Unlimited |
| Unlimited Pro – for 10,000 contacts | $0/month | Unlimited |
Pros and Cons:
| Pros | Cons |
| --- | --- |
| Landing pages and web forms editors for lead generation. | Emails may become spam. |
| Information is abundant in tracking and dashboards. | Some individuals claimed that their accounts had been terminated because they had sent phishing emails. |
| Cheaper than other choices. | If you're not using the platform properly, your reputation might suffer soon. |
| Segmentation capabilities that help to group customers based on their behaviors. | |
| Great assistance from customer support. | |
Bonus: GetResponse
GetResponse offers a little bit more than a straightforward email marketing solution. It is more of an all-encompassing solution with a focus on automation.
GetResponse has a unique tool it gives under the name Autofunnel, which is used to build funnels for most of your business tasks. It is completely automatic and simple to use. Its pre-built funnel templates make the work easier!
Emails, pop-ups at the end of a page, landing pages, Facebook advertisements, marketing automation, and e-commerce integration are examples of funnel components. Everything relies on your objectives and how you want to structure them. However, GetResponse offers all the resources you want to expand your subscriber list and make money from those connections.
You'll be able to gather a lot of leads, place them in the correct workflows, and convert them into repeat customers with the help of tools and features like autoresponders, automated emails, landing page builders, comprehensive analytics, audience segmentation, and even webinar software.
GetResponse is a great tool for managing your marketing campaign and scaling your business. To know more about this platform, you can visit the GetResponse 2023 Review.
Share