GetResponse Review: A Powerful Marketing Tool For Your Business
Are you confused about whether you should rely on GetResponse for your email marketing needs? Don't worry, you have landed in the right place!
GetResponse is an all-in-one email marketing platform that provides email marketing automation capabilities and other additional services to assist businesses in increasing their consumer base.
In addition to a website builder, email autoresponders, landing page creator, and webinar organizer, GetResponse provides a whole load of other services.
30 days FREE access to All-in-one online marketing platform
GetResponse is one of the best options for you if you're searching for a straightforward email marketing solution that enables you to send an unlimited number of emails, construct landing pages, and get an in-depth insight into your email marketing campaigns. It provides several other features that will assist you in automating your marketing procedures
The following GetResponse review will walk you through the platform's specifics, giving you a thorough insight into its features.
Also Read: Moosend Review 2023- The mail Marketing You Need3
Features of GetResponse
The first and foremost thing that everybody wants to know about when set to get the reviews of specific products, is the product features. So, without delay, we are starting off our journey with an extensive list of features that GetResponse brings you.
Effortless Email Marketing
Whether you are an established business, or just starting up, one thing that is significant for the business growth, is its marketing. In the whole marketing scheme, email marketing is the one that is prioritized.
Email marketing is the means to keep your subscribers and users bonded with your product, with the timely sharing of new information through emails. However, these emails cannot prepare themselves, you need to have an efficient tool, that can not only help you build them from scratch, and automate the process, but also gives you useful insight about your email campaign.
Wondering how's that possible? Well, GetResponase has made it easy for you. You can effortlessly manage your email campaign with a number of available features. This is how the flow goes with GetResponse…
Create Attractive Emails with GetResponse Email Creator
GetResponse email creator is a highly designed and optimized tool, using which you can get an email-campaign-ready email within a few minutes.
The tool allows you to not only create your own email template, but also you can choose from a number of well-designed templates already available in it.
Simply choose whatever template you'd want to use for your email campaign, rather than starting from scratch. To check if the template fits the style and feel you want for your email, you may preview it first.
Further, rather than just diving into the exhaustive options of templates, you can filter out the results based on your needs. Show just templates from the category that best meets your demands to make your search for the ideal template much simpler.
Once you have selected the template, you can edit it by just clicking on the block that needs retouching. Each block or section's parameters may be adjusted to vary the design. With only a few clicks, you can easily change the colour or font size even if you have no design experience.
To further customize the template or create your own, just drag and drop the blocks and sections you wish to add and change their design with easily accessible editing options.
You may save the current email as a template and use it for subsequent campaigns if you wish to utilize the same email design. You can access your saved designs under the Design and Content section, present under the My Templates tab.
Email List Management
Now that you have created an email for the campaign, it cannot be sent to any of the subscribers. You want people in your email list who are active with your brand and interested to join. However, to keep a track of people who are interested or not, and developing a list that contains them isn't an easy task. Nonetheless, GetResponse makes List Management uncomplicated for you.
In order to accomplish this, you can segment out the subscribers based on different conditions using the List Management tool of GetResponse. Different users can be segmented based on different criteria, like those who often open emails from a particular campaign or inquire about your business through contact or other forms. For more filtered-out results, you can even segment the users based on their actions, geolocations, events, and much more
Once you have listed out the users and subscribers of different segments, personalized emails can be generated for that segment, and specific campaigns can be carried out with them.
By doing this, you can customize and dynamically communicate with each of your segment audiences to boost engagement, if not conversions.
Additionally, with the help of GetResponse's List Management feature, you can view the activities of each subscriber to which the email is being sent. The List Management tool, creates a profile for all of your subscribers, visiting which you can get the user information and know whether they interacted with your email or not.
Send Emails at Scheduled Time and Email Autoresponder
Once you have created your template and are satisfied with the design, you have to list out the recipients that will be receiving that email. Now, you can send the email either immediately or schedule the time when the email will be sent to all recipients.
Even better, select perfect timing to guarantee that subscribers will receive the email at the most advantageous moment, depending on when they opened prior emails from you.
Further, let's imagine you want to write an email or a series of emails that you want to be automatically delivered to a set of subscribers.
GetResponse's Autoresponders function makes this easier for you because it is difficult to manually send emails one at a time.
The Autoresponder function can be configured to send the emails by selecting the subscribers you want to send the email to and selecting the time slot.
With this feature, you can automatically send an email whenever a user signs up for your services and products, and you can link these emails to the website pages they need to visit to learn more about your business.
Get Email Analytical Insights
Another significant aspect of running an email marketing campaign is to get insights and informational data from it. You must be aware of how your subscribers responded to your email campaign in order to carry out more successful campaigns in the future.
In order to know what you did right and/or wrong and how your campaign performed with your subscribers, you need to have data from the campaigns, which will, in turn, help you better your subsequent campaigns.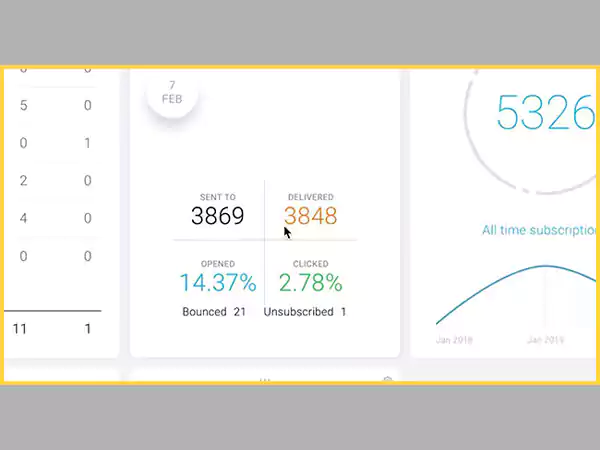 Now, how can you review the campaign, and know whether it was successful or not? Well, GetResponse provides you with a powerful email analytical tool, which will help you to identify many parameters that affect the overall performance of a campaign.
You can easily examine the summary of how your list responded to your email campaigns from the dashboard. Additionally, it displays the campaign's open and click-through rates, as well as how many of the emails you sent were received by your subscribers.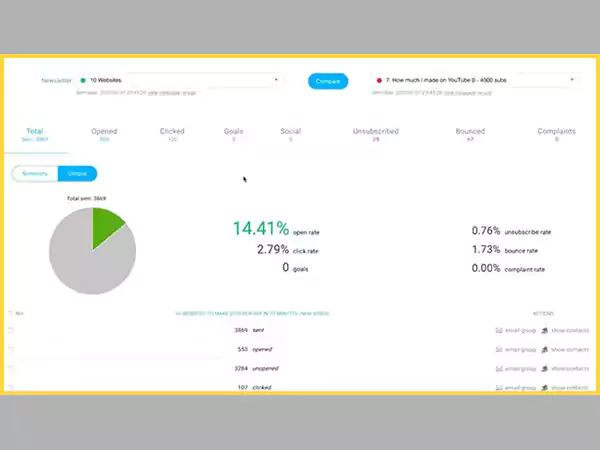 If you look further into your email insights, you can find out more information about it, including the campaign's bounce and unsubscribe rates and the number of complaints it received.
By taking into account all of these factors, you may better understand what made your campaign successful or unsuccessful and what you can change to get better results.
This analytical tool also provides the growth of your list in graph form along with other factors if you wish to evaluate it.
Create Attractive Sign-Up Forms
Now, in order to start an email campaign, you need to have subscribers. Where can you get them from? Well, you can't just get them, you have to provide a source by which people will subscribe to your services or products. This means the 'Sign-up' form.
Your website needs to have a Sign-up form, where users can fill in their contact details to subscribe. This form has to be attractive, yet simplified without any functioning error so that it collects only correct and verified user information, which can be used in email campaigns.
Nevertheless, you don't have to worry about the sign-up form, since GetResponse got your back here as well.
Just like the Email Creator tool, GetResponse also provides the functionality to create forms up to your liking.
Making a form is simple by using the Create Form feature of GetResponse. The feature provides you with four different ways to construct form, based on your needs. You will be able to choose your desired form type from the tool's List Builder Apps if you want your form to have a different look.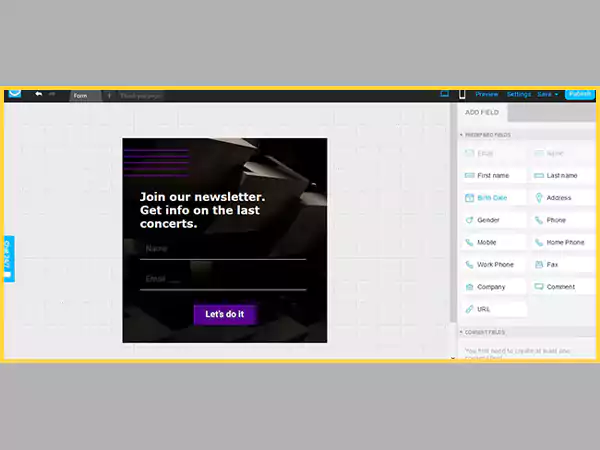 Furthermore, if you are experienced with designing, you can alternatively design the form from scratch using simple HTML or by integrating plugins from well-known platforms.
Additionally, you can choose the design of your sign-up form from a variety of templates that are categorized rather than starting from scratch.
You may alter the current fields and style with various editing options available, as well as add new fields if necessary, just by dragging and dropping.
After you are satisfied with the form design, you can publish it by putting its code onto any page on your website. Alternatively, you can get GetResponse to host it from its servers, and then you just need to share the URL to the form with your audience.
Build Your Own Website
Not only emails or sign-up forms, but GetResponse also equips you with the feature to create your website!
This is a fantastic alternative if you want to quickly develop a straightforward website. With the help of the AI builder, you can pick from a variety of templates that are recommended based on the sort of business you are in.
You may alter every element on the page using the builder. Fonts, text sizes, pictures, photos, elements, padding, and more can all be changed.
The website has a separate menu for adding and modifying pages. The headers, footers, and navigation bars can also be customized. When you choose a part in the drag-and-drop editor, more customization is displayed.
When the foundation of your website is complete, you may further alter it using a drag-and-drop builder.
Although, in this website builder, you won't have as much control as you would with specialized website building platforms, you do have an additional function available.
Build an Automated Workflow
GetResponse has an exhaustive list of features, and yet another feature is added to its arsenal, automation of workflow which can gear up your sales and revenue.
As mentioned earlier, several autoresponder emails can be generated using the GetResponse Autoresponders feature, which can help your email campaign to run flawlessly, besides increasing the interaction with the subscribers.
With the help of this automation tool, the emails are sent out automatically to a section of your subscriber's list that belongs to specific segments. To do this, you first must design a workflow process that is focused on your objective.
You can automate your marketing either with the help of previously made workflow templates, or you can also create one on your own based on your business needs.
In this workflow builder tool, you can see in visual form what emails your subscribers will get. To adapt and customize the process to your business needs, you may add various elements from the right side of the screen to the template, where several options are made available.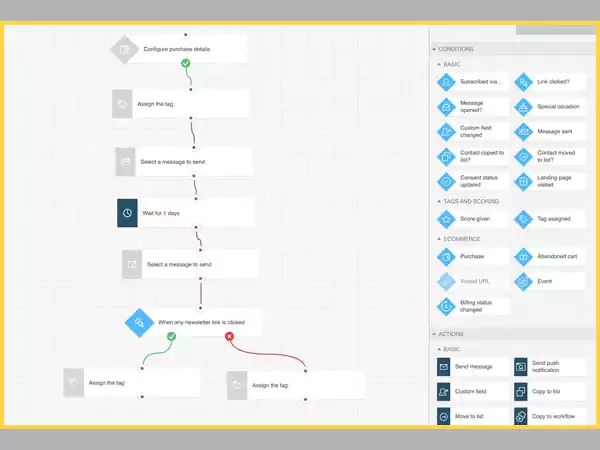 Every email campaign's objective is to persuade recipients to click through to the campaign's conclusion, which is done by delegating work to workflow automation, without breaking a sweat. In order to develop tailored automated emails depending on subscriber behaviors, conditional logic is added to the equation. To exemplify, those who received the email but didn't read it will get a different email than those who did.
When you are done creating the workflow, click on each component to add the message you want subscribers to see. Additionally, you can also open the drag-and-drop message builder and start writing your message.
Generate Landing Pages
Landing pages are a significant part of any website. They play an important role in attracting users and converting them to subscribers, which also paves the way for making them, clients or customers.
Since it is significant for your business growth, GetResponse doesn't hold back in this area as well.
GetResponse provides yet another tool specialized for creating landing pages. You can make one by choosing from the variety of templates that are categorized based on various types like downloads, sales, promotion, etc.
Again, because of its simple drag-and-drop builder, creating a landing page is a fuzz-free and straightforward task.
One other striking feature of this tool is that you can even test the functioning of the page and user experience with the help of on-the-spot A/B testing. This feature helps you generate as many possible variants of the page as possible, from which you can pick out the most viable one. This is crucial in assisting you in identifying the variation that yields the highest conversion rate.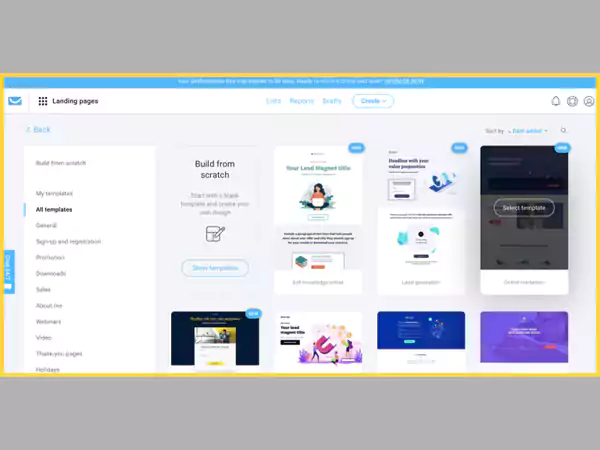 After you're perfectly content with the layout of your page. You can also add options for SEO, URLs, and email lists.
You set up analytics and web event monitoring for your landing pages similarly to how you do for your emails. You have a choice in the analytics system you choose to monitor landing pages. All of them, including Kissmetrics, Facebook Pixel, Google Analytics, and others, are integrated with GetResponse.
Once your landing page is complete, you must pick which domain you want to publish it on. GetResponse has three pre-set domains that you may choose. However, for branding reasons, it's preferable to publish the landing page on your domain if you have a website.
Conversion Funnel Builder
The aforementioned features just scratch the surface of what GetResponse can achieve for your company. But if you'd want to put everything together, its Conversion Funnel enables you to assemble the parts and produce a high-converting funnel that is certain to convert visitors into consumers.
The first and foremost step in designing the funnel is deciding what its objective will be. GetResponse offers a variety of lead magnets that you may use for your funnel if you want to create a list. However, it would be best if you had a personal magnet.
In the following step of the funnel-building process, you will be provided with the outlines of the remaining steps you must take to finish the funnel.
It goes without saying that adding additional emails, forms, and pages will maximize conversion.
You finally receive all the necessary statistics to keep track of the development of your campaign. From the conversion dashboard, keep track of registration rates, contacts, page visits, and success rates.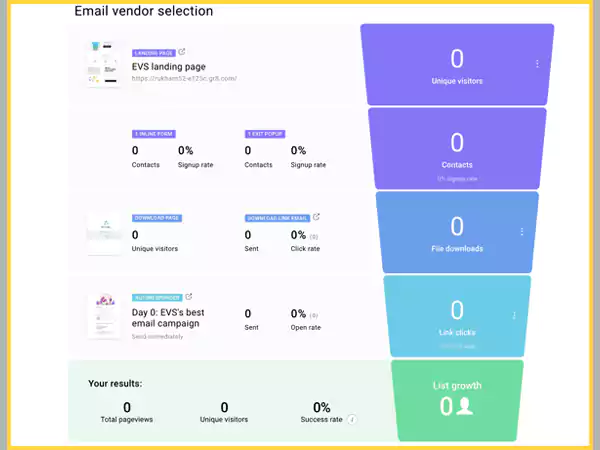 Lead and lead magnet funnels may be made using the Email Marketing strategy. You must choose higher plans if you want extra features.
Furthermore, you don't need to connect a variety of various marketing technologies in order to create completely working sales funnels. Also, creating high-converting campaigns with registration forms, landing pages, and emails is simplified with the Conversion Funnel building tool of GetResponse.
Set up Webinars
Another excellent technique to introduce your audience to your products and services is by hosting online presentations that they may attend to learn more about your business.
People who are attending the webinar are already interested in what you have to say and what you have to give since they registered for your webinar. Expect to close more prospects and customers as a consequence of only one webinar session.
The only email marketing tool with built-in webinar functionality is GetResponse, by far. In comparison to utilizing a third-party tool, it is even better because it integrates seamlessly with its other features and makes setting up your webinars much simpler.
Now, setting up a webinar is easy with GetResponse!
You must configure a webinar's specifics, including the date, time, duration, and URL of the webinar page. In addition, you can decide which email list you want to add attendees to when they register for the webinar. GetResponse will produce a webinar link once everything is ready to go in order to encourage people to sign up for your webinars.
You may develop forms and landing pages that will enable your audience to pre-register for the webinar after you've saved the settings and moved on to the following stage. You can advertise your webinar in an email to your current list, so people can sign up and learn more about it.
At this point, you can construct autoresponders to inform them of any changes and to remind them when the webinar will be held.
GetResponse Features Summary
All this information must be looking overwhelming to you, but to sum up, what above text describers, you can refer to the following summary of features that Get Response provides:
Email Creator Tool: GetResponse provides a very advanced email creator tool that enables the drag and drop function of creating an attractive, campaign-ready email. Users can also choose from ready-to-use templates, categorized based on various purposes.
List Management: The management of lists and sending timely emails to subscribers is all the easier with GetResponse. You can even schedule the time when the email will be sent to which segment of users.
Email Autoresponders: You can even generate autoresponder emails. Like, if a user has become a new subscriber, then you can send a welcome email that you need not generate every time there is a new subscriber, rather it can be automated with the help of the Autoresponder tool.
Email Campaign Insights: In order to know if your email campaign was successful or not, you need to have its data. Email campaign insights can help you identify flaws in campaigns and overcome those in future ones.
Sign-up Form Builder: Creating an attractive sign-up form has become easier with the Sign-up form builder tool of GetResponse. It also allows you to choose from available templates or build your own design while dragging and dropping elements and editing them. These forms can even be hosted on the GetResponse servers, or you can integrate them into your own website pages.
Build Website: Along with several other features, you can also create your own website with the very easy-to-use website builder tool of GetResponse. You can get your fully functional website within minimal time.
Marketing Automation: You can either create an email campaign and send them to your subscribers manually, or you can automate the process. Obviously, the latter one is more appealing, and it is, as it is very effective and time-saving. You can schedule the emails or series of emails that are to be sent to a particular segment of your subscribers.
Generate Landing Pages: You can create a landing page using a drag-and-drop editor, within no time. Videos, images, forms, and many more elements can be included in GetResponse's landing page editor. You don't need additional hosting because GetResponse is hosting the pages for you.
A/B Testing: Once you are done creating your landing pages and email, you can test their usability and user experience using the A/B texting functionally of GetResponse. This will generate various versions of emails and pages, for you to pick out the most viable one.
Funnel Builder: Build comprehensive sign-up and sales funnels. You can expand your email list and increase sales using funnels. There are some funnel templates in GetResponse to choose from, or you can also construct one according to your business requirements.
Setting up Webinars: Webinars are a new way of expanding awareness among people about your product and services. These webinars can be easily organized with GetResponse.
GetResponse Packs and Pricing
Now, here comes the part, for which you must be eagerly waiting! In my opinion, the price mentioned for different plans is justified for the features that GetResponse is providing.
GetResponse offers 3 plans for smaller businesses other than the free plan, for common users. Listed below are the plans along with features:
| | | | |
| --- | --- | --- | --- |
| Features \ Plans | EMAIL MARKETING | MARKETING AUTOMATION | E-COMMERCE MARKETING |
| | | | |
| Unlimited Newsletters | ✔ | ✔ | ✔ |
| Autoresponder | ✔ | ✔ | ✔ |
| Unlimited Landing Pages | ✔ | ✔ | ✔ |
| Unlimited Website Builder | ✔ | ✔ | ✔ |
| Basic Segmentation | ✔ | ✔ | ✔ |
| Email Scheduling | ✔ | ✔ | ✔ |
| Integrations and APIs | ✔ | ✔ | ✔ |
| Marketing Automation | | ✔ | ✔ |
| Even-based Automation | | ✔ | ✔ |
| Webinars | | ✔ | ✔ |
| Advanced Segmentation | | ✔ | ✔ |
| Contact Scoring | | ✔ | ✔ |
| Sales Funnel | | ✔ | ✔ |
| Quick Transactional Email | | | ✔ |
| Ecommerce Segmentation | | | ✔ |
| Abandoned Cart Recovery | | | ✔ |
| Promo Codes | | | ✔ |
| Product Recommendations | | | ✔ |
| Web Push Notifications | | | ✔ |
| | | | |
| PRICE | $15.58 /month | $48.38/month | $97.58/month |
Pros and Cons of GetResponse
Stated below are some pointers that will help you make up your decision about taking or not taking GetResponse Services.
Pros:
There are many templates available, making it possible to develop practically anything, from email campaigns to websites, on a single platform.
You can examine your marketing automation workflows and funnels visually.
Insights provided by email marketing campaigns are useful for scaling a small business and increasing the customer base of larger businesses.
Building highly effective funnels is relatively simple thanks to the conversion funnel functionality.
You may quickly create websites, landing pages, forms, and emails using AI design tools and drag-and-drop functionalities.
The built-in webinar capability eliminates the requirement for a third-party webinar solution.
Cons:
Compared to creating emails and landing pages, generating forms has more restrictions and is less straightforward.
Most of the templates are good, but some have designs that are outdated.
No money back on annual plan cancellation.
Wrapping Up!
Given the characteristics listed above, it is simple to understand why GetResponse continues to be a leader in the email marketing sector. The automation and email marketing features options it provides to its consumers are hard to top.
Additionally, the abundance of templates for emails, forms, landing pages, websites, workflow automation, and funnels also adds to GetResponse's user-friendliness. Although the editor can be a bit difficult to use for some purposes, their templates are adaptable and sufficient to produce something meaningful.
GetResponse is the one-stop solution for carrying out effective marketing. Without having to hop from one tool to another to manage marketing, build several significant parts and pages of a website, design funnels, etc., you have everything you'll need in one tool to develop a successful business or scale the existing one.
Its comprehensive feature set could appear excessive if all you need is a straightforward email marketing tool, therefore, the tool is not for everyone. But, if you are really looking forward to scaling your business, this can be the tool for you!
All in all, GetResponse is a great tool for increasing the engagement of subscribers with your business and converting them to your permanent customers. It is undoubtedly doing a lot of things right with its broad list of potent services, besides, it provides a free trial for 30 days, and there is no harm in trying it out!
Share