How to Migrate Lotus Notes Calendar to Outlook
Summary
This article discusses migrating your Lotus Notes Calendar Data to MS Outlook. We will learn about the conventional method of migrating data. Then we will learn about a new and professional approach to performing the migration. Ultimately, we will provide a software-based approach to make the migration much easier.
Introduction
Lotus Notes by IBM is one of the most popular email clients globally. The software has helped organizations get through their tasks easily with the help of its calendars, emails, contacts, etc. However, when you decide to move out from the Lotus Notes ecosystem to another platform, it becomes necessary to import everything from IBM Lotus Notes to the new platform.
One such platform which people love to use is MS Outlook. The platform is more stable with better features, gets continuous updates to ensure a better user experience, and has become a go-to software for organizations. However, it is impossible to directly view the Lotus Notes data in MS Outlook since both works with files of different extensions, making them incompatible. MS Outlook creates PST format files, while Lotus Notes shares information in the NSF format.
Why are Users Looking to Sync Lotus Notes Calendar to Outlook?
There are many reasons why people sync their Lotus Notes calendar to Outlook. Some of which are,
When migrating from Lotus Notes to MS Outlook.
When working on two systems where one is using MS Outlook and the other is using Lotus Notes.
This is where you need guidance to migrate data from IBM Lotus Notes to MS Outlook. There are multiple methods available to move the calendar entries to Outlook. Here, we will lay down the solution with different approaches and find the best among them. Let's start with the manual process first-
Conventional or Manual Method-
In the manual method, you can transfer data in ICS format. The process usually has two steps:
Step 1- This involves exporting the Calendar entries to the desired file.
Step 2- This step consists of importing the converted file to MS Outlook.
Exporting the Notes Calendar Entries
To complete this process, you need to follow the steps given below.
Run the Lotus Notes program and select the Calendar option.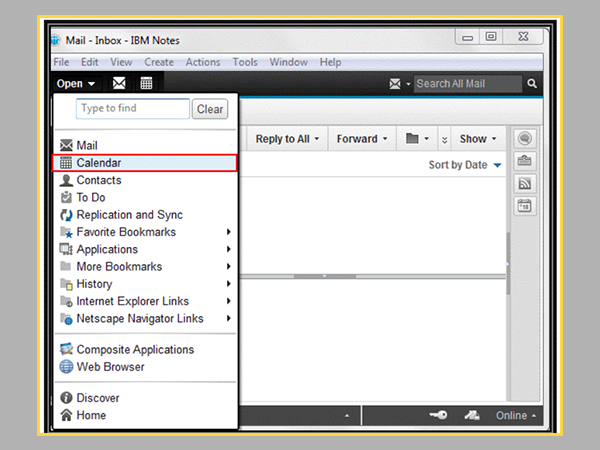 Figure 1: Run Lotus Notes
Then click on "view."
Click on "calendar entries."
Select the entries you need to export and click on "Export."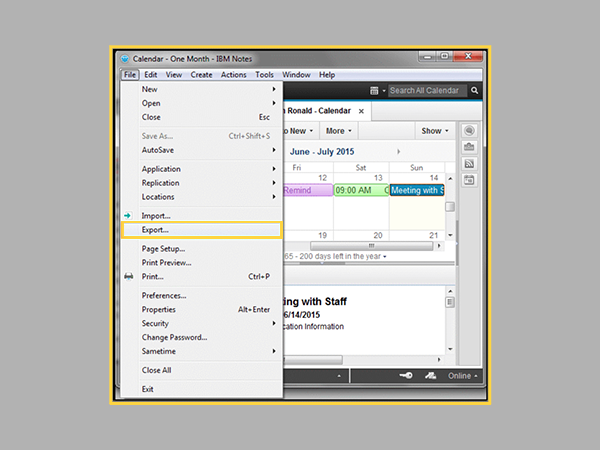 Figure 2: Export selected entries
Then go to the location where you want to save the exported file.
Here, while saving, also select the file type .ics.
Figure 3: Select the file type
Fill in the name of the file.
Click on the export to transfer the files to Outlook.
Figure 4: Export all documents
Importing the ICS file to MS Outlook
To import the entries into MS Outlook, you need to follow the steps given below.
Open MS Outlook on your device.
Click on the "File" option present in the menu bar.
Here, click on Open and then Export/Import.
Figure 5: Click on Import/Export
Choose the option 'Import an icalendar' and click Next.
Figure 6: Select the option of importing an icalendar
Browse and add the desired ICS file.
Now select the Calendar folder as the destination.
From the displayed options, select Import, and your file will be imported to Outlook.
Figure 7: Import files
NOTE: You can also use Outlook on the Web or OWA to import calendars. Open OWA and click on the Import option to add the exported files. Then you can load them one by one on Outlook.
Manual Method's Reliability
This might be the most obvious method for users, but it has its limitations. One problem is that it does not migrate the complete information. Also, it transfers the entries one at a time, and when migrating information in bulk, the method becomes too complex and time-consuming. You also need to perform separate imports of files to transfer the data. Sometimes, security and authenticity are not guaranteed with this process.
This is where the second or more professional solution comes into picture. We will use Stellar Converter for NSF to migrate the calendar or emails, contacts, attachments, personal folders, etc., from IBM Lotus Notes to MS Outlook. Let us learn about the technique more.
Automatic Method- Using a Third-party tool
The second approach is for users who want to complete this task in a more efficient, reliable, professional, and advanced way. We will use Stellar Converter for NSF, with which you can migrate your Lotus Notes data in Outlook. It can move the data without any disruptions. It can easily support different Lotus Notes versions like 10.0.1, 9.0.1, 9.0, 8.5, 8.0.2, 7.0, 6.5 and 6.0. The whole process of migrating files is a lot simpler with the tool.
Here are the benefits of using the tool-
Provides preview of the converted file
Conversion of complete NSF data to PST format
You can save the data in various formats like- MSG, PST, RTF, HTML, and PDF
High compatibility with different versions of IBM Lotus Notes
You can do selective conversion through advanced filters
Intuitive user interface
Direct export of converted files
Convert multiple files at once
You need to follow a few steps to use the software. Download and install the Stellar Converter for NSF on your system. Then launch the software, browse the Calendar files you need to convert, select them and click on Convert. You can select the desired format from the available formats, which here is PST. Now, you need to save it, and it is ready for use. The user is saved from the tedious process of importing and then exporting files manually. The software lets you open the file directly in Microsoft Outlook. You can even use the tool for free to convert up to 10 NSF items to PST format per folder.
Time to Conclude
Calendar data is a piece of vital user information and is used for several tasks. As the two IBM Lotus Notes and MS Outlook do not have any innate method to share data, we need to migrate information using different methods. The usual method to export the files manually does not seem to be the best approach. This is where it is wise to go with the Stellar Converter for NSF, which smoothens the process, saves time, and is a safe and reliable solution.
Moreover, you don't need any technical assistance with the procedure. If you are unsure about using it, you can always go for the demo version and decide to buy it after getting hands-on experience. You can also check our review of Stellar Converter for NSF.
Also Read: Perfect Tech Courses in UK
---
Share