How to Recover Lost/Deleted Emails from Your Verizon Email Account
Have you ever wondered why emails from your inbox get deleted or just disappear without you even noticing it? This is becoming a common problem these days and people might find it a bit frustrating because emails are one of the most crucial parts of one's daily productivity.
Emails being deleted/disappearing is becoming a serious issue amongst Verizon's email account users. You might also have encountered something like this, that without any notice your emails disappear. Poof!
There might be more than one reason for this, like:
You accidentally archived your inbox,
You marked some of your emails as "spam"
You accidentally deleted one of them,
You might have used filters on your emails,
There might be insufficient space for storing emails.
Another reason could be that your account is hacked.
In some cases, the default Verizon setup is configured with Outlook automatically.
Well, the reason could be any of them or even some other but the important thing to remember is you can recover your deleted or lost emails in just fractions of seconds, just like you lost them.
Let's know how:
Things to Remember Before Recovering Lost/Deleted Emails
Before moving on to the steps to recover the lost emails, there are several things that you should remember:
You can only recover the deleted emails within 7 days of their deletion.
If you send a request for your email recovery, you can't cancel it.
Recovering a lost or deleted email is not 100 percent assured.
It is suggested to look into the trash folder if you can't find them anywhere else.
Plus, it is always advised to have a proper backup of utterly important emails.
The above-mentioned aspects are something that should be considered thoroughly before taking any further steps. While it also should be noted that recovering emails is not something that is guaranteed, as emails sometimes might get deleted permanently which can be impossible for anyone to recover.
Methods to Recover Lost or Deleted Verizon Emails
Before starting with the steps to recover lost/deleted emails, it is important to know that Verizon itself no longer provides email service, all the previous users of Verizon email services have migrated to the AOL platform (or any other third-party) for maintaining their Verizon email address. As Verizon is now acquired by AT&T, the email services of Verizon are maintained and carried by AOL. Hence, the below-mentioned methods are quite related to how to restore missing or lost AOL Emails.
Here are the methods you can use to recover your lost/deleted emails:
Method-1: Check Other Folders First
The very first thing you need to begin with is to check other folders once an email disappears from your inbox. Folders like trash, spam, junk email, and archived ones might have the emails you are looking for.
The reason for your email being transferred there is that you might have accidentally set the filters wrong.
Method-2: Check the Email Account Settings
Sometimes, the inclusion of a third-party app or site might disrupt the flow of your key site or app just like your email account. Whenever an email disappears from an inbox, there's a pretty good chance that there might be some third-party device or account that is pulling it off. Hence, it is necessary to check if there's any third-party app or site that might have deleted your emails.
Method-3: Clear Browser and Other Caches
Before signing in, make sure to always clear your browser. Clearing the browser will clear any sort of caches, cookies, or any unwanted disruption. This is because sometimes the previous browsing data might act as a barrier for your further use, plus can also be the reason for your email's disappearance.
This can be done in just a few steps:
In your Verizon email account, click on "tools" and select "internet
options".
Click on "Delete cookies and "Delete files".
Close all internet browser windows and open a new one to access.
Method-4: Check if Your Account is Hacked
Your account being hacked might be the reason why your emails are disappearing too frequently. Once someone else has access to your account, he/she can meddle with your data including your emails. In this case, it is advised to change the account's password and other recovery data.
Below are the steps to help you change your Verizon email account password:
Visit http://www.verizon.com/ and sign in.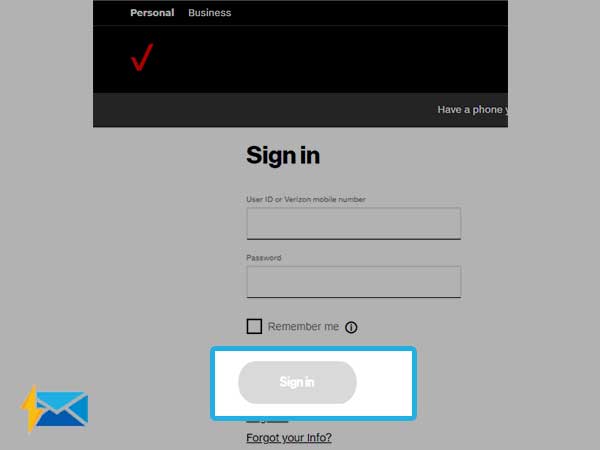 After logging in, go to the top red bar and click on Account.
In accounts, click on Profile.
After that, click on Residential, you'll be taken to your account's profile page.
There, six entries down, click on Password.
To its right, there will be a link that says "change", click on that and change the password.
Method-5: Authenticated with Outlook
As mentioned above, the intrusion of a third-party app or site might disrupt the flow of your emails, just like that, the default Verizon app might have from a long time (or is even still) configured with your Outlook account, without you being intending to. In this case, the best solution would be to change your password.
Once the device is no longer authenticated with Outlook, the disappearance of emails from the inbox should stop immediately.
Note:
Another aspect to remember here is, this will only stop the emails from being lost without your intent and won't bring back the lost one. For recovering those, you will be required to follow the above-mentioned steps.
Note:
Authenticating a Verizon account with an Outlook account is often done by users voluntarily as sometimes authenticating two or more accounts with each other makes it easier while working on them and even while maintaining data.
Losing an important email can be major trouble and even the thought of not being able to recover any of your lost emails can be something to be concerned about. So instead of wasting hours submitting requests and waiting for their response, try these simple methods.
Share