Best 15 Email Apps for iPhone & iPad You Must Check Out in 2023!
Over the years, we've seen email transform from a way of sending electronic letters into a digital hub for much of what we do online.
For example, from our social media app accounts to our shopping app accounts – everything is linked to our email, so the mail app we choose to access our email matters a lot!
Having said that, if you are wondering what is the best email app for iPhone, then read on to find out—
Email App for iPhone
Years ago, when the iPhone debuted in 2007, Apple included a built-in email app.
An email app for iPhone enables you to configure it to receive, read, compose, and send email from that email address. It also provides a central interface for receiving, composing, and sending emails to a configured email address(es).
Initially, there weren't any third-party mail apps available, but email on iPhone has come a long way since then!
Now that the App Store is flooded with so many different email applications, it brings with it the challenge of finding the best email app for your iPhone needs.
Hence, you might be in doubt as to which email app you should be using on your iPhone. Well, there will remain no doubt after reading this post because we have researched and listed only the best email apps for iPhone and iPad (which are compatible with iOS 15 and beyond).
However, before jumping into it, let us first tell you that you can also choose the best app yourself for your iPhone/iPad if you know what factors to look into or to pay attention to while doing so!
What Are the Factors to Consider When Choosing an Email App for iPhone / iPad?
There are many factors to consider when choosing the best email app, including—
User-friendly Interface.
Well-designed Mobile Apps.
Privacy & Data Security.
Compatibility with your existing email account.
Ability to handle multiple email accounts (work, freelance, personal, etc.)
Integration with other productivity tools.
Advanced capabilities, including snooze, scheduled send, and group messaging.
Efficient spam and unwanted email filtering.
Search functionality and organizational tools to improve efficiency.
Strong Customer Support.
What Are the Best Email Apps for iPhone & iOS 2023?
Given below is a handpicked list of the top 15 email apps for iOS, which also includes their website links, download links, prices, compatibility, and pros and cons.
List of 15 Best Email Apps for iPhone & iOS In 2023
[Note: This list includes both open-source (free) and commercial (paid) software.]
Apple Mail
This free iOS Mail app from Apple is considered to be a reliable and solid email app for iPhone.
Apple Mail Price: Free
Apple Mail Compatibility: Gmail, Yahoo, Hotmail, AOL, iCloud, GMX, Exchange, IMAP accounts.
Apple Mail, since it first appeared on the scene in 2004, has been a standalone email app. Its integration with the macOS suite of tools makes it a great all-rounder and a favorite of Mac users by default.
However, it's one of the most basic apps on this list and has had a bit of a bad reputation over the years – which is why there's such a healthy ecosystem of alternative apps. But it does have one advantage, and that is it is an easy-to-use email app that offers simple solutions that are good for most needs.
On Apple Mail, you can sort VIP senders (the ones you define) and file emails into folders. You can also compose your emails using rich text and swipe to take action faster.
If more mention, you get beautifully rendered emails without the clutter and with almost no learning curve. And, best of all, it handles your email—whether you use iCloud, AOL, Gmail, Outlook, Exchange, or any other POP or IMAP-compatible service—without a hitch.
Pros:
Beginner-friendly but sufficient for most users.Safe and reliable.Comes bundled in iOS.Full support for iCloud.Updated regularly.Automatically syncs with Calendar.Easy to use with an intuitive interface.Integrates with multiple email providers.
Cons:
Lacks advanced email functionality and customization.
Microsoft Outlook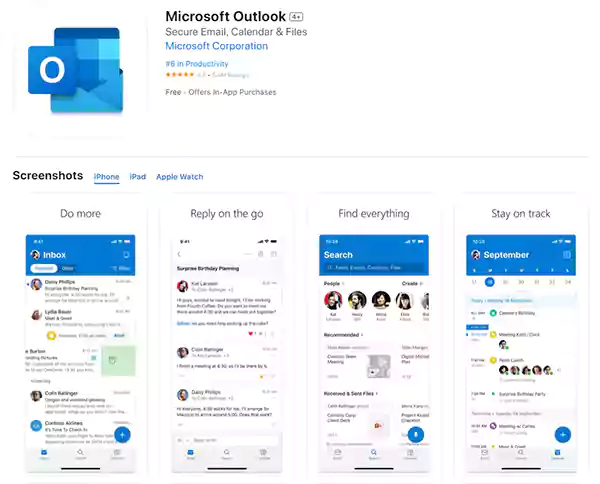 The Outlook email app for iPhone remains a popular choice for many people due to it being reliable and relatively easy to use.
Microsoft Outlook Price: Free; Microsoft 365 Personal for $6.99.
Microsoft Outlook Compatibility: Outlook, Yahoo, Gmail, Hotmail, Live, Exchange, iCloud, MSN, Infosys, Cognizant, Accenture, etc.
Download Microsoft Outlook App
Having been around since 1997, MS Outlook is a tried and tested favorite email provider – especially among business users.
Microsoft Outlook is a powerful and functional email app that works with a variety of email services, including Gmail, Yahoo Mail, IMAP, and iCloud, and not just with Outlook accounts.
However, despite what you might think, Outlook for iOS is not a traditional Outlook but a reimagining of what it should be!
It includes a built-in calendar and supports multiple account login features that come in handy when you want to access both home and work email on one device. Other than this, the Intelligent inbox of the Outlook iOS app lets you see the most important emails first, and you can even snooze email with a simple swipe.
Overall, since it's free, works with all the major accounts you might have, and offers a ton of great features, it's no wonder Outlook for iOS is ranked among the best email apps for iPhones in enterprise environments.
Pros:
It is a feature-rich app.All major email providers are supportedHas a Strong community for support.Provide frequent updates.Has a Familiar interface.Great iOS email app for business users.Support Microsoft 365 and OneDrive Integration.
Cons:
Search results are too vague to be useful.Not user-friendly as Desktop Outlook.Requires Microsoft 365 subscription.Too expensive for some people.
Gmail: Email from Google
Gmail is the best iPhone email app for integration with other Google apps like Google Drive, Google Docs, and Google Sheets.
Gmail Price: Free
Gmail Compatibility: Gmail, Yahoo Mail, Hotmail, Outlook, Live, Office365, iCloud, IMAP, etc.
Needless to say; no iOS email app list would be complete without mentioning Gmail in it. For many people, Gmail is the perfect example of a free email. Users of any iPhone email app almost certainly have at least one Gmail address, so it's entirely logical to use the Gmail iOS email app.
In Gmail, all your email is sorted into three separate inboxes: Primary, Social, and Promotions. Regarding its search feature, it is exactly what you would expect from Google, i.e., lightning fast.
Furthermore, Gmail is compatible with multiple languages, so you can communicate however it's most convenient for you. You can also undo recently sent messages if you realize you made a mistake. Not only that, you can use quick swipe gestures to archive or delete emails. In addition, you can even view your mail with threaded conversations and quickly respond to Google Calendar invitations.
All in all ranked as the number one app in the productivity category, Gmail is undoubtedly a top email app across all platforms that lets you switch between multiple accounts easily.
Pros:
It has a recognizable User Interface.Excellent notifications and reminders.Very secure service.Offer easy access to Google Calendar and Drive.Support multiple email addresses.
Cons:
Ubiquitous email App for iOS.Tracks you for advertising purposes.
Spark Mail: Email by Readdle
According to Apple, Spark Mail, which has a user interface similar to Gmail and Outlook, is the best email app for iPhone.
Spark Mail Price: Free
Spark Mail Compatibility: Dropbox, OneDrive, Google Drive, Trello, Asana, etc.
The Spark Mail app is one of those apps that can help you deal with inbox overflow.
It also has a Smart Inbox function that filters incoming mail and categorizes them automatically by category.
Besides, it offers many useful features such as calendar integration, one-tap replies, swiping actions (including the option to snooze email), and fast search results, which you can organize as smart folders.
Moreover, Spark Mail has a compatible Apple Watch app that enables you to reply to messages and calls. Also, its customizable actions and push notifications for every email account are superior. So, all these capabilities, along with email signature options, make Spark worth opting for!
Pros:
It supports dark mode.Receive smart notifications.Customizable Actions.Adds multiple types of email accounts.
Cons:
No read receipts.Some advanced features require subscription.
Yahoo Mail
Yahoo Mail is the best iPhone email app for better email management and quick search.
Yahoo Mail Price: Free; $1.99/month for Yahoo Mail Plus, which includes ad-free email, domain blocking and reply reminders.
Yahoo Mail Compatibility: Yahoo, Gmail, AOL, Office 365, Outlook, etc.
The Yahoo Mail App is a good contender on the list of best email apps for iPhone to consider whether you use Yahoo's mail service or not. In recent years, it has improved so much that it now not only works with external accounts like Gmail, Outlook, and AOL but also has a lot of features.
Without overwhelming you with too many options and actions, Yahoo Mail lets you highlight mail, file it into folders, perform fast searches, and sort email into several useful categories like People, Social Updates, and Important Travel Email.
On top of that, Yahoo Mail shines for sending emails with its unique and colorful email stationery as well as impressive image sending and attachment support.
Finally, for those who primarily use email to organize coupon alerts, manage shopping lists, and track their packages, Yahoo is a very useful tool. But, if you use email for business or heavy personal use, other solutions will be better suited to those needs!
Pros:
Easy to customize the interface.Offer a Coupon feature with easy access to savings.Works with multiple email accounts.Friendly and simple UI.
Cons:
Security issues in the past.Premium features require a subscription.
Edison Mail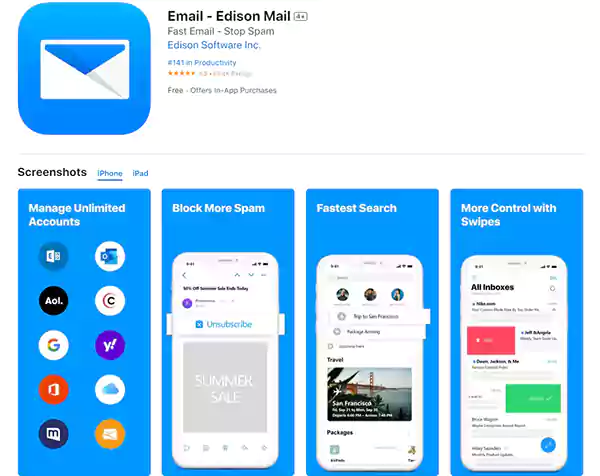 Edison is the best iPhone email app for frequent travelers and shoppers.
Edison Mail Price: Free; In-app Purchases start at $9.99
Edison Compatibility: Gmail, Yahoo Mail, Outlook, iCloud, Comcast, AOL, AT&T, IMAP, and more.
The Edison Mail app is a great email program that gets the important things right, including support for Exchange, IMAP, and all major email services.
It has many advanced features like an easy unsubscription feature, undoes sending, speedy search, customizable swipe gestures, responsiveness in syncing, blocking unwanted senders, a fluent user interface, snooze, and smart replies when a short response is needed!
In addition, Edison Mail, when it detects relevant information in your emails, organizes them effectively. Indeed- Tracking bills, managing travel plans, refund status, order details, etc. is easily managed on the Edison Mail app.
Furthermore, Edison Mail also offers convenient snoozing for saving emails to read later, and when you sometimes tap 'Send' in a hurry, the app even lets you undo it.
Finally, while it claims to be a digital assistant which it is not, it does suggest recipients based on the frequency and can filter emails by type and use: bookings, bills, shipment notifications, as well as email subscriptions.
Pros:
It has a simple user interface.Provide an easy unsubscribe feature for email.Mark emails as spam and block senders.Responsive in sync.
Cons:
Collects some user data.Experiences connection issues from time to time.
Triage
Triage is the best iPhone email app for fast and easy inbox maintenance.
Triage Price: Free; $9.99/year for the Advanced plan which includes multiple inboxes.
Triage Compatibility: Gmail, iCloud, IMAP
The Apple-only app is endorsed by its developers as "first aid for your inbox." Its format is so simple that all your emails are presented as 'cards' that are stacked on top of each other. You only need to swipe left on an email to archive it, swipe right to keep it, and tap a card to expand and reply to it.
Overall, Triage may be the most simplified email app on this list, but it's certainly the most innovative by far and you can think of it as a useful complement to your typical, more comprehensive email client.
Pros:
Secure Mail.New messages appear in the familiar 'Stack of Cards' interface.Quickly archive messages.Keep important messages in your inbox for later.Lets you use your downtime to quickly let go of the noise and stress.
Cons:
UI updates make the triage page more clunky and difficult to use.Lack of some advanced features.
myMail
myMail is the best iPhone email app for a highly effective email manager.
myMail Price: Free
myMail Compatibility: Gmail, Yahoo, Hotmail, Live, Outlook, MSN, iCloud, AOL email, and any IMAP and POP3-enabled mailbox.
myMail iOS app is worth downloading because of the full range of customization it offers. Like all of its counterparts, myMail has tons of great features that will appeal to many different users.
For instance, it lets you add multiple accounts for hassle-free management. It also allows you to set 'quiet times' for each account, which can be very useful when dealing with multiple email accounts.
Other than this, you'll be able to quickly scan your inbox with profile pictures and icons for popular services.
Above all, what makes myMail unique is the personalized notifications—you can filter your alerts by many attributes like folders, domains, email addresses, social networks, and more.
Pros:
Receive instant notifications of new messages.Set up PIN lock.Touch ID support.Data is always encrypted.Email Threads to see your entire email conversation on one screen.Customize the appearance of the message list through message previews and avatars.Set a 'Quiet Time' to separate your work life from your personal life.
Cons:
Not offer a unified inbox. Can't view your emails on a computer.Lacks extra features
Newton Mail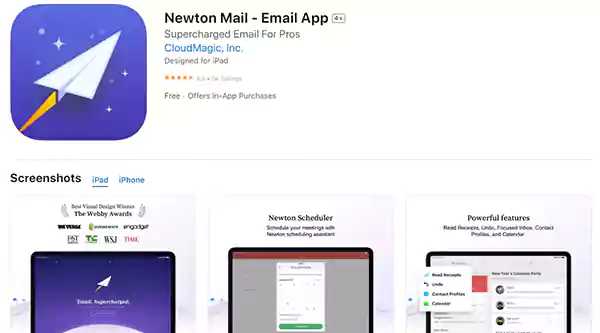 Newton Mail is the best iPhone email app for easier management.
Newton Mail Price: Free to download; requires a $49.99/annual subscription.
Newton Mail Compatibility: Gmail, Yahoo Mail, Google Apps, Exchange, Hotmail/Outlook, iCloud, Office 365, and all IMAP accounts.
Newton Mail is a serious contender for the best email app for iPhone and iPad because its intuitive approach to email management still appeals to many.
Another advantage that the app has to offer is that it works seamlessly with many popular services like Gmail, Exchange, Yahoo Mail, Hotmail/Outlook, iCloud, Google Apps, Office 365, and all IMAP accounts.
In addition, Newton also provides read status for every email you send and integrates with several productivity apps such as Evernote, OneNote, Todoist, Pocket, Instapaper, Trello, and Wunderlist. You can carry out a number of tasks without ever having to leave the app.
More importantly, Newton Mail is definitely one of the best email apps for iPhone and iPad if you're looking to streamline working from home.
Pros:
An ideal iOS email app with intuitive email management.Has a clear User Interface.Snooze and send later features.not collect any personal information for advertising purposes.Maintain the integrity and security of all information.Tidy Inbox.
Cons:
Have been some security concerns.Only HTTP is supported for message encryption.May be expensive for some people.
ProtonMail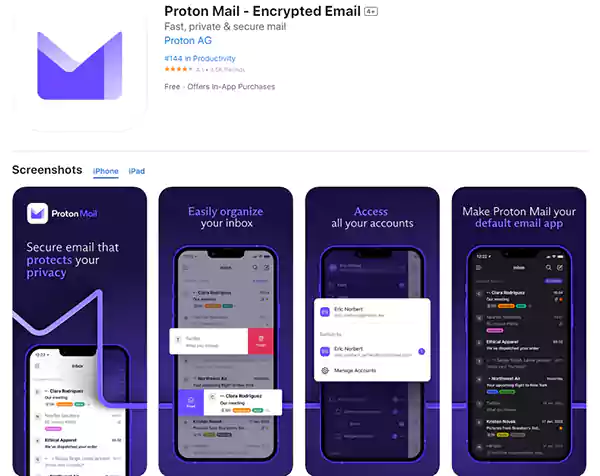 ProtonMail is the best iPhone email app for privacy and security.
ProtonMail Price: Free; ProtonMail Plus is $59.99/year, which includes 5 email addresses, 5 GB of storage, and IMAP/SMTP support.
ProtonMail Compatibility: You can set up mail forwarding through Gmail, Outlook/Hotmail, and Yahoo Mail.
In today's time, we all agree that the online world is still a threat to email users, so, even though Apple's operating systems have historically been extremely secure, ProtonMail gives you just that little bit of extra security.
The ProtonMail iOS email app is open-source and completely free to use. Its end-to-end email encryption ensures that all your data and documents are secure. Other than this, an easy-to-navigate user interface of ProtonMail makes it easy to manage secure email.
Overall, if you're concerned about security, ProtonMail may be exactly what you're looking for! It's the perfect iOS email app for anyone who doesn't want to spend their hard-earned money and at the same time doesn't want to compromise on security.
Pros:
An ideal iOS email app with increased security.Has an easy-to-navigate simple user interface.Offers powerful end-to-end email encryption.
Cons:
Can be a little basic for certain users.Need to buy a subscription for pro features.
Airmail
Airmail is the best iPhone email app designed for the latest generation of iOS.
Airmail Price: Free; Airmail Pro Monthly – $2.99
Airmail Compatibility: Gmail, Google Drive, Droplr, OneDrive, Dropbox, Exchange, IMAP, and POP.
Airmail used to be a powerful email client for Mac, but now it is also available for iPhone and iPad. It supports 3D Touch, fast document previews, high-quality PDF creation, and native integration with other apps and services.
With regard to organization and productivity, workflow optimization is at the core. It offers a rich feature set like snooze, interactive push notifications, and full inbox sync.
In Airmail, you can organize folders by labels, turn emails into to-do items, add them to calendars, and schedule email delivery using Exchange, IMAP, POP, and Gmail.
In addition, the app provides control over managing contacts and email customization. You can choose to block senders, undo emails you've sent, snooze emails, and even lock your email.
On top of that, Airmail also provides an easy way to send attachments from cloud storage and displays the full source code of the email.
Pros:
Recognizable iOS email app.Easy to configure interface.Can sync across multiple devices easily.3D touch passwords.Offer helpful technical support.Dark mode is included.Workflow customizations including push notifications, snooze, and iCloud sync.
Cons:
It requires a paid membership.Email searches are old-fashioned and inaccurate.Has unclear Privacy Policy.
Twobird
Two Bird is the best iPhone email app for note taking and scheduling.
Twobird Price: Free
Twobird Compatibility: Gmail, Outlook
This iOS email app is relatively a new face in this crowd and some features need to be added in the future. But, nevertheless, it is a strong contender among email apps for iPhone and iPad.
In addition to being your typical email app, it also serves as a to-do list with note-taking capabilities and a calendar. The integration between Notes and email in the app is polished enough.
So, it would not be wrong to say that Two Bird has a third bird hidden in it with its scheduling capabilities and of course, sharing and planning with your contacts seems even easier when you use Two Birds' built-in calendar.
Pros:
It has an attractive interface that supports dark mode.Links Inbox to Notes, Reminders, and Calendar.Combines email and to-do list tasks.
Cons:
Limited to Gmail and Outlook accounts.No built-in cloud storage.A relative newcomer that needs some polishing.
Bonus Tip: If you need an app with similar productivity features but with more email service options, try Airmail instead.
BlueMail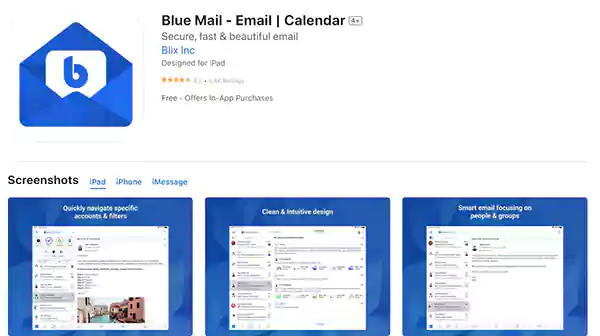 BlueMail is the best iPhone email app for managing an unlimited number of mail accounts from various providers.
BlueMail Price: Free
BlueMail Compatibility: Gmail, Yahoo Mail, Outlook, Hotmail, AOL, iCloud, Office 365, iMessage Extension, IMAP, POP3, and Exchange (ActiveSync, Office 365).
Featuring an elegant design and efficient functionality, Blue Mail is a free, secure, universal email app that provides the option to manage an unlimited number of mail accounts from various providers.
The People toggle is a notable aspect of BlueMail that lets you reduce the clutter in your inbox and customize the way it looks!
Its color-coding feature makes it easy to see which email account received a message. Plus, just tapping on an avatar will conveniently display all conversations between you and email participants.
The app also allows for smart push notifications and group emailing, enabling personalization across multiple email accounts.
Overall, BlueMail offers a top-notch email service for all your email accounts, with a powerful Unified Interface experience packed into an intuitive and easy-to-use design.
Pros:
Free, secure, beautifully designed, universal email app.Enable personalization across multiple email accounts.Allows for smart push notifications and group emailing.Ad-free email.Customizable swipe menu and email view actions.Sync multiple inboxes from all your providers in one unified interface.Advanced spam mechanisms.Ability to block senders directly, block domains, or block entire suffixes of domains.Instant push mail for a wide range of providers (IMAP, Exchange, Office 365, etc.)
Cons:
There is no option to track opened emails.Sent emails mostly get jammed in the outbox.Lack of automatic feedback.The email filter is also pretty basic.The paid version didn't have many cool features.
Citrix Secure Mail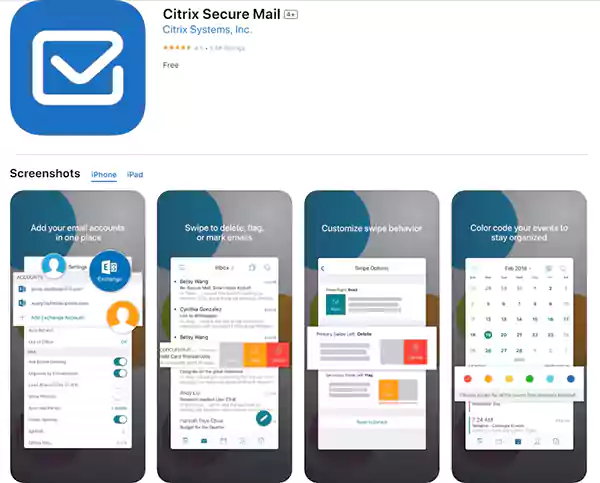 Citrix Secure Mail is the best iPhone email app for offering a rich and customizable experience on your mobile device.
Citrix Secure Mail Price: Free
Citrix Secure Mail Compatibility: Microsoft Office 365, Microsoft Exchange Server, IBM Lotus Notes.
Download Citrix Secure Mail App
If privacy and reliability are your priorities, then this iOS email app is a great option to consider! It keeps your data secure and has customization options to make life easier for both individuals and businesses.
On the Citrix Secure Mail app, you can add multiple accounts and create a dedicated folder for attachments so you can easily find files when you need them.
If more needs to be mentioned, the app works seamlessly with other tools like Skype for Business, Citrix Files, Citrix QuickEdit, and GoToMeeting.
Pros:
Multiple Exchange Accounts.Secure Mail.Provides a rich and customizable experience.Ability to report phishing emails.A dedicated folder for your email attachments.Single sign-on.Triage view for quick email sorting.Personal Contact Group.Works seamlessly with Citrix Files, Citrix QuickEdit, Skype for Business, and GoToMeeting.
Cons:
Citrix Secure Mail to add more privacy.sometimes slow support.Lack of some features.
Chuck Mail
Chuck is the best iPhone email app for comprehensive inbox maintenance.
Chuck Price: Free; Chuck PRO plan for $3.99/month or $39.99/year.
Chuck Compatibility: Gmail, Yahoo, Hotmail/Outlook, iCloud, AOL, Google Apps, Office 365, Fastmail, Exchange IMAP, and all standard IMAP accounts.
The variety of ways in which you can view your inboxes: by month, subject, or sender—is what makes Chuck stand out!
It's a very efficient app with great filtering capabilities, one-tap actions, and cleanup suggestions.
If you need to clean out your inbox but you're not sure where to start then know that, Chuck will recommend categories of email to get rid of the mess, including social media notifications, old messages, or even messages that weren't addressed to you.
Another plus point about Chuck is that when composing an email, you can easily add links to the text.
Lastly, despite the fact that the free plan of this iOS app should be sufficient for most, you can upgrade to become a Pro user if you want to enhance your filters and organizational features.
Pros:
Quickly clean out your inbox.Snooze messages to read them later.Smart notifications.Advanced filters and dynamic cleaning suggestions.View folders other than the inbox by Sender, Subject, and Time.Haptic Touch to quickly inspect and remove items.The home screen supports Quick Actions.Filter messages by Contacts, Attachments, Starred, and more.
Cons:
Only works with Gmail and Microsoft accounts.
Comparison of Top 3 Email Apps for iPhone & iPad
Based on all the features we would look for in an email client, we have also compared the top 3 email apps for iPhone and iPad. So, let's check out the below table—
| | | | |
| --- | --- | --- | --- |
| Features | Apple Mail App | Outlook App | Gmail App |
| Free Version | | | |
| Audio Calls | | | |
| Voice Messages | | | |
| Video Meetings | | | |
| Unify Multiple Inboxes | | | |
| Notes | | | |
| Calendar | | | |
Bottom Line
That is all. Now that you have not only a list of the 15 best email apps for iPhone and iPad but also all the information you need to choose the best email app for your iPhone/iPad so, which one you opt for in 2023 is entirely your call!
But one thing is certain; you can upgrade from Apple's older email app by choosing one of these modern alternatives and setting it as your default!
FAQs on Best Email Apps for iPhone & iPad
Ans: An email app enables you to configure email addresses to read, write, send, and receive emails from other email addresses. It also provides a central interface for receiving, composing, and sending emails to a configured email address(es).
Ans: The main reason for using a dedicated email app for iPhone is that a dedicated email app offers several advantages, such as email backup, spam protection, preventive security measures, etc. Furthermore, the iPhone has some restrictions and constraints due to security reasons so having a reliable third-party dedicated email app will result in better productivity and connectivity with other devices. On top of that, the integration, which allows data access across multiple platforms, is a major advantage of using a dedicated email app on the iPhone.
Ans: The testing process to find the best email app involved—
Exploring all the features available when composing and sending emails, such as delayed sending, scheduling, and file attachments.
Measuring how well email is received on other platforms.
Tracking compatibility with major email service providers.
Playing around with customization options like swipe actions and color themes.
Creating folders and changing filters to get an organizational efficiency experience.
Ascertaining how much the UX design of the app is mobile-friendly and effective.
Ans: The features that make an email app 'advanced' include—d—
Ability to send large attachments,
Integration with productivity tools such as CRM or project management systems,
Scheduled delivery of messages and/or reminders,
group chat functionality &
Ability to snooze messages.
Ans: The 10 best email apps for iPhone are—
AppleMail for a basic feature email app
Outlook for a balance between coherence and features
Gmail for Integration with other Google apps
Yahoo Mail for email management and fast search
ProtonMail for security and privacy
Edison Mail for persistent travelers and shoppers
Twobird for note taking and scheduling
Triage for expeditious and easy inbox maintenance
Polymail for professional use
Chuck for comprehensive inbox maintenance
Ans: Apple offers a built-in Mail app which is fairly robust in terms of features and easy to use on the whole for most folks. However, it's far from being your only choice on iOS; there are a ton of great iPhone and iPad email apps out there.
Ans: Yes. Most email apps make it easy to switch from your current email app as most contacts are already synced over IMAP and other sync technologies.
Ans: While the Mail app comes by default on iPhone, if you have deleted this app for any other reason, you can easily restore it in this way—
Launch 'App Store' on your iPhone.
Then, in the App Store, search for the 'Mail' app on the iPhone.
After you find the Mail app in the App Store, you need to tap on the 'Cloud' button on the right side of it.

Now, the Mail app will be downloaded and reinstalled on your iPhone.
Ans: Yes! When possible, Gmail protects your information by automatically encrypting your emails, which turns them into a code during mail delivery. This security tool is well-known as TLS i.e., Transport Layer Security. It helps prevent others from reading your emails.
Ans: Yes! Since all communication between the Outlook app and Microsoft 365 or Office 365-based architecture is through an encrypted TLS connection, you don't have to worry; it is quite safe!
Ans: While Apple Mail is simple and very easy to use, Outlook is more organized, secure, and stable.
Ans: Outlook is more organized, secure, and stable, whereas Apple mail is simple and much easier to use. Overall, both have their own merits and demerits, based on which you can choose the one that suits your needs. And, we have already discussed the pros and cons of both email clients in this article.
Ans: While many email apps support popular email providers such as Gmail, Yahoo, and Outlook, you can still check the app's description or contact customer support to find out if it's compatible with your current email account.
A: While many email apps support popular email providers such as Gmail, Yahoo, and Outlook, you can still check the app's description or contact customer support to find out if it's compatible with your current email account.
Next, recommended to read: Top 10 Emails That Does Not Require Phone number Verification
Share