ProtonMail Login Process Explained With Some Other Important Information
ProtonMail is known to be the most secure email service of all time as it was developed by MIT scientists and CERN. It is further secured by the Swiss privacy law and thus it is highly in demand. The end-to-end encryption is a major highlight of this fully-loaded emails service.
ProtonMail offers high-end speed, encryption, and safety under one roof. The email service was designed by experts hailing from different professional as well racial backgrounds and the same diversity of ideas can be witnessed in the design of the ProtonMail interface. Apart from protecting civil liberties, the email service offers complete protection from cyber attacks and cyber threats.
If you are also appealed by the features and functionality of the ProtonMail email account, we suggest you get registered asap and enjoy a completely different email experience.
This guide is mainly designed to help those who are not fully acquainted with the sign-up and login process of the ProtonMail email account. Also, we will be discussing some of the most effective ways to deal with the quandaries that occur while accessing the ProtonMail email account. 
How to Sign-up with ProtonMail
In order to register yourself on PortonMail, you need to follow the steps given below:
Step 1: Open the PortonMail sign-up webpage using your web browser, and tap on the Sign-up button.
Step 2: On the next screen, you will find the different plan options that will appear, you need to select one for yourself.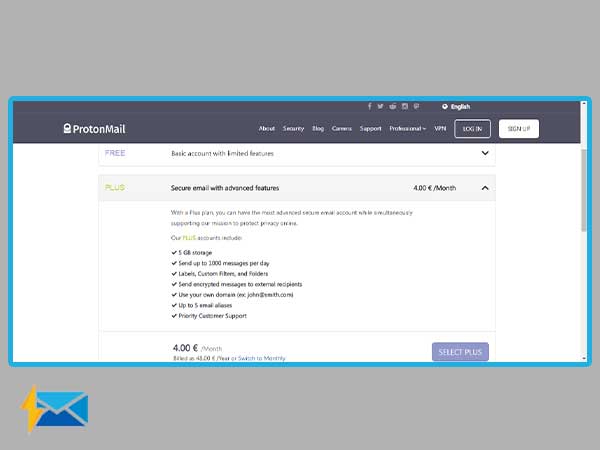 Step 3: On the next screen, you first need to create a username for your ProtonMail email account. The username should be unique as it will serve the purpose of being your identity. The username can be an amalgamation of alphabets and numbers.
Step 4: Now type a password that will act as the basic protection layer to your email account. Repeat the same password in the next field for confirmation. The password should be a unique combination of alphabets, special characters, and numbers. Then, click "Next".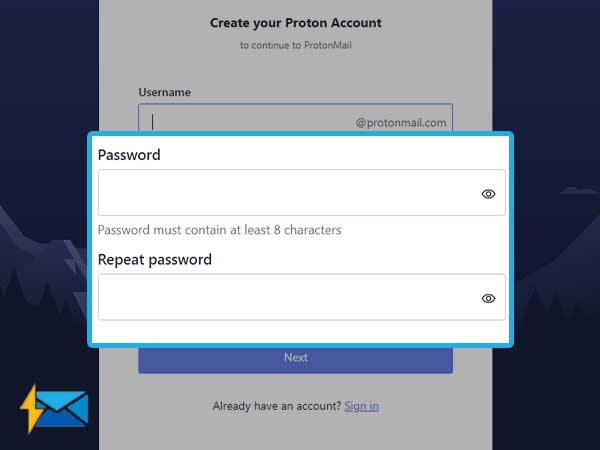 Step 5: On the next screen, you need to provide the recovery method for your email account, so that your account can be retrieved when a need arises. You should provide both the recovery email and recovery phone number.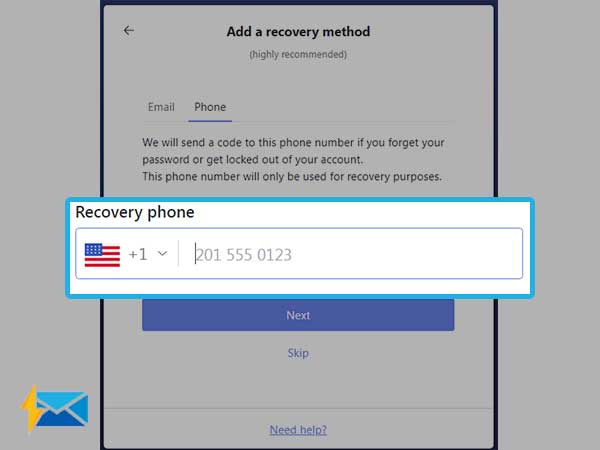 Step 6: Again, you will be needed to "select the plan" that you want to apply, from all the options available. We are here selecting "Free Plan"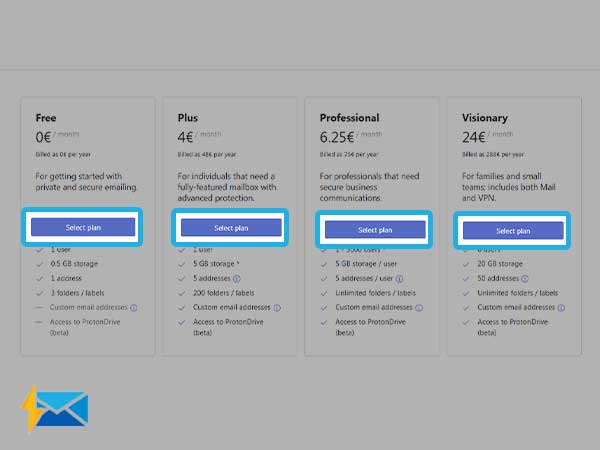 Step 7: Then, you will receive a one-time verification code on your alternative email address to confirm your account.
Step 8: Take the CAPTCHA test and complete the process of account creation.
It will take a few moments to finish the setup and here you are good to go. Your account has been created successfully.
How to Login to ProtonMail Account
After successfully creating an account on ProtonMail, it's time to login into your account. Follow the steps to access your account;
Step 1: Open the ProtonMail website in your web browser or click on the link https://mail.protonmail.com/login
Step 2: Now enter the email address or username in the respective field.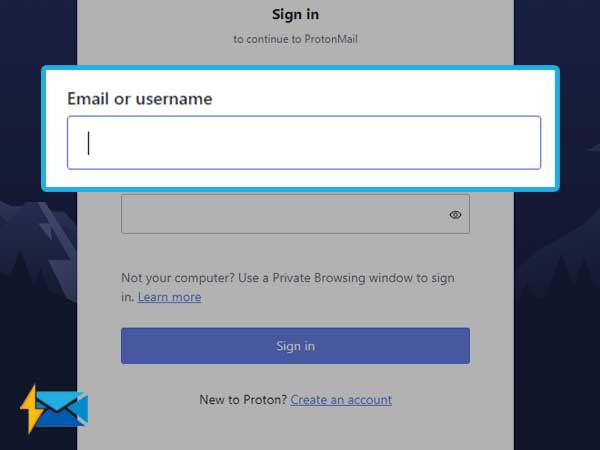 Step 3: Continue the process of entering the "Password", and click on the Sign-in button.
Password Recovery Steps in ProtonMail
ProtonMail is considered a safe electronic mail service that focuses on users' safety, but users of this platform also faced password issues. However, recovering your password is quite different from "common" webmail service providers such as Gmail, Yahoo, and others. Follow the underneath steps to recover your password on ProtonMail.
Step 1: First, click here https://protonmail.com or open the Proton Mail on your browser and click on "Log in".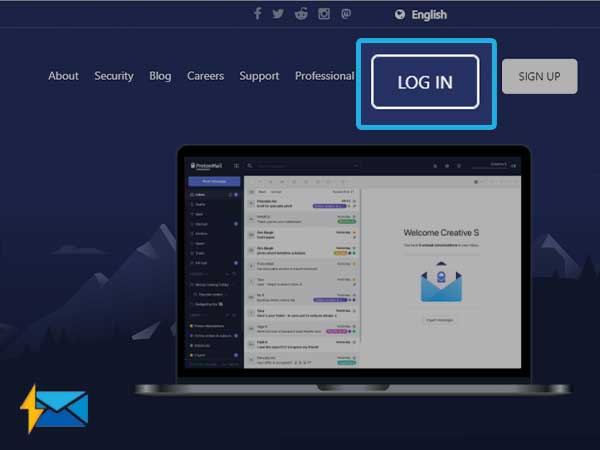 Step 2:From the Sign-in screen, click on "Need help" at the bottom and next click on "Reset password".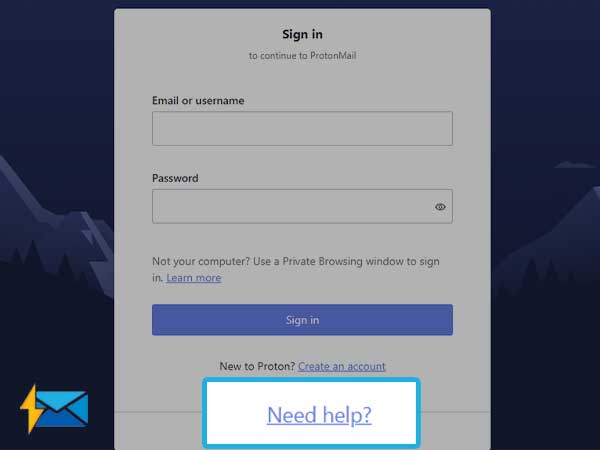 Step 3: ProtonMail will request you to select an option from the list, make sure you select "Reset Password".
Step 4: Enter your email address or username, and click on "Next".
Step 5: On the next page, the platform will show the recovery options. In the Phone number, enter the registered phone number in the field. Do the same process if you want to select the alternate email address.
Step 6: Now click on "Send code".
Step 7: Enter the code you have received and click on "Reset password".
Step 8: You will now see a warning of some data loss. Click on "Reset password" to move further.
Step 9: Create a new password for your account and re-enter it to confirm.
Now the password has been reset. Login with the new password.
How to Deal with ProtonMail Login Issues
There are few issues that you might encounter while signing in to a ProtonMail email account. These issues can be fixed by following the right corrective approach. So, here below are some of the most effective recovery tips to efficiently deal with Protonmail login problems.
Make sure you are using the most updated version of your browser While using the web interface.
If there are few browser issues you can fix them by clearing cache, cookies, and history at regular intervals of time.
Your computer or mobile device should be connected to a stable internet connection while you are trying to sign in.
make sure you amend your ProtonMail email password on a regular basis to keep the cyberpunks at bay.
when configuring the Protonmail email account on third-party clients, you need to provide the latest server settings that are:
Incoming Mail Server Settings:
Host Name: mail.pocketinet.com
User Name: example@pocketinet.com: Enter your email address here
Password: Enter your account password here
Outgoing Mail Server Settings:
Host Name: smtp.pocketinet.com
User Name: example@pocketinet.com: Enter your email address here
Password: Enter your account password here
Cannot Connect Using SSL (Do you want to try setting up the account without SSL?) – Tap Yes
Share