EssentialPIM – The Perfect Personal Organizer and Email Client for Students
Students often face difficulty in proper management of their studies and this also leads to inconsistency in their personal life. Along with studies, they must manage some free time for themselves to relax their mind for better efficiency as well. With a lot of distractions around students may fail to manage a proper schedule for themselves. They have to manage a calm mind juggling between college functions or parties, assignments along with turbulent relationships, and much more.
To strike the right balance between studies and enjoyment the students may require external help that assists them in the proper organization of their tasks. This calls for a personal organizer that can also work as an email management tool so the students can get that extra help to sort their life well. We have sorted some ways in which students can make the most of their schedule through an effective management software- EssentialPIM. Through this, they will never miss out either on important assignments or a group discussion with friends. Let us see the different ways in detail in which EssentialPIM can sort the life of students.
Better Communication with the Email Module
Email can be considered as a fast, economical, effective, and customizable channel of communication, in recent times, especially for students. Whether it is about keeping in touch with peers or teachers, email helps them in following the trend of going digital. Sometimes it can also be used as a medium for the tutors to share notes to the students in a digital form.
In the same light, EssentialPIM has come as a rising star through its availability and ease of use to the students. As an email client EssentialPIM has already made a mark and gained worldwide popularity because of its efficient integration with contacts. It can also be used for a seamless experience of sending messages along with newsletters.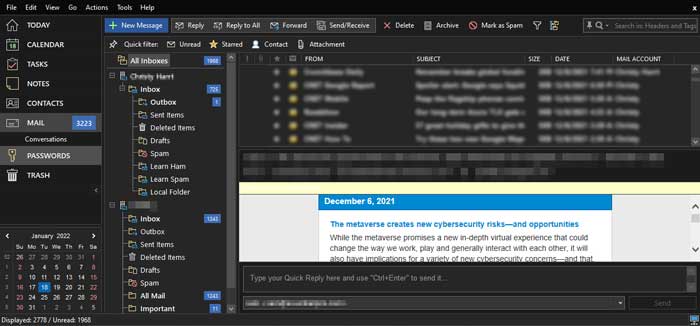 EssentialPIM not only does that but also allows its users to add more than one email account so that being a student does not make you miss out on anything. Whether it is about gathering notes on an important topic for an invite from a very dear friend, with EssentialPIM you will be able to catch up on everything. While setting up the account, the student gets to provide the required email credentials along with an auto explanatory wizard that guides you perfectly through the entire process.
EPIM efficiently checks for all the new emails automatically and in case you are not having much data left, you can switch to an offline mode anytime. This will also prevent new emails from popping up as an update. Moreover, there are many modes in which a student can switch for a better view of emails as classic, vertical, wide view, and vertical in groups. The student can choose any one of them at their convenience.
There are times when a student's mailbox receives a variety of communications from varied senders. It can be difficult to filter out the important ones belonging to a particular address requiring urgent attention and action. EssentialPIM can help if a pupil is trying to work on a collaboration project. Here they may need to coordinate with their team members on a collection of different data and bring it together to form a project. Additionally, through EPIM students can collect various information regarding their assignments from their teachers or fellow students through multiple mail attachments.
Through newsletters, students can inform their friends and peers about any upcoming activity or event. EssentialPIM comes forward in this situation and makes the sending process quite simple. With this effective software, students do not need to send individual newsletters to required persons, rather you can select multiple or a group of recipients for sending newsletters in a single click. In case you have spare time you can prepare the newsletter in advance and save it for later use.
EssentialPIM is a reliable email client as it allows encryption along with the signing of emails ensuring greater security to its users. Various colorful categories can be utilized for better segregation and sorting out emails in various groups so it is easier to find them.
The auto-archive settings allow the users to archive old emails however there is always an option of manually archiving them for decluttering the email folder as per your preference. Moreover, the students can also set particular days when they wish to move the messages to the archive folder or permanently delete them. This feature makes it easier for students to manage their time for other work and the cleanup for emails is done automatically at the backend. The students do not have to take extra time for decluttering their inbox which can be utilized for other exciting stuff.
Methodized Study Notes
A student's life is almost incomplete without taking notes for their studies. They are often indulged in gathering various pieces of information from different sources be it a tutor's important lecture or any important transcript from a subject's reference book. Nowadays, students do not need to jot down everything in a physical notebook as with an upgrade in technology this habit has also upgraded. Now they can easily make use of EssentialPIM where the notes are not at the risk of loss or being damaged. Moreover, with this software students can make regular updates to their notes, and making required corrections does not affect the older version in any way. The Notes module in EssentialPIM has truly revolutionized this process where text editing tools are also offered.
The software follows an organized hierarchical structure for the notes where the student can find them on any particular or future dates. Alternatively, if the student does not want any of the friends to make changes to the notes while surfing through their system they can turn the notes to a read-only setting. This will prevent any uninvited edits on the well-prepared notes. Students can also create sticky notes on their desktop or laptop screen for reminding themselves of important revision points before appearing for a test. Plus through the tool on the status bar, the students can easily zoom in and out of their notes without affecting the original formatting.
There is a tool for text editing in EssentialPIM that makes the note-taking process a fun activity for the students, making them look forward to it. Various tools are available for adjusting font style, text size, strikethrough, making important text bold or italics. With the alignment, add text, and shading color tools the students can easily customize their study notes as per their preference.
With the bookmarking feature of EssentialPIM, the students do not have to juggle taking multiple notes. This feature allows for bookmarking an important or a favorite note which can be accessed and retrieved easily by using a filter under the Notes icon given in the navigation pane. Additionally, bookmarked notes can be viewed seamlessly as they are flagged with standard favorite icons which helps them stand out from the rest of the notes. The Recently Viewed and Recently Modified features can be filtered for tracking information of 30 days where a maximum of 25 items are displayed.
Prior Planning of Days With Calendar Module
Students are often busy during their school or college days as they have a lot of things going around. For proper management of everything, they have to keep themselves organized. Moreover, with ever-increasing responsibilities, it becomes difficult to keep a track of all the commitments and follow them regularly. With EssentialPIM students can make use of the calendar module to strike the right balance between exams, assignments, college applications, extracurricular activities, project deadlines, and much more.
The Calendar module of EPIM assists in visualizing any upcoming commitments making it easier for students to keep a track of them and fulfill them on time as well. It also acts as a visual reminder to keep them prepared in advance. There is a facility of overlay of multiple events on the same template so the students are informed in advance about them and sort out any clashes beforehand.
The events can be segregated as per days, week, months, week agenda, year, or in list view. This makes it easier for students to see any upcoming appointments at their convenience and prepare themselves in advance for the same. For example, they can schedule their study for a seminar related to their college project or any college interview in the calendar module. There is a facility of adding alarms for a particular day so they are reminded well in time.
Sometimes some exclusive events cannot be overlapped with anything else, and for this EPIM offers an exclusive appointment dialog box. It assists the students to plan their schedule in such a way that not more than one event is added in the same time slot.
The weather forecast feature of EssentialPIM is also present in the calendar module itself. It assists in planning effectively for upcoming days in advance. Suppose you are planning to meet your friend for lunch or evening coffee then with the weather forecast feature you can check whether you need to carry an umbrella or a sun hat as per the requirement.
Conclusion
Being a student you can use EssentialPIM as a good intuitive tool for proper organization of your study mails, password entries, notes, contacts, along with daily tasks and management of special days effectively. The Pro version also allows you to use a seamless synchronization facility where the data stored in your EssentialPIM can be linked with popular cloud applications like iCloud, Outlook for Microsoft 365, Google, and many more. Along with this, there is a facility of colorful tags that provides the ability for assigning individual shortcuts to them making tagging handy when you are in a hurry.
With so much functionality there is a piece of relaxing news for the students that EssentialPIM is available in a handy Free version with limited features. However, if you wish to utilize advanced features you can switch to the Pro version with a special educational discount of 30%. This discount is available for students, instructors, and educational institutions. For details about how to get the discount, see here.
So, hop on quickly for a synchronized journey ahead and make your life manageable with this perfect organizer.
---
Share