A Foreign Software Development Company in Saudi Arabia. Can This Work?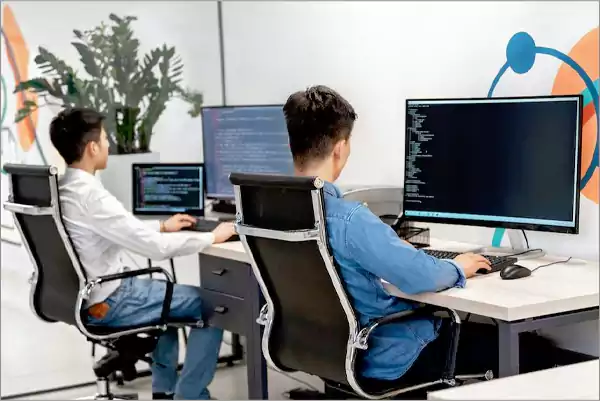 At a glance, Europe and Arabian countries are separated by a great geographical distance as well as many cultural differences. Until now, European countries have not really been on the radar of businesses from countries like Saudi Arabia or the UAE, etc.

However, there is something that seemingly brings these two markets together: Vision 2030, a roadmap for change that is already being implemented in Saudi Arabia. The country is becoming a pioneer in setting up new directions in the region.

Europe is a leader in terms of economic transformation as well as providing diverse digital services with minimum red taping.
The question still remains: what would cooperation between European companies and companies for the Arabian Peninsula look like? Are there any barriers to hinder custom software development services or would activities of this kind most likely encounter no obstacles?
In this post, we'll learn the true value a European Software Development Company brings to Saudi Arabia.
Outsourcing Software Development to Saudi Arabia
Outsourcing has been a major trend in the IT sector since the 1990s and Saudi Arabia is the second highly sought-after destination for outsourcing and shared services (OSS) providers in the MENA region.
The rate of growth in the outsourcing of Software development companies in Saudi Arabia has been very high as many companies are looking to expand in the region.
Benefits of Outsourcing in Saudi Arabia
Cost Effective: The salary paid to outsourced employees is less than that of any permanent staff.
Time Saving: Employers save money on advertisements, interviewing, and well as on training new staff in turn saving time.
Increase in Total Output: The resources, time, and money saved can be used for running the core business.
Flexible Staffing: As staff are appointed as per the project requirements and time limits, companies can enjoy the full flexibility that hiring an outsourced team can provide.
Qualified and Skilled Manpower: Software development companies can hire outsourced staff based on skills and experience in the field.
The Strengths of a Software Development Company
Full Custom Software Development Process
They can work within a consistent and comprehensive framework that eliminates the need for coordination between many providers and facilitates internal project communication.
In summary, they can manage the complete software development process from start to finish. Also, they may already have many pre-made components and tools that allow them to build and deploy new software a lot faster without interrupting their client's business operations.
Well-designed Software Architecture
They would have a well-designed system architecture that makes scaling up and maintenance a breeze. In the event of an error, a good system architecture can reduce downtimes and help in faster recovery. Thus ensuring the smooth russing of the business.
Building a Digital Sales Channel
A well-designed application software for mobile sales is very important. A good software development company can create an intuitive UI that is easy to browse as well as support order placement through mobile and other digital platforms. They can design functionality that enables personalization, recommendations, and integrations with backend systems to deliver personalized and integrated sales solutions.
Reliable Work and Cost Saving
You may as well be assured that an outsourced European Company will always do reliable work. They will always have a backup ready if something goes wrong with the software or application.

As the work is outsourced outside of Saudi Arabia, they firstly do not need to vet or train the staff as well and they do not need to worry about staff housing which can in turn save huge amounts of money.
DID YOU KNOW?
There are around 26.9 million software developers worldwide and the number is expected to grow to 28.7 million in 2024.
Conclusion
As you can see, European Software Development Companies can be really attractive to Arabian companies interested in outsourcing their software development process. European companies offer high-quality services, a professional attitude, experience, and innovation.

Cooperation is easy due to there being similar work schedules. Also, vetting and training staff can be reduced as they can hire an already experienced staff who have flexible work schedules. Which can effectively reduce the need to train new staff saving both time and money.
FAQ's
Ans: Software development companies design, develop, and maintain applications, frameworks, or other software components for businesses or consumers.
Ans: There are three main types of software companies: software product companies, software services companies, and cloud-based software companies. Software product companies develop and sell products such as applications, games, and operating systems.
CodesOrbit
RIKSOF
EwaanTech
Scope Technologies Co. Ltd
LTS
Skyview Smart Solutions
Eastern Software Systems
---
Share