8 Ways in Which a Great Marketing Presentation Can Boost Your Business
Companies use marketing to increase brand awareness, promote their products and services and essentially – generate more sales. This is not an easy endeavor, and it is most certainly not one that you can accomplish with a boring, average-quality marketing presentation.
Unfortunately, 79% of people describe most presentations as 'boring'. This means that you need to put a lot of effort into creating a good presentation if you want to reap the benefits it offers. If you succeed, a great, engaging marketing presentation can do wonders for your campaign and your business in general.
Wondering how this will boost your business?
You'll find the answer to this below (as well as some very useful tips for your next presentation).
How to Make a Great Marketing Presentation
Before we explore the benefits that a great marketing presentation can offer you, we should tell you how to create one. Here are a few useful tips that will allow you to reap the benefits we'll describe below.
Use Presentation Templates
If you want to maximize the success of your presentation, use presentation templates for professionals and customize them per your organization's needs. There's a reason why most presentations fail to serve their purpose – their creators don't know what exactly captures the attention of the audience and what design is most appealing in professional circles. Pitch's presentation templates can help you overcome this barrier – as well as get your presentation done in no time.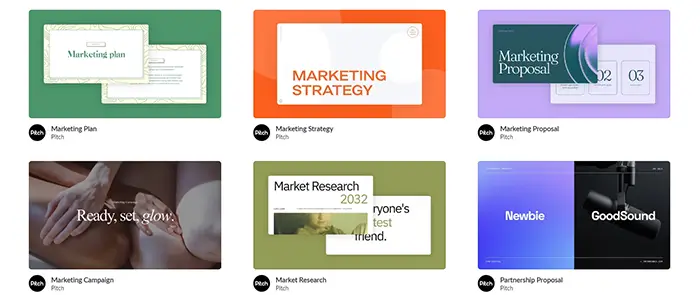 Add Something Catchy to Your First Slides
The average attention span of people is 20 minutes. This is a solid amount of time to speak your mind and present your information, right?
Unfortunately, it doesn't work that way with presentations. Most people will decide if they will continue following the presentation once they see the first few slides. This is why you need to attract their attention at the very beginning.
Initial impressions are very important in presentations. If you don't want to lose your audience from the start, try and insert something catchy into your presentation in the first 15 seconds.
Use the Right Fonts
The choice of fonts in a business presentation is very important. You can't go crazy and choose something too colorful or playful. After all, this is a professional marketing presentation! On the other hand, you want to stand out, so what do you choose?
Choose generally accepted fonts in professional circles. It's important that your presentation is easy on the eye, has the right font size, and looks professional.
Add Value and Consistency
An effective business presentation is based on important information and doesn't share irrelevant information. Everything you advertise in your marketing presentation should be backed with a compelling value proposition.
Most importantly, across your marketing presentation, make sure to follow a consistent brand theme. The idea is to market your products and services, but also present your company's values and build a connection between your company and the audience.
How a Great Marketing Presentation Can Help Your Business
Now that you know what makes a great presentation, let's move on to some of the reasons why you should invest time into this.
The Presentation Presents Your Company's Values
Every bit of information you get in your presentation, the way you design it, and how you present it – all these things represent your company and its values.
If your presentation fails to provide the audience with the information they expect, it will disappoint them and display a poor vision for your organization. The quality of your presentations can have a big impact on how your business is perceived.
It Can Promote Thought Leadership in Your Company
What is Tesla known for? It's known for its breakthrough technology, right? Most people know this and yet, when they hear Tesla, they hear Elon Musk.
That's what thought leadership is all about.
Your marketing presentations are a great way to boost thought leadership for your company. If there are people who can be easily matched to the brand by people in your target audience, this might just be the perfect opportunity for them to generate more interest in it.
Use your thought leader by putting them in the spotlight. They could be your presenter, or your marketing presentation can revolve around their work. When your thought leader is presenting your marketing strategies and achievements, customers can build a connection with the brand through their interest in the leader.
It Can Boost Brand Awareness
Companies invest a fortune in marketing for a good reason. If you do it right, your marketing presentations can help you create an identity for your brand.
Take, for instance, Netflix, one of the world's most popular streaming platforms. In 2021, the company spent $2.55 billion on marketing, which was a 14% increase compared to the year before.
Now, if they didn't do their marketing strategy well and targeted the right audience with it, the company wouldn't become one of the top streaming platforms regardless of the money spent. But, Netflix tailored its marketing presentations and advertisements to the expectations of Generation Z and Millenials.
Soon enough, their efforts made Netflix famous worldwide and increased brand awareness to the highest level.
A Good Presentation will Generate Trust
A company that isn't considered trustworthy cannot be successful. This is where your marketing presentation can help you. Consider this your way to tell your story, show people what your company can do, and convince them to trust you.
Transparency can help a lot in this. Take, for instance, Buffer, a popular social media management platform that helps people and businesses manage their social media accounts. The company is perceived by its audience as highly transparent because it built a reputation as an honest, straightforward brand.
Some of the things that Buffer does include:
Reveal where the money goes when you pay the company for its services
Organize quarterly, weekly, and monthly meetings, making the presentations transparent, and sending them to everyone on the team
Using the motto 'Default to transparency', which means that everything the company does, makes public
It Helps Convert Followers into Customers
Sometimes, followers need just a small push to become your customers. A great marketing presentation combined with good presentation skills can be the final piece of the puzzle – the thing that convinces your leads to finally convert.
Loyal customers are the favorite type of customer for all businesses. These are the people that buy often, spread word of mouth, and choose your business over the competition. If you succeed in converting those leads, you'll get the opportunity to satisfy them with your products and services and potentially turn them into loyal customers.
There's a lot of work to put into this, of course. The presentation is a vital step, but it only gets you so far. Look at this as a medium for getting their attention and convincing them to buy. There's a lot that follows if you want to make that lead to a loyal customer. For example, a POS system with smart, built-in loyalty features can help you form a successful loyalty program, as well as automate your team's processes.
Presentations are an Opportunity for More Quality Content
Content is king, especially when it comes to marketing. Now you're probably thinking – what does a presentation have to do with creating more content?
If you create a great presentation, its purpose doesn't have to end once you've shared it with your audience. There's no reason why you couldn't turn this into a different form of content and use it to reach a wider audience!
For example, you can film your marketing presentation and post the video on your company's website or social media. Simply record the events or publish the presentation with the speaker's voice in the background.
Great Presentations will Get You Noticed
If you manage to create and deliver an outstanding presentation, the people sitting before you will be impressed. This can swiftly become big. People will talk about a great marketing presentation for a long time, and you'll be remembered by the masses personally, as a great speaker and presenter. This surely paints a good picture for the brand that hired you!
Great Presentations Create a Media Buzz
At one point, Loreal Paris create a campaign called 'Stand Up Against Street Harassment'. Their stand on the matter caught the eyes of the media, resulting in endless print presses. This is proof that a good marketing presentation idea and some hefty presentation skills can create the media buzz your business needs to become a success.
Are You Ready to Create the Best Marketing Presentation for Your Brand?
The combination of a great marketing plan with a perfectly designed presentation and the right presenter can bring tremendous success to a business. Yes, this takes time and requires a lot of effort, but if done right, it can do wonders for your company.
Make every marketing presentation you have the best it can be. This way, you'll be able to motivate your team, impress stakeholders, and create a buzz for your brand. Good luck!
---
Share