Tonor: All in One Microphone Kit
One of the easiest or actually the only easy way to make high-quality recordings directly from your computer is through a USB Microphone. If you have a USB mic, you won't be needing lots of other equipment to record stuff. The reason behind it is, that with a USB Microphone kit, there are already so many things that will help you in various ways and will make you a pro. Plus, it is very easy to set up a USB mic, so I don't think there are many things to know or learn about if you know the right way of using a USB mic kit.
Another best part about the USB mics is that they are portable with almost all platforms, so if you have a PC, Mac, iPad, or a laptop, you don't need to worry about its connectivity or any other aspect.
Well, in simpler words, a microphone has all the significant wiring you require to connect it with a USB and to start with the recordings. And most of the USB mics nowadays are coming with headphones too, so that you can listen to your recordings with ease.
Now that you know what a USB mic is, aren't you curious to know what it is best for and how it works? Of course, you are, so let's learn more about it.
What is USB Microphone Used For?
People might believe that a USB mic is only used for recording sounds, vocal performances, and instruments. But the truth is, there's so much more than a USB mic can do. Through a USB microphone you can record:
Podcasts
Video voice-overs
Any form of chat, internet radio sounds
Hypnotherapy tapes
Interviews
Conferences
Other forms of meetings, and whatnot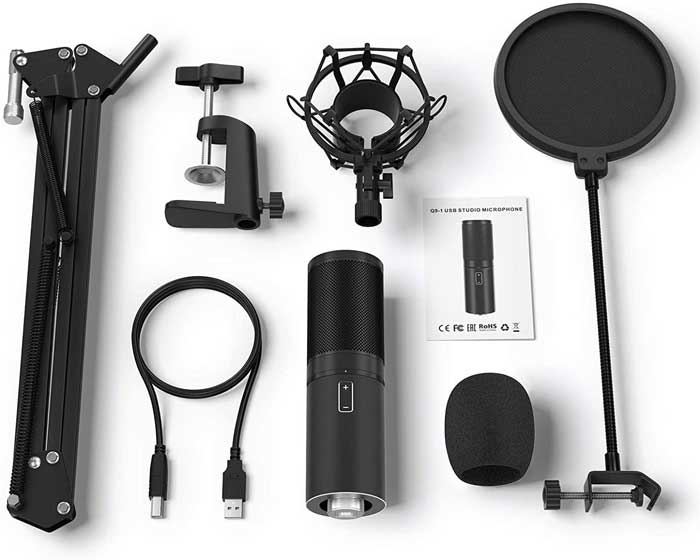 A USB microphone is especially suitable for those who want to create a recording with premium quality but do not have the budget for it. In this case, what most people believe is that they have to set up a home studio, to begin with, their recording, but the truth is, all they need is a USB mic. This is because a USB mic itself comes with majorly all the equipment one requires to start with the audio and screen recording process. And not just that, a USB mic is extremely portable, so you don't have to worry about the right space to fix it, you can easily carry it around with you.
Now you must be wondering about how a USB microphone works? Let's find out.
How Does a USB Microphone Work?
There's really not much to know about a USB mic. People might get lost while learning about the mic and how it works, but actually, it's very easy to operate it. All you need to know is the right method for it.
The USB microphone comes with a built-in interface, this way, you can plug it directly into your SB port. To get much better results, you can simply bypass your computer's sound card for recording that is already built-in. Plus, to make sure that signals are at the right level, it also has the necessary amplification required by the system.
And that was it, that's how you work with a USB microphone. Did it sound like something tough or complex? Of course, it didn't.
Making you aware of all this, we have something more for you. One of the most useful and reliable USB microphones that you can use while recording is Tonor, with 45DB audio and a corded electric power source. Let's have a look at some of its more features:
The microphone is very convenient to connect to. With its high portability, all you have to do is connect the USB device to the other device like a PC or Mac, and you are done, you won't be required to use any extra driver to set up the device.
The device comes with a large-diaphragm of 16 mm along with high-frequency sound.
It doesn't matter if you are a beginner, Tonor has a user-friendly design, with a convenient volume button along with a long press switch for turning the mic off or on.
Not just that, the microphone also has a sturdy all-metal stand for giving extra and relabel support to the device.

Well, this is not about the device but let's leave something for the brand too. Visit the official website of Tonor and you will get to know much more about it. I don't think there should be anything more to make a microphone worth buying or even trying for the first time. Latest price on Amazon is under $50
---
Share