10 Best Email Marketing Platforms to Try in 2023
Digital marketing has taken the entire world into its influence and undoubtedly one of the most strong pillars of a web marketing strategy is "Email Marketing" which is the core topic of today's discussion as well. Email marketing is the least expensive yet the highest profitable stratagem which helps you reach the maximum number of people without burning a hole in your pocket. And surviving as an online business is not conceivable without a digital strategy that is deprived of email marketing.
Email marketing begins with creating a mailing list of potential customers. Then, find a tool that can spread your message and engage with your audience. It can be also used to appeal subscriptions to your ongoing campaigns.
Email marketing combined with informative newsletters, and appealing landing pages can help marketers to achieve the engagement goals without costing you a whole lot of fortune. In today's competitive era, only a multi-channel approach can produce effective results in terms of web marketing and email marketing is the best fit.
Shocking Statistics of Email Marketing
When there are very few resources or you want the best outcomes from the money you are investing, email marketing is something you can rely upon. While talking about web marketing, we can say that email marketing acts as a valuable arsenal for businesses to reach out to customers, and form a connection with them.
When there are infinite other ways of promotion, does email marketing actually deserve the hype that it has acquired over the past few years? The answer is: YES.
If you want to dig deep into the arena of email marketing and comprehend it' advantages, the real-time stats would give you a clear picture. Will the numbers speak in favor of email marketing or not? Let's see:
1. Emails are Used Extensively
Statista's 2020 survey revealed that the number of active email users was 3.9 billion and it is estimated to reach 4.3 billion users in 2023. Hence, it is very clear that it's high time to invest in email marketing for fruitful results.
2. Billions of Emails are Shared Daily
An astounding amount of 293.6 billion emails were sent and received daily in the year 2019 (resource:Statista, 2020). And, it is likely to reach over 347.3 billion emails every day in 2022 (Statista, 2020). So, email marketing is blooming like a flower.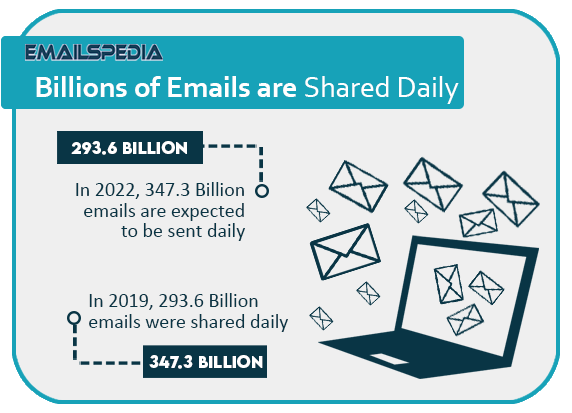 3. Emails Give you Highest Return on investment
The ROI (return on investment) ratio with email marketing is enormous due to its prevalent popularity and alluring benefits. Undoubtedly, a deliberate email strategy will help you make wealth. For the investment of $1 on email marketing, an average return of $42 (according to DMA, 2019) can be expected.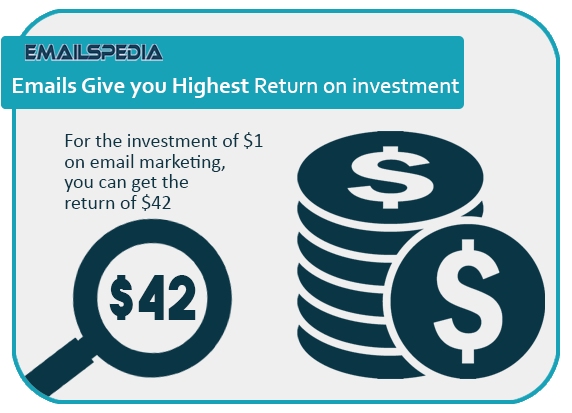 4. Emails are Best for Content Distribution
According to Content Marketing Institute, 2019, 87 percent of marketers use email marketing to share their message/data/content to the masses. And, this is why email is now considered to be the third most popular channel for content distribution, being social media with 91 percent on the top and the company website or blog with 89 percent at second place. For being one of the best content distribution channels, around 1/3 of marketers i.e. 32 percent are indulging in paid collaborations to use email databases of popular or relevant marketers, to promote their content.
5. Flourish your Business with Email Marketing
Email marketing has proved to be a major tool for retaining your customers and keeping them sticking to you, especially when you are running a small or midsize business. Emarsys in2018 has revealed that 81% of SMBs consider as well as use emails as their primary approach towards customer acquisition, and 80% use it for customer retention.
6. Give Personal Touch to Emails
A survey by Yes Lifecycle Marketing in 2019 found that previously the average email open rate was 20.81%. But with a little customization, the email open rate improves drastically. Emails that have personalized subject lines, manage to accelerate the open rate to 50%.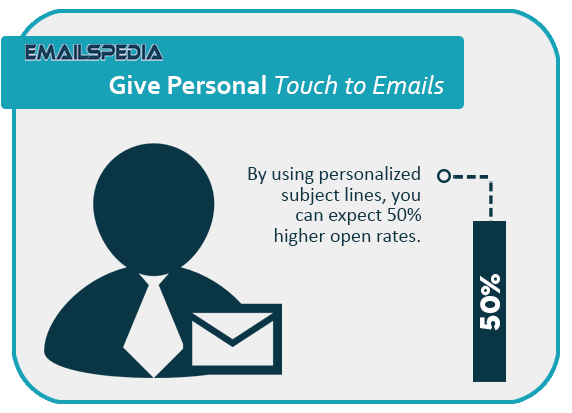 7. Never Underestimate Power of Abandoned cart emails
An abandoned cart follow-up email is sent to those who have added products to their cart but never made the purchase. So, if you have customers who have done a partial checkout, left the website without purchasing, or have a shopping cart with items in it, Shopify suggests you to work on your abandoned cart emails and recover your potential customers. Stats suggest that with 3 abandoned cart emails, you can make 69% more sales than a single follow-up email.
8. Make your Emails Interactive
Researchers have found creative email campaigns supported with images and visuals are likely to attract more customers and enhance the rate of conversion. Therefore, adding interactive content can increase the click rate up to 300%, suggested by (Martech Advisor's 2017 data). That's surprising yet true. So, next time when you start an email campaign, decorate it with sliders, collapsible menus, and GIFs. Furthermore, do not forget to optimize your emails for mobile devices.
Why Is Email Marketing Important?
If we look closely at the stats we mentioned above, one fact shines brightly that email marketing is one of the most effective practices to generate the best ROI for marketing channels. Email marketing is one of the veteran techniques that are still popular, as it is capable of generating ROI of 4200%—for every, which means that with strategic planning, a user can earn a whole lot of profit with limited investment.
With 4 billion active users, the email industry is a giant that has no end and is a sea of opportunities for marketers. From reaching more customers, leads and subscribers, increasing sales rate, to improving brand popularity, email marketing alone can do wonders without being exorbitant.
Another advantage of email marketing is its suitability for every industry. As long as you know your targeted audience, you can expect jaw-dropping results. Apart from the fact that it is highly profitable in terms of money, there are few other reasons why you should rely upon email marketing:
Trustworthiness: Emails have the power to convince visitors to come again and again to your website or brand. And, the rerunning visitors are likely to become your future customers.
Returning Viewers: The stats reveal that 97% of users don't come back and this is when email marketing comes to the scene. So, by following up with your visitors through emails, you can encourage users to revisit your website, as we discussed in the previous point.
Increased Revenue: Barilliance's report states that an average conversion rate for email marketing was 15.11% in the year 2020. In addition to that, customers coming through email marketing tend to make bigger purchases and give more profit.
What Is an Email Marketing Platform?
We have talked enough about the usefulness and effectiveness of the email platforms, you need to know how email marketing can be done. Email marketing can be done through software which we call email marketing platforms. They allow users to create and manage email marketing campaigns.
An email marketing software is a SaaS (Software as a Service) cloud-based tool that is designed to offer an email-communication platform. The communication methods can be several such as promotional emails, abandoned cart emails, newsletters, and recovery emails.
What to Expect From an Email Marketing Platforms
Email marketing platforms are meant to help marketers to automate emails and marketing campaigns. Also, these platforms are designed to create beautiful and attractive emails so that customers and subscribers can't resist but follow email and reach to you or your website. If you want to find an ideal email marketing platform, these six features are what you should look for:
1. User Interface
Email marketing software should make things sleek for you so that your time and efforts could be saved. And this can only be done with an easy-to-use interface and low-learning curve so that users can access all features without any difficulty.
One feature that can improve your holistic experience is the drag-and-drop email editor. Companies that have email designers, should look for platforms that support HTML email templates. But if you are planning a low-key campaign and don't have people to design emails, the email marketing service should provide a great assemblage of templates, so that you can customize your emails the way you want to promote your brand.
2. Segmentation
Email segmentation can be defined as dividing the email campaigns as per the particular groups of targeted audience. Campaigns can be directed to a specific audience depending upon their demographics, location, behavior, and more. Email marketing software is run on AI and machine learning and thus evaluating user behavior is easier for them. This is why they help you follow a real-time approach and precisely adjust your email campaigns while in motion.
3. Personalization
Segmentation and personalization complete each other as they rely on each other to make a campaign successful. So, if you want to personalize an email marketing campaign, the software with merge tags is a way to go. This will help you personalize the subject line for email copies while sending to audiences that differ in nature.
The advanced marketing tools include dynamic content so that you can create and send a specific segment of certain content in every single email. This is the best feature to look for in email marketing software.
4. Automation
Email marketing is a multifaceted arena that consists of repetitive and manual tasks. Therefore, an email marketing software must include automation features namely email scheduling, engagement tracking, delivery receipts, text analytics, role-based account access for the marketing team. Also, automation features should work for segmentation and de-segmentation to provide you the utmost convenience.
5. Testing
The next essential part of an email marketing software should be testing if you want to achieve maximum ROI. Having A/B testing combined with split testing can offer the ultimate results by testing different marketing elements against each other and inform you about the result of each. This way, it helps you create the best fusion of email copies, subject lines, email design, calls to action, and format.
6. Reports and Analytics
Email marketing is all about experimenting, but experimenting only helps when you get the real-time reports for your actions. Both these factors help you meet the marketing goals but tracking the information is quite time-spending therefore we all need a marketing platform that offers you reporting and analytics to get the accurate data of open rates, click-through rates, bounce rates, and more.
How to Find the Best Email Marketing Software Platform?
As there are infinite options available, it becomes very daunting to find the ideal email platform. To find the right email marketing tool, you can follow a simple three-step technique. This technique mainly focuses upon the needs of your brands and the goals you have in your mind.
Here is three steps framework that you have to follow:
1. Establish your Goals
Email marketing is a larger sphere but it revolves around marketing success. Therefore, find a tool that helps you focus on your goals. The major goals that a marketer aims:
Better open rates
More click rates
Powerful automation
Improving site traffic
Wide personalization options
Attract leads
Higher conversion of leads
In-depth revenue and analytics.
There are various other factors that drive a good email campaign such as creative content and positioning, but without effective email marketing software, there is no way to achieve your goals.
2. Equalize features and goals
When you know your goals, all you need is to match your email marketing tool's features with your goals. So, gather all your data first and then develop actionable intelligence. First, create a spreadsheet of your needs and add all tools and their features to it, now match them one by one and pick the tool that matches your needs the most.
3. Look for Pricing
Pricing plans cannot be overlooked while you are on the hunt for a perfect email marketing tool. Only go for tools that offer maximum features within your budget.
Pricing
You get two options monthly and annually. So, it is suggested to try a monthly pack or a trial version of different tools, before you make the decision of annual purchase.
Number of Subscribers
Usually, pricing plans depend upon the subscribers you want to target. It is quite obvious that you have to pay more for a higher subscriber count. So, look for software that offers you all the necessary features even when you opt for smaller plans.
List of Top 10 Email Marketing Software & Platforms
We know finding a perfect email marketing service/tool/platform can be daunting. Therefore, to help you narrow down your search, we have tested 50 different email marketing platforms and hand-picked the 10 best email marketing software for you. Read their overview, features, and pricing, and get everything in a read of seconds.
If you are hunting for a platform that can put all the communication apps in one basket, such as Facebook, Chat, CRM, Emails, and others, your search will end with Sendinblue. This platform allows users to manage their business communication and meetings. Sendinblue has features that help you focus on the crucial tasks and place others in order. Its email builder feature turns your standard email interface into a professional-looking email. Other features such as chat, SMS marketing, Inbox, CRM and automation, let you create effective email campaigns and Facebook ads can be easily managed on this platform.
Highlighting Features:
Shareable Inbox
60 plus Email templates
Built-in CRM.
Built-in SMS and Chat.
Segmentation flexibility
Facebook Ads
Pricing:
For up to 300 emails on a daily basis, Sendinblue is free for unlimited contacts. However, for up to 10,000 emails, you have to pay $25 per month.
Omnisend is another applauded email marketing platform known for exclusive features and serving eCommerce brands. This platform allows you to increase sales with automated emails, segmentation, and SMS. Moreover, features like cart abandonment, welcome series, transactional emails, come in-built that boost the buyer's engagement.
Highlighting Features:
A fully-fledged library loaded with stunning templates that simplify the process of creating professional emails without coding. This feature will give flexibility to the users to modify their brands, products, and other marketing things.
Pre-built Automations Library
Segmented targeting for campaigns
Pop-ups and forms for generating leads
Tracking of sales and reports
Pricing:
You can use Omni Send free of cost, for up to 15000 emails per month and 2000 per day. Omnisend plans start from $16 per month. SMS, although higher plans offer SMS credits are exclusive.
EmailOctopus is the third-best email marketing platform that makes business communication like a call-walk with its intuitive features and services. You can simply drop and drag the templates to the editor alternatively allowing making from the beginning. It has a landing page builder that boosts the leads and email list as well. It is compatible with platforms like Shopify, Gravity Forms, and WordPress.
Highlighting Features:
Create attractive landing pages to capture the users
Build own design or edit the existing one
Control email automation to deliver campaigns.
Pricing:
EmailOctopus provides a free plan for up to 2,500 users and 10,000 emails per month. Premium plans start from $20 per month.
ConverKit is the best platform for both worlds of businesses eCommerce and creators. It has a smooth and plain interface that enhances the user experience, additionally, built-in forms, landing pages customization, tagging, segmentation, personalization, automation, and more features make it worth using. This platform can be easily integrated with major editors and creators like Woocommerce, PayPal, Stripe, and WordPress
Highlighting Features:
Built-in tool for a creator for selling
Create personalized email marketing campaigns.
Build professional landing pages and sign-up forms.
Pricing:
It has a free plan for 1000 subscribers above that, premium plan starts with $29 per month
We all are familiar with GetResponse, it is the most demanding email marketing platform used globally by different industries. It has amazing features like email automation, email templates, segmentation, and personalization. Moreover, auto funnel features give a pre-made marketing funnel for email campaigns.
Highlighting Features:
Autoresponders that send welcome emails, follow-ups, educational series, and nurture leads automatically.
One-click integration to start the powerful retargeting campaigns.
Website visitor tracking
Build landing pages
Create paid ads for Facebook, Instagram, and Google.
Pricing:
A 30-day free trial is available and for further you have to pay $15 per month.
Aweber is one of the oldest email marketing software that is an apt choice for users with a limited budget. Apart from being affordable, it is highly reliable. The major highlight of AWeber is the simple structure of pricing. Furthermore, people with a list of 500 subscribers or less, can make the best use of this tool.
With various other email marketing software, a huge difference in the range of features can be seen for different pricing options, but AWeber provides all features for every plan. Different plans are designed for different sizes of contact-list and it starts from 20 contacts to 20,000 contacts. But all plans consist of the same features, it is just the number of contacts that make a difference in the price you pay.
Highlighting features:
more than 700 in-built templates
Drag-and-drop builder option
Email reports and analytics
A/b testing
Pre-built sign-up forms
Automation included
segmentation as per subscribers
Integration of third-parties
Pricing:
Starts from $19 per month for 500 subscribers and go up to $149 per month for 25,000 Subscribers
Drip is new in the game, and majorly designed with CRM that makes it perfect for e-commerce businesses. It is designed to empower the smaller and independent stores with the same robust automation and segmentation tools that larger e-commerce stores use.
Therefore, Drip is an ideal choice for growing buds. From segmenting the new visitors to refining retiring customers, Drip does it all. Also, it keeps you notified about users who abandoned their carts so that you target them in your email campaign.
Highlighting features:
It comes with a CRM to learn more about targeted and personalized email marketing campaigns.
Great personalization options
Powerful segmentation tool
Detailed analytics
It offers you contact through Email as well as SMS.
Pricing:
Drip allows a free trial to its users and the plans start from $19/month.
Mailchimp is a most sought-after email marketing tool that is ideal for novices and startups. From email automation, templates, A/B testing, data segmentation, lead capture forms, personalization to integration with CRMs, Mailchimp is loaded with every useful feature that helps you grow your business through email marketing.
When this first started, it was only known as an email-focused solution, but by the time it opened its wings. You can do much more than just email marketing such as building a new website, buying a domain, creating paid ads, establishing landing pages, forming social media posts, and sending printed postcards to different locations of the world.
Highlighting features:
Very predictive insights for better-personalized marketing.
you can create personalized customer journeys with conditional logic and branching points.
A/B testing
Website builder
Pricing:
You can use the trial fee of up to 2,000 contacts and paid plans start at $9.99/month.
ActiveCampaign is another email marketing tool that focuses on small marketing teams and novice creators. Being an ideal email marketing tool, it is ladened with all features that one desires such as automation, autoresponders, triggered emails, email funnels, segmentation, A/B testing, and scheduling. Also, it offers various other powerful features such as conditional content, managed deliverability, tracking, and multi-user editing.
With Geotracking, you get where your most subscribers are located, so that you can create campaigns accordingly. Also, you get features like managed deliverability and multi-user editing.
Highlighting features:
Easy to make customization to send targeted emails.
Personalize your emails according to contact information.
A/B testing for better conversion.
Supports Split testing
Landing page builder
Pricing:
Pricing starts at $9 per month.
Keep is more than an email marketing tool; it is more of a customer relationship management service. But, it includes all important features that one email marketing tool should have, such as automation and workflows, templates for emails, quotes, invoices, and proposals. This tool is mainly known for its automation and CRM.
With Keep, you can keep your customers sticking to you. This tool is rich in an intuitive interface and easy to integrate with other business tools and apps for a better ROI, especially for small eCommerce brands.
Highlighting Features:
Includes advanced marketing tools with sales automation, customization campaigns, and app integration.
Automatically track the new leads, trigger personalized messages, and assign tasks.
Manage and sync contacts from Outlook and Gmail.
Real-time revenue reports and analytics.
Pricing:
Keep provides a free trial and the paid plans start at $79/month.
Share