How to Plan Your Organization's Talent Management Strategy?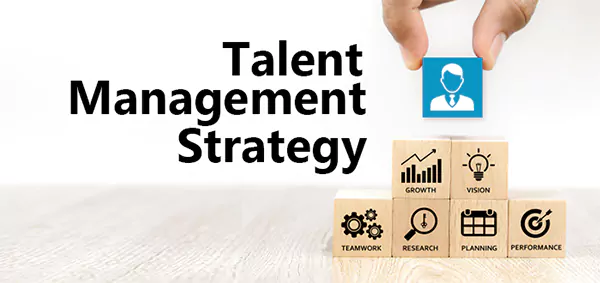 The concept of talent management wasn't explained properly until 1997 and even after that, the term has evolved significantly and is still developing and so are the practices associated with it. In a nutshell, talent management revolves around hiring talented and skilled people and nurturing them into life-long employees. However, the real catch is in the details and that is where strategy comes into play.
Talent Management Strategy aims at catering to the specific needs and trends, thus changing continuously over the years. In this hyper-change environment, it has become an integral part that leads to the evolution of the work-workplace-worker equation. Every action or step included in strategic talent management must intend to take the company forward and contribute to its enhanced growth as a unified brand. In its absence, the results are ineffective and almost the same where neither HR professionals do not play any role in the organization nor talent management is of no importance.
As companies divert their attention toward talent management strategies and plans, senior managers and HR teams also place a high premium on employees who together create a positive vibe to a business and embrace its values which further enhances its culture. Soon, employee's growth and development gain attention and become a primary mission that the company stands for. However, the most complicated part is to get started with the right framework to formulate a strategy. Hence, enters talent management software as a constant partner to HR managers adding secret ingredients to make it successful and helping HR create a revolutionary strategy.
Thanks to this powerful tool that some of the biggest companies, such as Google and Hewlett Packard have attracted top candidates and transformed the industry.
Do you wish to achieve the same? Then this article will walk you through the different aspects of the talent management system, planning, and more so you can develop a better and value-driven talent management strategy:
What Is Talent Management?
Before we start with a talent management strategy, it is important to get familiar with talent management and its scope. It is defined as an organized and strategic process of selecting the right people on board, assisting them to grow professionally, and retain them for a long. It consists of various factors and aspects, including:
Applicant tracking
Recruiting and onboarding
Performance management
Engaging employees
Learning and development
Compensation management
Succession planning
By using all the above-mentioned points to the best advantage of a company, talent management provides a competitive edge. Moreover, it also identifies talent gaps and open positions, sources for suitable applicants, help them grow within the organization, and motivates them to attain long-term business goals.
Its definition highlights its overarching nature- how it covers all the functions of human resources while ensuring that the organization achieves its objectives effectively. Talent management is an integral part of HRIS software for small businesses and is used as an umbrella term for strings of elements and sub-processes, which include employee onboarding, performance, and workforce management, etc., that work together to contribute to the overall success of a company. It also emphasizes that productive and engaged employees make the business profitable and includes a plan to:
Determine the gap between skills and other job resources
Optimize time to productivity
Train employees for further development
Engage and retain them
Developing an Effective Talent Management Strategy
By now, you have clearly realized the importance of putting the right talent management strategy in place. However, the question is how to create a well-defined and efficient strategy? Here is a step-by-step guide to ensure good talent management practices:
Set Your Strategic Priorities
This is a simple and basic rule but most often it is ignored. Kick start your talent management strategy journey by identifying your organizational goals and priorities. Make sure that your company's values, objectives, and where you intend to head are clear in your mind. Of course, these factors are not decided by one person but set by the board of directors and stakeholders, and also use a business balanced scorecard that defines company-wide KPIs. We all know that one cannot be the best at everything and a business cannot attain all the goals at once. On the contrary, long-term targets are divided into short-term goals, and priorities are set based on trends and demands.
This will provide you with a roadmap and help you make better decisions as you stick to your mission. Also, consider the brand vision to create a team of the right people. Once you are sure of your strategic priorities and business goals, you can leverage the true potential of a talent management system as well. It will focus on key areas and functions of HR.
Make Talent a Pillar of Strategy
While deploying a talent management strategy, HR managers may measure performance and potential in numbers, they should not neglect the human element. The focus should also be on the talent that creates business value. Therefore, rather than treating it as an afterthought, it should be the pillar of the entire strategy so that organizations may acquire top talent, develop them, and retain them. Employers must view goals as a measurement of human assets and then develop a plan to motivate and support people with an effective infrastructure.
By developing a TMS that also stresses mobility, you consider talent aspirations while making business decisions. Also, some jobs and projects may require more team members than you initially expected. Analyze your choices and the number of people you need, including new rules that will be created during the process. This re-evaluation will allow you to prepare for the future and make informed decisions. Yes, no one person will be doing this alone but will be a collaborative effort of department managers and team members.
Align Goals with Strategies
Now, that you know your goals and the importance of human assets, it's time to align these priorities with your talent management strategy. Isn't it obvious? If your plan is not in sync with goals, then all your efforts are in vain. So, the next step is to translate your strategic priorities into a talent management plan or practice. Compare the current position of your company and where it wants to be in the coming five or ten years to identify the gap in both these factors and address it immediately. Also, do not forget to consider the risk of not bridging the gap.
Let's understand this with a few simple examples:
Your company aims at attaining the #1 rank in the industry for employee experience and customer satisfaction. So, you will identify the current position, steps you need to take to improve the ratings, and then fill the gap. The risk of not improving the rank may result in a drop in market share and employee retention rate.
A tobacco company or oil and gas company may start hiring employees to work on new projects that are involved in making the world smoke-free to turn their reputation around. By engaging in such activities, they directly enhance employer branding and employee value proposition which will affect key decisions of TMS.
A consulting company struggling with a major fall down in traditional consulting services may want to shift the attention to training consultants. They want to hone their skills based on current trends and technologies and make a change in their competencies, rewarding and promoting them on their capabilities.
Anticipate Future Hurdles
No one can predict the future and be accurate about it but we can at least be prepared to face unforeseen challenges. Every strategy and plan tends to face problems and talent management strategy is no exception to it. It comes with its set of challenges and obstacles that you should anticipate on time to nip it in the bud. However, identifying the future stumbling blocks in advance will help you create an alternate plan, and trust us, you will be doing yourself a big favor. You can adjust and adapt the strategy conveniently and save yourself a headache.
So, if the company has to modify a benefits package to attract a certain group of people or go beyond its geographical area in case of a limited pool of talent, then having a plan B, C or D will enable the employers to make the shift smoothly. Also, suppose managers prefer hiring new talent rather than promoting from within to instigate a culture shift. An organization can address the problem instantly rather than allowing it to fester and affect the entire workforce. This is probably the best and most effective outcome of deploying TMS.
Invest in Existing Employees
Before you hire from outside or use external sources, give a glance at the existing employees. Talent management strategy demands an internal shift in management and development, and you must see every employee as a long-term investment so you don't have to incur an additional cost every time a vacancy emerges. Hence, internal hiring or promotion is a great solution to save money, effort, and time. The internal hiring also wins you the executive buy-in for a successful program and also external candidates expect 18-20% more salary.
This is not it. This can also save you millions in large companies which is surely a great deal. Also, you already trust these people, are familiar with their work, and can count on their experience. You know that they fit in your company and are comfortable with the company culture. So, do not dismiss this option right away, take a moment to consider it and it may be the most suitable choice. Moreover, they can be your best source to find new talents. According to a report, referred candidates are 55% faster to hire than sourcing from various career sites and job boards.
Ensure Successful Implementation
The final step is to implement the talent management strategy and execute it effectively. Of course, deploying it completely may take 3-5 years but you need to follow a few steps gradually to finally reach the target. You must put a few systems in place, which include:
Workflows:
Design or redesign your workflow based on the talent management practices that you adopt. Let's say, you plan to develop analytical skills for HR managers and professionals, then you might have to implement a new set of competencies to evaluate the performance of your HR department. You can also promote digital transformation across the company by adding digital skills to pre-selection assessment.
Software Solutions:
Do not ignore talent management software and other systems while executing the strategy as it can support the implementation and make it hassle-free. Start by listing all the software that the company is using and that can be used in the process. See how important they are or if they need any changes to help in the talent management practices.
Training:
As you are deploying new strategies and integrating advanced software, your employees have to be trained to adapt to the change easily. Therefore, training is considered crucial for talent management, especially in this digital age where company-wide transformation has become common. Educate people and develop their skills through organized programs so your strategy can make the impact that it was supposed to.
Final Thoughts
Gone are the days when talent management was just about managing employees to enhance their performance. Now, it has become a much bigger concept, covering different aspects of HR functions, employee experience, and retention. No matter whether you are a small company or a large enterprise, talent management strategy is vital for the healthy functioning of a business.
With the right practice in place, you build an efficient workforce that delivers exceptional results. So, follow these tips and they will help you achieve strategic goals.
Author's Bio: Alicia works with the editorial team of Accomplish, a trusted platform for HCM solutions. Exploring the new technologies, reading about them, and writing her views have always been her passion
Share