Best Free photo Restoration Service online
If you have some old photos then maybe you have noticed that those photos would not look as sharp as they were earlier. As time passes photos degrade and fade. To fix this problem photo restoration is done which can reduce or reverse the damaging effects.
Photo Restoration is a technique used to remove visible damages and effects of aging from the digital versions of a physical photograph. Physical photos may become damaged due to dirt or scratches after the photo becomes too old. Restoration is also done to remove noise, motion blur, or misfocus problems. Physical photo restoration is done by removing the faults from the picture manually by using paints. You can also do photo restoration online by using a photo restoration website, software, or application.
Also Read: Best 5 Screen Recording Software
Now anyone can do photo restoration because of editing software like Adobe photoshop. There are many online working photo Restoration services that use digital Restoration tools to get a digital version of a photo with better quality and repairment of damage. After reading this article you will be able to know how to use the free online photo restoration tools of Imgkits
Imgkits: The Easiest AI Image Processing Tools Free Online
Imgkits is a free online photo editing service that provides many AI image processing tools to the public. Imgkits work best to perform photo restoration perfectly and free of cost. Photo restoration tools of Imgkits are better and faster as compared to other online services.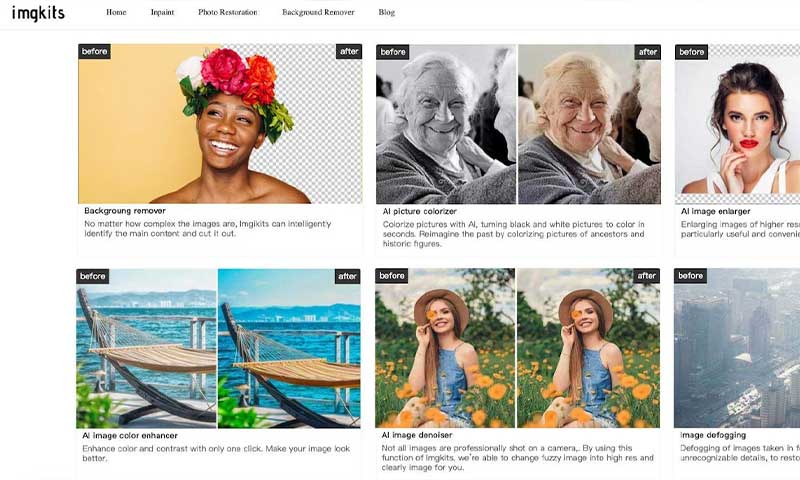 By using image restoration tools of imgkits you can convert a black and white photo into a colorful photo and also paint an old photo. It also works to remove damaged scratches or any other unwanted marks from the photos. Imgkits is the best choice when you want to save your old photos for the future in digital form.
All the tools on imgkits websites are segregated into different sections that facilitate the users to perform a specific task within a short time. Imgkits work so intelligently that it could evaluate the damaged areas of the photo and amend them according to your requirement. Another advantage of using Imgkits tools is that you can use all the tools without any photo editing experience.
Sub Features of photo restoration
You will find the following sub-features or sub-functions under the photo restore ration umbrella:
AI Picture Colorizer
This tool is best for users who have a lot of black and white photos from old age and they want to get fresh versions of these photos in colors. The pictures taken in ancient times are mostly black and white or they have low colors according to the quality of the camera. You can make your ancestors happy by enhancing the colors or by colorizing old black and white pictures by using the AI picture Colorizer feature.
Inpaint Old Photos
Time has a great effect on photos as colors are mostly faded, scratches are formed over time. The inPaint old photos feature enables you to remove any damage to your photos including scratches and make the photos the new ones. You just have to upload your photo and imgkits will automatically find out the damage and repair it within seconds.
AI Image Enlarger
This feature is used when you want to enlarge a picture without losing the pixel quality. Mostly when pictures are enlarged their pixels are distorted but Imgkits enlarges the pictures and preserves the quality of the photo.
AI Image Defogging and Color Enhancer
By using a defogging and color enhancer tool of imgkits you can make clear pictures taken in the foggy time and improve the color and contrasting effect of your images so they look more attractive.
Procedure for Photo Restoration
You can use the given steps to use any photo restoration sub-feature easily.
Go to the official website of imgkits "Imgkits.com" by using the internet browser of your computer or mobile phone. Now select the photo restoration option from the top of the website page.
On the photo, the restoration tab approaches the required tool which you want to use. You will find the upload image button under the heading of each function.
After uploading the picture, the website will work automatically and give the result in a few seconds on your screen.
You'll find a download button on the top right side of the screen and then that resulting picture will be saved on your device.
Tools of Imgkits Other Than Photo Restoration
On the imgkits website tools are divided into different sections photo restoration is one of the sections. Other sections are inpaint and background remover. Under the Inpaint section, you can remove any unwanted object from your photos without disturbing the original quality of the picture.
You can remove unwanted text including watermarks, logos, or stamps from the picture within a minute. If you are a tourist then you must want to find a way to remove distractions, even including other people from your best shots. By using remove objects from the photo tool of imgkits you can easily remove unwanted people from your photos.
You can easily repair your old photos by using the inpaint old photos tool. The most interesting thing for ladies is that they can hide all their skin defects including wrinkles, pimples, blemishes by using the improve your skin from the inPaint section.
The background remover section of imgkits enables its user to customize the background of the photos. You can remove the background of the photo and just keep the main part of the picture by using the Background remover tool. The Image cut-out tool enables you to identify the person in the picture and cut it out. You can change the background color or the background image by using the change background tool. Many commercial users use the transparent background tool of the background section to make transparent backgrounds of pictures free.
Conclusion
In the above article, all the detailed description of imgkits and photo restoration sub-features has been explained in detail. Anyone can perform photo restoration on Imgkits easily even without professional knowledge and skills.
Photo restoration is the best thing, especially when you want to make your old photos into a fresh ones. Imgkits take hardly one minute to perform any task but the results are shocking and mesmerizing.
Using the photo restoration tools you can make black and white photos colorful, remove the fogging effect from the photos, enlarge pictures without losing the pixel quality and remove any unwanted things from photos including people and objects. Photo Restoration also enables you to inPaint your old photos by removing scratches and damages easily.
Share