Best 9 Solutions to Resolve Verizon Hotspot's Internet Issues
Having a Verizon internet connection offers various perks and the one major advantage of Verizon network service is its "Hotspot Wi-Fi Connection" that allows establishing a connection on multiple devices such as Smartphones, tablets, and even laptops.
This way, Verizon is providing an all-in-one solution to users who want decent network connectivity for seamless browsing and professional chores.
But when the Verizon hotspot stops working, you might end up pulling your hair and searching vigorously for solutions to fix it. So, here we are offering everything that you need to conquer the Verizon hotspot troubles and re-activate your Verizon internet hotspot.
Why Verizon is the Most Preferred Verizon Mobile Data Service
Being the top internet service provider in the United States, Verizon offers 5G coverage throughout the globe. Verizon plans offer full coverage that can be used for Smartphones, Android/iPhone, Tablets, Laptops-Windows/iOS, and more.
As per the survey done by Nielsen in 2016, 18 to 24-year-olds are driving data usage; for apps like TikTok, Netflix, and more, Verizon now supplies a 5G data network along with several perks that can be accessed on different web platforms.
The major highlights of Verizon Data services are:
Ultra-Wideband has covered 2700+ cities throughout the world, on 5G devices.
Every plan consists of Disney Bundle, Hulu and ESPN.
You get an unlimited data limit for the Selected Plans.
It is ideal for working at home, business, personal, or office work.
What are the Reasons for "Verizon Hotspot Not Working"?
When your Verizon hotspot stops responding, there are multiple causes that you need to be aware of. Here we are stating some common reasons that can cause hotspot connection issues with Verizon:
Issues with your mobile carrier.
Problems with a mobile data connection.
There is an issue with Wi-Fi.
Device connectivity issues.
In case you are struggling with Verizon hotspot issues and desperately seeking aid to resume the hotspot connectivity while using the Verizon network security key, we have a guide consisting of 9 different effective solutions. Stick with us till the end for finding the right troubleshooting technique for Verizon hotspot difficulties.
Best Solutions to fix "Verizon Mobile Hotspot Not Working" Issue
Check below for some simple yet effective ways that will work for all devices when Verizon device's hotspot is not working.
Solution 1: Restart your Device
The "Not being able to use Verizon hotspot" problem can be resolved with a simple restarting. All Apple and Android devices consist of hotspot features and restarting will fix most of the related errors as it can flush the memory, fix memory leaks, correct software glitches, and most importantly solve the internet issues and hotspot errors.
Solution 2: Reach the Verizon Help Center
First thing is to call the Verizon help center by dialing 1-888-303-0868 and get assistance regarding the use and setup of Verizon Wireless hotspot data on your iPhone.
Solution 3: Turn-on Wi-Fi Hotspot feature
"Verizon hotspot is not working" can be due to the disabled Hotspot feature on your iPhone, Android, or Verizon devices. Thus, access your device's settings and find the Hotspot feature to turn it on.
Solution 4: Check the Hotspot Availability on your iPhone or Smartphone
To check the Hotspot availability on your iOS or Android device, follow these steps:
Access "Settings" of your phone on which you want to access the Hotspot. In other words, if you are not able to connect to the Verizon hotspot, your Wi-Fi connection might be turned off.
From "Settings", search for Wi-Fi options using the search bar available on the top.
Toggle the bar for the "Wi-Fi" and the hotspots available near you will appear on your phone screen.
Now, select the "Verizon hotspot" and access the data network.
Solution 5: Check Mobile's Hotspot availability and Tethering
To check your Verizon mobile's hotspot availability and Tethering, you need to first visit the Settings>>Wi-Fi/Wireless Connection>>Bluetooth Tethering.
Let's check out a few points that will help you enable the Verizon mobile's hotspot availability and tethering without any disruption.
Make sure that your Verizon data plan is working fine with optimum speed, or you need to troubleshoot your carrier. It is important to validate your correct data plan if you are using a data plan with the Verizon service provider.
A current change in your carrier service or Internet connection can cause you to be setting up the Verizon hotspot. If the Verizon hotspot has stopped working just after this change, you should consider switching back to the previous carrier or data provider.
Make sure that your mobile data is active on your device to fix the Verizon hotspot not working issue.
The last thing that can help you is rebooting and completing a factory reset of your device, it will reset your phone to its original configuration and the changes that might be hindering the Verizon hotspot will get eliminated.
Solution 6: Check for Updates
If there is an update available for your hotspot app, you need to install it from the App Store or Play Store. Doing so will improve your Network operator and fix the issues with your Verizon hotspot.
Solution 7: Fix the Payment Issues
When using Verizon hotspot on iPhone, check for plans and due payments, as it can be one reason for non-functionality. Here is how to check for due payments:
Step 1: Open the Settings menu on your iPhone.
Step 2: Click on Personal Hotspot.
Step 3: From the "Set up Personal HotSpot" menu, go to My Verizon app, My Verizon online, or contact us to purchase the necessary plan/add-on change.
Solution 8: Contact your Network Operator
Your last resort to fix hotspot issues should be contacting your Network operator i.e. Verizon and raising a complaint through an online platform.
Step 1: Open Verizon Troubleshooting assistance. The webpage will look like this.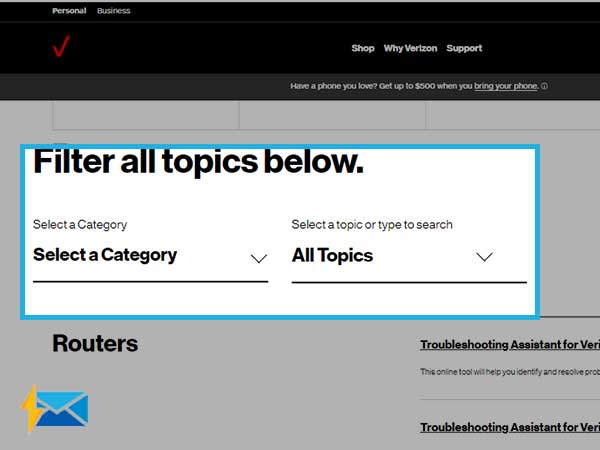 Step 2: Now, from the drop-down menu, select the service you are using. Here you need to select "5G home".
Step 3: Choose your mobile operator from the available options.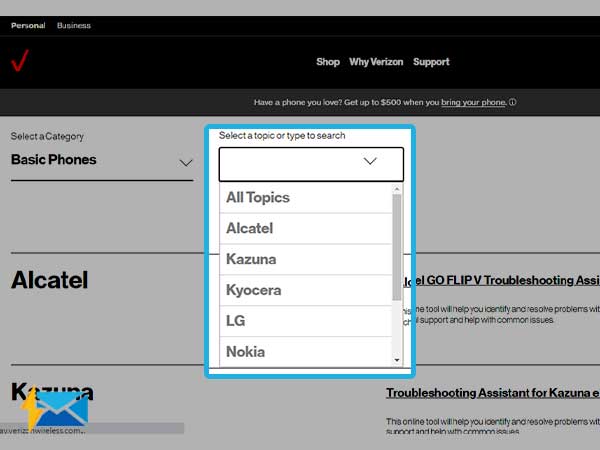 Step 4: Now, after selecting your mobile operator, choose your Issue from the following section:
Step 5: To continue, you need to provide your Verizon login ID, password, or Verizon network security key to get into your Verizon account. Or click on "Continue" to carry on.
Step 6: Once you are done entering credentials, you will be signed in to your Verizon account. Now, check for Verizon hotspot issues you are encountering by following the on-screen prompts.
Solution 9: Set up your Phone after Fixing Hotspot Errors
After you are done trying all the troubleshooting methods, you now need to set up your Verizon Hotspot in the right manner, using the methods listed below.
Using iPhone
Open your iPhone's Settings and click on Cellular.
Now, toggle the slider near the "cellular data" option.
Go to "Personal Hotspot" and then you need to toggle the switch for "Allow Others".
Then, you can set a new password for your Verizon hotspot Wi-Fi to delete all the devices it was previously connected to. And, only connect to devices you need to network on.
Using Android
Open Settings on your Android device.
Select the "Network and Internet" option.
Select "Hotspot & tethering" and then go to "Wi-Fi Hotspot"
Now, enable "Bluetooth Tethering" by clicking on the button.
You can now "customize your Verizon hotspot Wi-Fi" password.
This was all about setting up Verizon Hotspot on iPhone and Android, but now we must check the steps to set up Verizon hotspot on laptop when Verizon hotspot isn't working on laptop.
Here is How To Connect Verizon Hotspot On Your Laptop
Select delete the wireless Internet Services and setup on your laptop.
Look out for the same network and Re-enter the password for the wireless network.
Your wireless connection will be refreshed and re-established.
Alternatively, you can try these steps:
Click on Start>>Settings>>Network and Internet.
Select the "Mobile Hotspot" option.
Tap on Edit
You now need to edit this information and click Save:

Network Name
Network Password
You can consider contacting Verizon support for the laptop if the connection is still unavailable.
Frequently Asked Questions
Q1: Does Verizon charge money for the Verizon hotspot?
A1: Yes, Verizon charges you as per the data plan you have chosen to avail of Verizon internet services. There is a free plan that consists of some limitations.
Q2: Can you download Mobile Hotspot?
A2: No, mobile hotspots come in-built for every device such as Android, iPhone, and laptop. You can find your hotspot feature from the Settings menu. It is mainly termed as Personal Hotspot on iOS, Internet Sharing on Windows, and Portable Wi-Fi hotspot on Google Nexus devices.
Q3: Which Device can use Verizon internet hotspot?
A3: All Smartphones including iOS and Android can access and use Verizon internet services.
Q4: How many devices can be connected to the Verizon hotspot at a time?
A4: You can connect multiple devices at a time using a Verizon hotspot and use internet services on your different devices.
Share