TWC Roadrunner Email Login Help: Read the Guide Carefully
Roadrunner is an email service platform offered by Time Warner Cable. It was first started as an East coast-based email program, but due to the popularity of Time Warner, Roadrunner started gaining name and fame and it is now used in different corners of the world. "Roadrunner emails" is an early version of the TWC email service program, but in 2012, it was rebranded and became TWC webmail.
Later in the year 2016, TWC was overtaken by Charter communications, and Roadrunner or TWC email service was again re-branded as Spectrum Net. Nowadays, one needs to use Spectrum login pages, to access the Roadrunner email account.
If you are confused amidst all the platforms that were used earlier to access the Roadrunner email, we are here to make things clear to you.
Let's understand the process of sign-in to TWC Roadrunner email services.
How to Login to Roadrunner/TWC Email Inbox?
Roadrunner was previously accessible through several URLs including www.RR.com, mail.TWC.com, webmail.roadrunner.com, and myservices.brighthouse.com/login/, but none of them now works.
Therefore, to login the RR email account, you should use the correct login page i.e.
https://www.spectrum.net/login/
Or
https://webmail.spectrum.net/mail/auth/
Without the "https://" prefix, the login links won't work, so make sure you add the right prefix if the page isn't opening. It is advisable to bookmark the login page with a prefix, save login URL: https://www.spectrum.net/login/
After opening the page, you need to have the username and password with you. Then, just follow the Roadrunner login steps given below.
Main Steps to Login to Roadrunner Email Account
To log-in to Roadrunner/TWC Email, go to the https://webmail.spectrum.net/mail/auth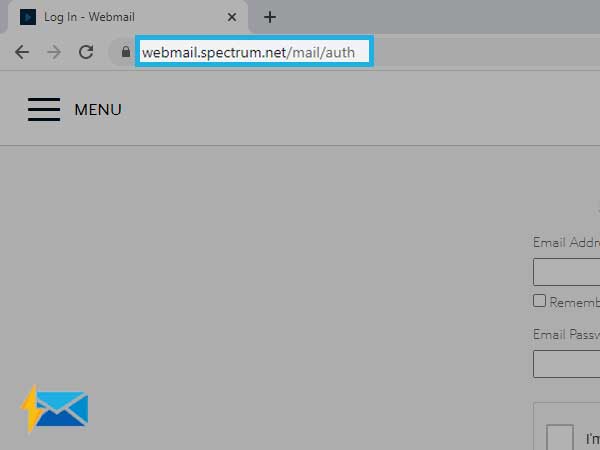 Next, you need to provide your RR "Email Address" in the respective field.
Select the "Remember Password" option if you need to keep the password saved for future logins. Do not use this option if you are using a public device.
Enter the Email Password for your email account in the next field.
You need to enter the CAPTCHA, to prove you are human and not a bot.
Then, you will be successfully logged in to your Roadrunner account.
Facing Roadrunner Login Issues? Here are The Troubleshooting Tips
On some occasions, it may become very difficult to sign in to the Roadrunner email account. But these issues are temporary and easy to fix if you follow certain recovery steps. To start with troubleshooting, you need to find the actual cause and then fix the obstacle from the root. Some of the most effective recovery tips are as follows:
The first thing you need to start with the right internet and Wi-Fi connection. For this, you need to check the internet connection and see if other sites are opening or working.
Make sure you are not using the older URLs such as RR.com and mail.TWC.com. For this, ensure that you are using the current TWC roadrunner login page at https://www.spectrum.net/login/.
Check if you are entering the correct username and password. The combination of credentials is very important for a successful sign-in.
Thoroughly check the spellings, uppercase, and lowercase letters and placement of special characters. Also, ensure that the CAPS LOCK is not on if it is not required. If you are copy-pasting the password or username from somewhere else, check properly before hitting the send button.
If you have forgotten the Roadrunner Password, make sure you recover it first-hand before signing-in. You need to reset it from the "Forgot Email Password" option available on the login page.
Check the Spectrum server and see of the Spectrum Email server is working or not by visiting: http://www.isitdownrightnow.com/spectrum.net.html
You can also try switching the web browser and choose between Chrome and Firefox. Also, you can try opening in 'incognito' or private mode.
Clearing the cookies and cache and restarting the browser can help too.
You can consider disabling the add-ons and other security programs such as Windows Firewall and anti-virus.
Check the Roadrunner email settings and ensure that you are entering the correct mail server settings that are given below:
IMAP: Use port 993
POP: Use port 995
Incoming mail server- mail.twc.com
Outgoing mail server- mail.twc.com
For the SMTP settings: Use port 587
For Roadrunner email client settings: Use port1
Also Read: Roadrunner Email Not Working
Share