Migrate Data Between Cloud Services with MultCloud
Preface
Cloud storage services are an important part of people's daily digital activities. Most people are utilizing at least one cloud storage solution, such as Google Drive, OneDrive, or Dropbox. Each of these cloud services has its own strengths and weaknesses. And there're circumstances where you need to use them at the same time. In this situation, you will need to move files between Google Drive accounts, or transfer files from Google Drive to OneDrive, Dropbox, and so on.
Once users own multiple cloud services at the same time, another problem that many people may encounter is how to manage multiple cloud accounts and services easily. Imagine visiting different official websites of different clouds manually, the frequent accounts shifting would drive you crazy.
MultCloud Review
There are many practical tools that can help you solve these problems easily. One such service is MultCloud, which offers users an integrated platform to manage multiple cloud storage solutions and can migrate files from one cloud to another directly and seamlessly. This article will help you understand what it can bring to you and how.
Manage All Cloud Drives and Accounts in Only One Place
When you take advantage of multiple cloud computing services at the same time, it will be cumbersome and tough to manage all of them using different apps. In this situation, MultCloud can do better since it offers you an efficient way to manage multiple cloud storage accounts and services in only one app. Currently, MultCloud supports over 30+ cloud services in the market, including Google Drive, Google Photos, OneDrive, Dropbox, MEGA, Flickr, Amazon S3, FTP, pCloud, etc.
With MultCloud, you can add the cloud services you use and add as many cloud accounts as you can and there's no limitation on the number. After adding, you can perform many features that the official web of each cloud offers, such as downloading, uploading, sharing, renaming, etc. Meanwhile, you can go to another cloud service with only one click. In this way, you can avoid frequent account shifting.
Migrate Data Between Cloud Services with MultCloud
MultCloud is a technical service that can connect Google Drive, OneDrive, Dropbox, pCloud, Box, Amazon S3, and many other wonderful cloud solutions. When you grant MultCloud access to these cloud services, you can manage data on these cloud services effortlessly and make data migrations between each other.
Transfer Files Between Cloud Services
For example, when you want to copy from OneDrive to Dropbox, traditionally, you might think about the download-and-upload method. However, this method is a little troublesome, especially when you have lots of files to move. Any failure will appear when the Internet connection is unstable. Then you will need to try it all over again.
Thankfully, MultCloud can meet your requirement from all aspects. The Cloud Transfer feature of MultCloud can help you move files from OneDrive to Dropbox directly and efficiently. All you need to do is to add the clouds you use and select the files you want to migrate. Now, you can follow the steps below to get started:
Step 1: Sign up for an account of MultCloud by your email.
Step 2: Click on Add Cloud on the left navigation bar. Then add OneDrive and Dropbox, respectively.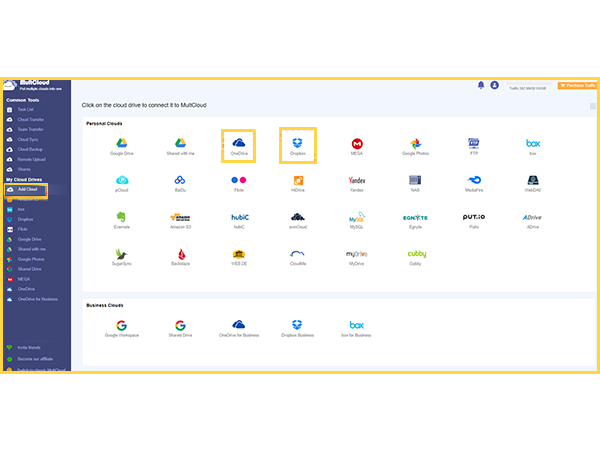 Step 3: Head to the Cloud Transfer tab on the left main feature menu, then select OneDrive as the source directory and Dropbox as the target directory. Next, press the Transfer Now tab.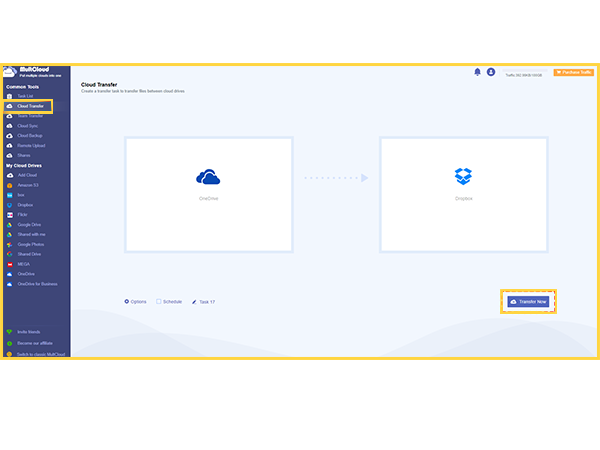 As you can see from the content above, there're many advantages of using MultCloud to move files across cloud services, such as:
FREE to Get Started. MultCloud is free to use. Specifically speaking, it offers you 5GB of data traffic for free per month to help you migrate files from one cloud to another.
Leading Transferring Speed. MultCloud offers the leading transferring speed, compared to competitors. That's to say, even though you have a large number of files to move, MultCloud can accomplish the goal as quickly as possible.
Scheduled Transfer. By clicking the Schedule tab, you can set up automatic transfer tasks to let them run at a regulated time, daily, weekly, or monthly. This feature is very intelligent and can improve your transmission efficiency.
Conclusion
MultCloud is an outstanding service that enables users to manage and move files between clouds. Besides, it offers you other advanced features such as Cloud Sync, Cloud Backup, Remote Upload, etc. Anyway, MultCloud can ease your burden when you have to manage multiple cloud storage services.
---
Share