A Precise Review of ThriveCart: Shopping Cart Solution
As your nearby shops and shopping malls are starting to perish, I believe you have already comprehended the concept of "eCommerce". Since the virtual doors are opening for the customers, it is expected that the eCommerce retail sales will exceed 6.3 trillion dollars. Now that's huge!
Well, now that you are here, I'm assuming that you are also looking to sell your products or services through virtual means. But you are specifically here wondering if Thrivecart is the right solution for you. Well, you are no doubt at the right place. Here, you will find an extensive and authentic Thrivecart review so that you can decide if it's the right solution for you.
An Introduction to ThriveCart
Thrivecart is an online shopping cart solution, through it, you can launch and operate an eCommerce business. Integrating with Thrivecart can be the right solution for you as it comes with innumerable functionalities, plus, it doesn't even require a knowledge of coding. Hence, anyone can go with it with ease.
One of the most exceptional features of this tool is that it comes with a one-time payment offer. This means once you have paid for it, you will have lifetime access to this tool.
Let's now have a look at what are the functionalities and major attributes that Thrivecart comes with.
What are the Functionalities of ThriveCart?
The design of Thrivecart is in such a way that it renders us in two ways-
Reduces abandoned carts and checkout page bounce rate.
Maximize the sale.
If you are handling a cart platform for the first time, then we can say in a nutshell, that it is designed to help you sell products and services.
But we also know that just "selling" won't let you succeed, you also need to generate leads for your website. And with Thrivecart's two-step checkout page, it is quite possible. This might be a little overwhelming to sort altogether, this is why we have broken down all the functionalities below. Let's have a look. 
Also Read: The Perfect Email Marketing Tool: Moosend Review
High-Converting Check Out Pages
Thrivecart's check-out pages are highly optimized for conversions which helps them minimize cart abandonment rates. The first thing in creating a check-out page on Thrivecart is, some optimized templates for your customization, and the good news is, the platform already supplies that. This is why creating a check-out page at Thrivecart is quite straightforward.
With Thrivecart's highly converted check-out pages embedded with A/B testing, it is possible to analyze each check-out page. Which will further help you to sort out which one is the best performing and which one needs improvement.
Two-Step Shopping Carts
With Thrivecart's lead capture tools, one can turn their website into a powerful eCommerce tool. There's one thing about the E-commerce business, which is that if you are able to grasp fruitful customer information WHILE making the sale, that's twice as much value.
Hence, even if the customer abandons their cart, you can reach out to them anytime with your offers and regain them. And this is the key reason that multistep shopping carts are so much in use.
The difference between a one-step shopping cart is that the customer makes the payment and leaves while multistep helps you get some crucial information about your customer. The information can include-
Their name
Shipping address
Email address
Phone number
And with this information, you can easily retarget them and gain them back.
Implantable Cart Pages and Pop-Ups
Thrivecart lets you implant a check-out page anywhere on the site, regardless of your web host. Just by pasting the snippet code provided by Thrivecart itself, you can do that. And in no time, you'll have another check-out page on your website.
It often happens on some sites that when a customer has to add an item to their cart, they will have to leave that page first. With Thrivecart, it's the opposite, customers are allowed to add items to their cart without having to leave the page. This is done by the ever-present check-out button that keeps on hovering on every page of the website.
If you're a blogger, this will keep your viewers on the same page while you are adding items to the cart, which is why this feature is an excellent option for you.
Bump Offers and Upsells
Upsell is the oldest sales technique. What it implies is that once a customer is ready to spend, a perfect salesman will try to increase the sale rather than focusing on what has already been sold.
Now the technique by which the sales are enhanced differs and that is what Thrivecart offers you. On the final checkout page, you can add a one-click bump offer or an upsell to increase the value of each sale. And by clicking on that offer, it will simply add to the cart without letting the customer leave the check-out page.
Upselling is quite an effective way to increase and promote the sale of related products that the customer has been buying. Plus this method lets you increase your gross sale value within your existing customer base.
Recurrent Payments 
Some eCommerce websites might not even allow it but for Thrivecart, it is one of its best attributes. With this feature, you can sell periodic membership plans to the customers and can even classify them according to the plan.
Customers who keep on shopping from one brand or store love to get membership and discount plans, this encourages them to be regular customers along with bringing more of their friends to it.
It lets rebills on a daily, weekly, monthly, or annual basis while automating the entire process with email respondents.
There can also be a customer management section that will divide the customers on the basis of segments on how much they are billed daily/weekly/monthly/annually. This will let you identify the customers according to their opted-in plans.
So these were the functionalities and major attributes of Thrivecart, let's now have a look at whom Thrivecart is best suited for.
Who is ThriveCart For?
After getting to know all the functionalities of Thrivecart, you must be pondering about if you really need this tool or not. Luckily, in this Thrivecart review, you will get to comprehend that too in the most simplified way.
If you work on the online platform and are here to sell something, Thrivecart can be your go-to-go tool. The platform makes your check-out process so simplified and unique that it gets ultimately painless for the online entrepreneur. Plus it encourages the customers to complete the transactions and come back later with more shopping demands.
Not just that, Thrivecart also lets you accumulate leads for your subscriber and potential customer list. It gives you the freedom to decide the design of your check-out page that suits your business.
But there must be some downfall of this site…well, there is. We can't call Thrivecart a "proper" eCommerce store as it lets you sell only one product or service at a time. This is why if you are looking to sell multifarious items or services at the same time, you'd be better off working with better cart solution tools like Shopify.
Whereas if your products or services fall in either of the following categories, then without a doubt, Thrivecart is the one for you.
Products/Services Having Repetitive Payments
If you offer a product or service that requires a monthly subscription or renewal, then Thrivecart can be your best solution.
With Thrivecart's one-time payment, split payments, repetitive billing, and free trials, it's quite easy to handle the entire payment procedure. In fact, after rebilling, it automatically coordinates with your email responder along with sectioning customers on the basis of their plans.
Hence, you can easily keep your one-time payment customers in one place and your monthly subscribers in another.
Physical Products 
You might have understood by now in this Thrivecart review that it is that piece of the puzzle that one looks for in the end. The same goes for an eCommerce business, as Thrivecart is that last puzzle you have been looking for.
When your website is assisting you with the promotional side of the business, Thrivecart will cater to your transactional needs. You can even use the two-step check-out method to gather customer information and retarget them via their email or phone number.
However, if you are already working with some other platform, say Shopify, and managing your eCommerce store, you'll be inclined to know that with Thrivecart, you can manage multiple accounts simultaneously. This means that all the sales that are coming from your Thrivecart's carts will be automatically pushed to your Shopify's carts so that it is easier for you to track all the sales.
Online Courses and E-Books
For quite a long time now, the online courses and E-books business have taken up a major turn. And if you are wondering about how to make that work and how to sell e-books, this Thrivecart review is the answer to your question.
Thrivecart is peculiarly built for this purpose. It integrates with the online course platform so seamlessly that it gives your business the best ways to start selling online courses and e-books.
You can also customize your check-out page and add a GDPR consent box for the customers, so they can decide if they want to share their information or not. Most sites don't ask for their custom's consent, this can be your specialty.
Consultation Services
There are some services that require direct payment methods like digital and consultation services. So, for this, you need a highly professional check-out page, and I guess now you have learned from this Thrivecart review 2022 that designing check-out pages is the specialty of this tool. In fact, for sending invoices, and connecting to PayPal, Thrivecart is the most ideal platform.
By this, you can decide if Thrivecart is the one for you or not. But what if you are still unsure about it? Well, we have a solution, remember how we used to make a pros and cons list before hopping on to a decision? That's what we are going to do here.
Pros and Cons of Thrivecart
Here's a list of pros and cons of Thrivecart:
| | |
| --- | --- |
| Pros | Cons |
| Thrivecart comes with a simple and clean user interface which makes it easier for first-time users as well. There's no need for any technical knowledge for using Thrivecart. | The template section of Thrivecart for creating high conversion check-out pages is quite limited. |
| The platform comes with the benefits of multiple payment gateways. | Thrivecart doesn't offer a robust customization offer that you may find on other shopping cart sites. |
| The payment model is quite Thrivecart. | If you also accept payments via cryptocurrency, you'll have to find another way for it. |
| Thrivecart provides bump and upsell offers, downsells, and many other options for your marketing strategy. | You can't have a live chat or phone support facility at Thrivecart. |
| You can have total control over discounts and coupons. | As mentioned above, if your business includes selling multiple physical products, then this isn't the right platform for you. |
| You can even have an affiliate setup as Thrivecart comes with a built-in facility for it. | We can't say that the platform is designed to sell services, however, we can somehow make that work if we want to. |
| You can have your own reporting dashboard that can assist you with insights to help you boost sales. | – |
| If you are stuck somewhere, you can look for the solution in Thrivecart's detailed tutorial articles, and how-to tutorials. | – |
| At Thrivecart, you get to work with all the CMS platforms including WordPress. | – |
I guess you can clearly see that the pros are quite higher than the cons. Well, it's just the stats, I'm not imposing anything.
How Well Does It Accept Payments?
There are separate payment processors that are integrated with Thrivecart, which are Autharize.net, PayPal, Apple Pay, Google Pay, and Stripe. You may think that these are all standard apps, but Thrivecart also offers some deeper integrations as compared to the other carts.
Another exceptional feature is that Stripe also allows you to accept payments via BitCoin, however, the tool currently doesn't work with any BitCoin or Cryptocurrency.
And thus, we know that Thrivecart works with some of the most popular and widely known payment processors, with some upcoming integration measures, and the option of direct bank transfer as well.
Well, that was just about the payment methods, what about the payment models? Let's find out.
What are the Payment Models at ThriveCart?
When we said that it was going to be an elaborate review, we didn't lie. You will find every inch of the detail here.
Payment models are where Thrivecart shines, the level of flexibility provided by Thrivecart for its payment models is incomparable. Here, you get to choose from a number of options, including-
20 different currencies, including USD, EUR, and GBP.
One-time, payment, subscription plans, and 'pay whatever' option.
Single price and multiple pricing options.
Free trial periods along with paid trials.
Bump offers a one-click upsell.
Product quantity limitations.
That being said, but wait, that's not even the best part of it, the best part is its user interface. No matter how complex a funnel you try to build, the perfectly laid out user interface lets even the first-time users easily swoop away with the process.
How Well Does It Convert Prospects?
Sellers often forget that while driving someone to the check-out page is somewhat going in the right direction, only until they click on that "buy" button. Until then, they haven't actually converted.
It's quite hard to accept but even the most qualified and trusted prospects can bail out at the last moment. And nothing can be worse than having a prospect showing you back on the check-out page.
You might have read before in this Thrivecart review that the platform offers high-converting cart pages among other things. Well, no other shopping cart app or software would say otherwise, would it?
With Thrivecart, you can get the utmost flexibility when it comes to customization of check-out page templates.
Does ThriveCart Help You Boost Sales?
This must be your current prior question before any other thing in the world.
If you think that the last section of your website is all about making sales, then, of course, Thrivecart can help you boost sales. In fact, there is a bunch of stuff here that can help you with this. Let's have a close look at them.
Discounts and Coupons 
Here, you can get a whole section for creating and managing various coupons. Plus the level of control you can get over this section is literally unexplainable. Be it settings date, expiry date, percentage, or anything, you get to manage even the smallest details.
Bump offers 
Firstly, the benefit of even getting the bump offer on your check-out page is something that no other shopping cart tool can assist you with.
Secondly, the bump offers are added to the initial order total, hence they are inherited with the benefit from many aspects like payment plans, coupons, and affiliate attribution.
Now, let's talk money.
Pricing and Offers
At the moment, there has been an offer going on at Thrivecart that you may not be able to find anywhere else. It is offering an early bird lifetime license. This means you can get lifetime access to this platform with one single payment.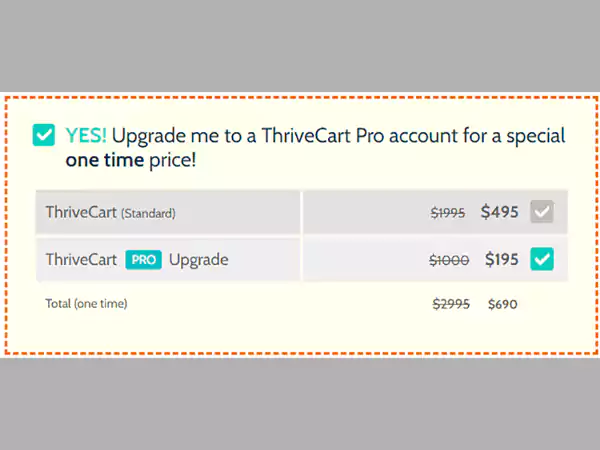 You can opt for the Thrivecart standard at just $495
Another offer is for the Thrivecart pro, which is now offered for lifetime access at just $690
The Thrivecart pro version is something beyond expectations because of the following features:
Affiliate systems
Rebilling for failed transactions.
Automatic sales tax support
Custom domain name
The custom domain name feature is something that all marketers must have and is the biggest reason to buy the "pro" version of Thrivecart.
We can't rely on third-party cookies these days, so we need a reliable measure of shopping cart cookies and other conversions.
Considering this, the one-time amount of $690 is quite compelling.
Why Go With ThriveCart?
If we really look into it, you'll find numerous shopping cart apps and software, especially the ones that assist you with multiple sales.
Let's say Shopify is a well-known shopping cart software with advanced tools. Plus a majority of eCommerce business professionals use this software. So this begs the question of what is it that makes Thrivecart worthwhile? Let's find out.
Check-Out Pages
Let's start with its best feature, check-out pages. Thrivecart might not be the only software providing customizable check-out pages, but its modern designs are quite remarkable.
Thrivecart provides four customizable template sections like-
Contact information- to collect the necessary customer data.
Payment information- which is a crucial part of the checkout page.
What you get – where you can preview your orders.
At the bottom of the page, you'll also see a review section, where you can post your feedback. What makes Thrivecart protean is the fact that it can fit multiple conversion tools altogether.
You can also add scarcity elements like "limited period sale" or "limited stock" posters to your products. When you make a product's availability uncertain, customers tend to act presently. Just like Thrivecart itself has done on its website.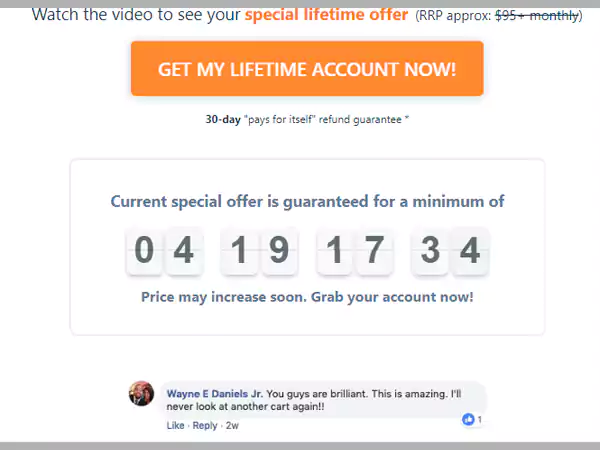 Talking about configuration, you have already learned about A/B testing and single and two steps checkout pages in this Thrivecart review, but there's actually more to it-
For your check-out page's URL, you can create a custom domain name.
You already know about the payment options, you can accept payments from various sources like PayPal, Stripe, Apple Pay, and whatnot.
You can even add the sales tax option.
Furthermore, you can customize the monthly slit pay schedule.
Pricing 
Well, we have already talked about this but let's recall it. I don't think any other platform is willing to serve you with the option of lifetime access. You can look for it in the entire market, you will find nothing but subscription-based plans, but Thrivecart stands out with its lifetime access plans.
But do remember that this lifetime access offer is only for a limited period and when this offer runs out, Thrivecart will switch back to its regular subscription basis which is for a monthly basis. The regular monthly subscription of Thrivecart starts at $97 per month.
A/B Testing
We often tend to focus all our split testing on the sales page, well, that's where all the convincing happens, right? Most online business owners might not even consider it until they use Thrivecart. The reason behind this is that Thrivecart provides an easy setup for A/B tests for your checkout pages.
So when you'll compare the designs of two checkout pages, you will realize that split testing is just as essential in the final stages of the sale.
It's not as complicated as it may sound but just a bit of it can make a huge impact.
Drag-And-Drop Template Builder
With the introduction of Thrivecart's drag and drop feature, it is even much easier to use this tool now. The addition of this tool was quite very helpful as most marketers use this tool today. With the drag and drop feature, there's no need for building complex codes.
By unlocking the page customization effect for checkout and landing pages, the drag and drop feature has shown its ultimate relevancy.
Plus, with the elimination of the need for any advanced coder to refine and recreate these checkout pages the efforts of customization have been cut to half. Hence, no matter if you are a techie or not, Thrivecart lets you design your checkout pages with high conversion rates.
Single Click Upsell and Bump Offers
You are already aware of upselling working through this Thrivecart review. Well, it is quite an old business strategy by which you can comprehend its benefits. If we look into stats, upsell can straight up add 10%-30% revenue to your marketing campaign.
10%-30% is quite a lot of money that one can earn from one single technique. And with Thrivecart, you get to add bump offers and upsell to get as much as sales from it.
Bump offers are meant to be right at the top of the checkout button, so the customers can add related items to their cart within a single click. Thrivecart offers you its own upsell page to use, but you can also customize it to your business needs with the custom designs that it provides.
In fact, once you are done customizing it, you can even test each step of your checkout process as many times as you want for free.
Affiliate Tracking
Most vendors use third-party cart solutions to deal with their affiliate marketing needs, which is quite hectic. Because the problem arises when the affiliate programs of the marketers are restricted to a single and global URL, that one cannot be attached with their costume tracking ID.
Hence, if you intend to make a sale through an affiliate, then this Thrivecart review is for you. With Thrivecart, you can create a unique tracking ID for every affiliate.
With this, you can even sell your products on more than one platform by retaining as many tracking IDs you want.
Sales Tax Calculation 
It is quite a commendable feature of Thrivecart that it offers a sales tax option along with your gross price. Not just that, it goes further by calculating sales and other tax amounts on its own. Hence, eliminating your efforts of calculating taxes and other service charges.
All this is performed automatically by Thrivecart and all you have to do is input the prices to get the automation done. Plus, there's no chance that it can calculate an inappropriate amount of taxes on a sale.
Integration Support
Another major reason that Thrivecart is considered by numerous online entrepreneurs these days is that it supports multiple integrations at once. Integrated supports like email marketing, membership support, and webinar platforms are all supported by Thrivecart such as:
Email Marketing – HubSpot, MailChimp ConvertKit, Sendy, Ontraport, Moosend, GetRespond, and InfusionSoft.
Membership Platforms – Thrive, Apprentice, Teachable, MemberPress, WishList Member, OptimizeMember, and Digital Access Pass.
Webinar Platforms- WebinarNinja and Demio.
For content creators and writers, bloggers, and e-book authors, Thrivecart is the most suited option as you might have read this before in this Thrivecart review in the online courses and e-books section. This is because it integrates with more than a single payment gateway along with multiple fulfillment services-
Payment Gateways – PayPal, Stripe, Apple Pay, Google Pay, and Autharize.net.
Fulfillment Services – Shopify, Shippo, ShipStations, Google Sheets, Kunaki, Lulu, Disk.com, Zapier, and Vervante.
The list doesn't take a pause here as Thrivecart keeps on adding to this list with each update it comes with.
Embeddable Carts
There are two types of cart options available on Thrivecart, and both of them can be used in a totally different context. This is done by simply pasting a code on your website and just by that, you will have your checkout page on your website.
This feature would be quite appreciated by bloggers as they can make a sale directly via WordPress. Plus the businesses who want their customers to buy the products directly from the website are quite benefitted from this feature too.
While the modal cart can be used by several websites as well, they can sell several products from it.
Automation 
Mostly, such shopping cart tools work on autopilot mode and Thrivecart has enough automation for this. You can manage your workflow and affiliates automatically.
You can even set these automation techniques to chase customers when their payments are due for quite a long time and send them continuous reminders.
With automation, you can get much of the work done with little effort. That's called efficiency which you get by Thrivecart in the utmost quantity, and I guess you might have understood that by now from this Thrivecart review.
Multiple Payment Types
Another criterion where Thrivecart continues to shine. The platform is quite versatile when it comes to payment options. With Thrivecart, you can make payment from any mode without any further integration or the use of any third-party app/service.
Here, you can create-
Free trials– That allow your customers to try the product/service before they actually buy it.
Split payments– With this, customers can create a plan for their payments. This gives them more confidence that they can easily complete a purchase.
Repetitive sales– This is for the products that get outdated and need to be purchased again with their latest version.
Discounts– Who doesn't want extra discounts? This attracts more customers especially when you collaborate with them with scarcity timers like "limited offer".
Subscription plans – You can make your subscription plans as flexible as you want, fitting your customer's needs.
Built-In Dunning
Every business requires more new subscribers or customers, but chasing them manually can be a bit of a task, but with Thrivecart's built-in dunning system it is a piece of cake.
It automatically coordinates with your email autoresponders. With this, it continuously sends customers reminders of their due payments. Not just that it centralizes all your payments and gives you clear insights to consider whether you should increase or reduce rates.
You can have a very detailed revenue report to analyze on your own to work more efficiently on your churn rate and revenue recovery.
After learning all that, if you are considering opting for Thrivecart, we suggest you first have a look at the difference between its standard and pro version.
ThriveCart: Standard vs. Pro
Currently, Thrivecart comes in two versions, standard, and pro. Going with the current offer, you can have lifetime access to either of these versions, only that, for the pro version you'll have to shell out $195 extra.
They have a few common features but of course, the pro version comes with some exclusive and premium attributes.
Features like sales tax calculation, and built-in dunning that doesn't seem at once but are quite essential for an online business. In the standard version, you also cannot have the access to affiliate tracking and customizable domain names for checkout pages.
With Thrivecart pro, you also get advanced user management with which you can delegate administrative tasks to your team.
No doubt the standard version of Thrivecart comes with almost all the features it has to offer but with an extra $195, you can get your hands on some advanced tools and features as well. Both the versions are equally beneficial and come with an exceptional value for money.
Thrivecart is like an investment that pays for itself over time, you just have to be diligent enough.
Thrivecart vs. Competitors
It's essential that before hopping onto a decision you have a look at every little detail of it and know it all. Similarly, you should know the differences between Thrivecart and its competitors.
ThriveCart vs. SamCart
SamCart and ThriveCart are quite a good competition to each other. If we look into it deeply, there's only a minor difference between the designs and premises that help marketers and online business owners optimize their sales.
The key difference that takes up most of the marketer's decision is that Thrivecart is quite more affordable than SamCart. For Thrivecart, you just have to pay a one-time fee which is $495, whereas, for SamCart, you have to buy a monthly subscription which is $199.
The prices of both the carts have some substantial differences while the features are quite the same. Hence, while opting for SamCart, you are opting for almost the same features for a prize which is way more than Thrivecart.
But the fact where SamCart stands apart from Thrivecart is that it has an enormous collection of premium template designs while Thrivecart has quite a limited collection when it comes to template designs.
Hence, both the platforms are equally beneficial when it comes to actual work but when it comes down to pricing, SamCart is a bit more expensive than Thrivecart.
ThriveCart vs. Shopify 
Everyone is already aware of Shopify, and it's working. Well, it's quite a famous platform. As mentioned above in this Thrivecart review 2022, the platform is best suited for you if you are into selling digital products. However, if you are more into selling physical products, then Shopify would be the one for you.
But it all sums up to price in the end. The current price and offer that Thrivecart is assisting its customers with are quite unbeatable and incomparable. And in all senses, Thrivecart is a better option, feature-wise, affordability-wise, and whatnot.
ThriveCart vs. Clickfunnels 
For the past few years now, Clickfunnels have been amongst the most preferred solutions for building sales funnels. Here, users can choose from a wide variety of templates to pick from, like templates for sales, subscription, lead capture, squeeze pages, events, and much more.
When you have a variety of templates, you get to pick and customize the one that suits your website the most. While Thrivecart is not a landing page builder, it also cannot be totally used as a complete sales funnel system.
Hence, I won't say that it would be really fair to even compare these too in this Thrivecart review. But now that we look into it, Clickfunnel also has some disadvantages as compared to Thrivecart.
The major one of them is that Clickfunnel doesn't integrate with various payment options like Apple Pay, Google Pay, and not even PayPal. And Clickfunnel also asks for a monthly subscription plan that is available in the Etison suite that is for $297 per month.
But the question still remains intact; Thrivecart or Clickfunnel?
It is quite obvious that Thrivecart is quite an affordable and excellent option while if your business only and only focuses on shopping cart solutions, then Clickfunnel is the one for you.
Is ThriveCart the One for You?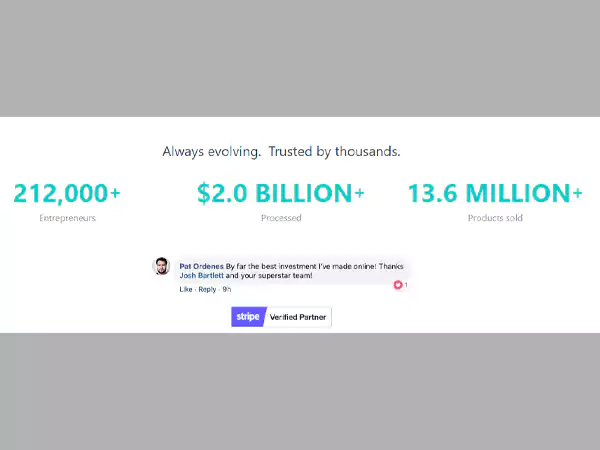 I assume now you have understood the entire feature list of this platform with this Thrivecart review. The platform has undergone four whole years of development to assist its users in such a way that even the most skeptical marketers can't deny it.
Apart from things like lack of cryptocurrency support and limited template availability, which could be improved, right? Thrivecart is the most flexible and affordable shopping cart software, assisting you with an experience with no other.
It's a tool with which you can't just make sales but can also increase the value of each sale. No wonder once you get to know about all the functionalities of the tool, it'll definitely be on your blink radar and no other tool would be satisfactory enough for you.
Share