Dripify: Perfect Tool For Linkedin Prospecting
Want to close more deals on LinkedIn that too when your PC or laptop is off?
Sounds dreamy, Right? But it is possible. How?
Meet Dripify!
Dripify is an enhanced LinkedIn automation platform that assists sales teams and marketers in productive prospecting, lead generation, and business development.
With Dripify, you can create drip campaigns, manage your onboard teams, keep an eye on daily stats, take care of all of your conversations and export the data of your leads CSV.
Dripify Features
Here are Dripify features that make it different from Linked harper and other LinkedIn automation tools.
Build Drip Campaigns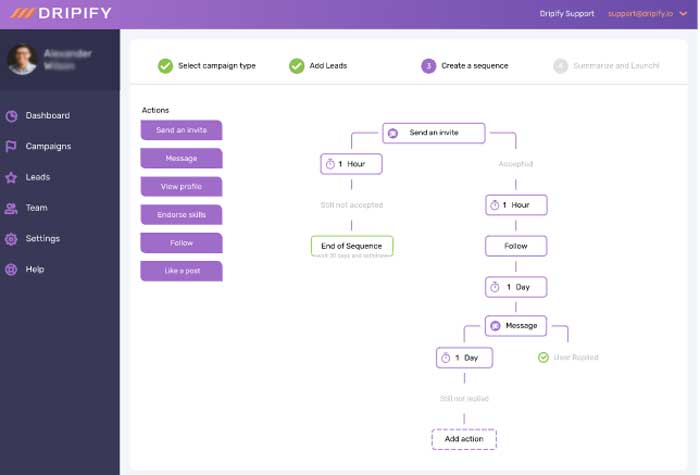 Dripify enables users to build automated and highly personalized drip campaigns with the help of various LinkedIn actions, delays, and smart conditions in an absolute manner.
Import Leads
By filtering the target audience in the LinkedIn search and pasting the URL to the given field in Dripify, add leads to your campaign. You can also add URLs of the LinkedIn profile of users you would like to add to your campaign or import them into a CSV file.
Build a Sequence
To create your prospecting sequence, take required LinkedIn posts and put them into action, set time delays between them, and choose triggers in your handy and convenient control panel.
Review and Launch
Review your campaign settings, and choose smart conditions to fit your prospecting requirements. Using Zapier, integrate with Hubspot, Google Sheets, or other software and launch your campaign.
Manage Leads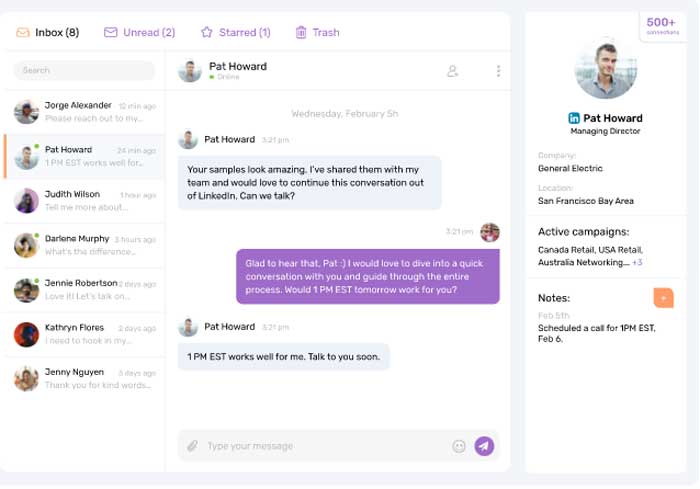 With Dripify advanced features, you can get in touch with your leads in your personal messenger tool offered by Dripify. You can also mark a conversation as important for quick access and keep your all marked messages in the sole place.
With regards to the above, you can also add, edit, and delete notes on the profile of your leads effortlessly and in mere time.
Extra Safety Features
To safeguard your LinkedIn account, Dripify offers users advanced safety features.
Cloud Based Performance
Prioritizing users' LinkedIn account safety, all the automated LinkedIn actions are performed in the cloud making the software environment safe and secure.
Unique IP Address
Dripify provides a unique IP address from your local region for your Dripify account ensuring that all the LinkedIn automation actions seem natural without causing suspicion.
Human-Behaviour Stimulation
To make sure LinkedIn activity enacts manuals, all the automated actions performed by Dripify are escorted by random delays including a combination of page views and buttons.
Activity Control
The activity control feature offered by Dripify aids in managing routine connecting and messaging limits that help your LinkedIn account from being flagged by LinkedIn for excessive activity.
LinkedIn Analytics
Drippy advanced LinkedIn Analytics, you can keep an eye on the LinkedIn actions taken each day and get notified about new connections requests, and unread messages from leads including profile views.
You can also review the recent LinkedIn timeline initiated by Dripify and manage your LinkedIn activity on your main LinkedIn analytics page.
Dripify also offers detailed LinkedIn reports of your respective campaigns by accessing that you can view invitation acceptance rate, response rate, and other vital metrics. With the help of these metrics, you can compare stats with the previous time period and evaluate the Dripify campaign's performance.
Team Management
From your Dripify control panel, you can use Dripify with your team, all you have to do is send invitation links to your colleagues to add them to a team.
Once you have added your colleagues as a team, you can authorize your team members as per their functioning in your company as well as you also keep track of your team members' performance.
Export Data
LinkedIn Scraper is a very effective tool offered by Dripify that helps users export LinkedIn contacts to CSV files that includes email addresses, phone numbers, and more with just mere clicks.
You can also download Linkedin contacts in a CSV file including significant data that prominently include the following:-
Full Name
Company
Position
Number of Connections
Email Address
Phone Number
Website URL
You can go through leads data in your personal "leads" tab, it enables you to merge them by actions performed by these leads, filter by "campaign", add notes, and more.
Dripify Pricing
Dripify, pocket-friendly plans are also a significant factor apart from its captivating services that make it the choice for thousands. So, whether you are just entered the arena or are a veteran, there is an explicit plan for everyone.
Dripify Monthly Plan
Dripify Annually Plan
Here are Some Frequently Asked Questions Related to Dripify
ANS: If the LinkedIn users have provided their phone numbers to their LinkedIn profile, with other contact details the phone numbers will also be exported. In this way, you will be able to download LinkedIn users' phone numbers.
ANS: Don't worry! Closing your browser will not affect Dripify as it is an absolute autopilot for LinkedIn that functions well if you have closed your browser or laptop.
---
Share